Chickpeas are great in a Buddha bowl!
As I stated in my last post, I am focusing this week on ingredients for Buddha bowls: a grain, a green and a bean. Sometimes the bean can be a challenge, so I was really happy to discover that you can make roasted chickpeas for a crunchy treat. They can be eaten as a quick snack anytime you are in the mood.
How do you make the roasted chickpeas crispy?
I've tried a couple different methods to accomplish a nice crunchy chickpea. The ingredient list is short: canned chickpeas, olive oil, and seasonings. Simple, right? Well, not exactly. As it turns out, there are many different approaches to roasting these little beans, and for me, results differed greatly depending upon my approach.
Here are some of the variables:
Temperature – I found recipes that used 350, 400, 425 and 450°F
Oil – some cooks add the oil before roasting, others add midway through the cook time
Seasonings – Some add before roasting, others specify after
Cooking surface – everyone uses a baking sheet, but at least one person emphasized using foil to line that sheet before use.
How to make Crispy Roasted Chickpeas
I started with one person's method but then ended up making my own combination of these variables. It took me 3 tries to get the kind of "crispy" I was hoping for in my chickpeas. (My guy kept saying "not crunchy enough" and "salt the crap out of them," so I think he was hoping for a texture similar to Corn Nuts)
First, I dry the chickpeas with paper towels.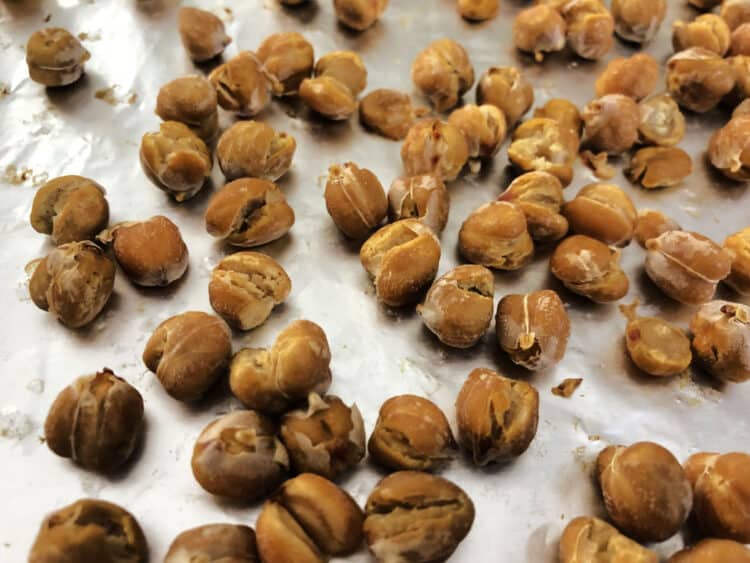 Next, line a baking sheet with foil. Dry roast for 20 minutes at 450°F, shaking the pan after 10 minutes to loosen the chickpeas from the foil.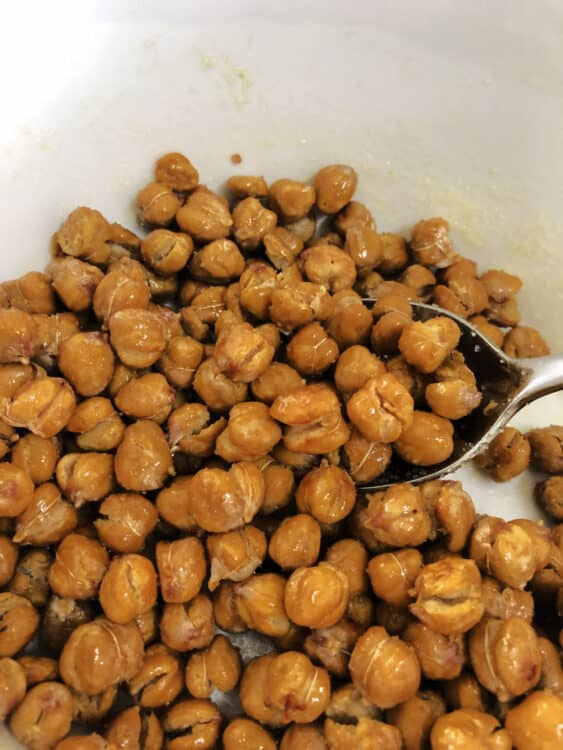 Transfer dry-roasted chickpeas to a bowl and toss with oil and salt. Then, return to oven and roast some more.
By following these steps, my results were great!
Nice and crunchy. Just a little bit of chewiness in the middle. Not as hard as Corn Nuts, but then again, I didn't feel like I was going to break a tooth every time I bit down! And the biggest surprise: a big "thumbs up" from the carnivore in the house!
Final step: add seasoning to taste
You can add seasoning to these as you wish: chili powder, Cajun seasoning, etc. are all popular. But the prevailing advice is to hold off on adding any flavored seasoning until after the roasting is done, because you don't want to risk burning that spice and giving it a bitter flavor. I just use salt, both mid-roasting when adding the oil, as well as salting when they come out of the oven. They are quite tasty and surprisingly addictive. I think I understand now why most recipes start with 2 cans of chickpeas. One is just not going to cut it.
Give these a try, and let me know what seasonings you come up with for your roasted chickpeas!
Crispy Roasted Chickpeas
Addictive and healthy chickpea snacks!
Ingredients
1

can

garbanzo beans (chickpeas)

rinsed and drained well

1

teaspoon

olive oil

½

teaspoon

salt (plus more to taste)

additional seasonings per your preference
Instructions
Remove most of the moisture from the drained chickpeas by spreading them out on a
paper towel and then gently blotting with another towel.

Preheat oven to 450°F.  Line a baking sheet with tin foil.

Evenly spread the chickpeas onto the prepared baking sheet. 

Place pan into the preheated oven for 10 minutes, shake the pan to dislodge any chickpeas stuck to the foil, and then place back in the oven for another 10 minutes.

Once the 20 minutes of dry roasting is complete, take the sheet out of the oven and pour the chickpeas into a bowl. Add the olive oil and salt. Stir to evenly coat.

Spread the oiled chickpeas back onto the foil-lined sheet and return it to the
oven.  Roast for 15 more minutes, then remove from oven.

If additional seasoning is desired, add right after the roasting is done.
Nutrition
Calories:
110
kcal
|
Carbohydrates:
15
g
|
Protein:
6
g
|
Fat:
3
g
|
Saturated Fat:
1
g
|
Sodium:
315
mg
|
Potassium:
163
mg
|
Fiber:
5
g
|
Vitamin A:
15
IU
|
Calcium:
40
mg
|
Iron:
1.4
mg
Nutrition values are estimates only, using online calculators. Please verify using your own data.