for Buddha bowls and more
This week, we make quinoa to celebrate Buddha's birthday. We have to pick a week because apparently there's no agreed-upon date for his birth (or "name day" for you Game of Thrones fans). So, if you are using the 8th day of the 4th month in the Chinese lunar calendar, the 2019 day is May 12. If you're using the full moon day of the Vaisakha month of the Buddhist calendar, then it's May 19. Yeah, I'm confused too. Try Wikipedia, they explain it in great detail.
What's a Buddha bowl?
But that brings us to Buddha bowls. According to The Urban Dictionary, a Buddha bowl is a bowl packed so full that it has a rounded "belly" appearance on top, much like the belly of a Buddha.
Which leaves things pretty wide open.
The other definition that I try to follow is: a grain, a green, and a bean. Whenever I build a Buddha bowl that phrase immediately comes to mind. It's a great reminder to include a serving from three very important parts of the food pyramid. A grain, a green and a bean. Additional veggies, of course, are ok! Some people also add a little meat. The purists will gasp at this, but we are not judging here so add meat if this makes the meal more delicious for you! #notjudging
Quinoa - a seed or a grain?
Quinoa is technically not a grain, it is a seed, but it's prepared and eaten as a grain. It is sometimes referred to as a "pseudo-grain."  The unique quality of this pseudo-grain is that quinoa is considered a complete protein, meaning that not only is it a higher protein grain, but it also contains all nine essential amino acids that our bodies cannot make on their own. This makes quinoa an invaluable component of anyone's diet, especially you vegetarians!.
Important tip: Many times you will read directions that instruct you to first rinse your quinoa well to remove the bitter saponin coating. This is where it pays to read labels before you buy; I only buy pre-rinsed quinoa so I can skip the rinsing step.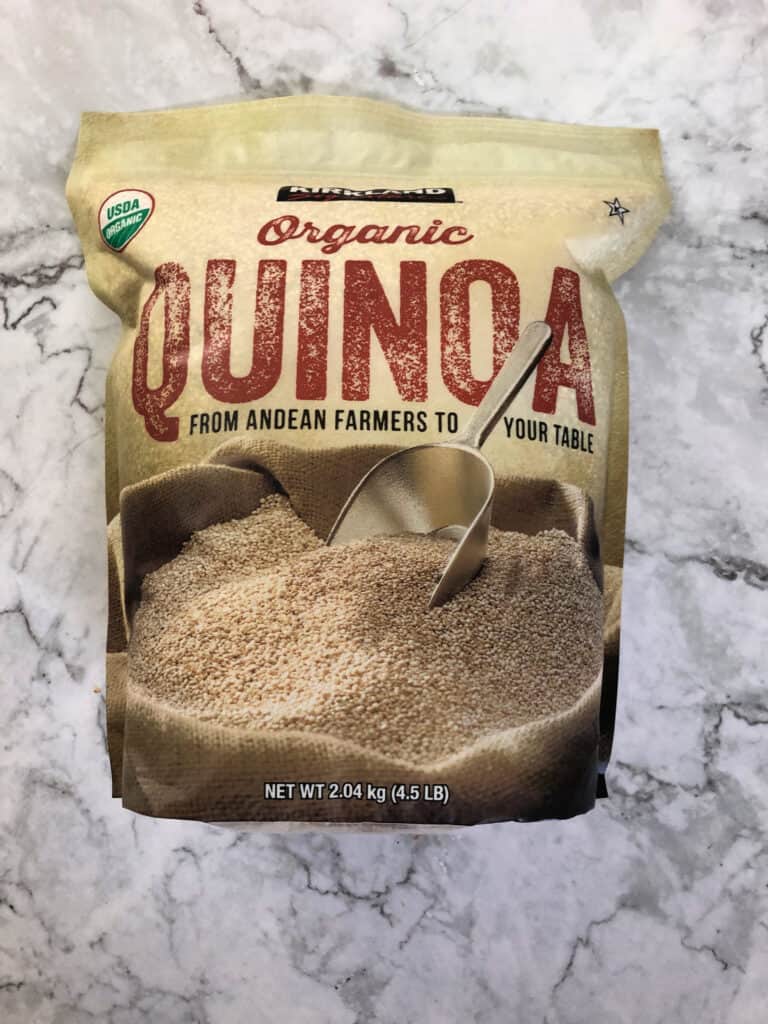 When you are really in love with quinoa you buy it in bulk!!!

How to cook quinoa
Quinoa is cooked in a 2-to-1 ratio of liquid to grain. You can use water or broth, I like to use half of each. So for one cup of quinoa I use 1 cup water and 1 cup broth. You can use either vegetable or chicken broth – either tastes great. You boil/simmer these together (covered pan) for 15 minutes, turn off the heat, give it a stir, re-cover the pan and let the quinoa sit for another 5 minutes. Done.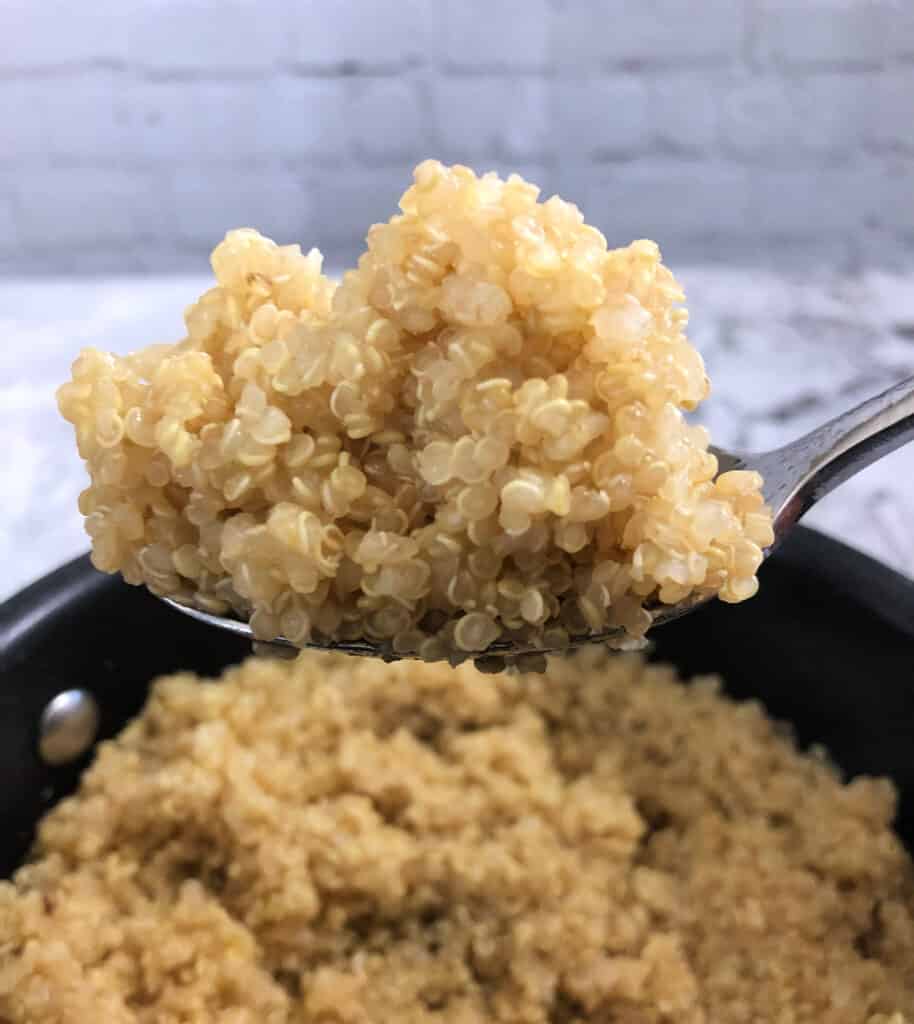 The white ring you see around the fully-cooked grain is the germ. This is the nutrient rich layer of the grain.
1 cup of dry quinoa will give you 3 cups cooked. Leftovers keep really well refrigerated, which makes a handy grab to build your next Buddha bowl.
Combine with roasted carrots and chickpeas for a satisfying bowl. Or use it to make Quinoa with Broccoli and Parmesan or Quinoa Edamame Salad.
Quinoa
a versatile, protein-filled grain
Ingredients
1

cup

quinoa, pre-rinsed

1

cup

water

1

cup

broth, chicken or vegetable
Instructions
In a small covered saucepan place the quinoa and liquid.

Bring to a boil, lower heat to simmer.

Cover and simmer for 15 minutes.

Turn off heat and give the quinoa a stir.

Re-cover the saucepan and let the quinoa stand for at least 5 minutes. Fluff with a fork and serve.
Nutrition
Calories:
159
kcal
|
Carbohydrates:
28
g
|
Protein:
6
g
|
Fat:
3
g
|
Saturated Fat:
1
g
|
Sodium:
240
mg
|
Potassium:
239
mg
|
Fiber:
3
g
|
Sugar:
1
g
|
Vitamin A:
125
IU
|
Calcium:
20
mg
|
Iron:
1.9
mg
Nutrition values are estimates only, using online calculators. Please verify using your own data.