If you haven't tried roasting vegetables, then you have really been missing out! Don't get me wrong, I love my steamed veggies as much as the next, and they definitely take the least amount of time to prepare, but sometimes roasting brings out different flavors and textures, which makes them seem like different vegetables all together!
So, let's walk step by step on how I roast brussel sprouts. Now to be honest, I was never that crazy about this particular veggie, which is kind of weird because I really love cabbage, and brussel sprouts are quite similar; however, I think I had a bad experience long ago that stuck with me, and I needed about 30 years to overcome that!!
Once I tried to roast these babies, I was hooked. Roasting brings out what is almost a sweet taste, which always plays well with salt.You get a combination of the soft creamy insides of the sprouts contrasting with the crunchy outer edges…it's divine!
Plus, it is easier than you think!
I start with one pound of brussel sprouts. First, wash them and start cutting. Cut the "end" piece off first.
I then cut each sprout in half (perpendicular to my first cut) and discard any unhealthy looking pieces.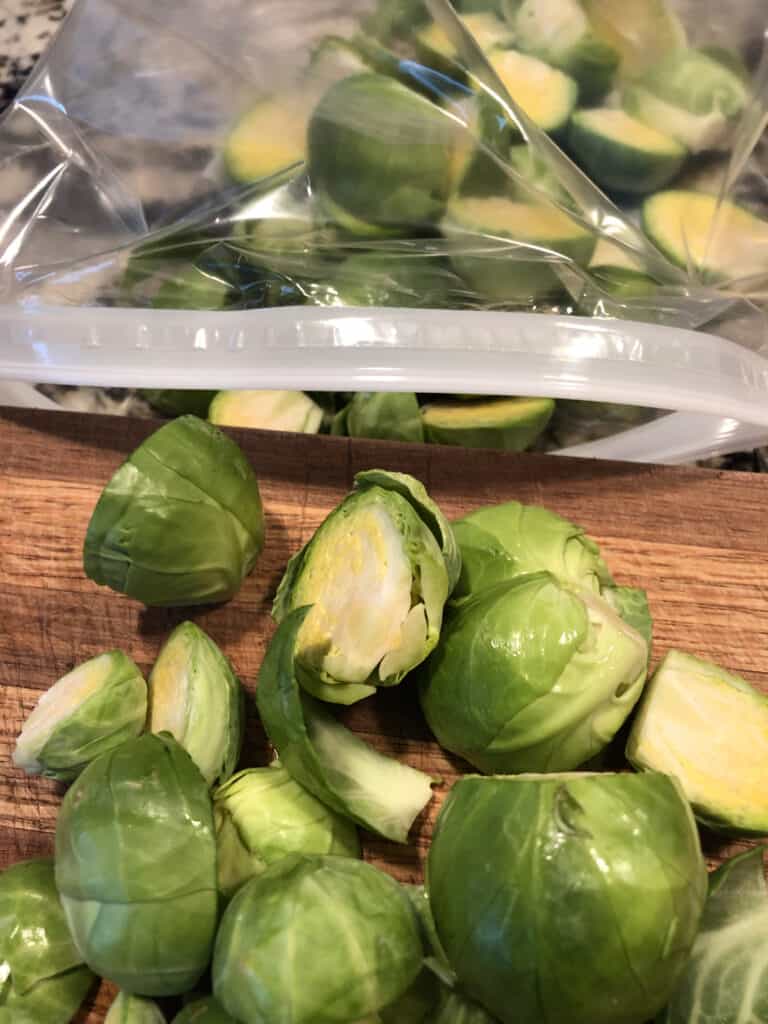 As I cut, I put the pieces in a large Ziplock bag. (You can use a bowl for this step, but over time I migrated to the bag so that I could just throw it away afterwards rather than having another dish to wash!
Once all the sprouts are cut up, add a couple tablespoons of olive oil to the bag, close the top, and shake the bag so that a little oil gets on every sprout. (If using a bowl, just stir thoroughly.)

Get out a large cookie sheet for roasting. I like to use some kind of liner, such as parchment paper or a silicone mat. I don't think it is strictly necessary, but it sure makes cleaning up easier!
Spread the sprouts out on the cookie sheet and salt and pepper lightly. (Sometimes, I also add a little garlic powder if I am feeling crazy!) Keep in mind that it's better to have a little space, think of it as "breathing room," between the sprouts , rather than crowding them together.
Place in the sprouts in the oven; they will need to bake for about 30 minutes at 400°F. Check them about halfway through and flip the pieces with a spatula to help them brown more evenly. Please note: oven temperatures can vary significantly, so the first time you make these you will want to check often to ensure they are not cooking too quickly.
After about 30 minutes, they will look something like this
You can eat these as is, or you can do as I do and sprinkle some parmesan cheese on them to take them over the top!
Give these a try, and let me know what you think!
Print Recipe
Roasted Brussel Sprouts
This will be your new favorite way to make brussel sprouts!

Ingredients
1

lb

brussel sprouts

3

TB

olive oil

Salt and pepper

to taste

Parmesan cheese

to taste
Instructions
Prepare brussel sprouts by trimming off the end and then cutting each sprout in half


Place cut sprouts in a Ziplock bag or bowl and add olive oil. Rotate bag or stir in the bowl to coat the sprouts with the oil.


Place coated sprouts on a baking sheet; make sure they are spread out. Salt and pepper lightly.


Place pan in preheated oven for 15 minutes. Use a spatula to turn the sprouts to help them cook evenly. Cook for 15 more minutes.


Serve with parmesan cheese as desired.

Nutrition
Calories:
141
kcal
|
Carbohydrates:
10
g
|
Protein:
3
g
|
Fat:
10
g
|
Saturated Fat:
1
g
|
Sodium:
28
mg
|
Potassium:
441
mg
|
Fiber:
4
g
|
Sugar:
2
g
|
Vitamin A:
855
IU
|
Vitamin C:
96.4
mg
|
Calcium:
48
mg
|
Iron:
1.6
mg