Celebrate Pi March 14
Yay! Make an Apple Pie and be ready for Pi Day! As everyone knows, (does everyone know?) March 14th is Pi Day, a happy coincidence with the number of the month, 3, the number of the day, 14, and Pi, 3.14 (pushing glasses to forehead), the mathematical constant describing the ratio of a circle's circumference to its diameter.
(No, there will not be a test at the end of this recipe).
And what better pie on Pi day than the all-American favorite: Apple Pi, er, Pie!
What kind of apples are best for pie?
Apple pies have history in my family. My grandfather's farm had an apple tree in the middle of a large hayfield. And, while there were other apple trees on the farm, the one in the hayfield was special. We called it "The Duchess" because the family loved its apples and the pies it made.
Later, I realized there are no apples in the grocery stores with the name Duchess. So I had to figure out which store-bought apples made the best pies. MUCH research ensued. As you know, some apples are very sweet, some are soft, some, too juicy. I felt like Goldilocks…would I ever find one that was "just right?"
The solution? I use at least two types of apples for every pie, preferring a mix of something tart, like Granny Smith, with something sweet, like Fuji. That way you get two distinctive taste points plus a combination of textures in the apple slices. I adopted this approach years ago, and it hasn't failed me since.
A note on freezing apple pie mix for later use: My brother is now involved with the farm, and he has decided that even MORE apple trees are needed (because the Duchess is dying…😟 ). This means that anytime I go to visit in the fall, I come home with a 5-gallon bucket of apples. Let's be honest, there are only so many apple pies one can make and eat in a row. So I came up with a system of mixing and freezing this filling for later use. Works great!
How to make apple pie
To make the filling, simply mix apple slices with sugar, flour, cinnamon and nutmeg. Place one pie crust in the pie plate, then add the filling, and cover with the second crust. Seal and crimp the edges, and (if you don't have a Pi shape cut out) you will need to cut some vents in the crust to allow air to escape.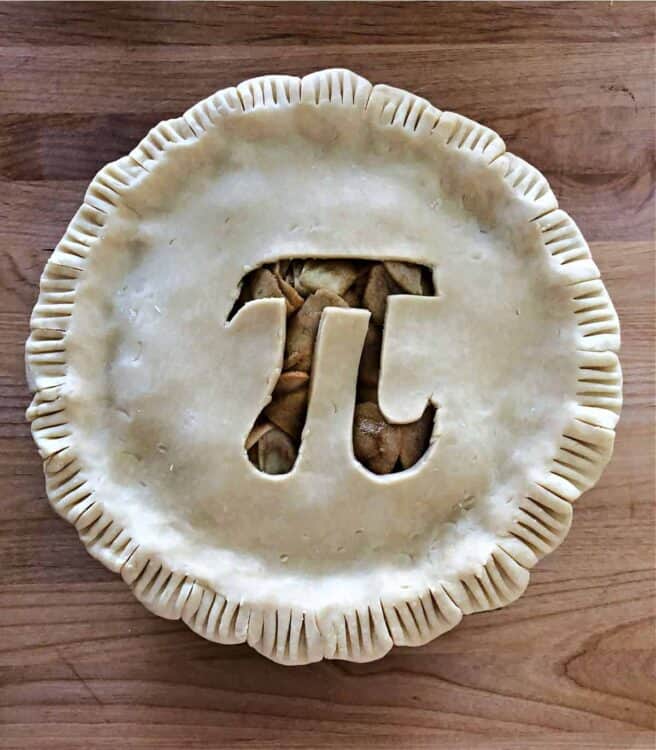 For the pie shown here, I used a deep-dish pie plate so I doubled the filling. For a normal 9-inch pie plate, a single portion of filling suffices.
Next, before baking, cover the crust edges with tinfoil or a pie shield to avoid incinerating the crust as described in my piecrust baking tips. Place in a 425F oven and bake for 30 minutes. Then, remove the piecrust foil or shield and bake for an additional 15 minutes.
The top should be golden brown and the filling bubbly.
Cool the pie for at least 2 hours before cutting (I try to leave it overnight). This seems to really set the filling so it doesn't come spilling out.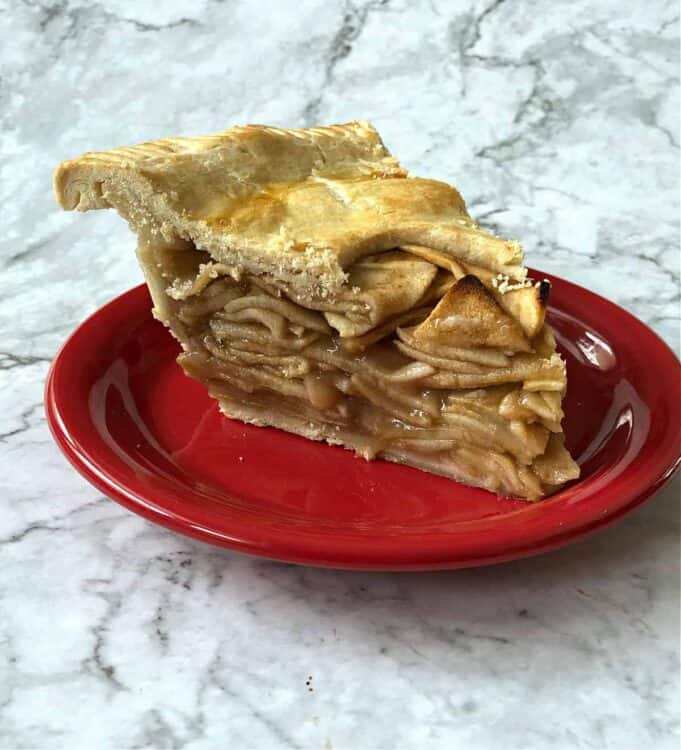 Try this Pi recipe and see if it doesn't "number" as one of your favorites!
Apple Pie
Ingredients
2

piecrusts

unbaked

6

cups

sliced apples

¾

cup

sugar

¼

cup

flour

½

teaspoon

cinnamon

⅛

teaspoon

nutmeg
Instructions
Preheat oven to 425F.

In a large mixing bowl, stir together apples, sugar, flour, cinnamon and nutmeg.

Place one rolled-out crust into a 9-inch pie plate. Add apple filling, then top with second rolled-out crust. Trim edges and decorate as desired, ensuring the top and bottom crust are well sealed all the way around. Cut 4-5 slits into the top crust to allow steam to escape.

Cover edges of crust with strips of tinfoil or a pie shield. Place in preheated oven and bake for 30 minutes. Then, remove foil or shield and bake an additional 15 minutes or until top is golden brown and the filling is bubbly.

Cool a minimum of 2 hours, (but preferably overnight) before serving.
Notes
This filling freezes very well. Just add all ingredients to a freezer-safe container (large Ziplok bags work well) and freeze. Allow to thaw before baking in a pie. When thawed from frozen, the filling gets very juicy, so be sure to brush the bottom piecrust with egg white before filling.
Nutrition
Calories:
440
kcal
|
Carbohydrates:
74
g
|
Protein:
4
g
|
Fat:
15
g
|
Saturated Fat:
5
g
|
Sodium:
233
mg
|
Potassium:
189
mg
|
Fiber:
5
g
|
Sugar:
38
g
|
Vitamin A:
68
IU
|
Vitamin C:
6
mg
|
Calcium:
18
mg
|
Iron:
2
mg
Nutrition values are estimates only, using online calculators. Please verify using your own data.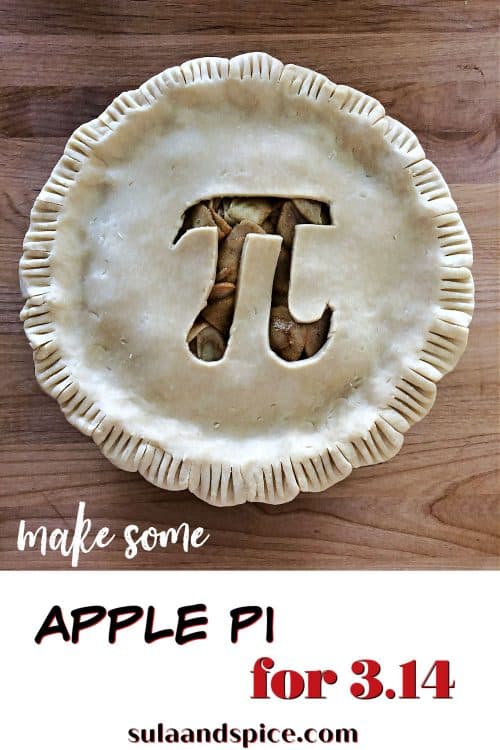 Pin this to make your Apple Pie any day! Not just Pi Day!
Like Apple Pie? Then you will probably also enjoy Apple Crisp, another classic! And for these yummy tastes in cocktail form, try this Apple Cider vodka drink - I think you'll love it!