Tis the season for holiday baking! There's a good chance you'll want to make a pie for either Thanksgiving or Christmas (In my case, both) For many years I used pie crust from the refrigerated section of the grocery store. It was reliable, and while it wouldn't win any awards, it was at least decent.
Then, something changed. At first I thought maybe I got a bad batch. I bought some more, still it wasn't right, something had changed with the texture, the look, even the smell was different. Every time I opened a package, I didn't like what my nose was telling me.
A quick web search showed I wasn't alone: many have complained about whatever has changed with these crusts. So, I decided to make my own.
Home made pie crust has a certain mystique, some think it's part of folklore, handed down through the ages. Actually, it's really very simple. I especially like the version on marthastewart.com that uses butter rather than lard, shortening or any other unpleasant oil. Pie crust is even easier to make if you have a food processor, or so I've heard LOL, but I will describe the old fashioned mixing method.
To start, mix together the dry ingredients (flour, salt and sugar) just to combine.
Then, cut a butter stick into small cubes.
This is then added to the dry mix. In the absence of a food processor, I do feel that a pastry blender is essential. The pastry blender is a tool made of narrow strips of metal attached to a handle, used to mix by repeatedly cutting down into the butter and flour to chop up the butter and combine it with the dry flour mix.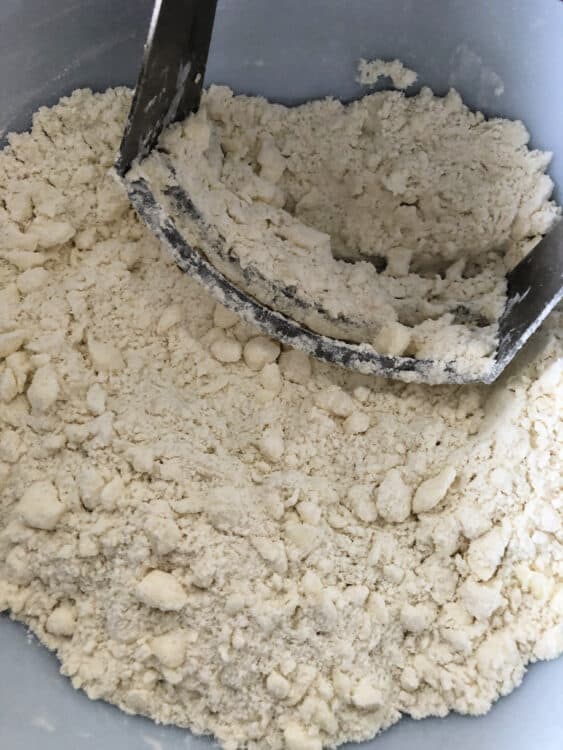 The goal is to create a mix that resembles coarse meal, with pieces no larger than a pea. This took about 4-5 minutes to manually mix with the pastry blender.
To this, add two tablespoons of ice water and mix in. I again employed the pastry blender for this, but eventually used my hands to ensure the dough is evenly mixed. The recipe calls for adding one or two more tablespoons of water to ensure you get the right consistency, and I usually add both these optional tablespoons, for a total of four.
Place the dough on a piece of plastic wrap, shape into a disk, then wrap and refrigerate for at least an hour.
To bake, unwrap the dough and place on a large piece of floured wax paper. Roll out the dough with a rolling pin to make a large circle, about 14 inches in diameter.
Then, use the edge of the wax paper to guide and roll the dough around the rolling pin, kind of like a roll-up window shade.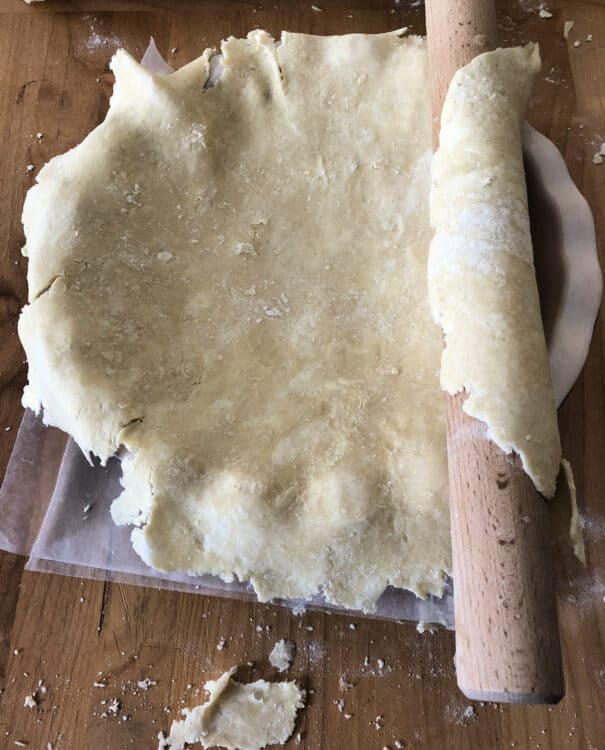 The rolling pin becomes the mechanism to transfer the crust from the work surface to the pie plate. When ready, you'll unroll the dough from the pin to go into your pie plate.
Trim and crimp the edges.
The plate can now be refrigerated while the filling is prepared or filled right away and baked.
The recipe can be doubled for a 2-crust pie but I prefer to make 2 batches of one crust each. Since I am mixing manually, I think a double recipe in one bowl would be difficult to work with. If I ever get a food processor, this approach might change. 😀
This pie crust is easy, and you get huge bonus points for making it yourself!
Pie Crust
Ingredients
1 ¼

cups

all-purpose flour

plus more for rolling

½

teaspoon

salt

½

teaspoon

sugar

8

TB

butter

1 stick, cold and unsalted

2

or more TB ice water

up to 4 TB
Instructions
In a large bowl mix the flour, sugar and salt until combined.

Cut the butter into very small cubes, then add to the bowl. Using a pastry blender, mix the butter into the flour mixture until it resembles coarse meal (Nothing larger than a pea-sized piece).

Sprinkle dough with ice water and mix until the dough is crumbly but holds together when squeezed with fingers (An additional 1-2 tablespoons of water can be added if needed).

Turn dough out onto a work surface and shape into a disk, about ¾ inch thick. Wrap in plastic wrap and refrigerate for at least an hour.

Before baking, unwrap dough and place on a large piece of floured wax paper. Roll dough to a 14-inch round. Wrap the dough carefully onto the rolling pin and then transfer it to the pie plate by unrolling the dough over the plate. Trim excess dough to about one inch larger than the edge of the pie plate. Fold dough edge under itself and crimp the edge. Refrigerate until ready to fill and bake.
Nutrition
Calories:
172
kcal
|
Carbohydrates:
15
g
|
Protein:
2
g
|
Fat:
12
g
|
Saturated Fat:
7
g
|
Cholesterol:
30
mg
|
Sodium:
246
mg
|
Potassium:
21
mg
|
Fiber:
1
g
|
Sugar:
1
g
|
Vitamin A:
350
IU
|
Calcium:
6
mg
|
Iron:
1
mg
Nutrition values are estimates only, using online calculators. Please verify using your own data.