Nothing feels better than starting your day with a healthy breakfast. The right kind of food will give you the energy you need, with plenty of nutrients and protein to satisfy.
This Low Carb Breakfast Casserole delivers in so many ways! It's easy to make, with enough protein to get your metabolism moving. The veggies provide fiber and tons of nutrition to really "up" the health factor.
And of course, cheese and bacon. Because you need that deliciousness to tie it all together!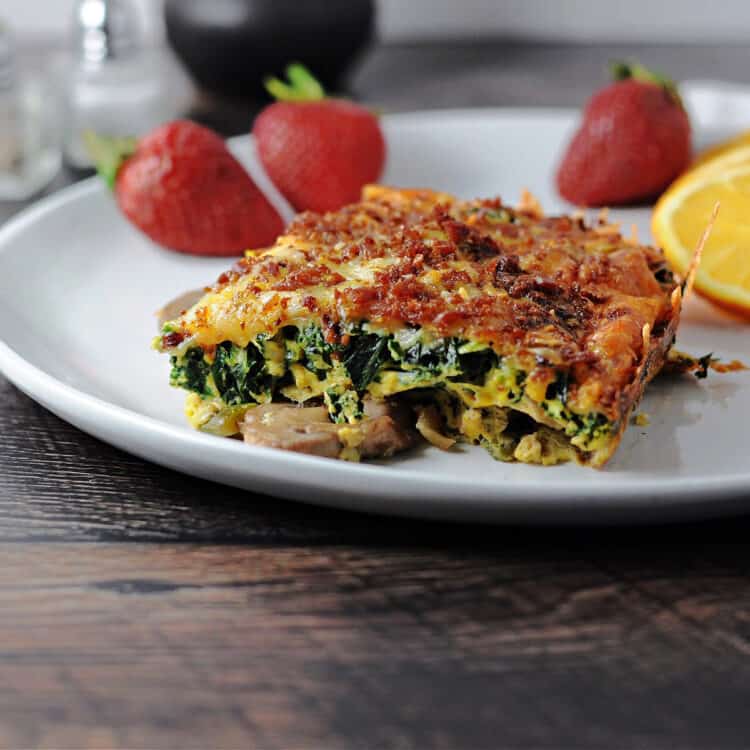 Why I love this recipe
I started making this breakfast casserole months ago and it became an instant favorite. It's easy to make, healthy, satisfying and incredibly delicious.
This casserole also has the added bonus that it reheats really well! So, for the two of us, I can make an 8x8 pan, cut it into 4 squares, and have 2 breakfast meals for us both.
I typically make this for breakfast about once a week and have tried a couple variations which I describe below. There are many possibilities for more!
Ingredients needed for this easy keto friendly breakfast
The ingredients I typically use are:
Eggs – 4 large eggs are all you need, but if I have an extra yolk or white from something else I just made, I will throw that in here too. I've tried using 5 eggs and it does start to affect the cooking time, so I've backed off on that idea and now just stick with about 4 eggs.
Milk or cream – just a splash, to mix with the eggs. This is technically optional, but I do like it to help the eggs scramble more smoothly.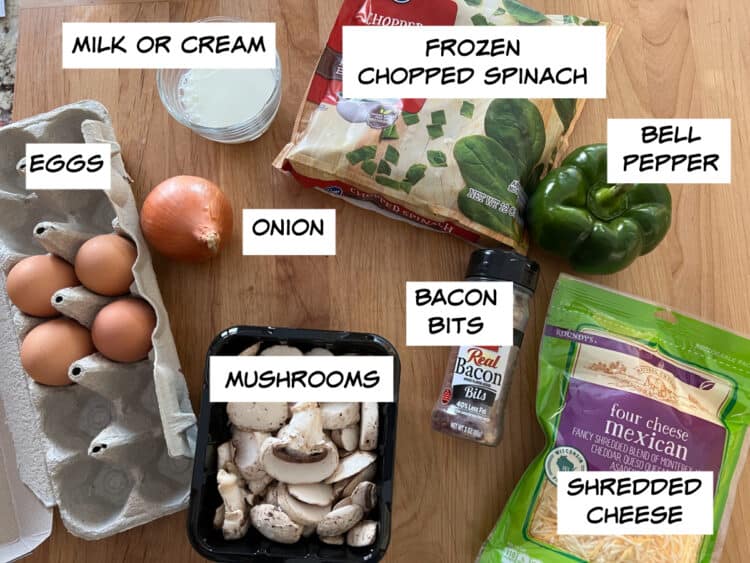 Frozen spinach – use the kind that is a bag of loose frozen pieces. Each time I make this casserole, I only use part of the bag, so I can seal up the remaining and save it for the next time.
Mushrooms – Basic white button mushrooms are what I use. I like to buy the pre-sliced mushrooms for maximum convenience.
Onion – either red or yellow
Bell pepper – I've used green, orange and red. Any color works. I only use about a third to half the pepper, then chop and freeze the rest for the next batch. 
Shredded cheese – I use a cheese blend, typically 4 cheese Mexican.
Bacon – if you like to cook bacon, feel free to do so and then chop it up. I have tried it both ways and have decided that the sheer convenience of bacon bits wins it for me. They are just so easy to keep in stock and sprinkle on the casserole when needed. Just get the real kind, not the imitation bits – eeuw.
How to make this low carb breakfast casserole
First, pre-cook the veggie layer. Throw the chopped onion, pepper and mushrooms in a large skillet and sauté them over medium-high heat for about 5 minutes. The mushrooms will release their liquid and the onions and pepper will become soft and slightly caramelized. Keep cooking until the liquid is gone.
Now, VERY IMPORTANT: GREASE YOUR BAKING DISH!
I once forgot to grease the dish before baking this casserole. That's a mistake you typically make only once. The memory of getting rid of that baked-on egg is a vivid one! A good coating of cooking spray is your best friend here!
4 layers of goodness
Once the veggies are cooked, place them in the bottom of the greased pan. Spread them out to make an even layer.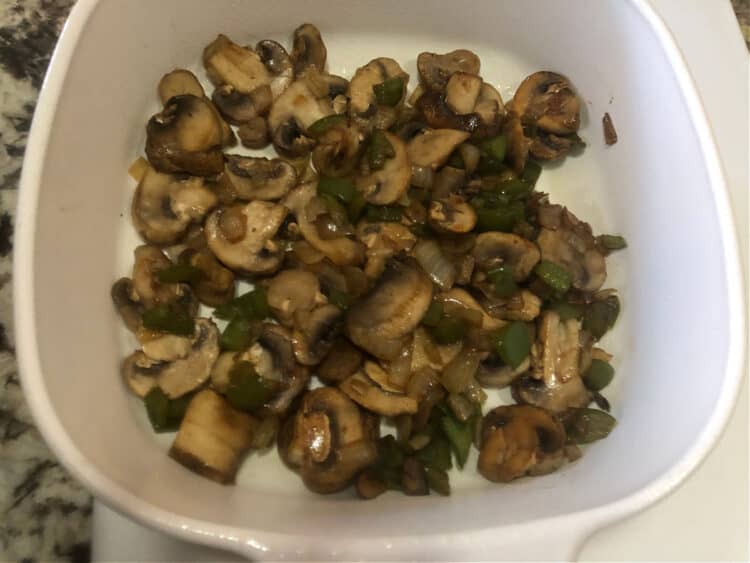 Now, add the spinach. No need to pre-cook or even thaw the spinach, and this is why I recommend the loose in the bag spinach (as opposed to a frozen brick). You can simply shake the layer of frozen spinach right over the veggie layer.
If your spinach is a brick, or even in large frozen chunks in the bag, I recommend thawing and squeezing out the excess liquid before layering in the casserole dish. Just place the chunks in a small bowl to thaw. A minute in the microwave will usually be enough, then squeeze the spinach with a fork and drain off the water.
Next, the eggs. In a bowl, whisk the eggs with a splash of milk until the mixture is smooth. Add a little salt and pepper, just as you would if making scrambled eggs. Pour the egg mixture over the veggies in the dish.
Top the casserole with shredded cheese and some bacon bits. This layer really punches up the flavor!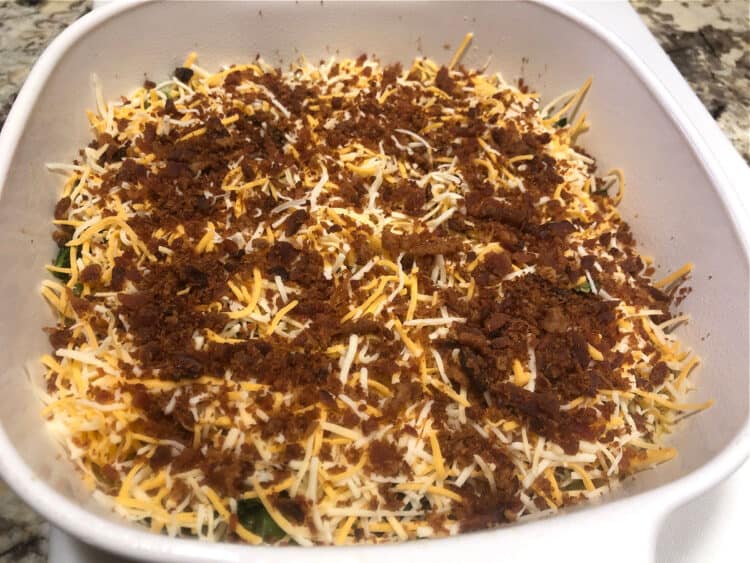 Bake and serve
Bake the low carb breakfast casserole at 375F, uncovered, for 35 minutes. The cheese layer should be melted and slightly brown, and the casserole will be bubbling slightly around the edges.
Remove from the oven and let set for about 5 minutes. Then cut and serve.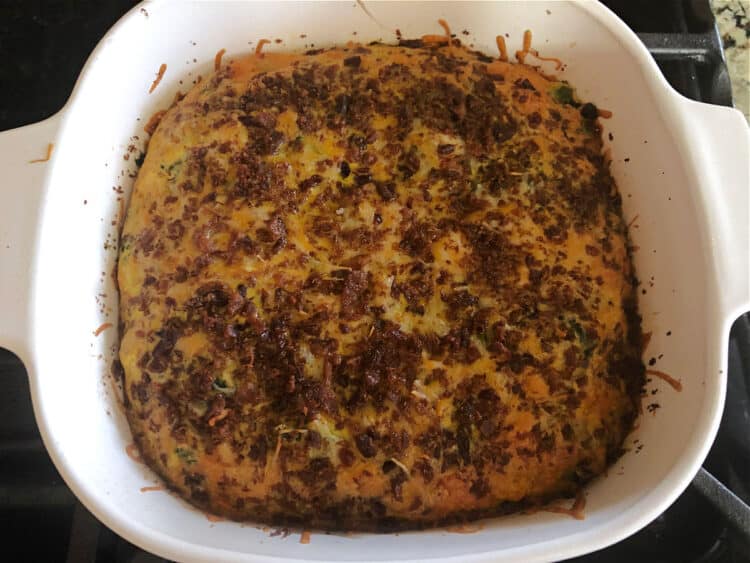 Variations of this Breakfast Casserole
Here are some of the variations I have tried and loved:
Kale – you can buy frozen chopped kale, just like frozen spinach. When you use kale in this casserole, you cannot tell the difference. It's a great way to add more variation to the greens in your diet!
Potatoes – this takes away the low carb qualities, but potatoes are a delicious addition. You'll want to pre-cook the potatoes with the other veggies. I once chopped up frozen French fries to add to the mix. It was delicious!
Cheese – as noted above, my go-to is a 4 cheese Mexican blend. But I've also used all Cheddar, all Monterey Jack, or a combination of the two. Use whatever is your favorite and/or what you have on hand.
Sun dried tomatoes – I love tomatoes in my eggs, but I think using fresh tomatoes would be too much liquid and would throw things off. So I tried sun dried tomatoes; what a delicious addition! I chopped them very small and added to the skillet with the cooked veggies. Very tasty!
More variations to try:
Fresh spinach – I did try this once, but felt compelled to pre-cook the spinach in the pan before adding it to the casserole. Which kind of reduces the "quick and easy" factor. So I returned to frozen and haven't looked back. But I do think its worth trying with just adding the fresh spinach uncooked to the pan. It will probably cook just great with the eggs.
Sausage – crumbled and cooked sausage would be a yummy addition to this casserole. I usually serve it on the side, but feel free to add it to the veggie layer!
This low carb breakfast casserole is so easy to make your own!
More Breakfast Recipes to love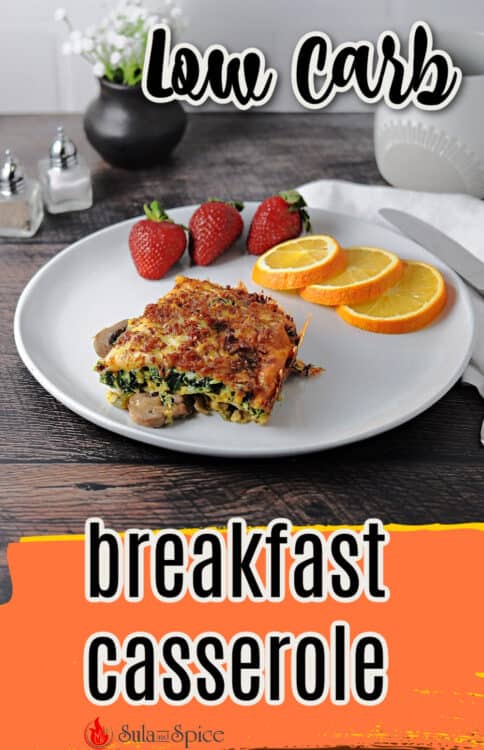 Low Carb Breakfast Casserole
This keto friendly breakfast casserole is full of delicious and good for you veggies. What a great way to power up your day!
Ingredients
4

eggs

large

2-3

tablespoons

milk or heavy cream

1

cup

frozen spinach

8

ounces

mushrooms

sliced

⅓

cup

bell pepper

chopped, any color

⅓

cup

onion

chopped or sliced

4

ounces

shredded Mexican blend cheese

1 cup

¼

cup

bacon bits

or chopped cooked bacon, 4 slices

Salt and pepper

to taste
Instructions
Grease an 8x8 shallow baking dish with cooking spray. Preheat oven to 375F.

Warm a large skillet on medium-high heat. Add the onions, mushrooms and peppers. Saute for about 5 minutes, until the mushrooms release their liquid, the onions and peppers are soft, and the liquid is evaporated.

Add the cooked veggies to the prepared baking dish. Spread out to make an even layer.

Layer the frozen chopped spinach over the cooked veggies.

In a bowl, whisk the eggs with the milk or cream until smooth. Pour evenly over the veggies in the baking dish.

Spread the shredded cheese in an even layer over the top. Add bacon bits to cover.

Bake, uncovered, for 35 minutes. The edges will be bubbling, and the cheese will be slightly brown.

Let the casserole cool for 5 minutes to set up before cutting into squares.
Notes
Other types of shredded cheese work great: Cheddar, Monterey Jack, etc.
Frozen chopped kale is a great substitute for the spinach.
If your spinach is frozen into large chunks, place them in a bowl and microwave briefly to thaw. Squeeze out the excess liquid before adding to the baking dish.
The cooking time as specified works perfectly for an 8x8 (one quart) shallow baking dish. I have also used an oval baking dish. This made the casserole a little deeper, and it needed an additional 5 minutes of cooking time to cook through.
Nutrition
Calories:
251
kcal
|
Carbohydrates:
11
g
|
Protein:
21
g
|
Fat:
14
g
|
Saturated Fat:
5
g
|
Polyunsaturated Fat:
3
g
|
Monounsaturated Fat:
4
g
|
Trans Fat:
1
g
|
Cholesterol:
182
mg
|
Sodium:
580
mg
|
Potassium:
479
mg
|
Fiber:
4
g
|
Sugar:
3
g
|
Vitamin A:
5378
IU
|
Vitamin C:
20
mg
|
Calcium:
429
mg
|
Iron:
2
mg
Nutrition values are estimates only, using online calculators. Please verify using your own data.