It seems like more of us are turning to dairy-free alternatives for our meals. It may be due to food sensitivities, allergies or other health conditions. Or perhaps to lower your carbon footprint a bit. Happily, there are many dairy free solutions that do not feel like you're giving up on "normal" food!
Sometimes breakfast can seem the most daunting. Can you really make a delicious breakfast that's dairy free? You definitely can!
In addition to almond milk pancakes and oat milk pancakes, I've now adapted my fruit crepes recipe to make dairy free almond milk crepes.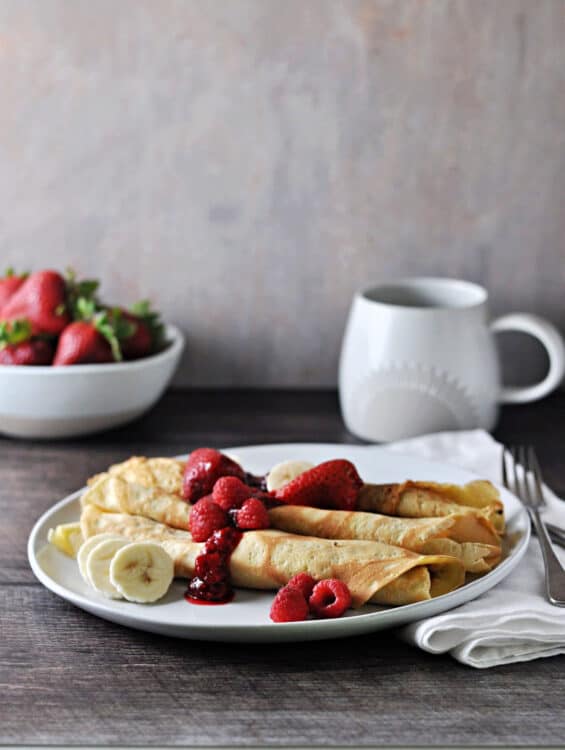 Why this recipe works
Crepes are so much easier than you think. They are another variation on pancake batter: flour, eggs, milk and butter. The proportions are different: less flour, more egg. And since we don't want a fluffy volume in a crepe, we eliminate the baking powder. The goal is a thin, flat pancake which we can wrap around some delicious fruit or other filling.
Ingredients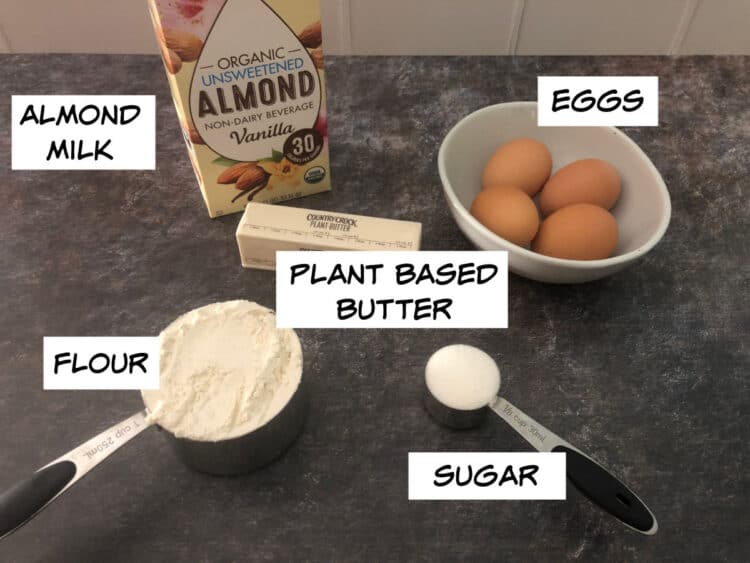 How to make these almond milk crepes
Nothing could be easier than making this batter! Melt the butter (plant based for dairy free) and then add all the ingredients to a bowl.
Mix the batter until smooth. When mixing regular pancake batter, a few lumps don't matter, but for crepes we want it smooth and not lumpy. I use an immersion blender for this. A regular blender will also do a fine job or use a good whisk if you'd like a bit of an arm workout. 💪
Prepare your pan by preheating on medium heat and adding a little butter or oil.
Pour about ¼ cup of batter into the hot pan and immediately tilt/rotate the pan to spread the batter evenly.
Cook the crepe for 1-2 minutes and then flip and cook for one more minute. If you keep a close eye on the edges of the batter you'll get a sense for how quickly your crepe is cooking. Use your spatula to lift an edge to peek – this will also verify whether the crepe is stable enough to be flipped. A nice long spatula helps make the flipping easy.
You might be worried about needing a special pan and/or spatula but I have neither and have no trouble making these crepes. Check out the video in the recipe card if you want to see it demonstrated.
Filling the crepes
This is the fun part! Crepes are so versatile and can be sweet or savory depending on how you fill them. We always go the sweet route, with fresh fruit and raspberry or other berry sauce. Maple syrup or honey are great choices as well.
Here are a few other ideas for filling those crepes:
Hazelnut spread or peanut butter – yummy! These tastes can stand alone, but also good with some banana.
Top with a sprinkle of powdered sugar
These other options do add back dairy, but might be good choices if some of the people you are serving do not have a dairy restriction:
Mascarpone cheese with fruit
Ricotta cheese can be sweetened with some powdered sugar and used for filling
Cream cheese – whipped strawberry cream cheese would be a great choice!
Whipped cream – always a great choice. You can either use it as a filling or as an additional garnish on top of your crepes.
Expert Tips/FAQ
Do I need a special pan for making crepes?
Have you heard of "crepe pans"? These are pans designed specifically for making crepes. They are 9.5 to 10.5 inches in diameter with shallow sides to allow ease in flipping the crepe with a spatula. The good news is, any good frying pan will work. Ensure that it has a flat base that heats evenly, and sloped sides and a non-stick surface will make the cooking very easy.
Can I keep extra crepes and re-heat them the following day?
I have done this and have not loved the results. Instead, I now keep the uncooked batter. Cover and refrigerate, then use it the next day to make more crepes. They turn out great, and no one will be angry when you serve fresh crepes 2 days in a row!
Is Nutella dairy free?
Nutella is made with milk powder; therefore it is not dairy free. There are some dairy free hazelnut spreads, just read the labels carefully if you need to be completely dairy free.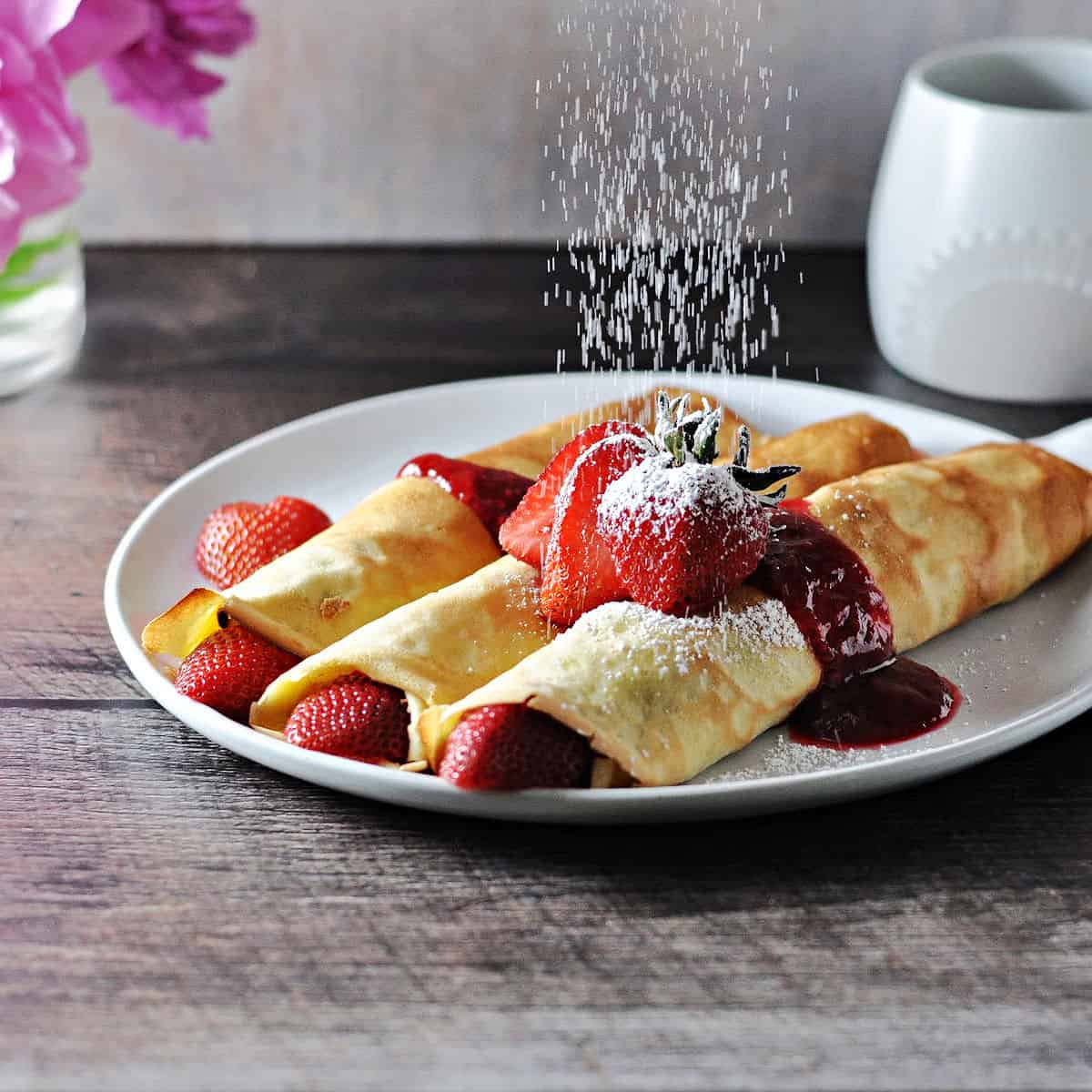 More Breakfast Ideas
Flour, eggs, milk and butter can make a great breakfast. Here are some variations for you to try:
Almond Milk Crepes
Dairy free and so delicious!
Ingredients
4

eggs

lightly beaten

1 ⅓

cup

almond milk

2

Tablespoons

plant based butter

melted

1

cup

flour

all purpose

2

Tablespoons

sugar

Dash salt
Instructions
In a large bowl, whisk together all ingredients until smooth. (I use an immersion blender to get it very smooth)

Heat a skillet over medium heat. Add a small amount of butter or oil to grease. Spoon about ¼ cup of batter into the hot pan, and immediately tilt the pan to evenly spread the batter.

Cook over medium heat, 1 to 2 minutes per side, or until golden brown.

Fill with cut up fruit, roll up and top with fruit sauce and powdered sugar, as desired.
Video
Notes
Batter should be thin and pourable. If it doesn't seem thin enough, add a couple teaspoons of water or almond milk.
Nutrition estimates are for a single crepe only, and does not include any filling or toppings.
Nutrition
Calories:
109
kcal
|
Carbohydrates:
12
g
|
Protein:
4
g
|
Fat:
5
g
|
Saturated Fat:
1
g
|
Polyunsaturated Fat:
1
g
|
Monounsaturated Fat:
3
g
|
Trans Fat:
1
g
|
Cholesterol:
65
mg
|
Sodium:
69
mg
|
Potassium:
38
mg
|
Fiber:
1
g
|
Sugar:
3
g
|
Vitamin A:
95
IU
|
Calcium:
52
mg
|
Iron:
1
mg
Nutrition values are estimates only, using online calculators. Please verify using your own data.