I love a good balsamic vinaigrette dressing. It's my favorite on so many types of salad. Sweet and tangy with a smooth texture, it works on so many salads, especially anything with fruit!
But it's also possible to add some fruit TO the balsamic vinaigrette. In this case, I used raspberries to make a raspberry balsamic vinaigrette dressing. I started with my standard balsamic dressing, prepped some raspberries to make a puree, and then tweaked the proportions of everything else to get the right balance of flavors.
And what a balance it is! That lovely sweet and tart taste from raspberries, with the special tang of balsamic vinegar, balanced with enough sweetness to satisfy the taste buds.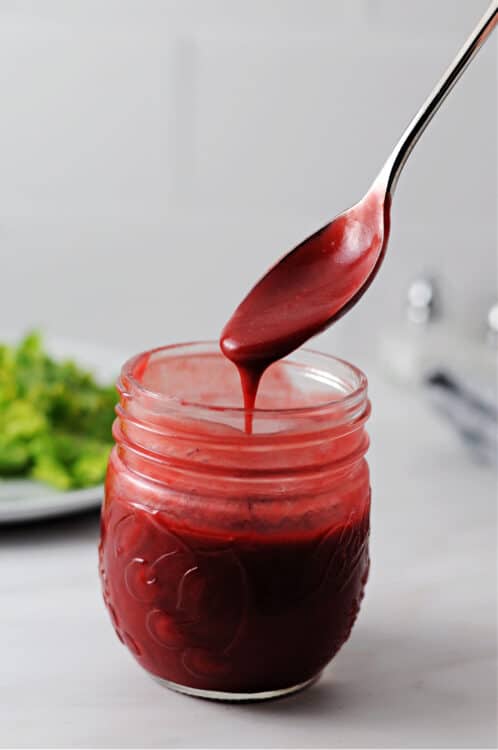 Why I love this recipe
We are big fans of balsamic vinaigrette in this house. It's been my go-to salad dressing for years!
The Carnivore also loves raspberry vinaigrette. He orders it with a salad from his favorite pizza place.
One day I sampled this salad dressing and couldn't believe how sweet it was. I'm pretty sure a more accurate label for it would be "artificially flavored raspberry corn syrup." I resolved to do better.
I knew he'd still want a sweet dressing, and the raspberry taste needed to come through as well. But a vinaigrette does require a tang of vinegar, so I made sure that flavor would come through as well.
The result is a tangy yet sweet dressing that marries the fresh raspberry taste with the distinct tang of balsamic vinegar.
Ingredients
How to make this raspberry balsamic dressing
Homemade salad dressing is fast to make, and this one is no exception!
To start, prep the raspberries. I use frozen raspberries which I microwave for a minute or two to thaw/cook a little. Then add a little balsamic vinegar, mix and set the bowl aside to let the flavors meld and to encourage the berries to release their juice.
After about 10 minutes, stir this mixture and then strain it through a sieve. Use the back of a spoon or spatula to squeeze as much juice as you can from the pulp. I typically end up with about ¼ cup of liquid puree from one cup of frozen berries.
Put the raspberry puree and all the other ingredients in a small blender or food processor.
Blend on medium to high speed for about a minute, until all ingredients are well incorporated. Give the dressing a quick taste. If the balsamic taste is too sharp, add a little more honey or brown sugar and blend again. I usually stick with one tablespoon of each, but it does depend upon the balsamic vinegar you are using. It is best to start with the lesser amount and add as needed.
If you don't want to use a blender, whisking by hand will also work. Or, just put everything in a Mason jar, put the lid on tight and shake like crazy!
I must admit, I prefer using a blender because it produces a silky smooth texture that I love. It's possible that I lack the patience to whisk and/or shake long enough to get that same texture by hand. LOL
Storage
Keep the dressing in a covered container in the refrigerator. I like to put it in a small Mason jar with a lid. It should keep for a couple weeks in the fridge, if it lasts that long.
After a time, the oil might separate but you only need to give the jar a good shake and your dressing is ready to go!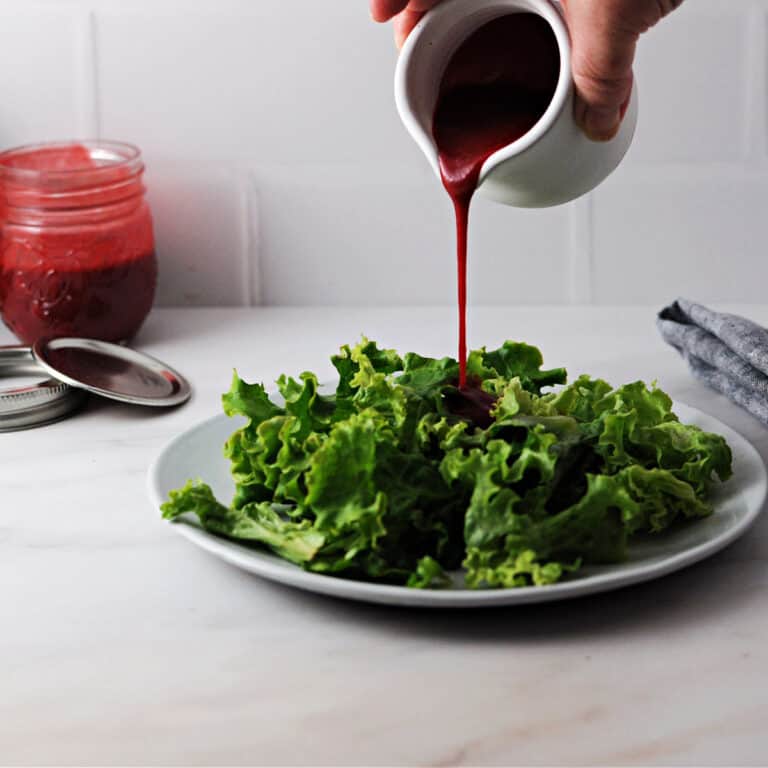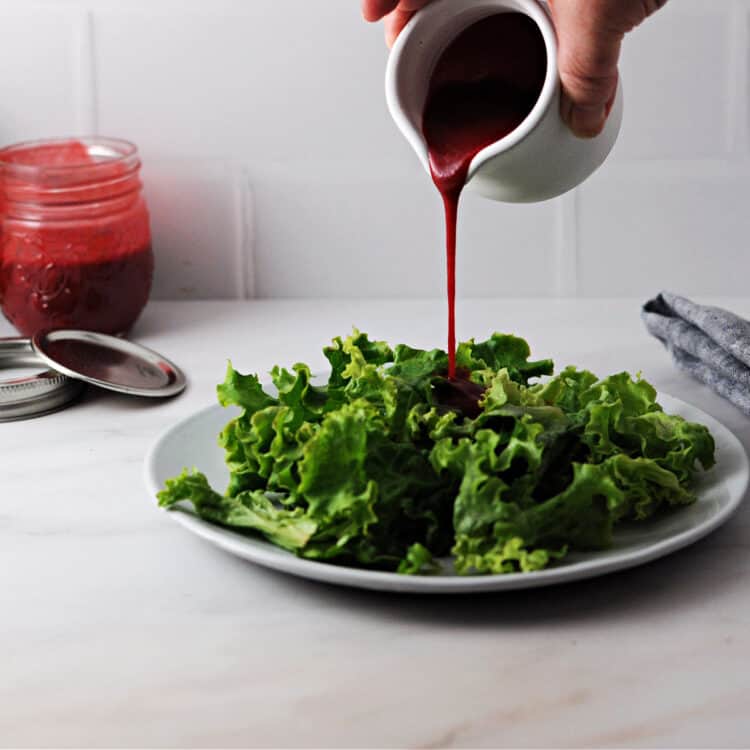 Black pepper vs. white pepper
You may notice that I use white pepper in this dressing. This is for two reasons: one, white pepper is milder than black so I felt it would work better in this raspberry-based dressing. The second reason is aesthetic: white pepper doesn't make black speckles in the sauce.
However, the quantity used is quite small so if all you have is black pepper, go ahead and use it, the difference will be very subtle.
In case you're wondering, here are a few more tidbits about black and white pepper:
White pepper has its roots in Southeast Asia. It has long been used as an ingredient for cooking, not just as a spice that adds heat to already-cooked food.
Black pepper was originally grown by the Romans. To be considered Black peppercorns, they must still have their stem attached. White peppercorns are simply the seed only of the Piper Nigrum plant without its darker outer cover shell or husk which contains most of its pepcartin molecules, which make it taste hot and spicy!
How to use this salad dressing
This raspberry balsamic vinaigrette is for salads, of course! Spinach salad is superb with this raspberry dressing. I love it on a simple salad of greens and tomato, but when you want something more, try a beet salad with goat cheese or a strawberry walnut salad. Both are incredible with raspberry balsamic vinaigrette dressing!
Raspberry Balsamic Vinaigrette
A great way to add some fruit flavor and color to your salad. Tart and sweet, perfect on summer salads!
Ingredients
1

cup

raspberries

frozen

⅓

cup

olive oil

extra virgin

2

Tablespoons

balsamic vinegar

divided

1

Tablespoon

honey

1

Tablespoon

brown sugar

¼

teaspoon

salt

or to taste

⅛

teaspoon

white pepper

or to taste
Instructions
Place raspberries in a small bowl and microwave on high for two minutes to thaw and start to break down. Add 1 tablespoon balsamic vinegar, mix well with a fork or immersion blender. Set aside for 10 minutes.

Use a metal sieve to strain the raspberry puree from the seeds and pulp. One cup of raspberries will yield about ¼-⅓ cup of puree.

Add raspberry puree and all other ingredients to a small blender or food processor.

Blend ingredients at medium speed until well incorporated.

Taste the dressing and adjust with a little more honey or brown sugar if needed.
Video
Notes
If you have an immersion blender, it works well to mix the raspberries with the vinegar. Using a fork to mash the berries yields a little over ¼ cup of puree, whereas using an immersion blender yields very close to ⅓ cup.
For a stronger balsamic taste, a little more balsamic vinegar can be added, and to sweeten simply add more brown sugar and/or honey.
Nutrition
Calories:
107
kcal
|
Carbohydrates:
7
g
|
Protein:
1
g
|
Fat:
9
g
|
Saturated Fat:
1
g
|
Polyunsaturated Fat:
1
g
|
Monounsaturated Fat:
7
g
|
Sodium:
79
mg
|
Potassium:
36
mg
|
Fiber:
1
g
|
Sugar:
5
g
|
Vitamin A:
6
IU
|
Vitamin C:
4
mg
|
Calcium:
8
mg
|
Iron:
1
mg
Nutrition values are estimates only, using online calculators. Please verify using your own data.
This raspberry vinaigrette is now a web story!