Bursting with refreshing flavors and natural goodness, prickly pear lemonade is a perfect way to beat the heat and quench your thirst during those scorching summer days.
The combination of sweet and vibrant prickly pear with the zesty tang of lemons creates a delicious variation of lemonade. It's pink, but a more vibrant hue than most pink lemonades.
And of course, by making it yourself, you can easily tweak the proportions to control the color and/or taste to your preference!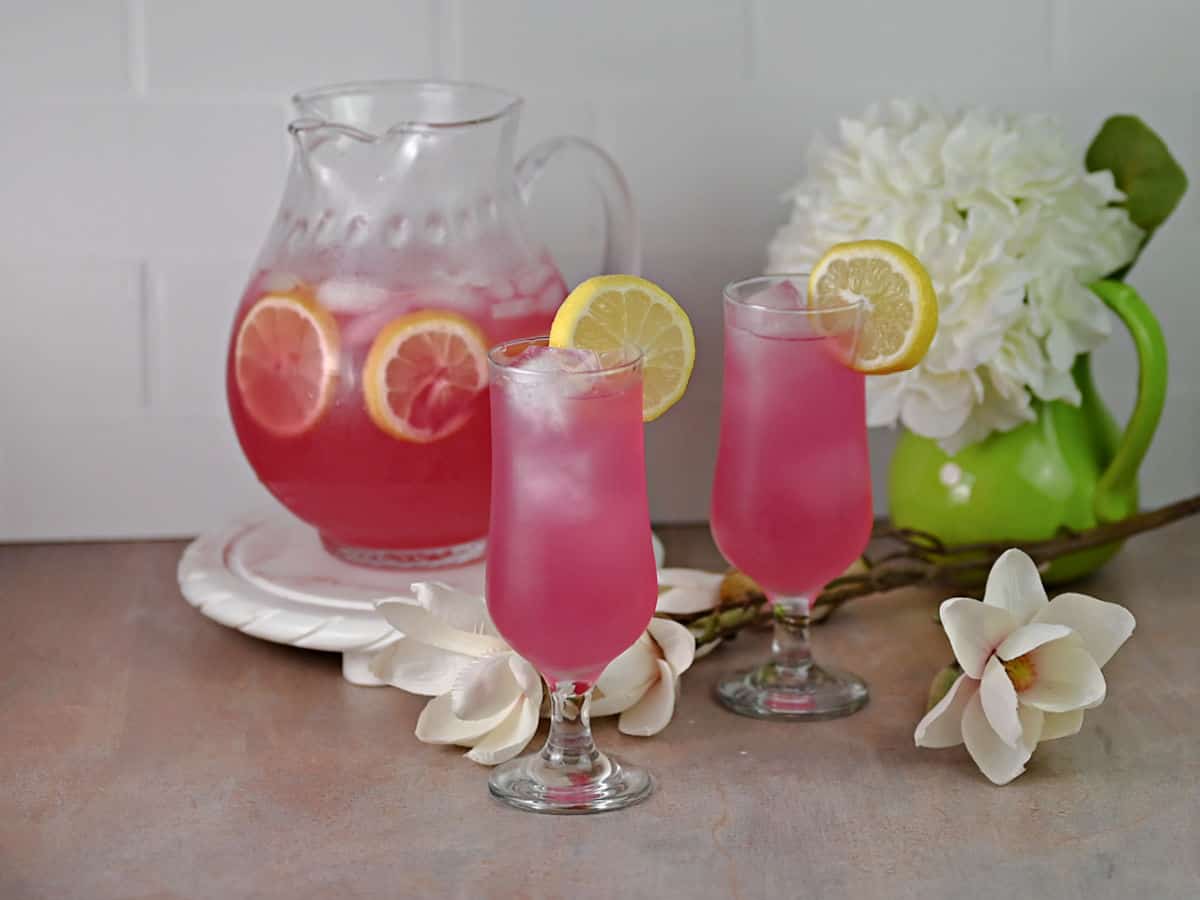 Jump to:
Why You'll Love This
Flavor: The best lemonade is sweet and tart with every sip, and this one is no exception. The prickly pear syrup adds another layer, with a flavor some describe as watermelon and bubble gum, with hints of raspberry and pear. It's delicious with lemon!
Color: You've gotta love that color! Dark pink, magenta, purple-pink. Whatever words you choose, it is undeniable vibrant!
Easy Ingredients: I found an easy to source prickly pear syrup for making this lemonade. So no need to run around to a bunch of grocery stores trying to find the prickly pear fruit. The syrup is in a bottle and ready to pour!
Ingredients Needed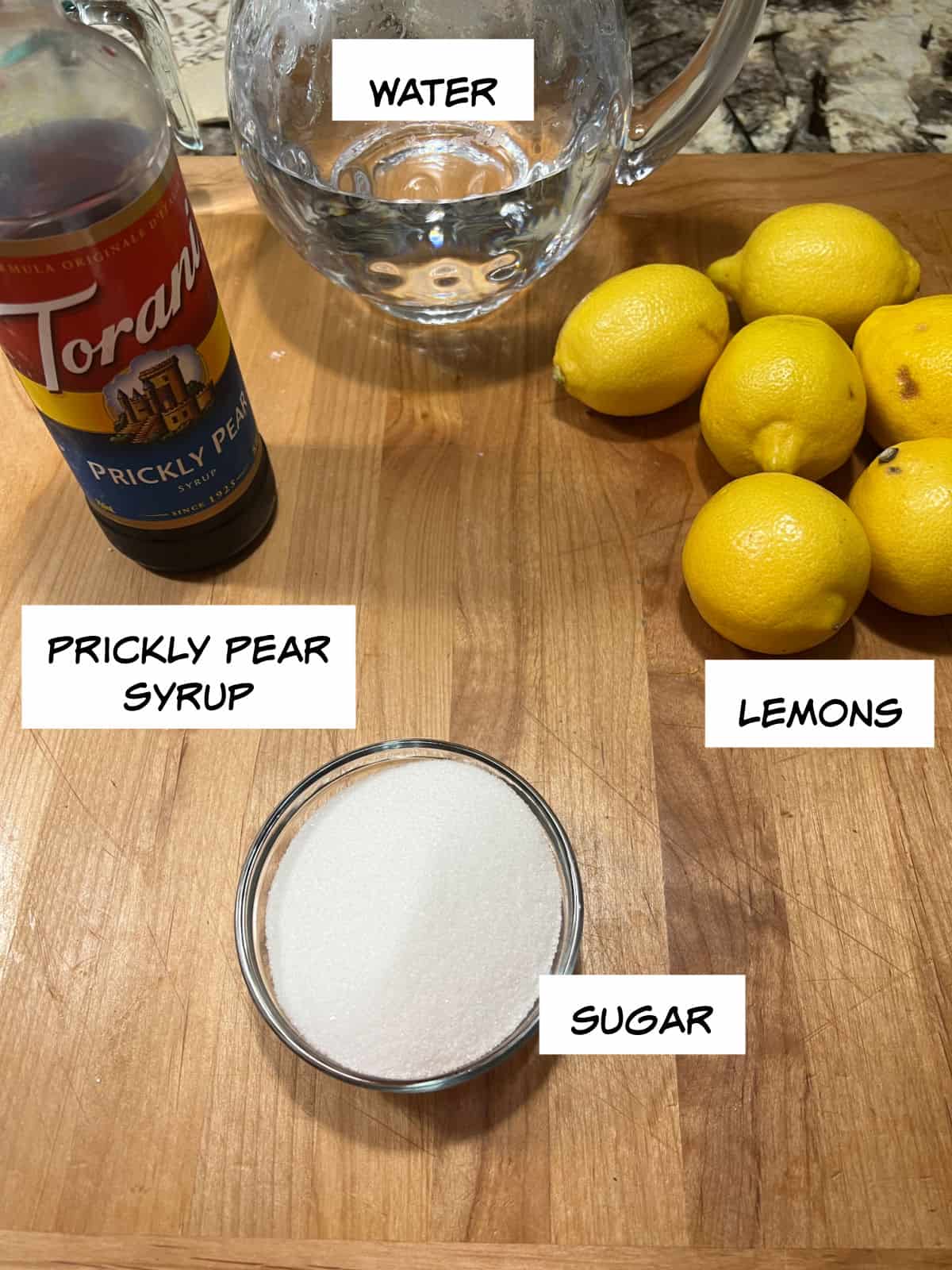 It's a short ingredient list, because on a hot day you need refreshment fast!
How to Make Prickly Pear Lemonade
*** Be sure to read the recipe card below for the full ingredient list and instructions. ***
Homemade lemonade is so easy, but you do need to start with fresh-squeezed lemon juice. They'll give you the best flavor.
If you have a juicer, it'll make short work of that job. Just be sure to cut the peel from the lemon (including the white pith - too bitter!) before putting it in the juicer.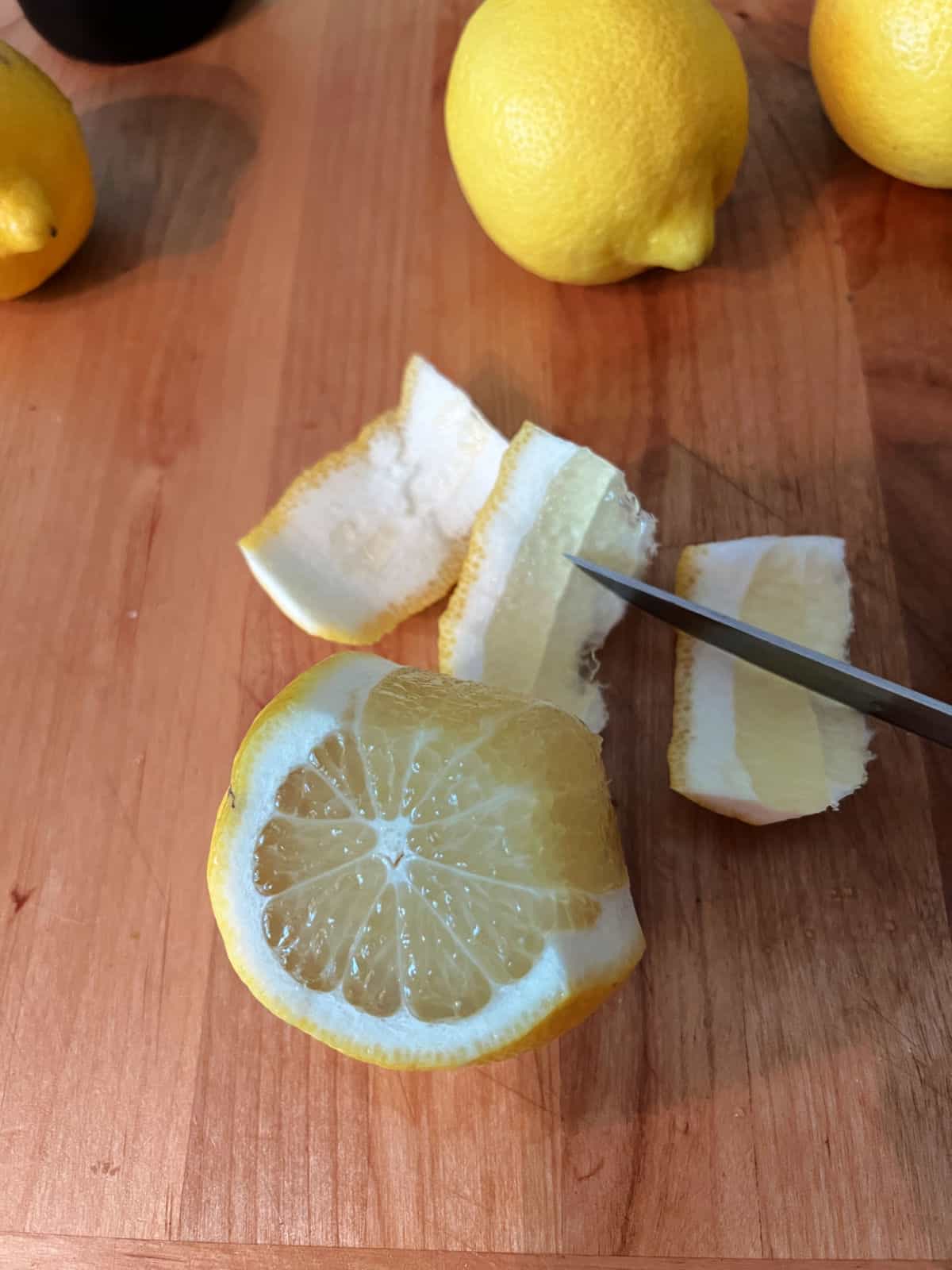 The number of lemons you need will depend upon their size and how juicy they are. I usually need about 5-6 lemons to get ¾ cup of juice (not counting the foamy part on top).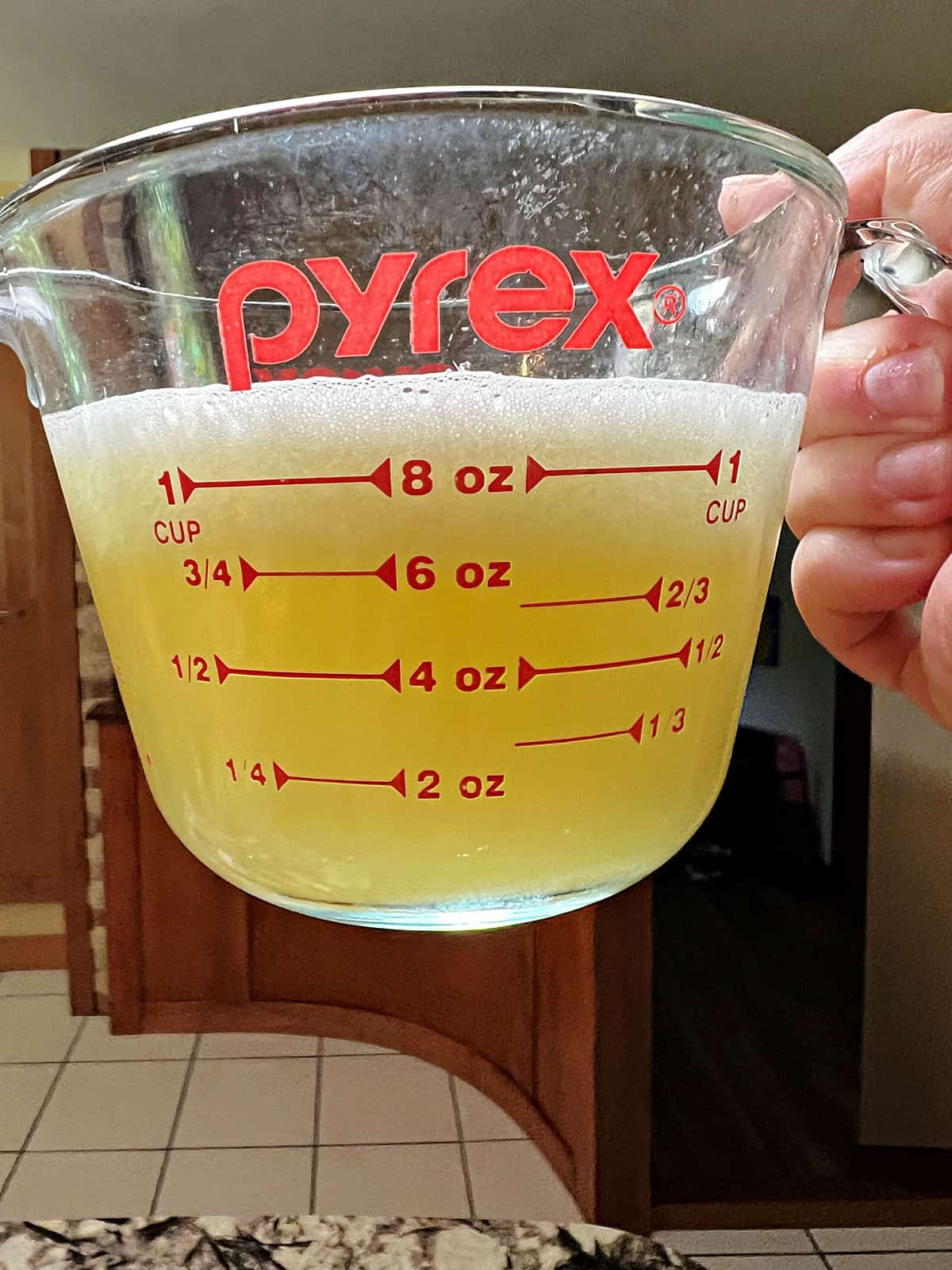 Add the water and sugar to the pitcher and stir until the sugar is dissolved. If planning ahead, you can warm up some of the water and dissolve the sugar in the warm water first, before adding to the pitcher. It's an extra step, but it does ensure the sugar is fully mixed.
Otherwise, just stir, stir, stir until the sugar crystals no longer sink to the bottom of the pitcher.
Now add the lemon juice and of course the prickly pear syrup.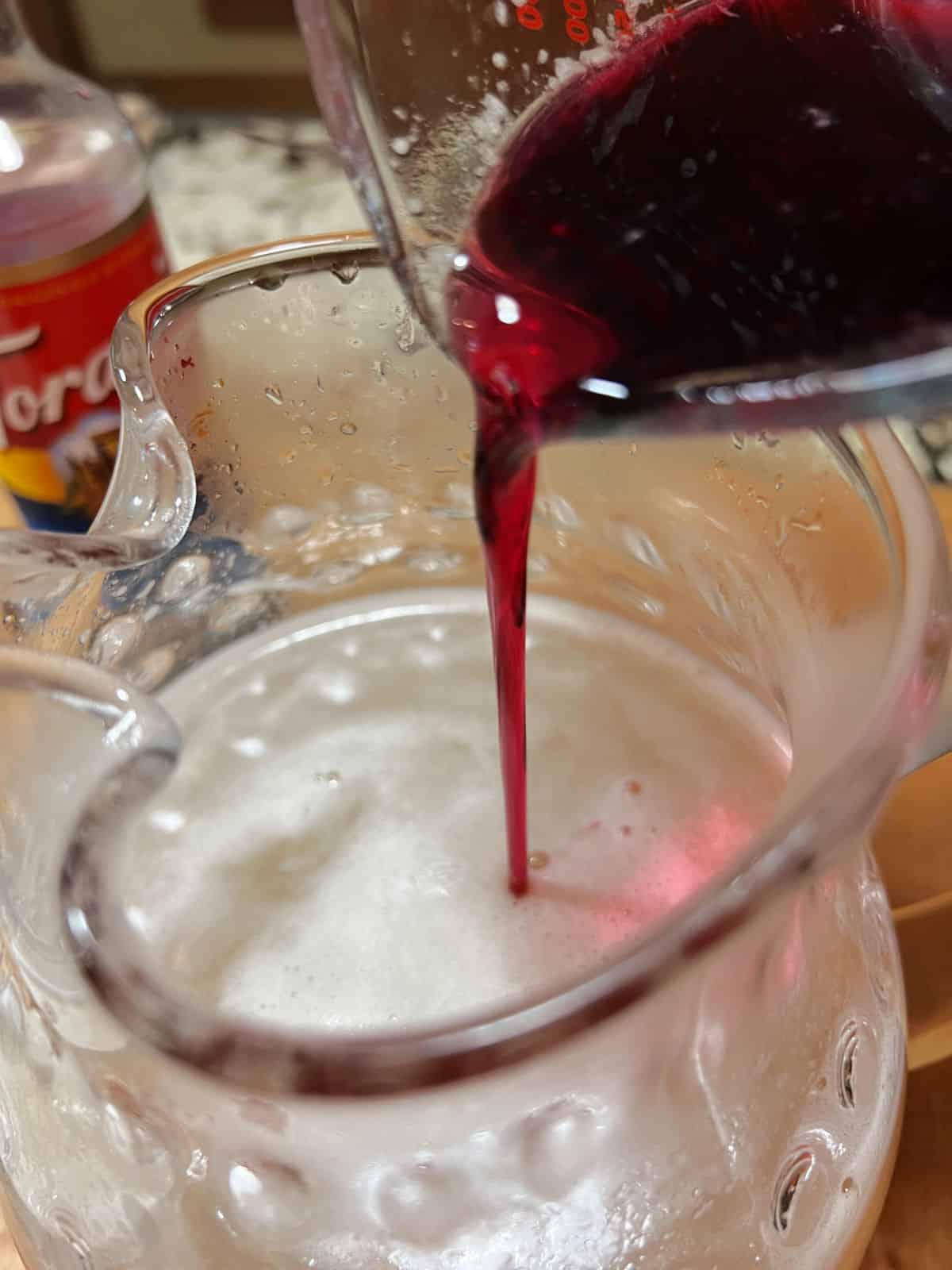 Once you stir this mixture, you'll see the gorgeous color come to life. Pour off a tiny amount to taste test, and adjust with sugar or lemon as needed. Just keep in mind that you'll be adding ice which will slowly melt and dilute the lemonade some, so take that into consideration.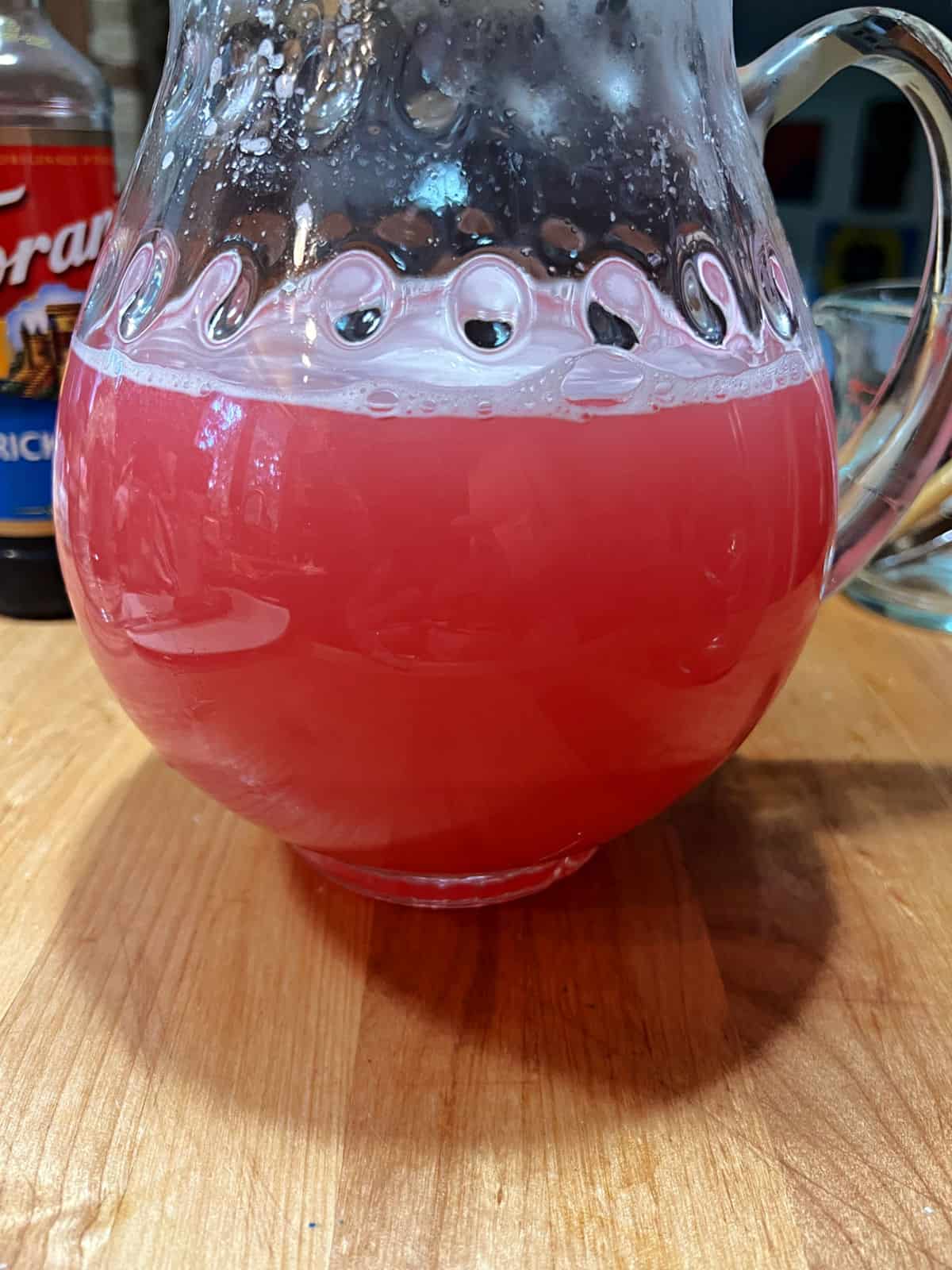 Now add ice to the pitcher and slices of lemon as desired. It makes a lovely presentation in the pitcher, don't you think? ❤️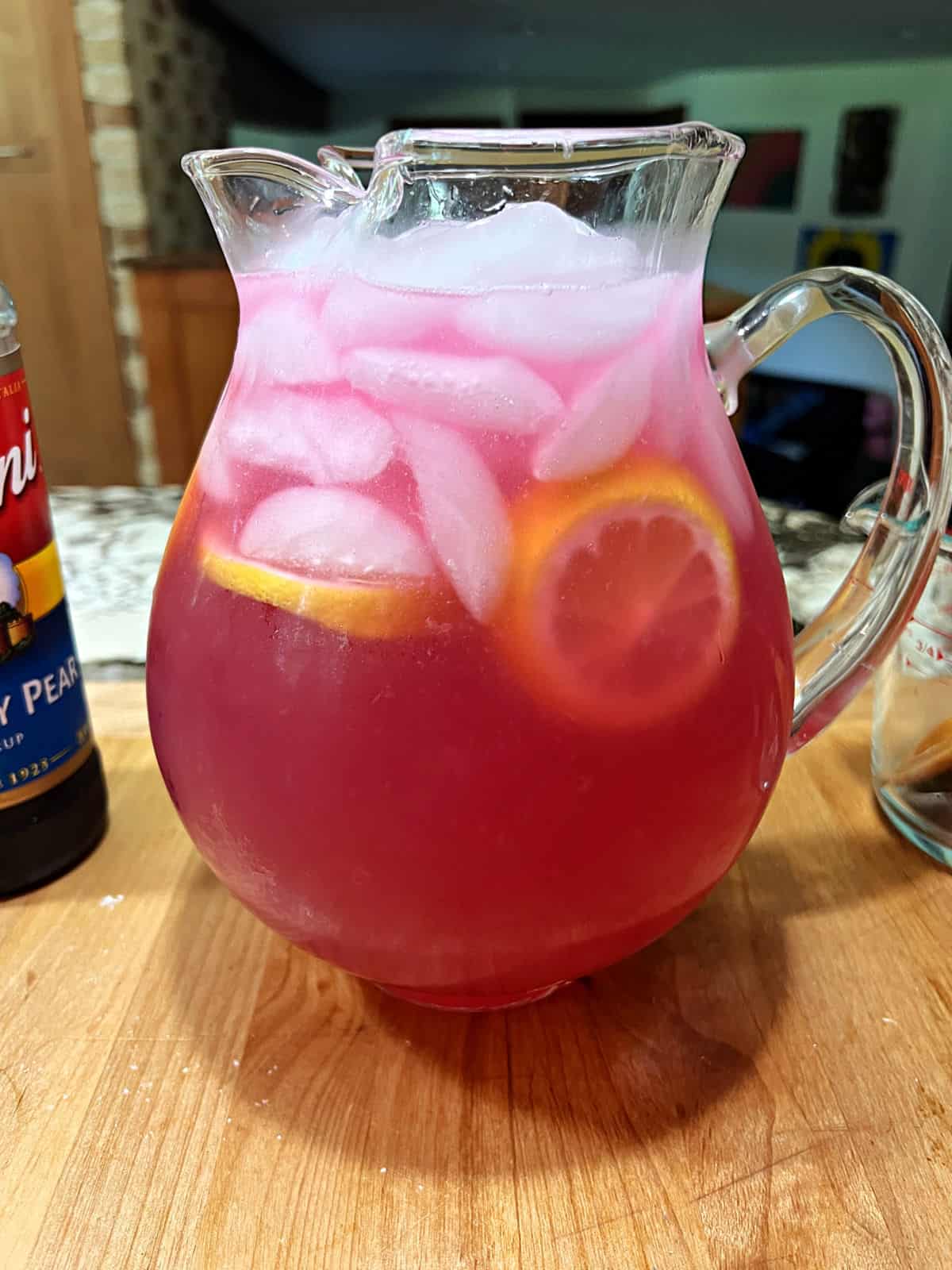 Serving Suggestions
Of course, you'll want to serve your prickly pear lemonade over ice. I like to garnish with a slice of lemon just to dress it up a bit.
All out of lemons? Garnish with a sprig of mint for a little added freshness!
If you like things bubbly, you could top each glass with a little sparkling water, or any bubbly beverage of your choice. 😁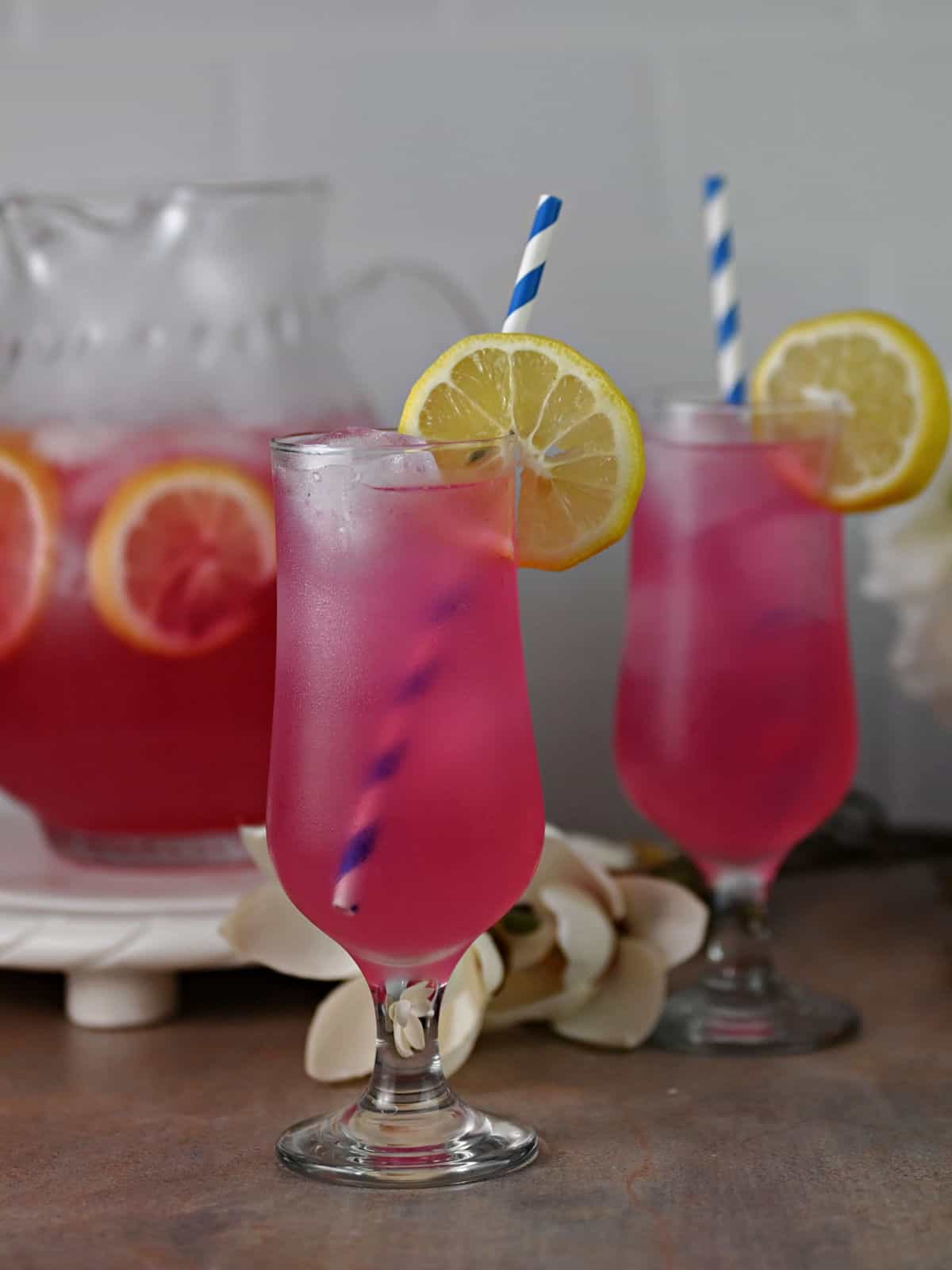 Recipe FAQs
Can I make this recipe ahead of time?
Absolutely, you can prepare the lemonade a day in advance and refrigerate it until needed. Just be sure to give it a good stir before pouring over ice.
Is Prickly Pear Lemonade suitable for children?
Yes, this is a family-friendly beverage. Kids will love the bright pink color. Adults can add a little alcohol to their own glass, as desired.
Where can I find prickly pear syrup?
Prickly pear syrup can be found in some specialty stores, gourmet markets, or online. I tried some I found on Amazon which was delicious but a bit spendy.... the bottle was only 7 ounces and if you're making lemonade by the pitcher you'll run out of syrup very quickly! So I was thrilled to find a big bottle of Torani brand prickly pear syrup at World Market. If you have that store nearby, I highly recommend it. Otherwise, the second link will take you to the Amazon listing for that brand.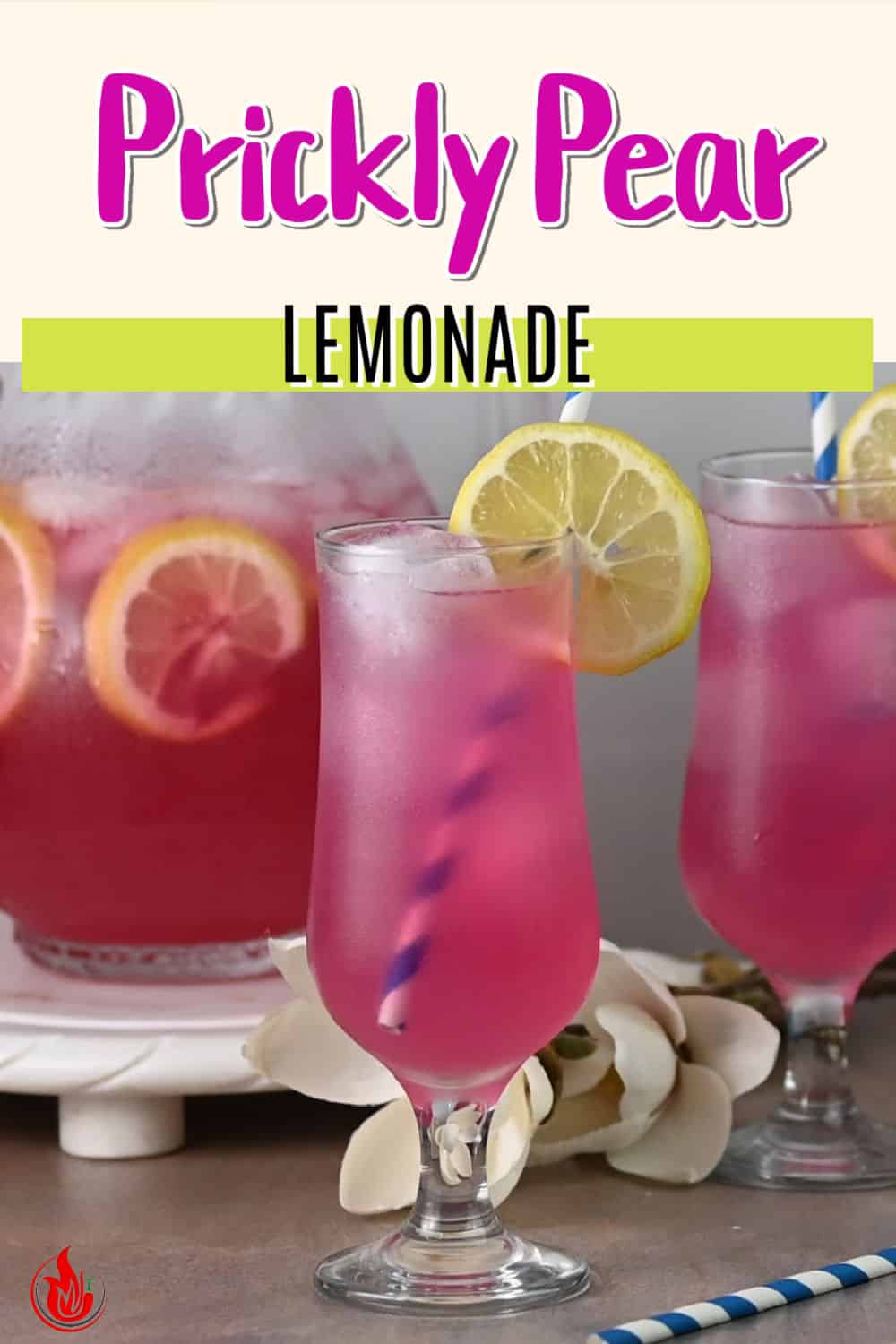 More Recipes to Consider
📖 Recipe
Prickly Pear Lemonade
Quench your thirst with a burst of flavor! Discover the magic of Prickly Pear Lemonade – a vibrant and refreshing summer delight. 🍹🍋
Ingredients
¾

cup

lemon juice

fresh squeezed (about 5 - 7 lemons)

¾

cup

sugar

6

cups

water

⅓

cup

prickly pear syrup

Ice

Lemon slices for garnish
Instructions
Place water and sugar in a large pitcher. Stir until the sugar is completely dissolved.

Add lemon juice and prickly pear syrup. Stir to combine.

Do a quick taste test and adjust with sugar or lemon as needed.

Add ice and lemon slices to pitcher as desired.

Serve over ice with a slice of lemon.
Notes
A sprig of mint makes a lovely garnish in place of or in addition to the lemon slice.
Nutrition
Calories:
151
kcal
|
Carbohydrates:
39
g
|
Protein:
0.1
g
|
Fat:
0.2
g
|
Saturated Fat:
0.01
g
|
Polyunsaturated Fat:
0.01
g
|
Monounsaturated Fat:
0.002
g
|
Sodium:
17
mg
|
Potassium:
37
mg
|
Fiber:
0.1
g
|
Sugar:
34
g
|
Vitamin A:
2
IU
|
Vitamin C:
12
mg
|
Calcium:
10
mg
|
Iron:
0.05
mg
Nutrition values are estimates only, using online calculators. Please verify using your own data.