When making a layer cake, there seem to be two approaches. The purists will tell you that you must make the cake completely from scratch. And the rest of us will use a box mix, sometimes with some "tweaks", to make the cake layers.
I am definitely in the latter group, and here's why: homemade everything else. I believe that making homemade frosting and a filling can really elevate any cake. So I spend my energy on those elements!
That's where this strawberry cake filling came from. I initially made it as a filling between 2 layers of strawberry cake, made from a box mix. Each piece of that cake tasted just like a jelly donut!
More recently, I made a vanilla cake with strawberry filling, for my grandson's 2nd birthday. It was a big hit!
This strawberry filling is an easy answer for your next cake!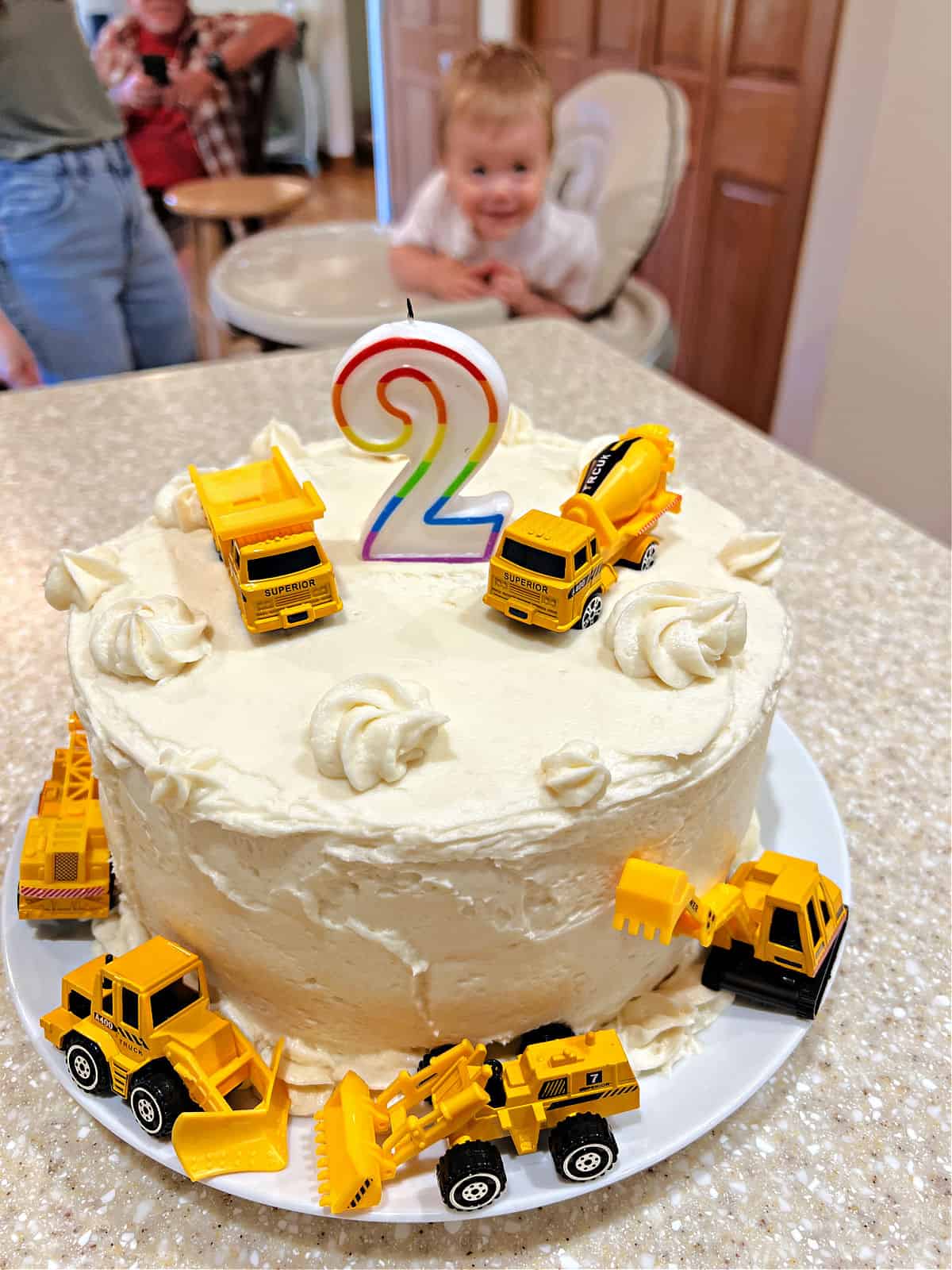 Why I love this recipe
This recipe is so easy! Basically, you cook diced strawberries with strawberry jam. I like to mash the strawberries first or use a food processor to get them even more smooth. A little cornstarch in the mix will get the filling nice and thick.
You can use fresh strawberries to make this filling, but I typically use frozen. This makes finding "good" strawberries a non-issue, no matter what time of year it is.
When I am fortunate to have some fresh strawberries available, I use them to decorate the final cake. 🍰
Ingredients
How to make this strawberry cake filling
This recipe uses 2 cups of diced strawberries. Which means, dice them up and then measure. You don't want to cheat yourself of that wonderful strawberry flavor.
Mash the berries (or use a food processor) to make about one cup of juice and pulp. Place this in a small saucepan with some strawberry jam.
In a small cup, stir a little sugar with cornstarch and then add this to the pan. Mix together to incorporate everything.
Now, begin heating the mixture on medium-low heat, stirring regularly. Bring the mixture to a boil, then boil it for one full minute, stirring constantly. The sauce will start to thicken as you are cooking.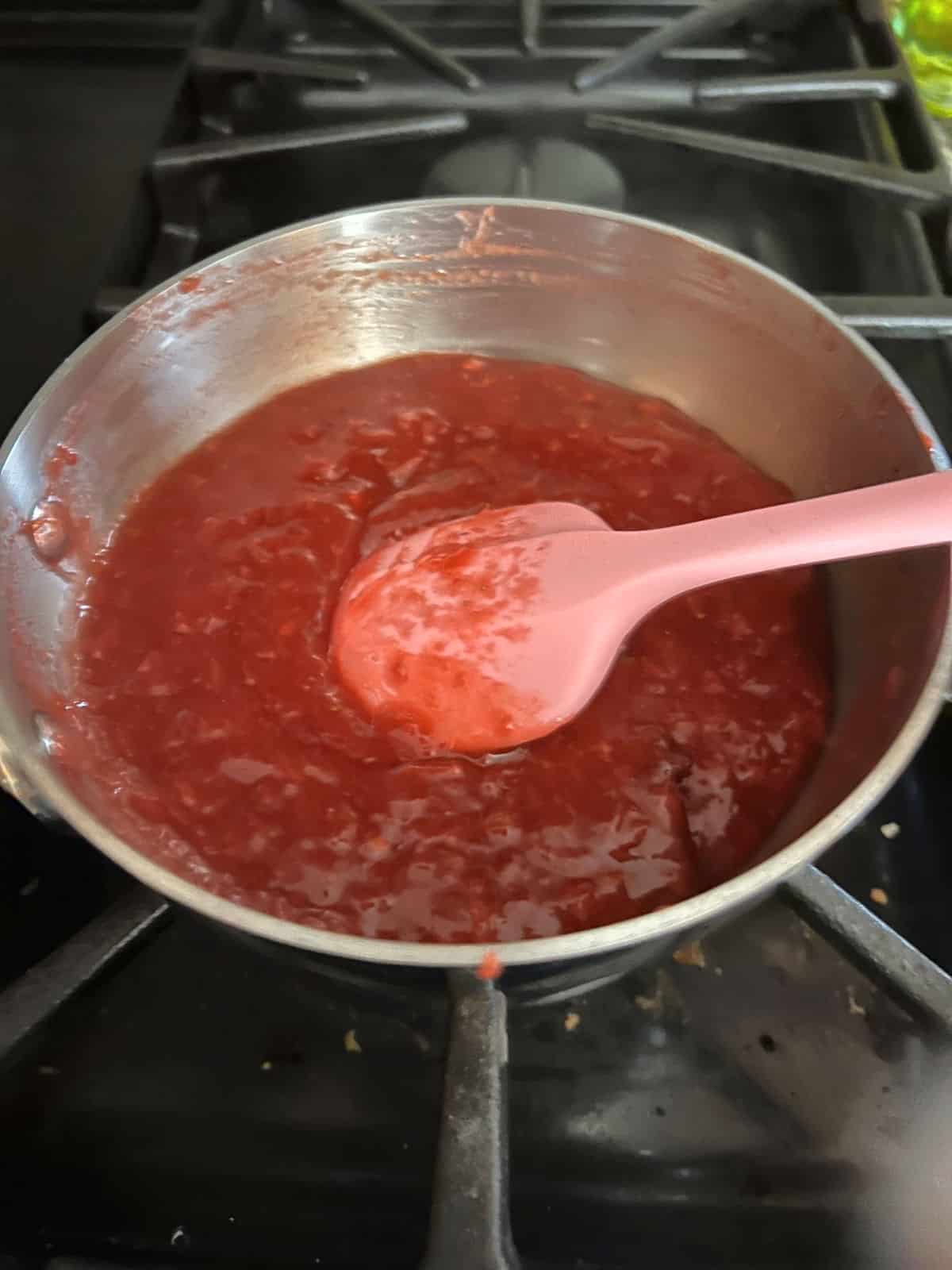 Remove the pan from the heat and allow the filling to cool.
Transfer the filling to a bowl or jar and refrigerate, covered, until ready to use. The sauce will thicken even more as it cools.
I like to make this filling a day in advance, so it is cooled and ready to go when I am ready to assemble my cake.
Cake assembly
If time permits, making both the filling and cake layers the day before is a big help. It ensures everything is completely cooled down.
Then, place one cake layer on the serving plate. Spoon the strawberry filling on that layer and spread it evenly to cover.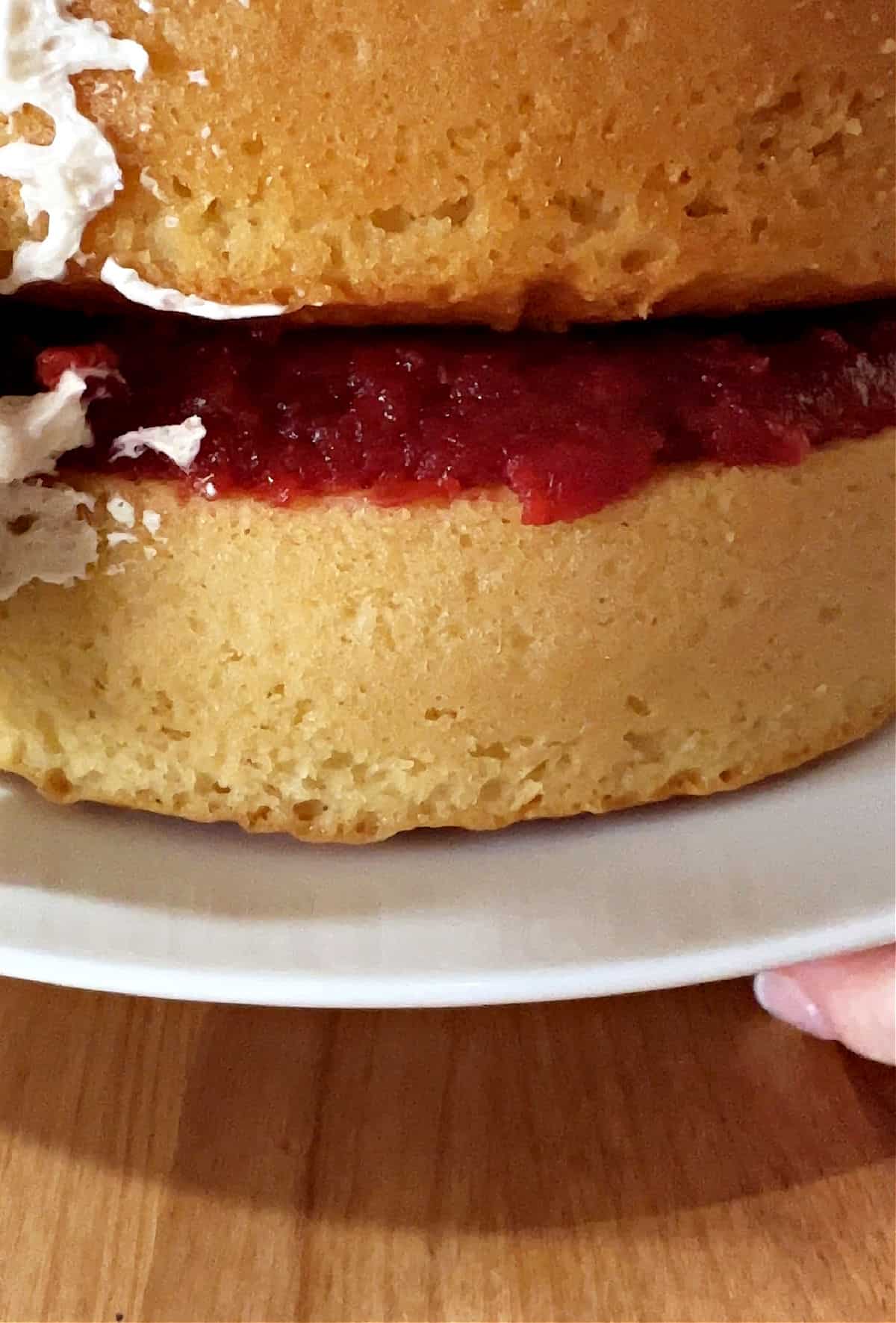 Now, add the other cake layer and line it up carefully with the first. Look at the strawberry layer – any small gaps along the edges can be filled in with a little frosting.
At this point, you are ready to make the frosting and frost your cake!
Expert Tips/FAQ
How long does strawberry cake filling last?
One made, this filling will be good for a week in the fridge.
Does this strawberry cake filling need to be refrigerated?
Yes, this filling is a perishable food item and should be refrigerated.
Will this filling make my cake soggy?
This is a thick filling and I've never had an issue with it soaking into the cake layers and making them soggy. Just make sure that the cake is completely cooled before you try to use the filling. I like to make the filling and cake layers the day before assembly, to ensure everything has cooled completely.
Will this filling be enough for a 3 layer cake?
I use it for 2-layer cakes because I like a nice thick layer of strawberry filling. If you're making a 3-layer cake, you can either double the recipe, or use the same amount but make thinner layers of filling.
More Delicious Cake Recipes to Try
Strawberry Cake Filling
Make this easy strawberry filling to elevate your cake!
Ingredients
2

cups

diced strawberries

fresh or frozen, thawed

½

cup

strawberry jam

2

TB

cornstarch

1

TB

sugar
Instructions
Mash strawberries in a bowl or use a blender/food processor to make about one cup of juice and pulp. Place in a small saucepan with jam and stir together.

In a small cup, mix the cornstarch and sugar together, then add to the saucepan and mix.

Begin heating on medium-low, stirring frequently. Bring mixture to a boil, then cook, stirring constantly, for at least one minute to thicken. Remove from heat and set saucepan aside to cool.

Transfer sauce to a small bowl or jar and refrigerate, covered, until ready to use. Filling will thicken as it cools.
Nutrition
Calories:
67
kcal
|
Carbohydrates:
17
g
|
Protein:
1
g
|
Fat:
1
g
|
Saturated Fat:
1
g
|
Sodium:
6
mg
|
Potassium:
57
mg
|
Fiber:
1
g
|
Sugar:
11
g
|
Vitamin C:
18
mg
|
Calcium:
8
mg
|
Iron:
1
mg
Nutrition values are estimates only, using online calculators. Please verify using your own data.