with Chocolate-Kahlua Frosting
August 16th is National Rum Day. Right about now you are probably thinking, "What kind of summer recipes use rum?"
Well, actually, there is rum in Kahlua!! So, it totally counts!
Kahlua is a sweet, coffee-flavored liqueur that hints at dark chocolate, at least to me. The drink that always come to mind for me is Kahlua and cream. If you think about it (after a couple of these) it's just an adult glass of chocolate milk, right?
Coffee is a popular additive to baked goods to enhance chocolate flavor, so this Kahlua chocolate cake (found at flourarrangements.org) seemed like a heavenly combination to me, especially since it starts with a box mix and only needs eggs, oil, sour cream and Kahlua to complete the ingredient list.
(Note: The original recipe called for 1½ cups chocolate chips, which I omitted. Please proceed according to your own taste).
The other decision was, of course, the frosting. The original recipe called for a chocolate ganache, which looks great in photos, but the last time I used ganache the carnivore in the house felt there wasn't enough frosting.
I have been on a quest to find the perfect chocolate frosting and this time I stumbled across a keeper: Chocolate-Kahlua frosting. (found at glorioustreats.com) In addition to the usual ingredients in frosting (butter, powdered sugar, more butter, more sugar) this one includes cream cheese, cocoa powder and Kahlua. Yum!
The directions for this cake are very straightforward: Put all the ingredients in a bowl and mix for 3 to 5 minutes. Pour into a prepared Bundt pan (greased and dusted with cocoa) and bake for 55 to 60 minutes. Let cool in the pan for 30 minutes and then invert to finish cooling.
The frosting is similarly simple: With a mixer, cream the butter, add cream cheese and mix well. Add the cocoa powder, and then powdered sugar about one cup at a time. Mix well before adding the next cup. Once the powders are fully incorporated, add vanilla, Kahlua and a little heavy cream or milk.
Like many recipes these days, the directions specify the use of a stand mixer. Even though I do have one, I did not use it and instead used my trusty hand-held mixer for both the cake and the frosting. Wasn't a problem. 🤓
Because of the cream cheese in this frosting, I recommend refrigerating the cake once it's frosted. I did so, and it was delightful for several days after baking. All I did was loosely wrap the plate with plastic wrap to prevent drying out. The cake stayed moist and flavorful.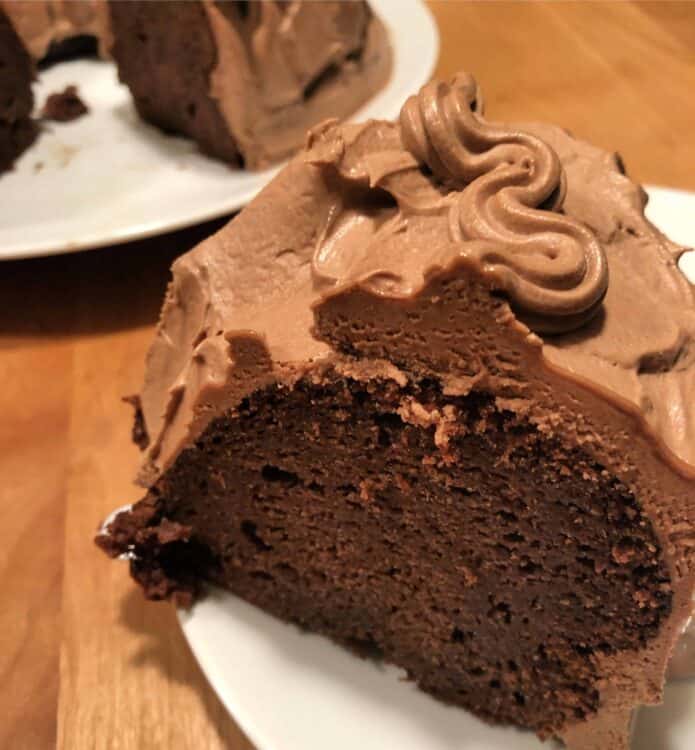 And I realized that it's really quite yummy to eat cold cake, especially in the summer!
Print Recipe
Kahlua Chocolate Cake
with Chocolate-Kahlua Frosting
Ingredients
1

package Devil's Food Cake mix

4

eggs

1

cup

sour cream

1

cup

Kahlua

¾

cup

oil

Shortening and cocoa powder – for dusting pan
Instructions
Preheat oven to 350Grease a 12-cup Bundt pan and dust with unsweetened cocoa powder.

Combine all other ingredients in a bowl. Beat on low speed to moisten and then medium speed for 3 to 5 minutes.

Pour into prepared Bundt pan. Bake for 55 to 60 minutes until a skewer or toothpick inserted in the middle comes out clean (just a few clinging crumbs is ok).

Remove from the oven and allow the cake to cool in the pan for 30 minutes. Invert the cake carefully onto a rack to finish cooling.

Once cake has fully cooled to room temperature, frost with Chocolate-Kahlua frosting (recipe below) or another frosting of your choice.
Nutrition
Calories:
484
kcal
|
Carbohydrates:
43
g
|
Protein:
5
g
|
Fat:
30
g
|
Saturated Fat:
6
g
|
Cholesterol:
77
mg
|
Sodium:
402
mg
|
Potassium:
199
mg
|
Fiber:
1
g
|
Sugar:
28
g
|
Vitamin A:
238
IU
|
Vitamin C:
1
mg
|
Calcium:
100
mg
|
Iron:
2
mg
Print Recipe
Chocolate-Kahlua Frosting
Ingredients
12

TB

(1½ stick) butter

4

oz

(1/2 block) cream cheese

1/3

cup

unsweetened cocoa powder

4

cups

powdered sugar

½

tsp

vanilla extract

2

TB

coffee liqueur

Kahlua

1

TB

heavy cream or milk
Instructions
Place butter in a bowl and beat with an electric mixer until smooth.

Add cream cheese and continue to beat until fully incorporated and smooth.

Add cocoa powder and beat to combine.

Add powdered sugar, no more than one cup at a time. Mix well and repeat until all sugar is mixed in.

Add vanilla, 2 tablespoons Kahlua and 1 tablespoon heavy cream or milk.

Beat until all liquid is fully incorporated and frosting is smooth and fluffy.
Nutrition
Calories:
370
kcal
|
Carbohydrates:
51
g
|
Protein:
1
g
|
Fat:
19
g
|
Saturated Fat:
12
g
|
Cholesterol:
51
mg
|
Sodium:
160
mg
|
Potassium:
63
mg
|
Fiber:
1
g
|
Sugar:
49
g
|
Vitamin A:
600
IU
|
Calcium:
19
mg
|
Iron:
1
mg