For a chocoholic, there is perhaps no bar more perfect than a brownie. What's not to love? Crackly edges and a slightly fudgy middle. Certainly, you can use a mix, but I personally feel that making brownies from scratch is just as easy and so much better.
Is this a copycat Nestle Toll House Brownie recipe?
This recipe is not a copycat. It's an actual copy of the original. Nestle used to print this recipe on the back of Toll House chocolate chips, right next to their chocolate chip cookie recipe. Thankfully, I cut this from the bag long ago, because at some point they stopped printing both those recipes. Now, only the cookie is there. Nestle does have a brownie recipe on its website, but it is slightly different.
The recipe I am posting here is reproduced from the little scrap of paper cut from the back of a bags of chocolate chips many years ago. It had the teeniest, tiniest font ever! LOL. As a service to you, I am reproducing the recipe in a larger font. You're welcome!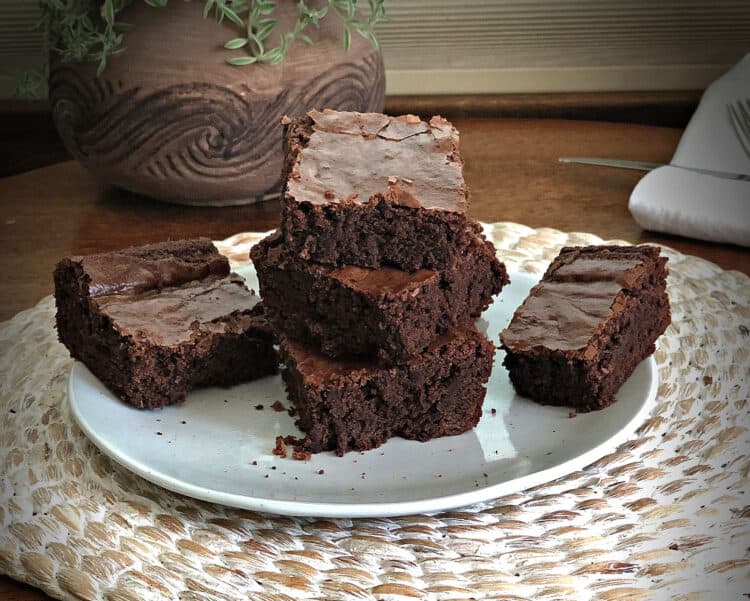 Why is this called "Double Chocolate" brownie?
These are really two brownie recipes. There is one that uses one cup (½ a package) of melted chocolate chips to make the brownie batter. Once the batter is made, the remaining chips in the package are added before baking. This incorporates chocolate chips with a traditional brownie. Some find it fabulous when eaten warm with the chips all "melty" inside.
The other recipe is more traditional. As in no chocolate chips. I typically skip the last step in the previous recipe and just bake the brownies with no chips added. These are like my mom's brownies. I guess I'm a traditional girl.
Note: As previously mentioned, I've listed the extra cup of chocolate chips as optional in the recipe. And, I did the same with nuts. The original recipe does include nuts, but I almost never include them. It's like the Hatfields and McCoys: People are either "No nuts!!" or "Yes nuts!!" when it comes to brownies, so feel free to add or not as you prefer.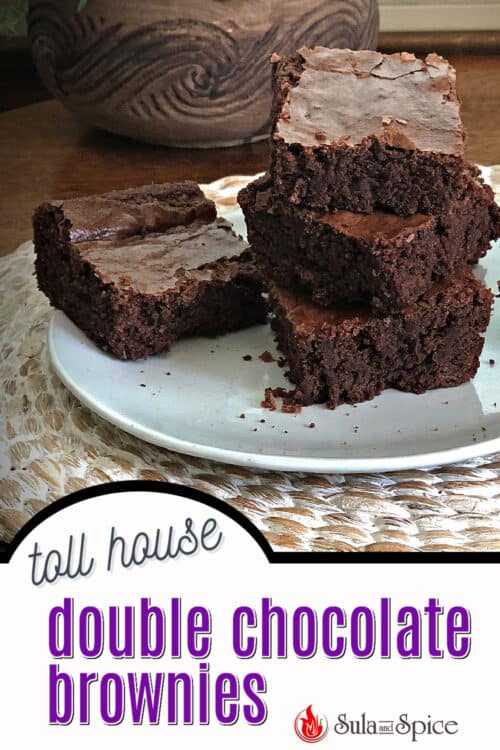 No matter which option, you'll love 'em!
📖 Recipe
Toll House Brownies
An easy homemade brownie using chocolate chips
Ingredients
¾

cup

flour

all purpose

¼

teaspoon

baking soda

¼

teaspoon

salt

⅓

cup

butter

¾

cup

sugar

2

TB

water

6

oz

1 cup semi-sweet chocolate chips

1

teaspoon

vanilla

2

eggs

Optional: ½ cup chopped nuts

Optional: 1 cup semi-sweet chocolate chips
Instructions
Preheat oven to 325F. In a small bowl, combine flour, baking soda and salt; set aside.

In a small saucepan, combine butter, sugar and water. Bring just to a boil then remove from heat. Add 1 cup chocolate chips and vanilla. Stir until chips have melted and mixture is smooth. Transfer to a large bowl.

Add eggs, one at a time, beating well after each addition.

Gradually blend in flour mixture.

(Optional) Stir in remaining 1 cup of chips and/or nuts.

Spread into greased 9-inch square baking pan.

Bake 30-35 minutes at 325F.
Video
Notes
Mini chocolate chips will melt a little faster.
Nutrition calculations do not include optional ingredients.
Nutrition
Calories:
162
kcal
|
Carbohydrates:
19
g
|
Protein:
2
g
|
Fat:
8
g
|
Saturated Fat:
5
g
|
Cholesterol:
31
mg
|
Sodium:
96
mg
|
Potassium:
74
mg
|
Fiber:
1
g
|
Sugar:
13
g
|
Vitamin A:
153
IU
|
Calcium:
12
mg
|
Iron:
1
mg
Nutrition values are estimates only, using online calculators. Please verify using your own data.
FAQ and serving suggestions
Aren't Toll House brownies just like the chocolate chip cookie?
I know what you are referring to, and those are called cookie bars. Or, from the Nestle website "Original Nestle Toll House Chocolate Chip Pan Cookie" which is quite the mouthful. I do think some people call these blonde brownies, but really, a brownie is chocolate. Let's not cross the streams!
Brownie frosting
Talk about Hatfields and the McCoys, frosting on brownies are fighting words, to some, right up there with nuts/no nuts. If you frost, of course, use a quality chocolate frosting. I do not frost. At most, I will do a light dusting of powdered sugar. If I decide I need more, I embellish in ways described below.
How do you serve brownies?
I love brownies. Most days I would happily eat a perfect fudgy little square and be done with it. But lately, The Carnivore and I can't seem to stop taking it over the top. We have adopted the habit of making brownie sundaes. Take a brownie, add a scoop of ice cream and drizzle some hot fudge or caramel sauce over the ice cream or the brownie. Or both. So delicious! So decadent!

#guiltypleasure #youonlyliveonce
More dessert recipes
Here are some more dessert ideas to suit whatever craving you have!