Again I am cooking on the grill! Today, some BBQ chicken legs.
So many people seem to migrate to white meat whenever eating any type of poultry, but I prefer dark meat. It's moist, tender and has more flavor, in my opinion.
Why chicken legs, not drumsticks or thighs?
Both drumsticks and thighs are fine. This recipe works with all parts of the leg because we cook to an internal temperature, not a specific time.
I decided to cook whole legs – drumstick with thigh attached because they're a heartier portion. These are sometimes referred to as chicken quarters.
Pick whichever piece you like. It all works. 😀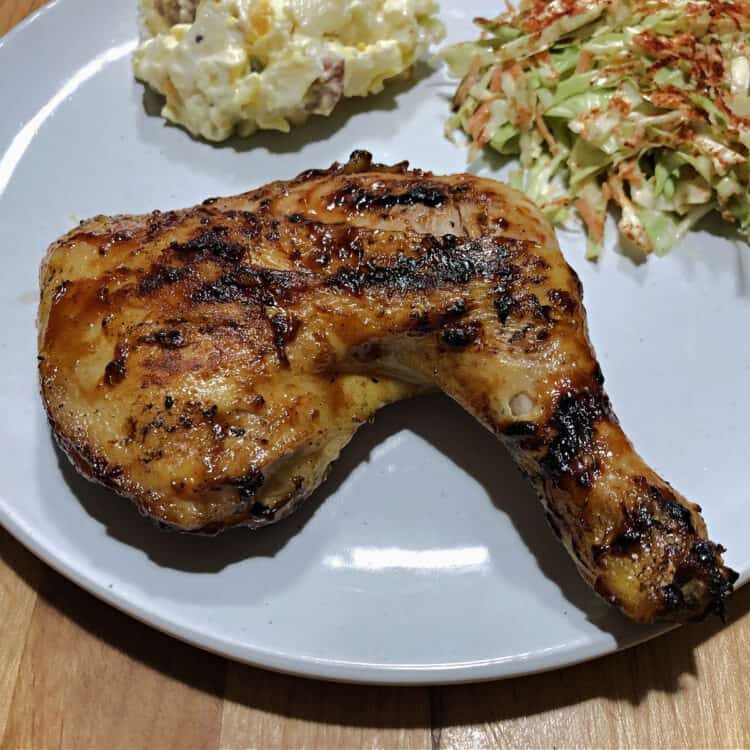 Jump to:
How to BBQ chicken quarters (legs and thighs) on the grill
I cook with a gas grill, but you can apply these same principles to a charcoal grill. With chicken legs, as with most meat, I like to use a combination of direct and indirect heat. (see FAQ)
First, place the chicken legs over direct heat and cook for about 2 minutes per side, just to sear the meat slightly. Then move the legs to the indirect heat portion of the grill.
Close the grill cover and let the meat cook, undisturbed, for about 20 minutes. If your grill has a thermometer, try to maintain a temperature of about 325-350F.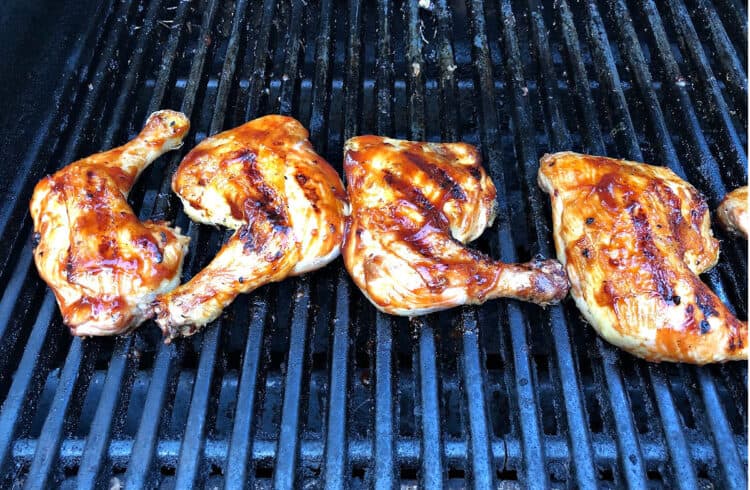 Use a meat thermometer
At about 20 minutes check the internal temperature of the meat. I use my favorite meat thermometer for this, it has a probe I place in the thickest part of the meat and a long cable attached to the digital readout.
Planning ahead means I have already placed the thermometer in the meat before it was on the grill. For the other 99% of the time, I use my tongs to anchor the largest piece of meat and insert the probe into the thickest area.
Move the chicken close to you while doing this. No need to lean over those lit burners!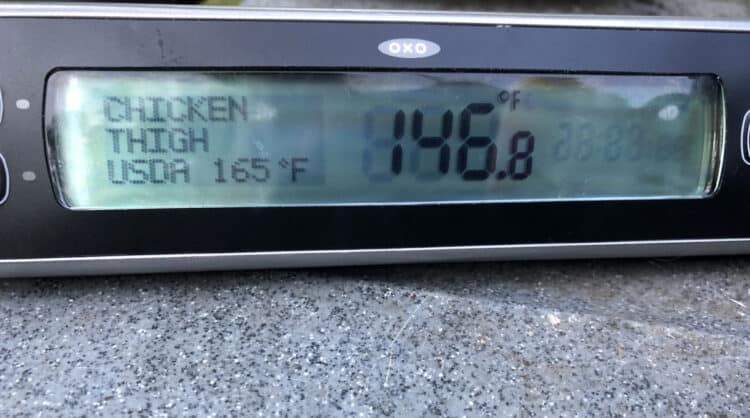 When the thermometer reaches at least 155F, move the chicken legs back over direct heat. This is when you want to add a little BBQ sauce, if using. Or perhaps you prefer no sauce, in which case you can cook for crispy skin. The direct heat helps with that step as well.
Turn the chicken every 4-5 minutes while over direct heat, especially if using barbeque sauce. You want the sauce to caramelize but not turn into volcanic ash. You know what I mean.
The final target temperature is a minimum of 165, but up to 180F works too.
Depending upon the sizes of your chicken pieces and the temperature of the grill, it could take anywhere from 20-40 minutes to reach that temperature.
Once the chicken legs are done, remove from grill and place on a plate or shallow pan, then cover with foil. Let the meat rest for at least 10 minutes while you gather all the other sides for your meal.
Serve with plenty of napkins!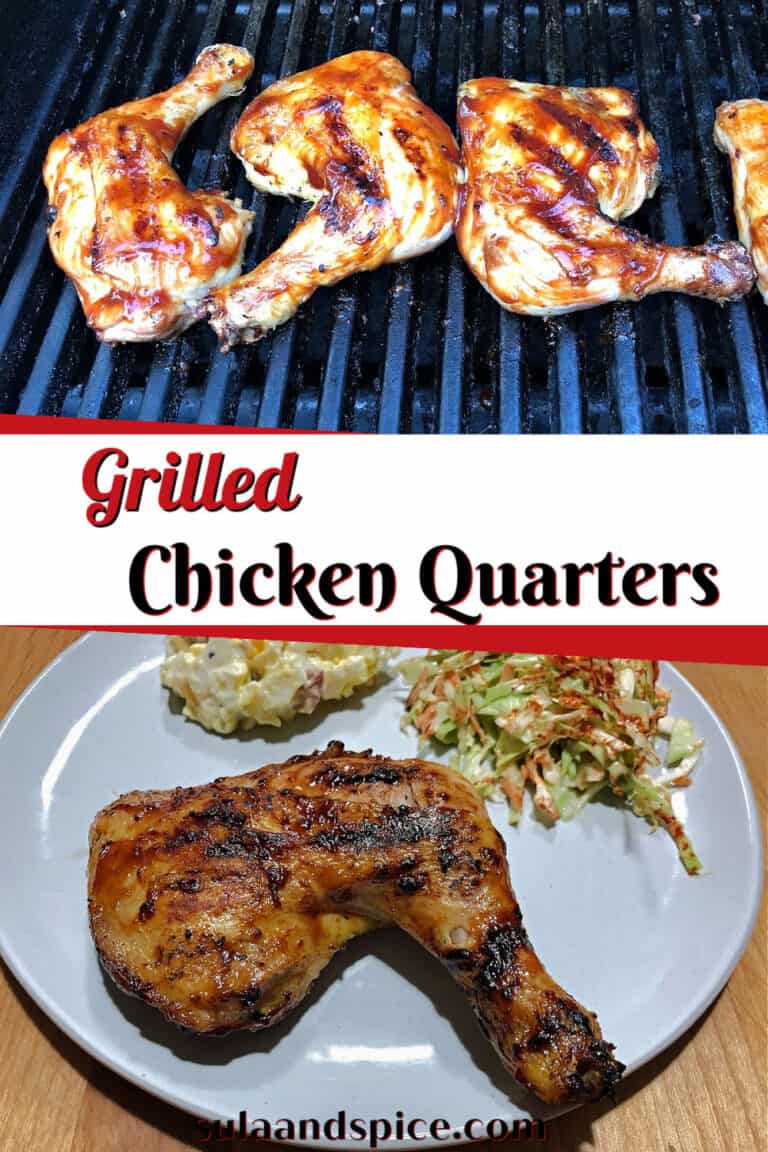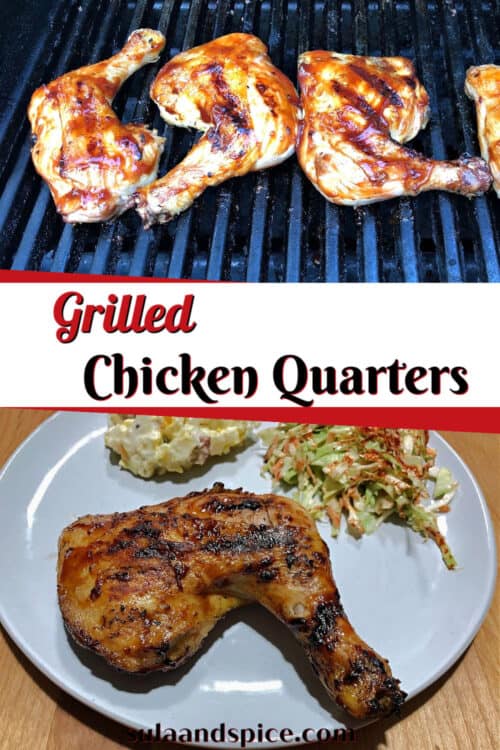 Recipe FAQs
What's the difference between direct and indirect heat on a grill?
If you have a gas grill, turn on half of the burners. Once warmed up, the grill will have two distinct heating zones. Logically, the hottest areas are right over the lit burner(s) – this is direct heat. The other area of the grill will be hot, but a lower temperature. This is indirect heat.

Typically, direct heat is used for anything that cooks very quickly or just needs an external "char," such as a pre-cooked sausage. Indirect heat is "low and slow" – very similar to roasting in an oven. Larger cuts of meat typically benefit from indirect heat in order to fully cook through without completely burning the external surface.
I have an odd number of burners on my grill. How do I light half?

My grill has 3 burners. When I am preheating, I light at least 2 of them. During the direct heat portion of cooking, I use the area over those 2 burners. I turn off the middle burner to cook with indirect heat. The one burner does a great job of maintaining an even temperature within the closed grill for this step.

Every grill is different, please spend a little time figuring out what works best for yours.
Can I use a dry rub for my BBQ chicken legs?
Dry rub is a very popular choice for chicken. Add the rub before placing the chicken legs on the grill. There are many great rubs available for purchase, or you can make your own using the same recipe I use for pulled pork. The rub will create a tasty layer of flavor, and you could even add BBQ sauce during cooking in addition to the rub. Think of all that flavor!!
📖 Recipe
Grilled Chicken Legs
Its easy to cook your chicken legs on the grill!
Ingredients
3-3.5

pounds

chicken legs

¼

cup

barbeque sauce
Instructions
Preheat grill for direct and indirect heat by lighting half of the burners. Place chicken legs directly over the heated burners and sear for approximately 2 minutes on each side. Move chicken to the indirect area of the grill, then close cover and allow chicken to cook.

After about 20 minutes, check the internal temperature of the meat using a meat thermometer. Continue to cook and monitor until the internal temperature reads 155F.

Open the grill cover and move the chicken back over the burner with direct heat. Add barbeque sauce if desired. Cook the chicken over direct heat, turning every few minutes, until the exterior is crispy and the internal temperature is 165-180F.

Remove chicken from grill and cover with foil. Let the meat rest, covered, for at least 10 minutes before serving.
Video
Nutrition
Calories:
446
kcal
|
Carbohydrates:
8
g
|
Protein:
32
g
|
Fat:
31
g
|
Saturated Fat:
8
g
|
Cholesterol:
180
mg
|
Sodium:
346
mg
|
Potassium:
435
mg
|
Fiber:
1
g
|
Sugar:
6
g
|
Vitamin A:
218
IU
|
Vitamin C:
1
mg
|
Calcium:
23
mg
|
Iron:
1
mg
Nutrition values are estimates only, using online calculators. Please verify using your own data.