Chocolate Mousse is one of my favorite desserts: delicious, decadent and chocolate. The trifecta! So finding an especially easy version made me deliciously happy!
Mousse recipes can take many forms. Some are sweet, others savory. Sweet mousses are typically made with whipped egg whites, whipped cream, or both. Some chocolate mousses call for the addition of egg yolks to give the final product a richer texture. Sometimes the mousse is stabilized with the addition of gelatin. (Wikipedia)
I experienced that variety on a trip last year. I went with a group to Madagascar, an island that was part of the French colonial empire until 1960. When reading the menus, it was easy to see the French influence, especially with chocolate mousse. So popular! And a different taste at each location!
3 ingredient chocolate mousse
The recipe for this quick chocolate mousse (inspired by Circle B Kitchen) only requires 3 ingredients, but each one is specific:
Cream: HEAVY whipping cream is recommended. The slightly higher fat content helps give the mousse more structure. Mousse means froth, so it isn't mousse if it doesn't get thick.
Cocoa powder: I stock both kinds of cocoa powder but prefer Dutch-processed for this. The Dutch-processed cocoa is less harsh and has a natural sweetness that works best in a make-it-quick recipe like this.
Powdered sugar: For years, I used granulated sugar to make whipped cream. Then, I discovered that the small amount of cornstarch in powdered sugar is marvelous! It helps stabilize whipped cream, which means it holds its shape longer. Also it helps for this mousse. Win!!
Note that this quick chocolate mousse requires no eggs or gelatin. I have found that it holds its shape for several hours with just these 3 ingredients. In fact, I have kept a serving in my fridge for two days as a test, and it still holds firm!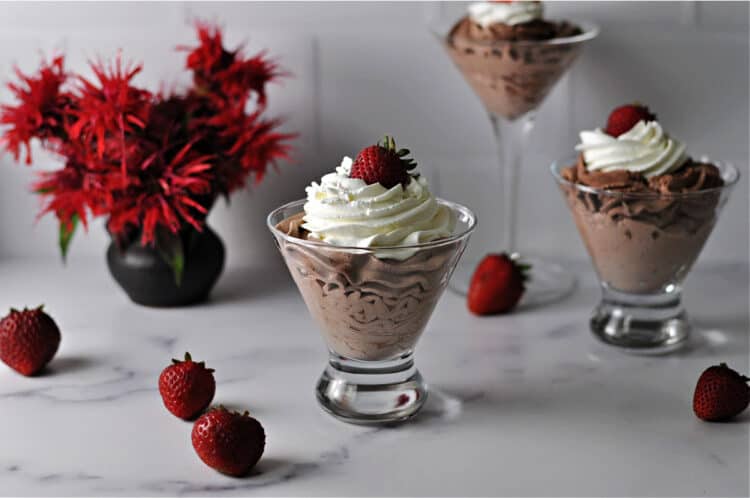 How to make easy chocolate mousse
Sometimes an easy recipe is anything but. Still, there's no carping about this: 3 ingredients, 5 minutes. Doesn't get much easier!
Moving on, many chocolate mousse recipes require chocolate to be melted. Because we make this chocolate mousse with cocoa powder, skip that step altogether.
A key to success for this recipe is heavy whipping cream. To get that thick consistency, bowls and beaters should always be chilled before whipping. And not for just this mousse. Chill the beaters and bowls any time you whip cream. Cream whips so much faster when it's cold! Plus, in my experience, warmer cream is much more likely to turn to butter, which is not what we want.
I like to place my bowl and beaters in the freezer for 20-30 minutes. It makes for happy, fluffy cream!
The only other ingredients are cocoa powder and powdered sugar as described above.
Start by whipping the heavy cream until it's just slightly thickened. Then add powdered sugar and cocoa powder. I like to sift both these ingredients first to ensure that no pockets of unevenness occur in the mousse.
Give a little stir to the bowl (to prevent a face full of powder), then mix again with the electric beater. The cream will thicken very quickly, usually only taking about a minute for me. The desired texture is stiff peaks, which means the mousse will hold its own shape. Just don't over whip. If you keep whipping cream it will eventually turn to butter. Unless you like chocolate-flavored butter (kidding).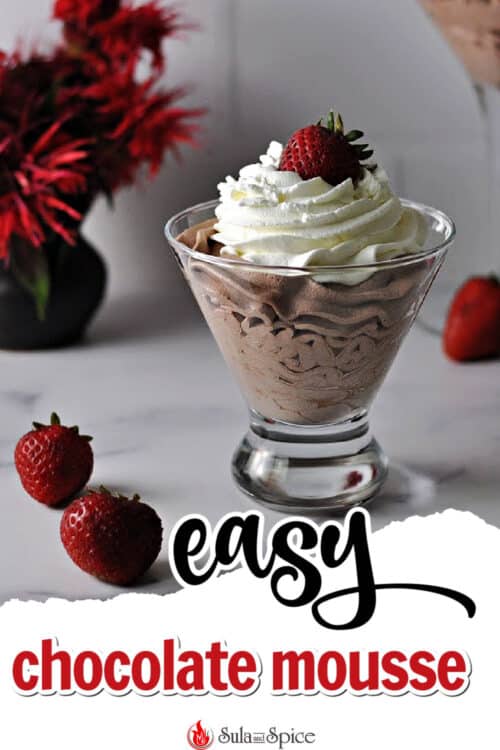 Spoon or pipe your mousse into glasses and refrigerate until ready to serve.
📖 Recipe
Easy Chocolate Mousse
Only 3 ingredients and 5 minutes needed!
Servings:
2
large servings
Ingredients
1

cup

heavy whipping cream

3

tablespoons

cocoa powder

Dutch processed

6

tablespoons

powdered sugar
Instructions
Place mixing bowl and beaters in freezer 30 minutes before beginning to mix.

Place heavy whipping cream in the chilled bowl and begin to whip with electric mixer. Whip until cream begins to thicken and looks a little frothy.

Sift cocoa and powdered sugar into the bowl. Give the cream a stir with a spoon or spatula to moisten the powders. Then whip the cream again until stiff peaks form.

Spoon or pipe mousse into serving glasses and refrigerate til ready to serve.
Video
Notes
This makes 2 large (about ¾ cup) servings. 4 smaller servings would also work.
Nutrition
Calories:
521
kcal
|
Carbohydrates:
32
g
|
Protein:
4
g
|
Fat:
45
g
|
Saturated Fat:
28
g
|
Cholesterol:
163
mg
|
Sodium:
47
mg
|
Potassium:
204
mg
|
Fiber:
2
g
|
Sugar:
24
g
|
Vitamin A:
1749
IU
|
Vitamin C:
1
mg
|
Calcium:
87
mg
|
Iron:
1
mg
Nutrition values are estimates only, using online calculators. Please verify using your own data.
Additional Information/FAQ
Is this really just chocolate whipped cream?
Technically, yes. I think you could call it that. Call it eggless chocolate mousse if you like. It is unusual to think of mousse with no eggs. But that doesn't make it any less delicious. 😀
Will this recipe make keto chocolate mousse?
This makes a FANTASTIC keto dessert! Just use a powdered sugar-free sweetener – there are several brands. I use monk fruit-erythritol blended sweeteners for this and I love the result!

The only difference I notice is that the powdered sugar substitutes don't always sift well. For instance, some sifters create friction that rolls some of the powder into little balls. Kind of weird. But I manually bust those balls (fun!) and then add to the cream. I was rewarded with a deliciously smooth, sugar-free mousse!
What does it mean to "stabilize" whipped cream?
If you are whipping up some cream to serve immediately on your holiday pie, all you need is a little sweetener. But If you want to whip that cream up ahead of time and have it hold its shape for a while, adding a little stabilizer will help accomplish that end result.

The most popular additives to stabilize whipped cream are gelatin and cornstarch. Gelatin will provide a lot of strength and will help that whipped cream hold its shape for up to 3 days in the fridge! Cornstarch is similar, but what I like is the fact that all powdered sugar contains a small amount of cornstarch in it. And since we need to add sweetener to make the mousse, we might as well make it powdered and stabilize while we sweeten! This is how we accomplish a perfectly thick 3 ingredient chocolate mousse!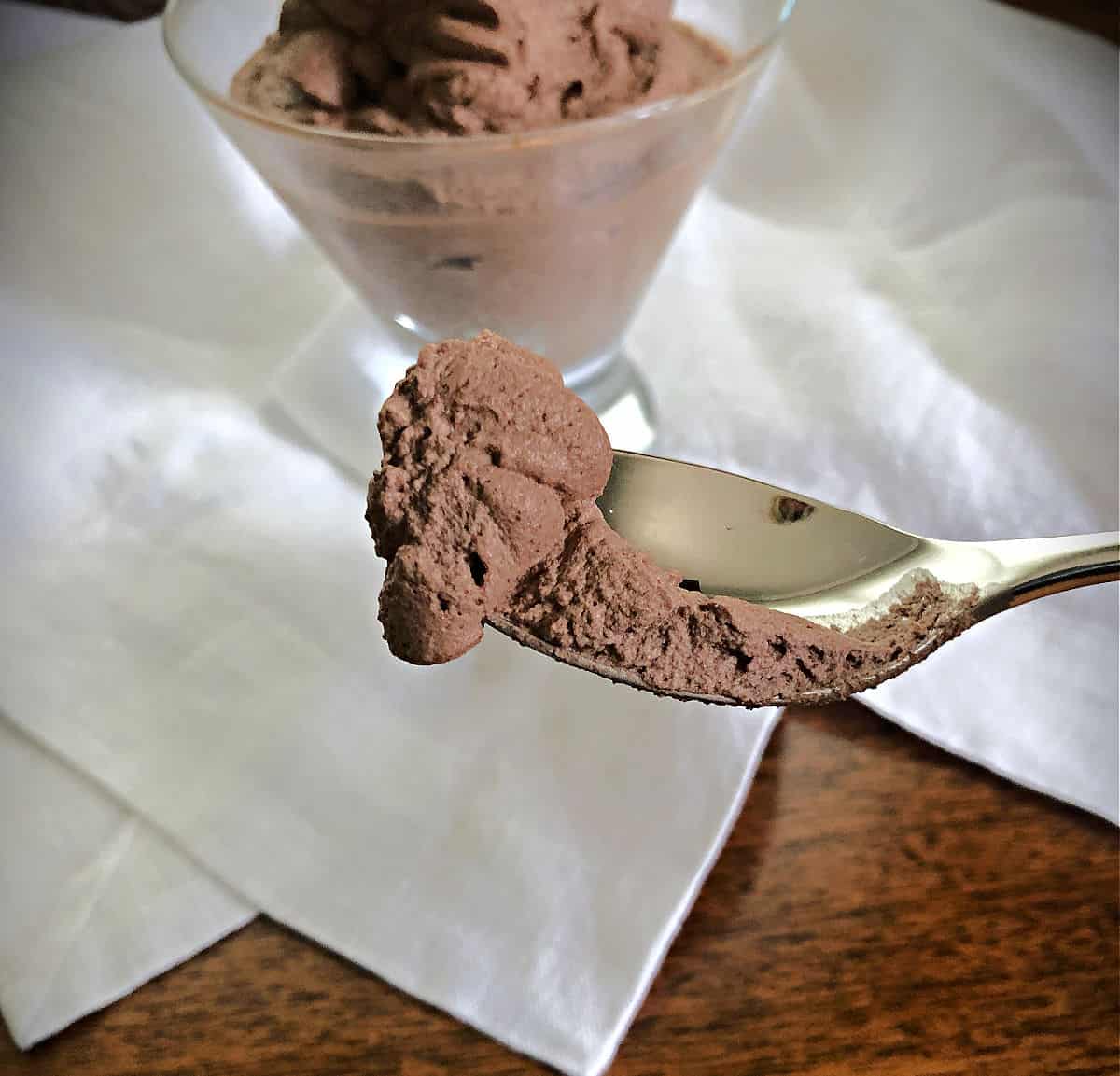 Additional no-bake dessert ideas
Now that your sweet tooth is all warmed up, give some of these other no-bake desserts a try: