Summer is here! And lemonade is definitely my fav summer drink. I'm a big fan of tart 'n sweet in one glass.
But the sugar? Not so much a fan. Oh, the taste, for sure. But those carbs? It's too hot to burn all those extra calories!
So I was excited to learn about lemonade made with sugar alternatives. I stock these for when I want to go low carb in order to help my jeans fit. The great thing about making your own lemonade is that you're in control of the overall sweetness of the final beverage. Win!!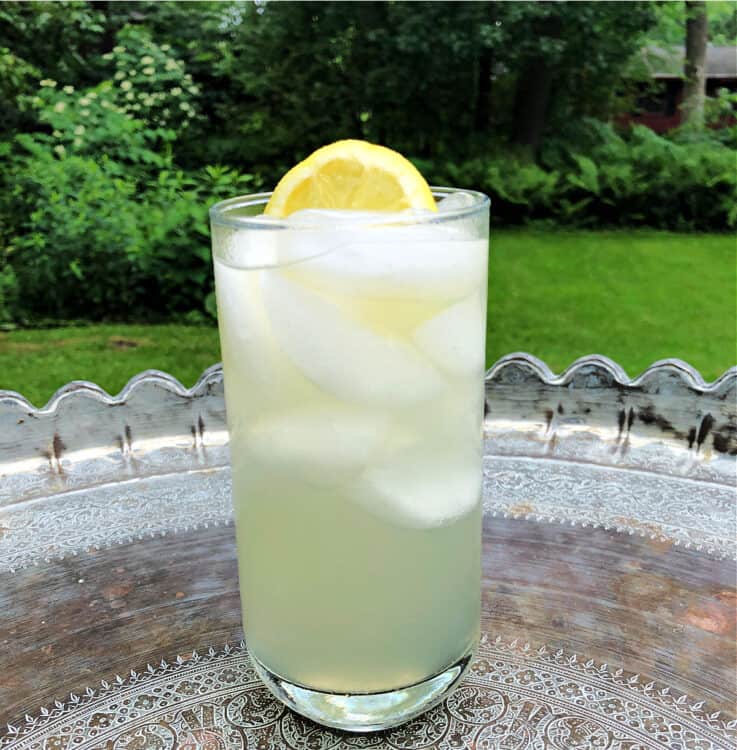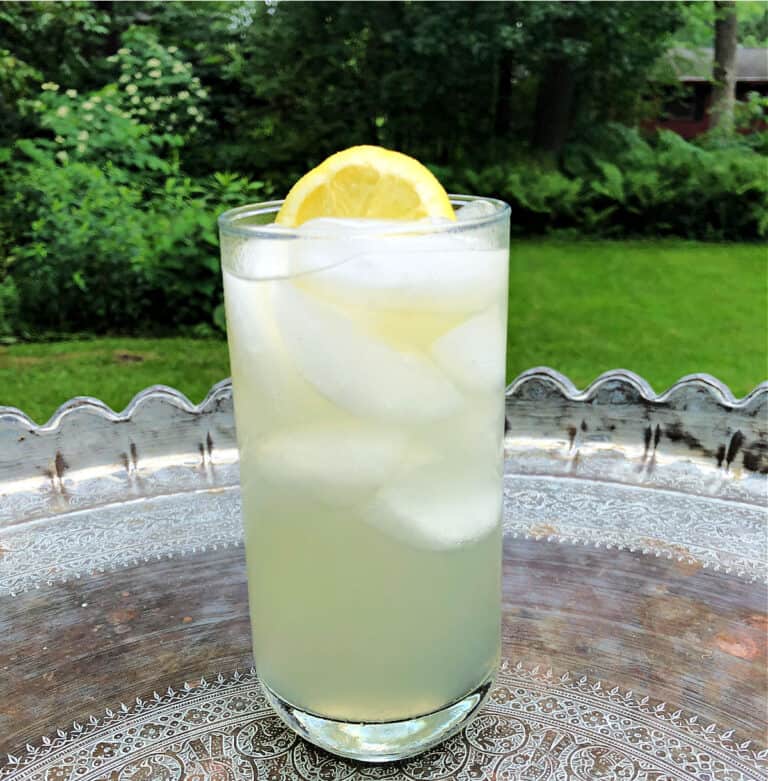 How to make sugar free lemonade
Only 3 ingredients are required: Lemon juice, sweetener and water (plus, ice, I guess, but ice is water so I'm going with three).
When shopping for an alternative to sugar for lemonade, look for a granulated sugar substitute. Then, note the equivalency to sugar measurement. Not all equivalencies are . . . equivalent.
For instance, some say ¼ cup sweetener equals one cup of sugar. I like to keep it simple, so I only buy sweeteners with a 1:1 sugar ratio; that is, one cup of sweetener equals one cup sugar. Most erythritol and blends are made this way, but if you're not certain, check the package.
Lately I have been using monk fruit sweetener, which is actually a blend of erythritol and monk fruit. Monk fruit is a plant in the gourd family which is cultivated for its fruit. Monk fruit extract is nearly 300 times sweeter than sugar and has been used in China as a low-calorie sweetener for cooling drinks and in traditional Chinese medicine. (Wikipedia)
I think everyone has a different level of sweetness they prefer in their lemonade. By making your own, you can play with the amounts. I recommend an equal amount of sweetener to the amount of lemon juice. Therefore, for each cup of lemon juice, use one cup of sweetener. Then add the water, stir and taste.
This, to me, still tastes a bit tart. If you like sweeter, try adding another ¼ cup of sweetener.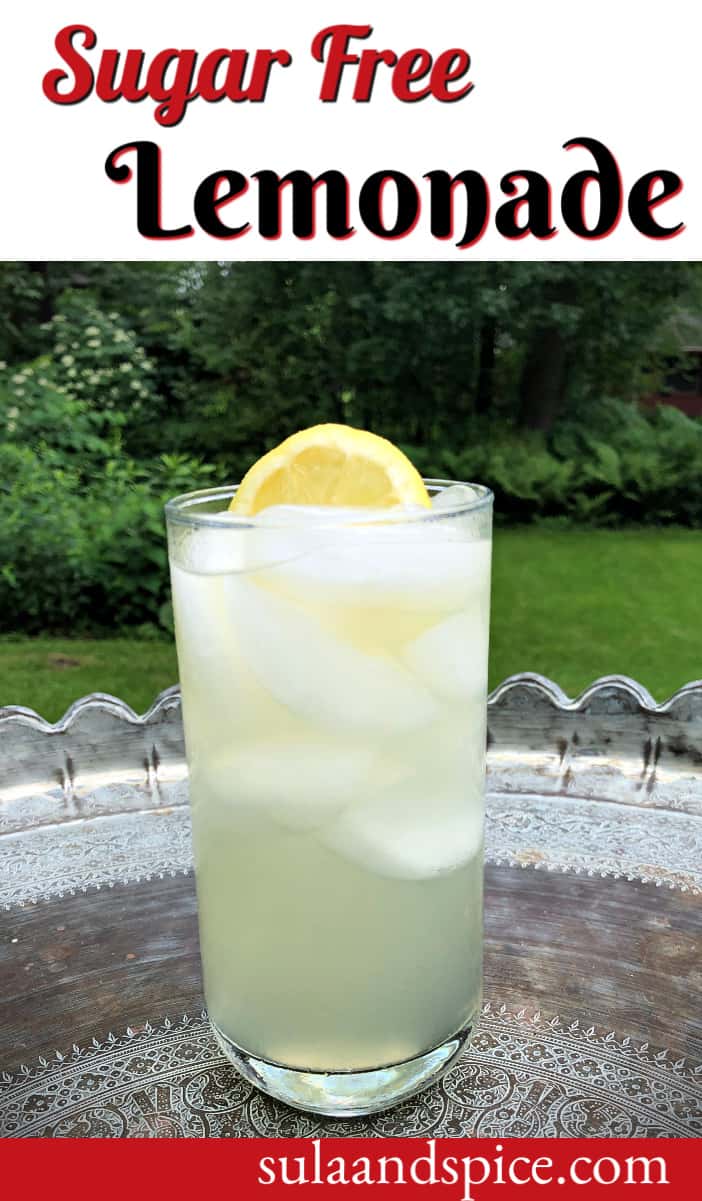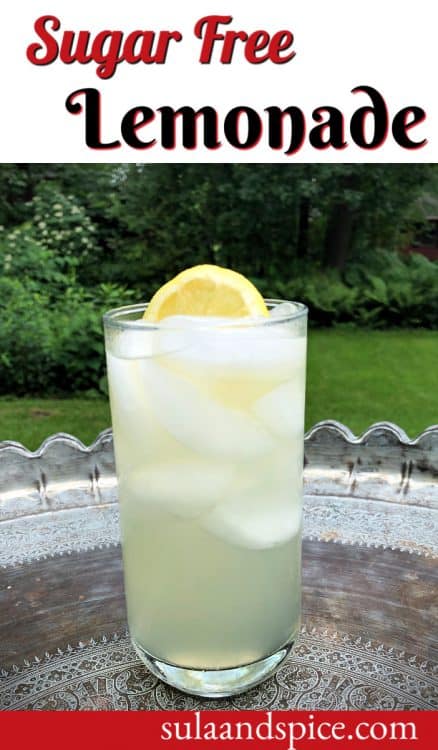 My taste buds are puckering up just thinking about it. 😀
Sugar Free Lemonade
Lemonade without the carbs!
Ingredients
¾

cup

lemon juice

fresh squeezed preferred, about 4 lemons

¾

cup

sugar-free sweetener

4-6

cups

water

start with 4, add more if the taste is too strong

Optional: Ice for serving
Instructions
Squeeze juice from lemons and place in half-gallon pitcher. Add sweetener and water and stir until all sweetener is dissolved. Taste and adjust as needed.

To serve, pour over ice.
Video
Nutrition
Calories:
7
kcal
|
Carbohydrates:
25
g
|
Protein:
1
g
|
Fat:
1
g
|
Saturated Fat:
1
g
|
Polyunsaturated Fat:
1
g
|
Monounsaturated Fat:
1
g
|
Sodium:
8
mg
|
Potassium:
31
mg
|
Fiber:
1
g
|
Sugar:
1
g
|
Vitamin A:
2
IU
|
Vitamin C:
12
mg
|
Calcium:
7
mg
|
Iron:
1
mg
Nutrition values are estimates only, using online calculators. Please verify using your own data.
Additional information/FAQ
What is erythritol and is it considered safe to eat?

Erythritol differs from most other sugar alcohols in that most of it is absorbed into the bloodstream before reaching the colon. This avoids the bloating and digestive upset caused by many other sugar alcohols. Multiple studies on erythritol indicate that it is safe to eat. (Healthline)
Is lemonade healthy?
According to Healthline, lemons are a rich source of vitamin C and plant compounds, which can enhance immune function, protect against various diseases, and increase absorption of iron. Lemonade should have similar benefits, except for the addition of sugar, which is unhealthy when eaten in excess.
How can I naturally sweeten my lemonade?
If you favor au naturel and you're okay with added carbs, try using other fruit. Oranges, for instance. Squeeze the juice from one or two oranges and add that to the lemonade; all natural, another source of vitamins, and delicious to boot!

Pineapple also makes a great addition. Start with some fresh pineapple for the best flavor. If you have a juicer, use it to squeeze the juice out of your pineapple (I use mine for the lemons as well). If you don't have a juicer, use a blender for the lemons and pineapple with some of the water.

Once blended, strain the liquid to remove most of the solids. If you like it clearer, use a fine mesh strainer. Or, if you like a little pulp in your lemonade, use a colander. It's more "authentic."
Other lemon-flavored delights:
Maybe you could use some of this sugar free lemonade to make a low carb Pink Senorita!
This Lemonade Pie is definitely NOT low carb but ohhhh that lemonade taste!
And no lemon list is complete without a Lemon Martini. 😀