When fresh berries are in season, I just want to preserve their fresh flavor any way I can! And even though my mom was a master at pickling and canning just about anything, I never really got into that.
Which is where freezer jam comes in. All the delicious fresh taste of homemade raspberry jam, stored in the freezer instead of using a pressure cooking (canning) to preserve.
I used raspberries (a favorite in this house) to make my freezer jam but you can follow these same principles to make jam from other fruits or berries.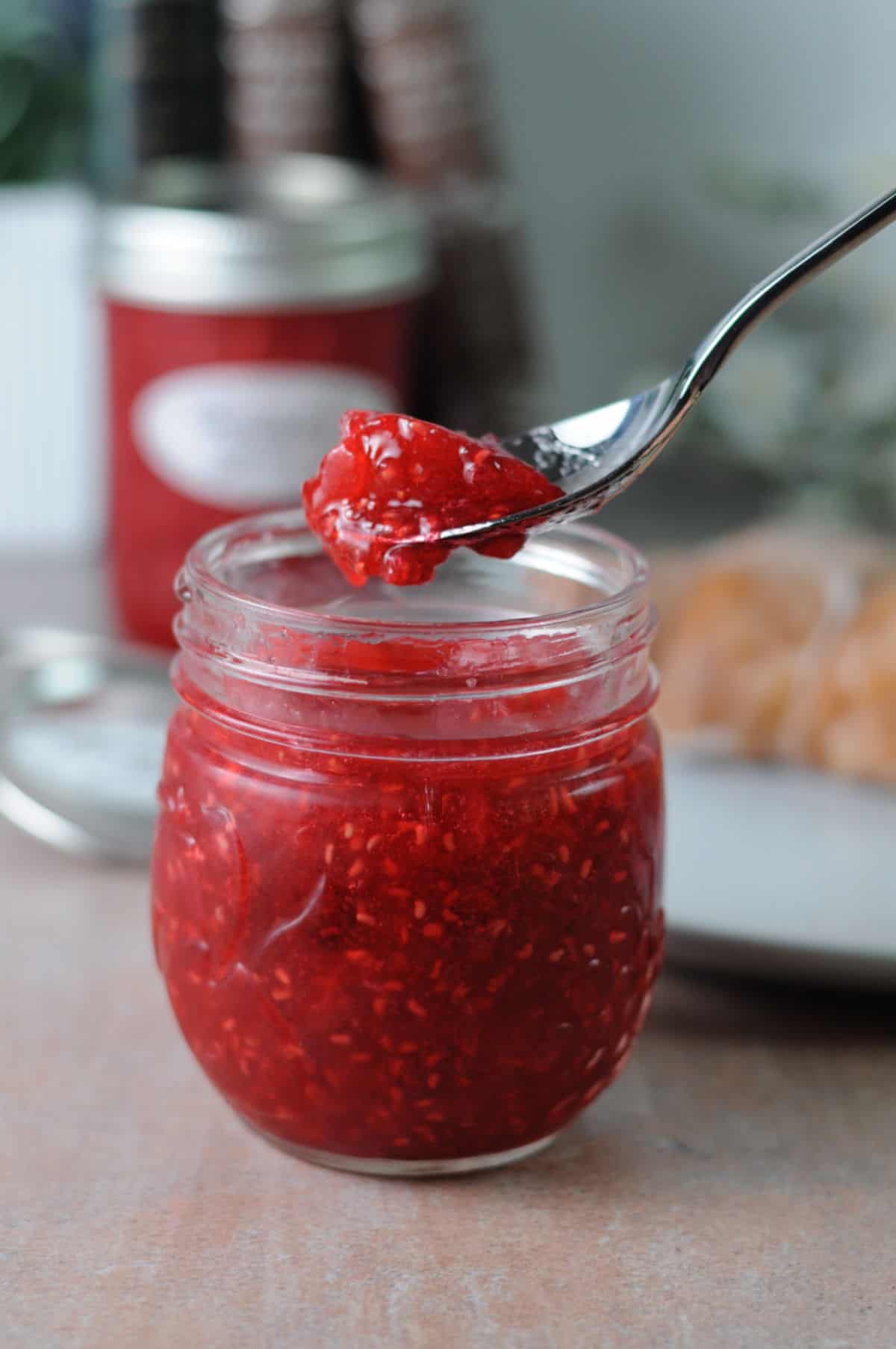 Why I love this Jam
Let's start with the all-important word: easy. With only 3 ingredients and very few steps, you can make homemade jam that you will love!
My mom used to make jam, mostly strawberry. She always used Sure-Jell, like I do here. But she cooked the jam and preserved it by layering some paraffin wax over the top of the jam, then pressure cooking the jars to seal the lids. I'd rather just freeze. 😀
To me, the fresh taste of this jam really stands out. When traditional jam is cooked, the berries lose some of their fresh taste. Since we are not cooking the berries for this jam, the fresh flavor is still there! It's a whole different experience from the stuff in the stores!
Ingredients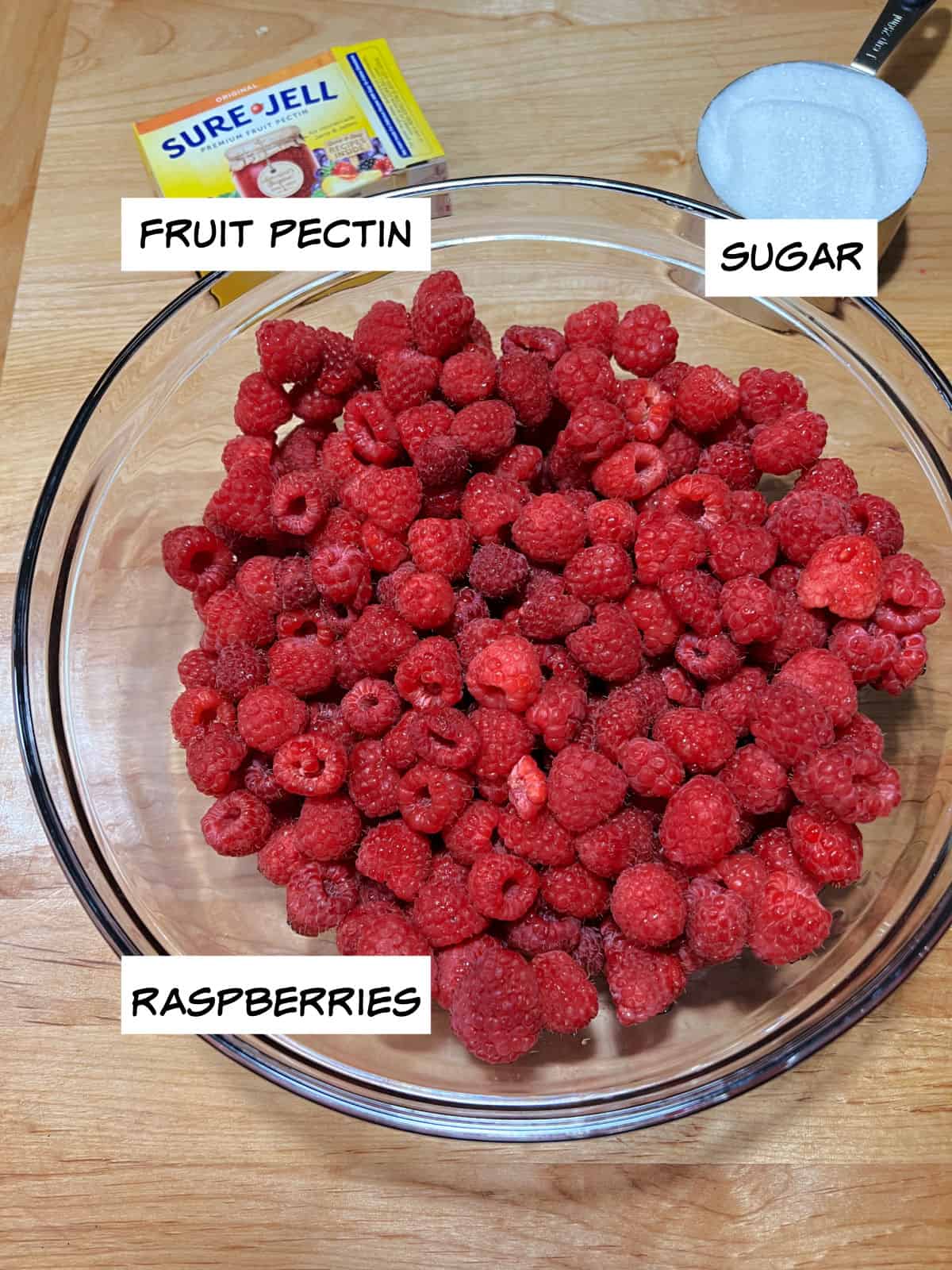 How to make Raspberry Freezer Jam
Prep the jars
You'll want to clean your jars before making the jam. In theory, this recipe makes about 7 cups of jam, but I always seem to need more than 7 jam jars, so be sure to have extras all set to go.
I like to wash the jars and lids, preferably in the dishwasher if I've managed to plan ahead. Unlike for traditional jam, it is not strictly necessary to go through a full sterilization of the jars. Even so, I like to do a quick dip of the jars in boiling water just to feel confident that they are really clean.
Make the raspberry jam
Start with 6 cups (3 pints) of fresh raspberries. Place the berries in a large bowl and mash them with a potato masher. As an alternative, you can use a food processor but do not puree completely. Just pulse a few times to break up the berries. You should end up with about 3 cups of crushed berries.
Now, add sugar. 5½ cups of sugar. Yes, it seems like a lot. It's important to note that Sure-Jell has 2 different versions. I used the original kind, in the yellow box. They also have a lower sugar formula, which comes in a pink box. You cannot reduce the sugar and use the stuff in the yellow box, because the jam will not set properly.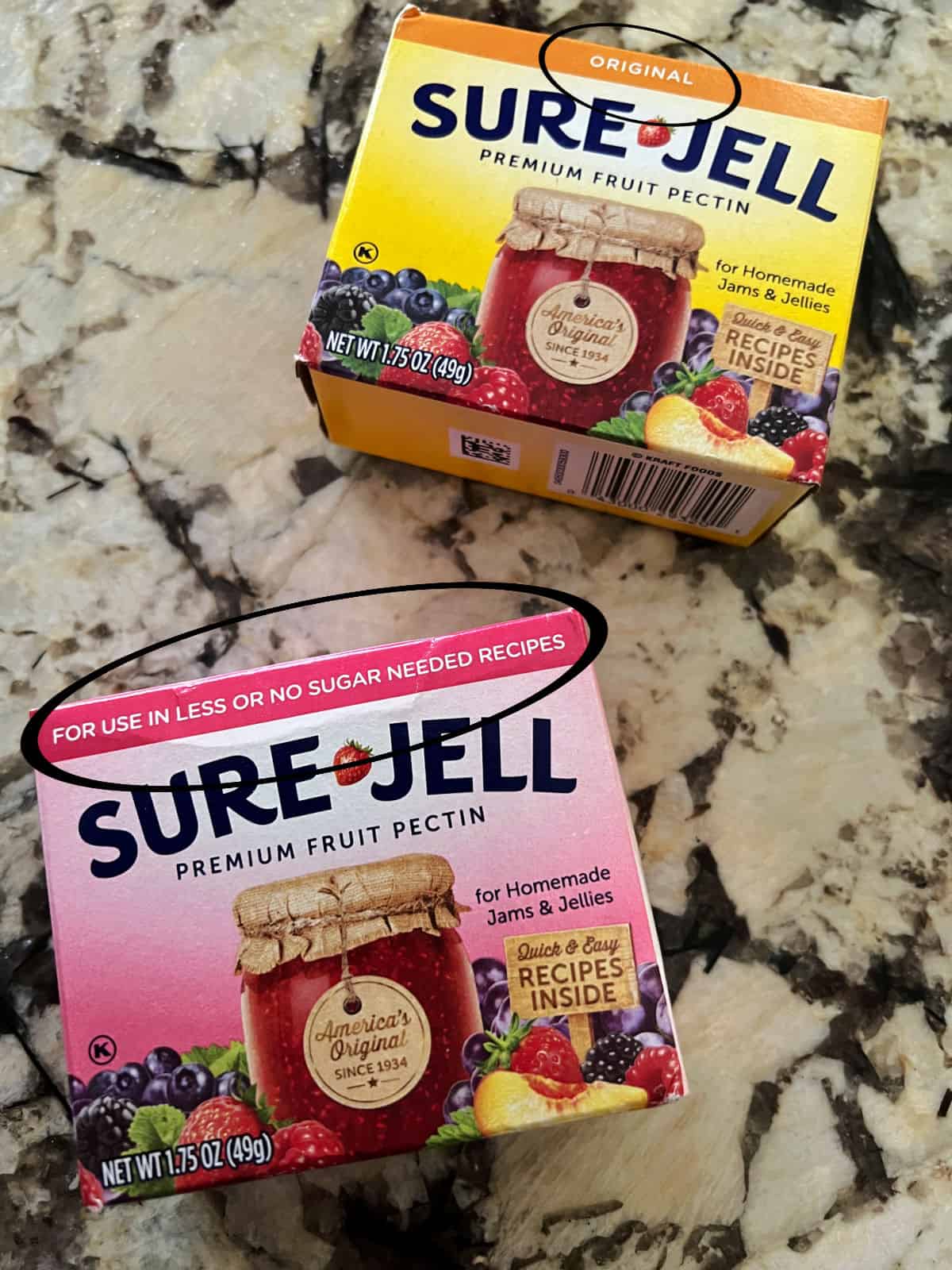 Stir the sugar into the crushed berries. You need to let this stand for 10 minutes. Give it an occasional stir during this time.
In a small saucepan, add the (1.75 oz) package of Sure-Jell to ¾ cup of water. Stir this while bringing to a boil, then boil and stir for one full minute.
Now, pour the pectin solution over the raspberry mixture and mix to combine. Stir this for a full 3 minutes. I like to set a timer for this step, just to be sure I am completely dissolving the sugar. Nobody wants grainy freezer jam!
Fill the Jars
You can now spoon the mixture into the jars. Leave at least ½ inch of space at the top of each jar to allow the jam to expand as it freezes. Wipe the rims (trust me, you'll always need to do this) and then cover each jar with a lid.
The jars need to sit at room temperature for 24 hours. This will allow the jam to cool and to "set" – i.e. form a slightly gelatinous "jammy" mixture rather than a runny liquid. At this point, you can label the jars and place the raspberry jam on a shelf in your freezer.
You might want to put one in the fridge for immediate enjoyment. 😃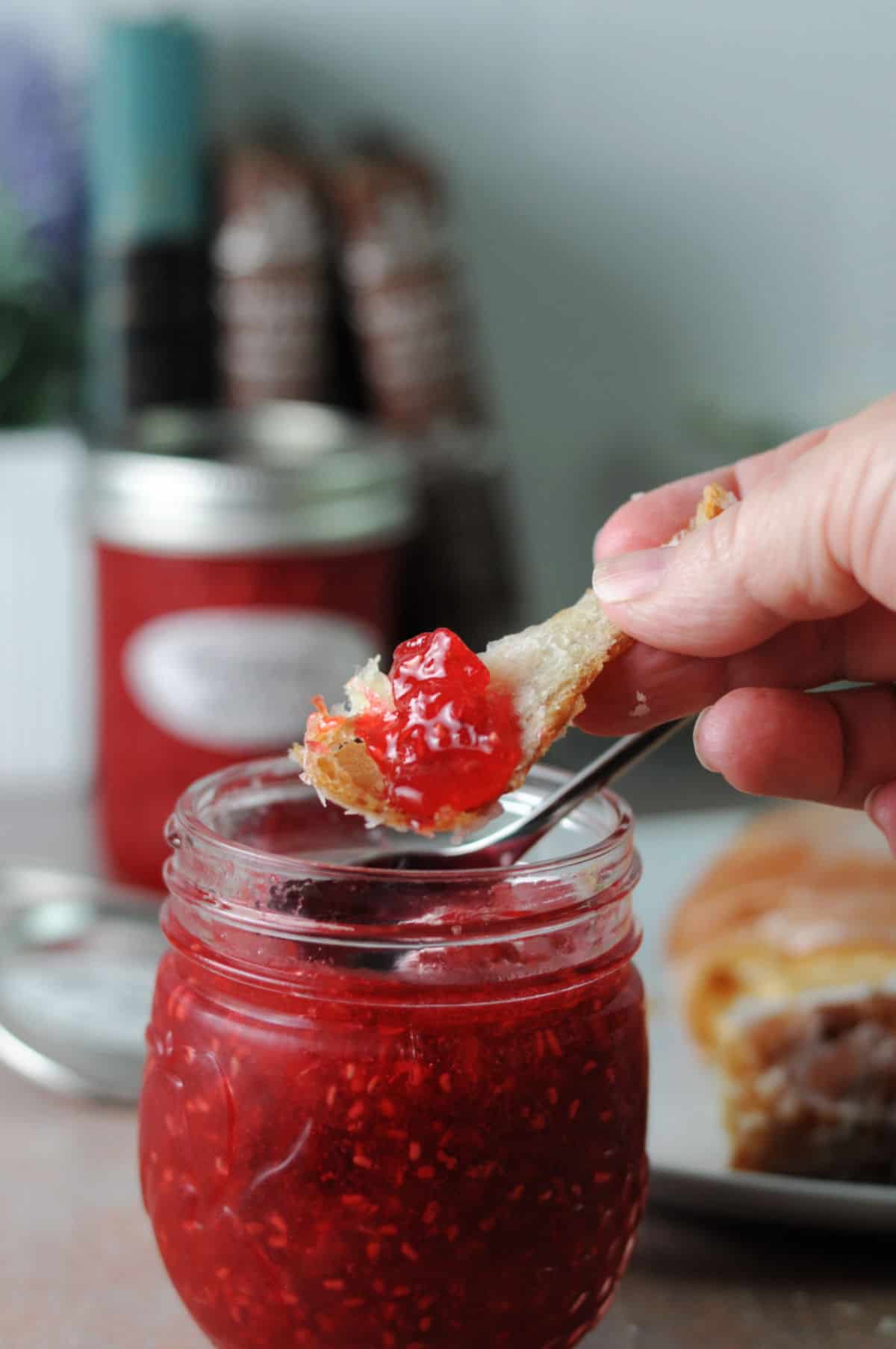 Speaking of labels, I found some on Amazon that I really like. They are oval shaped and easy to adhere to the jars. Most importantly, they are easy to REMOVE when washing. They completely peel away with just hot water. No sticky glue residue!
Expert Tips/FAQ
What's the main difference between regular jam and freezer jam?

In traditional jam, the fruit is cooked first by simmering with sugar and possibly lemon juice and/or pectin. For freezer jam, the fruit is not cooked, or barely cooked. This helps retain the fresh taste of the fruit or berries used.
Do the jars seal with freezer jam?

No, the jars do not seal. Sealing is necessary when storing preserves at room temperature, but not for freezing.
How long does freezer jam last?
Once frozen, the jam can be kept for up to a year. Frozen jam should be thawed in the fridge before using. In the refrigerator, the jam is good for 3-4 weeks, after which it will start to lose some of its fresh flavor.
Can I use this recipe for other fruits and berries?
The techniques and materials are the same, but the amount of sugar will probably vary according to what kind of fruit you have. Also, some fruits need a little lemon juice added to the mix, so be sure to refer to your package insert for those specifics.
Love Raspberries? You might enjoy some of these recipes:
📖 Recipe
Easy Raspberry Freezer Jam
This super easy jam tastes so fresh and delicious. The very best way to preserve fresh raspberries!
Ingredients
6

cups

fresh raspberries

5½

cups

sugar

granulated

¾

cup

water

1¾

ounces

Sure-Jell powdered fruit pectin

1 package
Instructions
In a large bowl, mash the raspberries with a potato masher until mostly reduced. You can also use a food processor for this step but do not puree the berries completely. You should end up with about 3 cups of crushed berries.

Add sugar to the bowl and stir to mix. Let stand for 10 minutes at room temperature, stirring occasionally.

In a small (one quart) saucepan, mix the water and pectin. Heat to boiling, stirring constantly. Boil and stir for 1 minute.

Pour the hot pectin mixture over the raspberry mixture and stir constantly for 3 minutes.

Immediately spoon the hot mixture into freezer-safe jars/containers. Leave at least ½ inch of space at the top of each jar to allow for expansion.

Wipe the rim of each jar, then seal with lid.

Let the jars stand at room temperature for 24 hours to set. Then, transfer to the freezer to store for up to 12 months, or in the refrigerator for up to 3 weeks.

Once frozen, thaw the jam in the refrigerator and stir before serving.
Nutrition
Calories:
75
kcal
|
Carbohydrates:
19
g
|
Protein:
0.1
g
|
Fat:
0.1
g
|
Saturated Fat:
0.003
g
|
Polyunsaturated Fat:
0.04
g
|
Monounsaturated Fat:
0.01
g
|
Sodium:
2
mg
|
Potassium:
17
mg
|
Fiber:
1
g
|
Sugar:
18
g
|
Vitamin A:
4
IU
|
Vitamin C:
3
mg
|
Calcium:
3
mg
|
Iron:
0.1
mg
Nutrition values are estimates only, using online calculators. Please verify using your own data.