Today I bring another way to follow a low carb diet without giving up all desserts and treats!
No matter if you are following a keto, dirty keto, or just plain low carb diet plan, it is pretty tough to find a way to deal with the urge for dessert.
This keto raspberry sauce goes a long way to help with that!
Ingredients needed for this healthy raspberry sauce
Sugar free jam – raspberry or strawberry
Raspberries – fresh or frozen – 9 - 10 ounces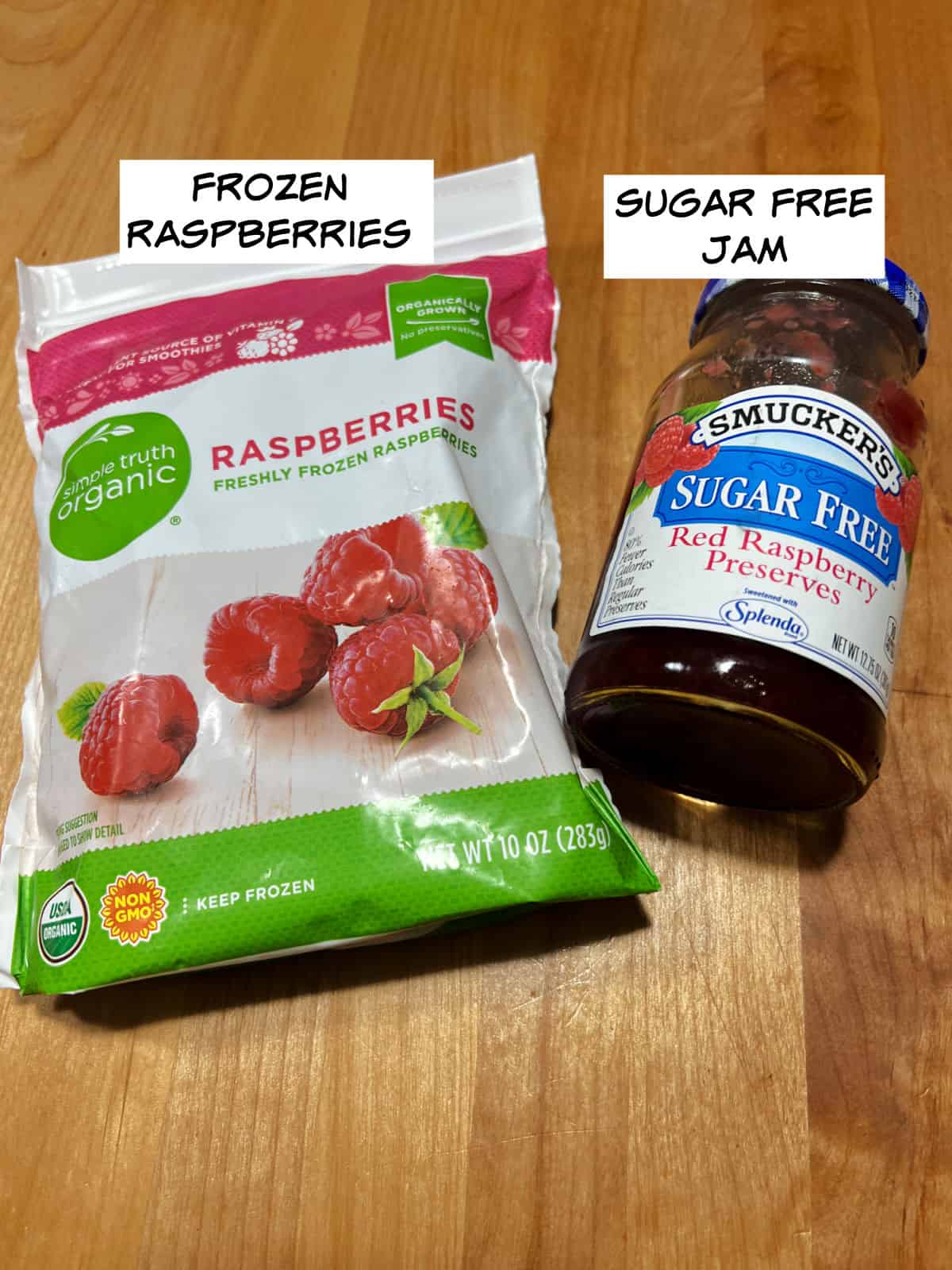 This sauce is based on my regular raspberry sauce which I used for meringue hearts. The first time I made it, I intended to use sugar-free raspberry jam. But I had trouble finding this item.
Instead, I used strawberry with great success. And of course since then, I found raspberry jam and loved that too. The good news is, this sauce is fantastic with either sugar free strawberry or raspberry jam combined with raspberries.
How to make keto raspberry sauce
This is the easiest sauce ever. Start with the sugar free jam, begin warming it in a small saucepan. Then add the raspberries. If using frozen, no need to thaw first. It'll just take a few extra minutes to warm them up. I use a spatula to break up any chunks and get them spread evenly in the pan.
Heat this mixture to a boil over medium heat, stirring steadily. I'll only take a couple minutes. Once it is boiling, cook for about a minute, stirring constantly.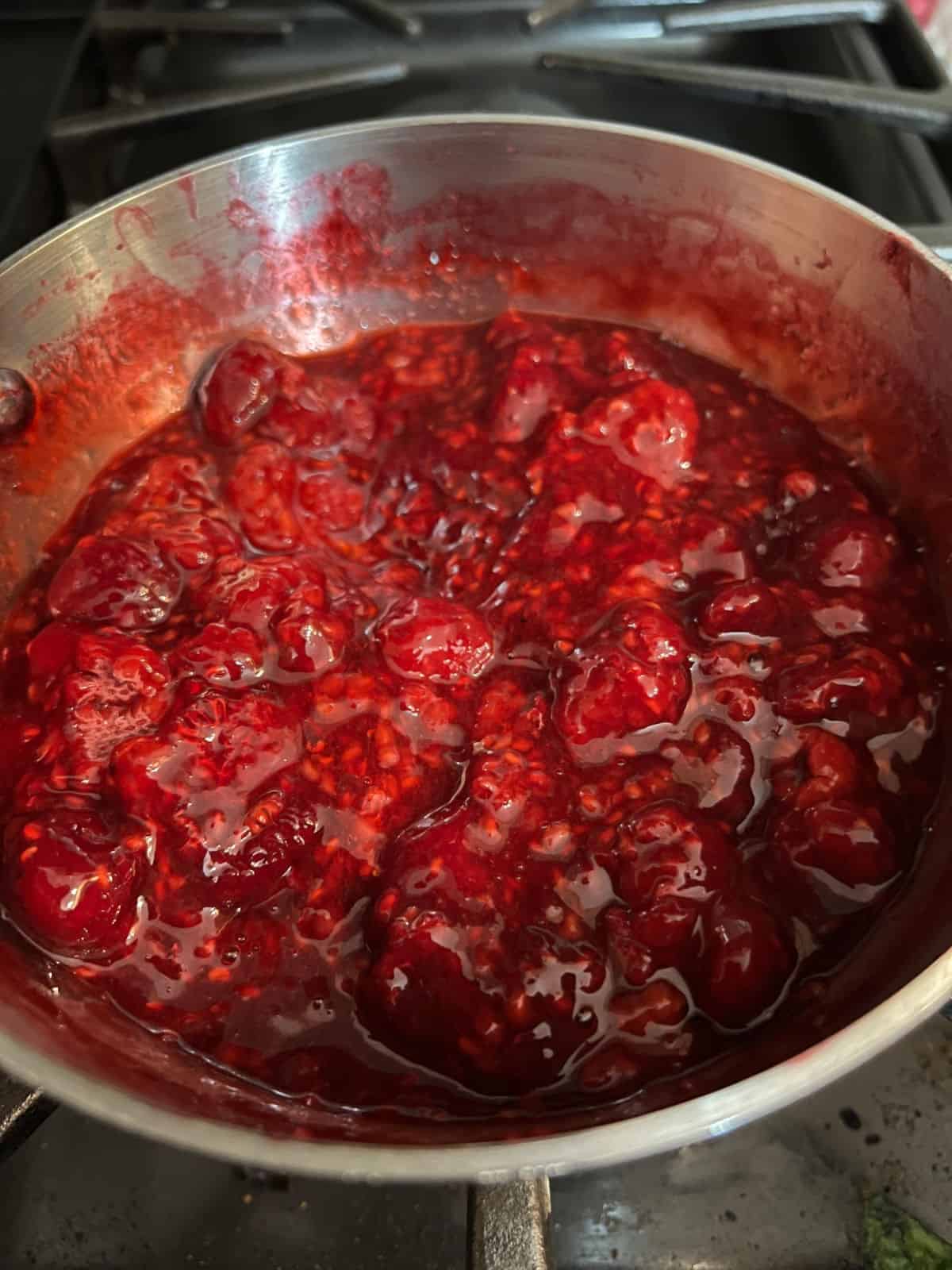 Remove from heat and allow to cool. For a smoother sauce, use an immersion blender and blend the sauce for a minute or two. This will break up any remaining chunks as well as some of the seeds.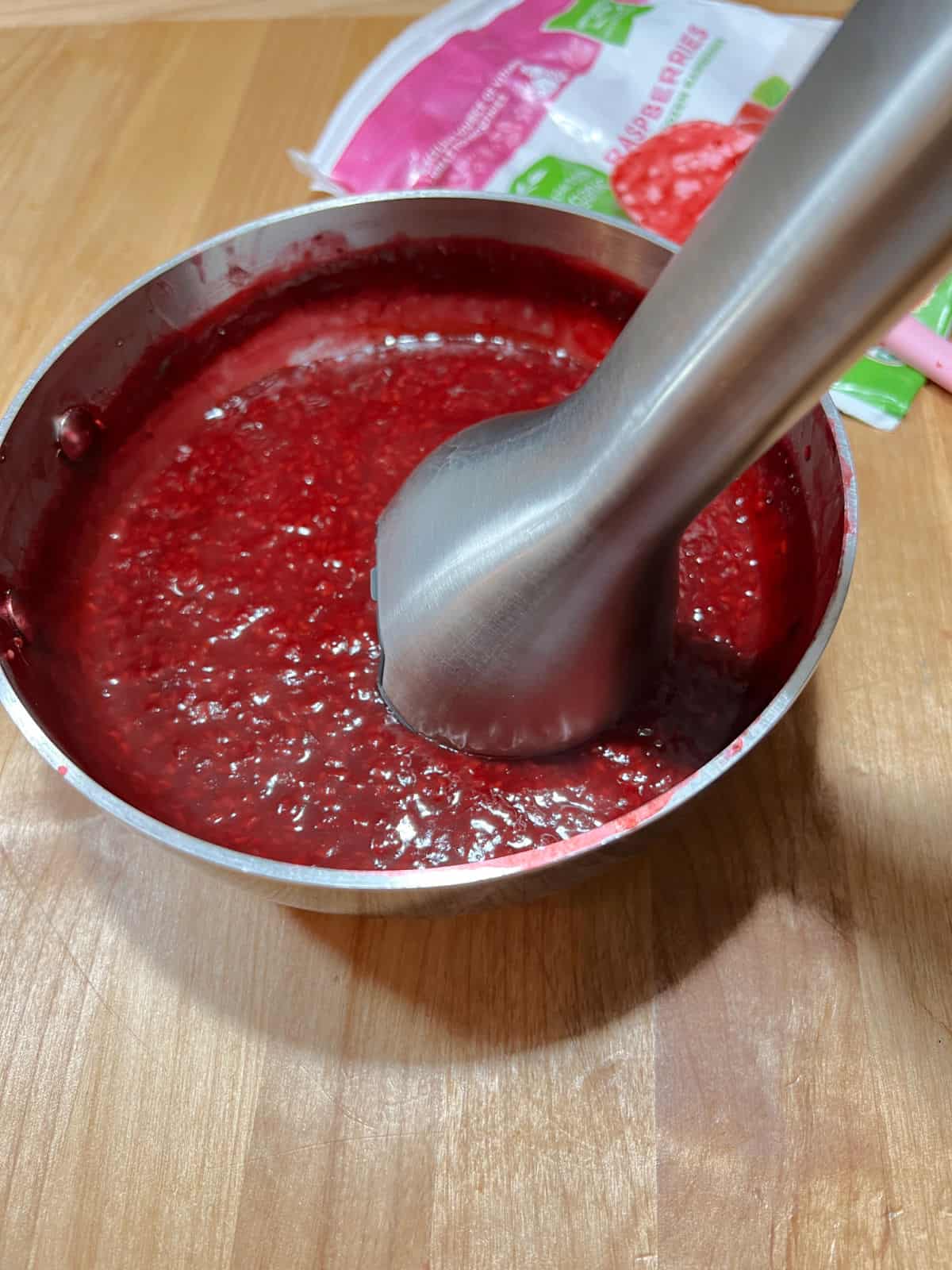 Variations/tips/FAQs
How do I make a seedless raspberry sauce?

The immersion blender seems to break up some of the seeds for me, but this is definitely not a seedless sauce. In order to achieve that, you will need to strain the raspberries or the sauce. Please refer to my standard raspberry sauce directions or the notes in the recipe card below.
How do I make a thicker raspberry sauce?

This recipe makes a nice, pourable sauce with just 2 ingredients. But if you want a much thicker sauce, add just a little xanthan gum. I used ¼ teaspoon and felt the sauce was too thick for me, so maybe try ⅛ teaspoon for this quantity of sauce. A little xanthan gum goes a very long way!
Is this the same as keto raspberry compote?
A fruit compote is made by cooking fruit in water with sugar and spices. This recipe just simplifies all that by using jam with the fruit.
What is xanthan gum?
Xanthan gum is a popular additive commonly added to foods as a thickener or stabilizer. It's created when sugar is fermented by a type of bacteria called Xanthomonas campestris. The resulting substance is dried and turned into a powder.
When xanthan gum powder is added to a liquid, it quickly disperses and creates a viscous and stable solution. This makes it a great thickening, suspending and stabilizing agent for many products.
Even though it's made in a lab, it's a soluble fiber. Soluble fibers are carbs that your body cannot breakdown. Since your body is not able to digest xanthan gum, it does not provide any calories or nutrients. (healthline.com)
Serving suggestions for this low sugar raspberry sauce
This sauce will provide a pop of color and flavor to so many keto desserts!
📖 Recipe
Keto Raspberry Sauce
This sauce with no added sugar will help with your sweet tooth!
Ingredients
⅓

cup

sugar free Strawberry jam

or raspberry

9 - 10

oz

raspberries

fresh or frozen
Instructions
In a small saucepan heat jam and raspberries on medium heat. Continue heating until raspberries begin to break up and sauce starts to simmer. Bring to a boil and cook, stirring constantly, for one minute. Remove from heat.

If desired, use an immersion blender to break up any remaining raspberry pieces as well as some of the seeds.

Allow sauce to cool before use.
Video
Notes
For a seedless sauce, right after cooking pour into a fine mesh strainer placed over a bowl. Use the back of a spoon to press the sauce through the strainer. This will separate almost all the seeds from the sauce.
Nutrition
Calories:
14
kcal
|
Carbohydrates:
4
g
|
Protein:
1
g
|
Fat:
1
g
|
Saturated Fat:
1
g
|
Sodium:
1
mg
|
Potassium:
27
mg
|
Fiber:
1
g
|
Sugar:
2
g
|
Vitamin A:
5
IU
|
Vitamin C:
4
mg
|
Calcium:
4
mg
|
Iron:
1
mg
Nutrition values are estimates only, using online calculators. Please verify using your own data.