Today I have another of my classic recipes that I experimented with to make a lower carb version. I started with Bloody Mary Beef Stew and created Keto Beef Stew. Just as yummy, with significantly fewer carbs!
Ingredients needed
Beef – I usually buy stew meat but a chuck roast works well also, if cut up
Beef stock
Tomato paste
Parsnips – I use these to substitute for the carrots
Turnips – substitute for potatoes
Onion – yellow usually
Carrot – just one, and this is optional (see below)
Worcestershire sauce
Spices: garlic powder, dried thyme, dried marjoram
Bay leaf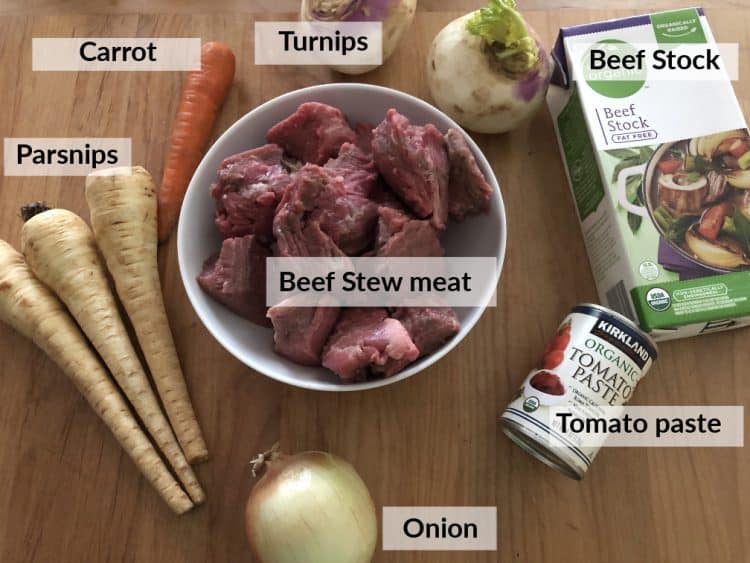 What makes this a keto beef stew?
The main difference between this stew and my traditional beef stew is the use of parsnips and turnips in place of potatoes and carrots. The potatoes are the biggest source of carbs in the traditional version, so using these lower carb root vegetables decreases the carb count significantly.
In addition, I made the tomato-based sauce differently. In my traditional stew, I use Bloody Mary mix or V8. V8 has over 16 grams of carbohydrates in the 1 ½ cups called for. By comparison, this keto version uses a 6 ounce can of tomato paste, for only 6 grams total carbohydrate. Win!
Are carrots keto friendly?
If you are following a very strict keto diet, carrots are probably not recommended. But they are not completely off limits. It's a vegetable that can be consumed if you watch portions carefully. That's why I only included one in this recipe, mainly for that little pop of color the carrot provides. One carrot contains about 6 grams of carbs, so one gram per serving of this recipe. Feel free to omit the carrot if you prefer to keep your carbs super low.
How to make this keto beef stew
I use an Instant Pot for the ease and speed in preparation. If you'd like to use a slow cooker, please refer to my Bloody Mary Beef Stew for crock pot directions.
Start by browning the beef using the sauté function. Mix the tomato paste with a little of the beef stock and add in the spices. Once the beef is brown, add in the vegetables and all sauce ingredients plus a bay leaf. Seal the instant pot and use the Meat/Stew setting with an 18 to 20- minute cook time. (20 minutes if you like extra soft veggies)
Once the cooking cycle is done, allow the Instant Pot to release pressure naturally for at least 20 minutes (it's usually 30-45 for me) before manually venting and opening.
To thicken, we use xanthan gum in place of carb-heavy flour. Put a little water in a small bowl, then sprinkle a half teaspoon of xanthan gum over the surface. Whisk in immediately, then add to the stew and stir in.
What is xanthan gum
Xanthan gum is a popular food additive. It's commonly added to foods as a thickener or stabilizer. Xanthan gum is created by fermenting sugar with a type of bacteria called Xanthomonas campestris. The resulting substance is dried and turned into a powder.
When we add xanthan gum powder to a liquid, it will quickly disperse and create a viscous and stable solution. This makes it a great thickening, suspending and stabilizing agent for many products.
Even though it's made in a lab, it's a soluble fiber. Soluble fibers are carbs that your body cannot breakdown. Since your body is not able to digest xanthan gum, it does not provide any calories or nutrients. (healthline.com)
Variations and servings
This recipe makes about 8 cups of stew. I have it marked as 6 servings, so that means each serving is about a cup and a half. I find this is adequate as a stand-alone meal. You might find one cup enough. It's especially cozy on a chilly winter day.
As I mentioned above, feel free to omit the carrot if you want to save yourself that one gram of carbohydrate per serving. (sometimes every little bit makes a difference!) You can also add additional xanthan gum for a thicker stew, but just keep in mind that a little goes a long way!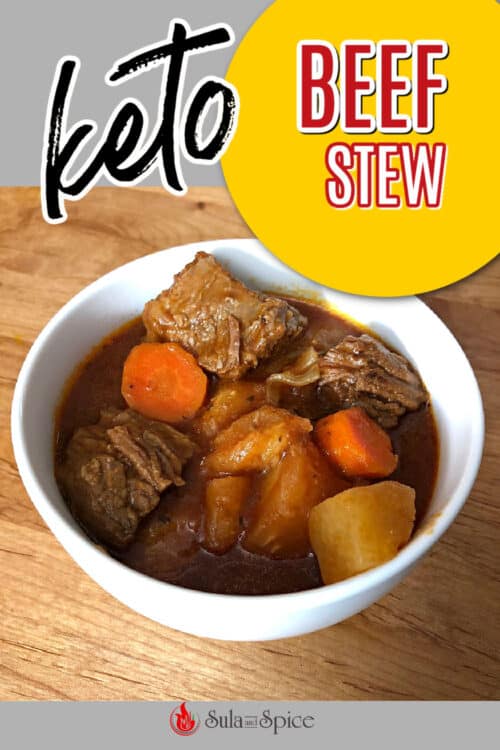 Classic Beef Stew taste in a lower carb keto version.
📖 Recipe
Keto Beef Stew – Instant Pot
Classic beef stew taste in a low carb version
Ingredients
1

tablespoon

olive oil

1 ½

pound

stew meat

2 ½

cups

beef stock

6

oz

tomato paste

¾

pound

parsnips

peeled and chunked

¾

pound

turnips

peeled and chunked

1

medium carrot

peeled and sliced

1

medium onion

peeled and chunked

1

Tablespoon

Worcestershire sauce

½

teaspoon

garlic powder

½

teaspoon

thyme

dried

¼

teaspoon

marjoram

dried

1

bay leaf

To thicken:

½

cup

water

½

teaspoon

xanthan gum
Instructions
Turn Instant Pot to "sauté" setting. Add oil, then beef. Cook, stirring occasionally, until browned (5 to 7 minutes).

To a small bowl, add the tomato paste and ½ cup beef stock. Stir together until smooth. Add Worcestershire sauce, garlic powder, thyme and marjoram and stir to incorporate.

Add vegetables to instant pot followed by the tomato paste mixture and the remaining 2 cups beef stock. Add bay leaf.

Seal Instant Pot and set to "meat/stew" setting, for 18-20 minutes.

Once cooking cycle is done, allow to vent naturally for at least 20 minutes. Then, open and remove bay leaf.

To thicken: place ½ cup water in a small bowl. Sprinkle xanthan gum over the surface and quickly whisk to incorporate. Add to stew in the Instant Pot and stir to evenly distribute. You can repeat with a little more xanthan gum if a thicker stew is desired.
Video
Nutrition
Calories:
290
kcal
|
Carbohydrates:
24
g
|
Protein:
30
g
|
Fat:
8
g
|
Saturated Fat:
2
g
|
Cholesterol:
70
mg
|
Sodium:
573
mg
|
Potassium:
1262
mg
|
Fiber:
6
g
|
Sugar:
10
g
|
Vitamin A:
2131
IU
|
Vitamin C:
30
mg
|
Calcium:
88
mg
|
Iron:
4
mg
Nutrition values are estimates only, using online calculators. Please verify using your own data.
More Keto Meal Ideas