When cool weather tiptoes in, that's a sign: find a recipe for beef stew, sure to warm you through and through. It's traditional comfort food at its finest: meat, potatoes and carrots.
Traditionally made by slowly simmering the stew for hours, we can now make this old-fashioned meal with new-fashioned methods! I made it for many years using my slow cooker, letting it slowly cook the stew all day long while I was at work.
Now, I've adapted this recipe to the Instant Pot to make beef stew that is just as tender and delicious in a fraction of the time!
Ingredients
How to make beef stew in a crockpot/slow cooker
I've been using this beef stew recipe for at least 20 (of my 21 😀) years and for most of that time I have used a crockpot. For a weeknight meal I would prep it all the night before by browning the meat and cutting the vegetables. I put everything in the crockpot insert and placed it in the refrigerator overnight. Since I could use Blood Mary mix as an ingredient I would sometimes mix a beverage for myself. 😍
In the morning, the insert came out of the fridge and went into the crockpot. Using a low temperature setting, I let it cook all day. By the time I came home the stew was ready to be thickened. Delicious.
If you don't have an Instant Pot yet, use this method. Oh, and then remember to put "Instant Pot" on your Christmas list.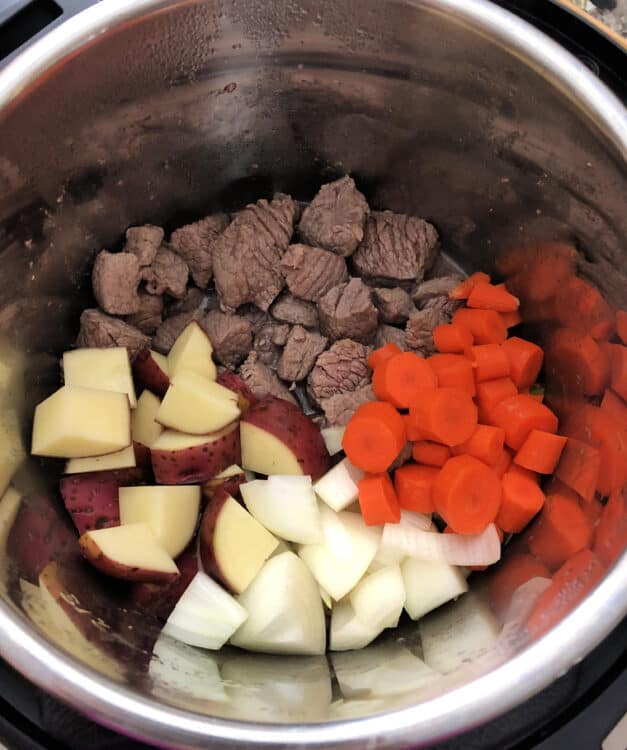 How to make beef stew in an Instant Pot
Now – new and improved! - an Instant Pot makes it even easier. First, use the Sauté function to brown the meat, then add everything else. Set the cook cycle (meat/stew) and batten down the latches. This is an 18 minute cook time for my Instant Pot, and total time is about an hour with the pressurize/depressurize steps. Once the cycle is complete, thicken with flour and it's ready to serve.
This is great on the day you make it, and an excellent leftover meal. It also freezes well. In fact, if all goes according to plan, I will be out of the country on vacation when this post goes live! A portion of this batch will be in the freezer for the carnivore to enjoy while I am gone. 😀
More Delicious Recipes to Try
Want some other ideas for your Instant Pot? Try some Split Pea Soup or Vegetable Beef Soup, two more classics that are easy and delicious.
For a lower carb version of this beef stew, try my keto beef stew.
And if you'd like to branch out with new falvors, try some Korean Beef Stew or maybe Nigerian spinach stew. There are plenty of ways to make a delicious stew that will please the palate for sure!
📖 Recipe
Beef Stew - Instant Pot or Slow Cooker
Use a Crockpot or Instant Pot to make this classic stew!
Ingredients
1

TB

olive oil

1½

pounds

beef stew meat

cut into 1-inch cubes

1½

cups

Bloody Mary mix or vegetable juice cocktail

1½

cups

beef broth

2

medium carrots

peeled, sliced 1-inch

2

medium potatoes

peeled, cubed

1

medium onion

cut into 1-inch pieces

1

tablespoon

Worcestershire sauce

½

teaspoon

garlic powder

½

teaspoon

dried thyme leaves

¼

teaspoon

dried marjoram leaves

1

bay leaf

½

cup

water

3

tablespoons

all-purpose flour
Instructions
For Instant Pot:
Turn Instant Pot to "sauté" setting. Add olive oil, then beef. Cook, stirring occasionally, until browned (5 to 7 minutes).

Add all remaining ingredients, except flour and water.

Seal Instant Pot and set to "meat/stew" (18 minutes). Once cooking cycle is done, allow to vent naturally for at least 20 minutes.

Stir together water and flour in a cup or small bowl until smooth.

When Instant Pot has vented, remove lid and stir flour mixture into beef mixture, stirring constantly. If mixture does not thicken, turn the Instant Pot to Sauté and cook, stirring, for 3-5 minutes to thicken the sauce.
For Crockpot:
Warm olive oil in 10-inch skillet until hot; add meat. Cook over medium-high heat, stirring occasionally, until browned (5 to 7 minutes).

Place meat in slow cooker. Stir in all remaining ingredients, except water and flour.

Cover; cook on Low heat for 8 to 9 hours, or High heat for 5 to 6 hours or until beef is tender. Uncover; remove bay leaf.

Stir together water and flour in a cup or small bowl until smooth. Add flour mixture into beef mixture, stirring constantly. Cook on High heat, stirring occasionally, until thickened (8 to 10 minutes).

TIP: Add more flour if a thicker stew is desired.
Nutrition
Calories:
285
kcal
|
Carbohydrates:
23
g
|
Protein:
29
g
|
Fat:
8
g
|
Saturated Fat:
2
g
|
Cholesterol:
70
mg
|
Sodium:
439
mg
|
Potassium:
946
mg
|
Fiber:
2
g
|
Sugar:
4
g
|
Vitamin A:
3895
IU
|
Vitamin C:
25
mg
|
Calcium:
58
mg
|
Iron:
4
mg
Nutrition values are estimates only, using online calculators. Please verify using your own data.