When following a low carb or keto meal plan, side dishes can feel like a challenge. Noodles are out, rice and potatoes – nope. Sometimes I think I've been programmed to expect a starch with every meal. Which is of course what we are avoiding.
Enter cauliflower rice. Does it taste like rice? No, it still tastes like cauliflower. But cauliflower + cheese = delicious! And for the vegetable-leery in your house, cauliflower in riced form is less in-your-face "I'm a vegetable", if you know what I mean.
Plus, when you make it into Cheesy Cauliflower Rice, what you are really doing is blanketing the cauliflower with creamy, cheesy goodness. You barely notice the cauliflower in there. LOL
How to make cheesy cauliflower rice
I'm going to start with the basic recipe, which is the easiest thing ever! I use the Green Giant frozen riced veggie packages for convenience. If you prefer to buy fresh or make your own, that works too. Just make sure you use it pretty soon after buying or making. It gets a little stinky when it starts to go bad...
First, microwave the frozen cauliflower rice for 4 minutes, which is a little shorter than the package directions. In a skillet, melt a little butter then empty the cauliflower into the pan. Stir fry for about a minute. Then, clear an area in the middle of the pan. Add a little more butter, plus milk and cheese. Mix in with the cauliflower until evenly coated.
You can serve the cheesy riced cauliflower as-is, or dress it up with a little sliced green onion, bacon bits, etc.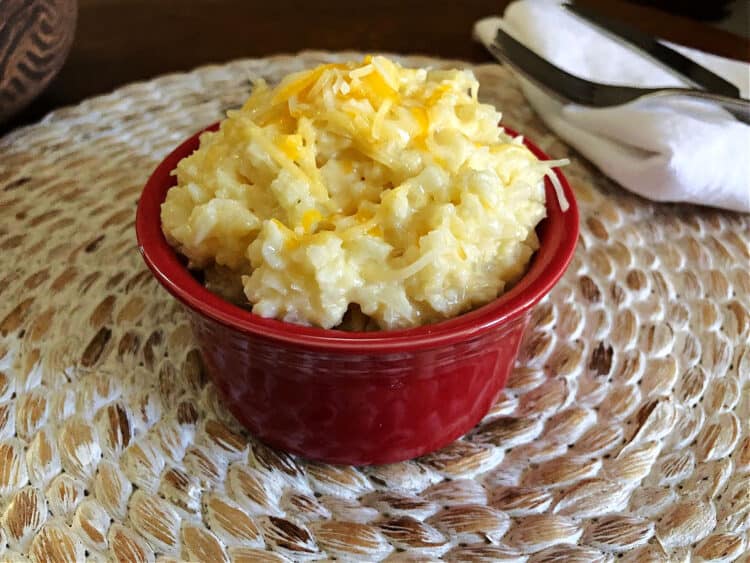 Low carb/keto friendly and a great side with many meals.
Variations
The basic version is fast and tasty, but it also has a ton of potential for variation. Here are two of my favorites:
Broccoli: start with a cauliflower rice medley, which has a few veggies already in it, like peas, carrots and green onions. Add broccoli to the pan after the cauliflower and stir fry both together to ensure everything is evenly warm. About one cup of chopped broccoli works best. I have used leftover cooked broccoli as well as cooked from frozen. I chop the broccoli smaller than a floret size, because I want it to be evenly distributed throughout the rice. Then proceed with the sauce ingredients. Cheddar cheese is a good choice for this combination.
Spinach: either the medley or plain riced cauliflower seem to work with this, probably because I add 2 different veggies: spinach and tomato. I take a handful of grape tomatoes and cut them small, into thirds. I rough chop the spinach so it's not all big and stringy in the mix. Sometimes I put a little minced garlic in the butter to add some flavor, and a dash of Italian seasoning. Just as in the broccoli example above, I mix the vegetables in and make sure everything is the same temperature before adding the sauce ingredients. I use Parmesan cheese for this version.
No matter which variation you make, you will love having this easy keto side dish available for last minute additions to the menu!
Cheesy Cauliflower Rice
Easy and fast low carb keto-friendly side dish that everyone will love
Ingredients
10

oz

riced cauliflower

Frozen

2

tablespoons

butter

¼

cup

milk or cream

½

cup

shredded cheese – 3 cheese Mexican or Cheddar blend
Instructions
Cook the riced cauliflower in the microwave for 4 minutes on high.

Heat one tablespoon butter in a skillet on medium-high heat.

Add the cooked cauliflower and fry for a minute or two.

Clear a space in the middle of the skillet and add the second tablespoon of butter. Add the milk. Sprinkle the cheese around the pan on the cauliflower, then begin to mix all ingredients together. Mix for a minute to ensure the cheese is evenly distributed.

Remove from heat and serve.
Video
Notes
To add vegetables, begin with a riced cauliflower medley. Add vegetables of choice after the cauliflower stir fry step. Fry all the vegetables together for an additional minute before proceeding with the cheese sauce step.
Nutrition
Calories:
179
kcal
|
Carbohydrates:
6
g
|
Protein:
7
g
|
Fat:
15
g
|
Saturated Fat:
9
g
|
Cholesterol:
42
mg
|
Sodium:
221
mg
|
Potassium:
328
mg
|
Fiber:
2
g
|
Sugar:
3
g
|
Vitamin A:
455
IU
|
Vitamin C:
46
mg
|
Calcium:
180
mg
|
Iron:
1
mg
Nutrition values are estimates only, using online calculators. Please verify using your own data.
More low carb recipe ideas: