I've really been enjoying all the low carb/keto recipes I've tried out this month and REALLY love the results! But let's face it, nothing delivers like a cracker. There's the crunch and the salt . . . Can't be beat! That's where these carb-friendly, keto crackers come in. They only require two ingredients (plus water) and are incredibly simple to make. Win!
I found this recipe at Kirbie's cravings and love how it comes together. One caveat: it does call for a food processor to mix, and I have only made this using my mini food processor. So I cannot speak to how well they would work without one.
How to make these 2 ingredient snack crackers
Mixing
The two ingredients are Parmesan cheese and almond flour. A little water is needed if you use the pre-grated cheese (and that is probably 99% of us, amiright??) The cheese and almond flour are mixed in the food processor until the cheese begins to stick to the flour. Even though I always use pre-shredded cheese and therefore ALWAYS end up adding water, I start by mixing just those two ingredients before adding water. I'm not sure why – do I think my latest batch of cheese is suddenly going to have a magically larger level of moisture in it than any other batch of pre-shredded/grated cheese? Clearly I'm an optimist.
But really, I think I enjoy witnessing the difference that a little bit of water makes. It turns the mixture from a crumbly heap into a cohesive sticky dough. There's something so satisfying about that for me.
Roll the dough
Because the dough is kind of sticky, it is rolled between two sheets of parchment paper. The thickness can be an issue. The desired thickness is ⅛ inch, which is probably thicker than we think of crackers being. My first couple batches I kept rolling really thin. When too thin, the cut dough is very fragile and it cooks into a dark brown crisp in a very short time.
For me, the taste of overcooked keto crackers is not appealing. So, I consciously tell myself to leave the dough a little thicker.
Cut into squares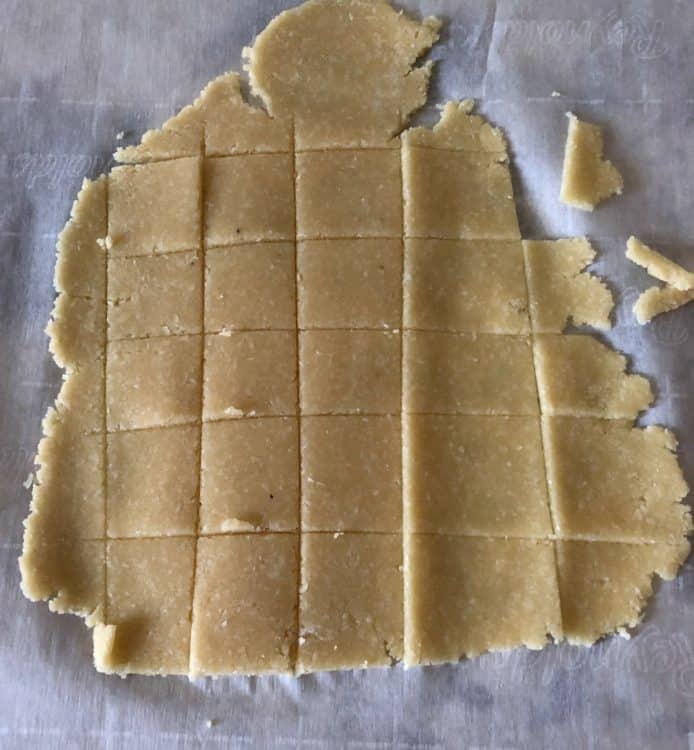 The rolled out dough is cut into squares using a pizza cutter.
Bake
Then, the squares are transferred to a parchment-lined baking sheet and baked at 400F. Baking time is heavily dependent on the thickness of the dough, so although the original recipe calls for baking 10 minutes then flipping and baking an additional 3-5 minutes, I recommend checking at about 7 minutes to ensure your crackers aren't getting too dark.
Once they are even slightly golden, flip them over for the final couple minutes of baking.
Allow the crackers to cool, and then enjoy as a snack, part of an appetizer selection or with something like tuna salad boats for a wonderful low-carb lunch!
Print Recipe
Keto Snack Crackers
Satisfying crunch and keto-friendly!
Ingredients
½

cup

Parmesan cheese

grated or shredded

½

cup

superfine almond flour

1

TB

water

if needed
Instructions
Preheat oven to 400F.

Line a baking sheet with parchment paper.

Add cheese and almond flour to mini food processor and pulse until the cheese begins to stick to the flour. If your dough is crumbly, add one tablespoon of water and pulse again. When the crumbs are squeezed between your fingers, they should stick together like dough.

Roll the dough between two sheets of parchment paper to ⅛ inch thick. Using a pizza cutter or similar tool, cut the dough into one-inch squares.

Place crackers onto baking sheet, making sure none of them touch.

Bake crackers for 7-10 minutes, then flip the crackers on the sheet and bake for an additional 3-5 minutes until the crackers are lightly golden brown and the tops feel firm and crunchy to the touch.

Allow crackers to cool before eating. Any leftover crackers may be stored in an airtight container for 2-3 days at room temperature.
Nutrition
Calories:
17
kcal
|
Carbohydrates:
1
g
|
Protein:
1
g
|
Fat:
1
g
|
Saturated Fat:
1
g
|
Cholesterol:
1
mg
|
Sodium:
27
mg
|
Potassium:
2
mg
|
Fiber:
1
g
|
Sugar:
1
g
|
Vitamin A:
13
IU
|
Calcium:
24
mg
|
Iron:
1
mg
Nutrition values are estimates only, using online calculators. Please verify using your own data.