Keto/Low Carb
Most traditional approaches to losing weight follow a simple formula: eat less, exercise more. But in my case, the more I exercise, the hungrier I get!
Sigh . . .
So, it's crucial for me to find snacks that satisfy my urges and stay within my dietary goals. That's what I love about keto – I get to eat what I love! That includes yummy sweet treats like these Keto Pecan Clusters, found at heyketomama.com. It's one of the few keto bombs I have found that are not based on cream cheese (like chocolate or strawberry).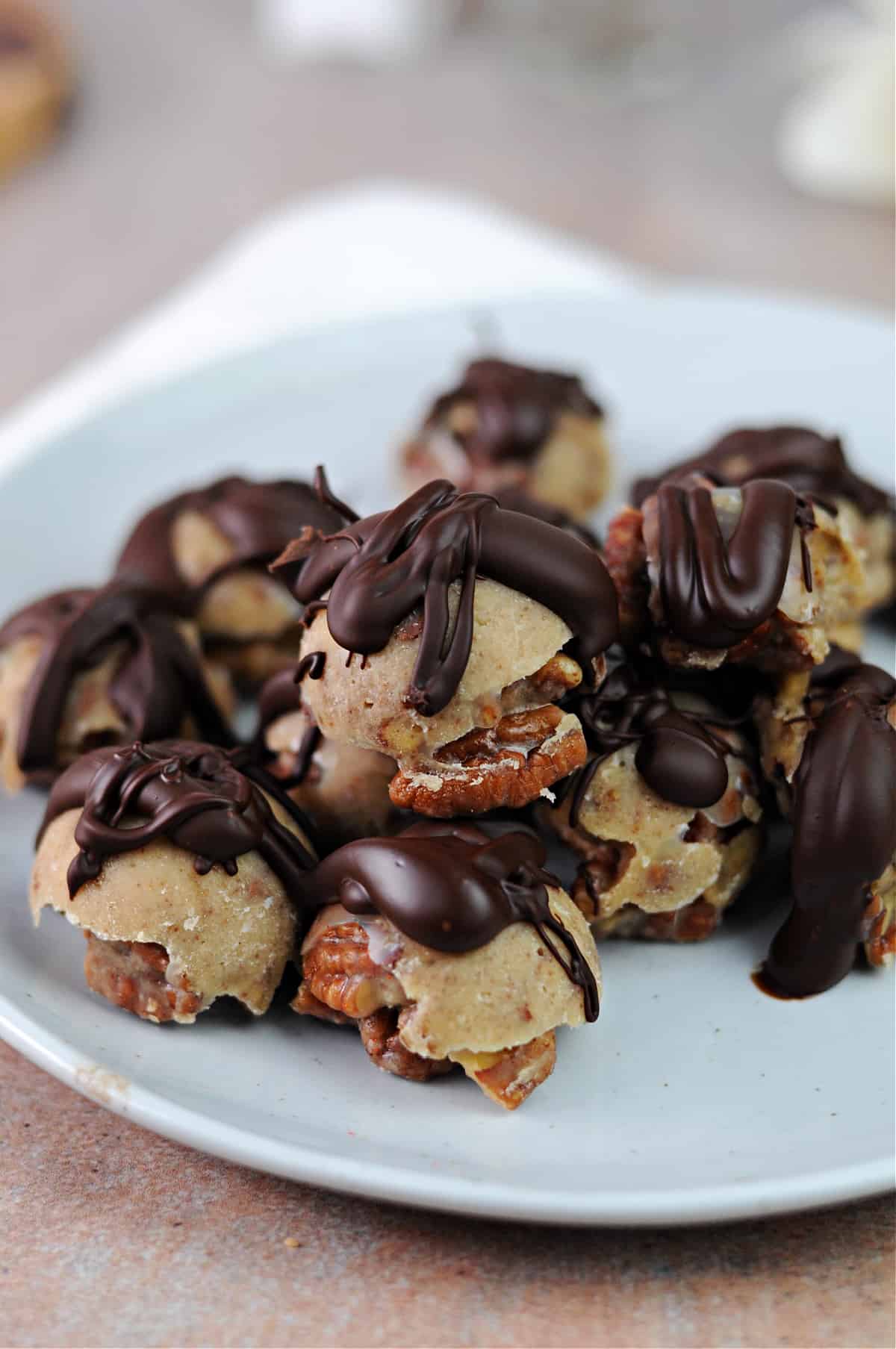 What goes in these keto pecan clusters?
Just think: crunchy pecans, held together with a caramel-like filling, topped off with sugar-free chocolate. It's a trick of the tongue that'll fool your palette and satisfy your craving.
I know. You're thinking: "There is no way sugar-free chocolate will replace the real thing. Well, I'm here to tell you these new sugar substitutes are amazing! To the point where it is VERY hard to tell these tasty clusters are completely sugar free!
For the sugar taste I've used ZenSweet, which is a monkfruit-based sweetener, or Swerve, an Erythritol (sugar alcohol) sweetener. For myself, I fully expected to prefer one over the other, but to be honest I can't taste any difference between the two. Go ahead, try 'em! I think you'll like the results.
How to make the pecan clusters
To start, melt butter in a small pan on medium heat and brown until golden colored. Stir frequently to ensure the butter doesn't burn. Then, add the heavy cream and whisk together.
Turn down the heat and add sweetener and vanilla. Whisk it all together to break up any lumps.
Allow the mix to thicken for about 5 minutes, whisking occasionally. It will darken slightly and come to resemble caramel.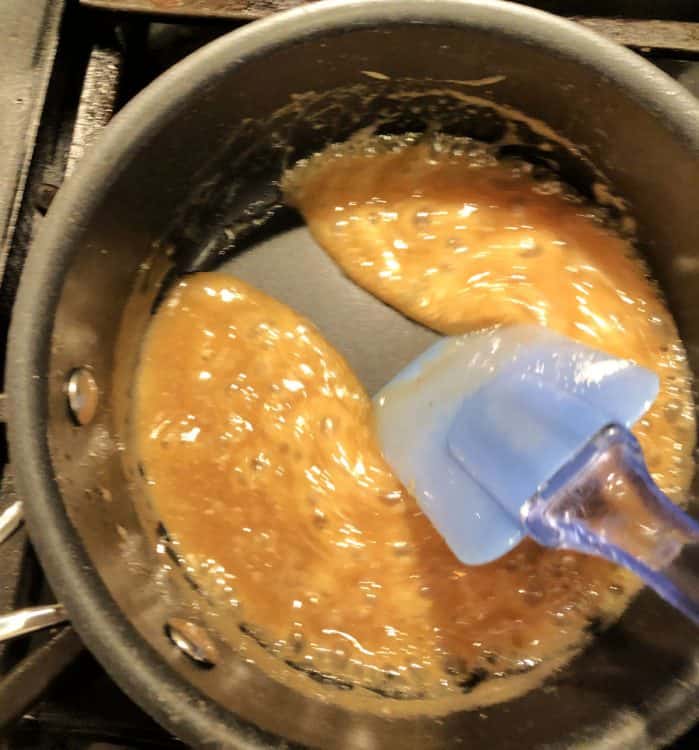 Note: For one of my batches, I had trouble with this part. The mix did not look like caramel. I concluded that I had turned down the heat too much when adding the sweetener. So I turned the heat up again, just enough to get things bubbling, and soon I was rewarded with a nice caramel-like appearance.
When the mixture has thickened and darkened, remove from heat and stir in chopped pecans. Now comes the cluster part: Spoon onto parchment paper and . . . - that's it, LOL!
Now, place the clusters in the freezer for 5 minutes.
Making keto bombs in molds
I have silicone molds, which I prefer for cluster-making. I have a tendency to make clusters bigger than practicable, so having a mold forces me to be consistent in size. The link shows a set of three sizes, I use the middle size which hold a tablespoon each.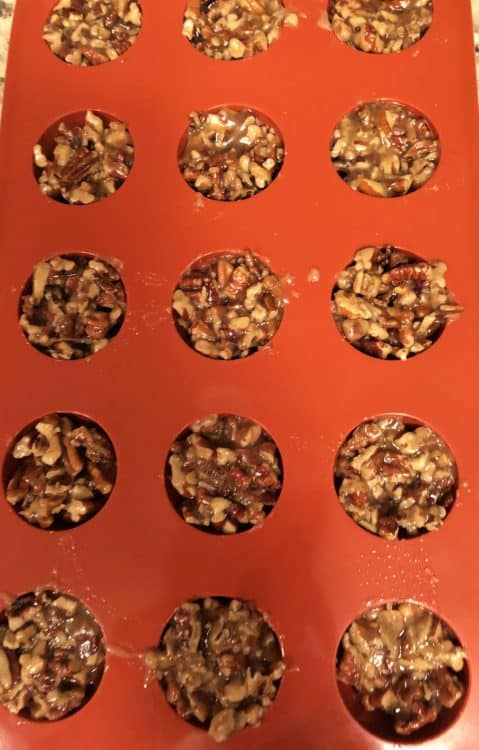 When using the mold, I freeze longer, like 30 minutes, to ensure the mixture is firm enough to unmold cleanly.
Drizzle with sugar-free chocolate
The last step is to drizzle some inviting chocolate lace on top. I use Lily's stevia-sweetened dark chocolate baking bars and am always happy with how nicely they melt - and taste. The drizzle quantity is about 2 ounces, or ½ a bar. Just melt in the microwave, stir, and drizzle over the clusters with a spoon.
Delightful! Enjoy the satisfaction of eating sweets without the guilt or the sugar spike five minutes after a sweet tooth attack.
Keto Pecan Clusters
Ingredients
1

cup

chopped pecans

3

TB

butter

¼

cup

heavy cream

2

TB

sweetener

ZenSweet or Swerve-granular

1

teaspoon

vanilla

2

oz

dark or sugar-free chocolate

chopped
Instructions
Over medium heat, brown butter until golden. Stir frequently being careful not to burn.

Once golden, add heavy cream to butter and whisk together. Turn down heat to a simmer.

Whisking quickly, add sweetener and vanilla, being sure to break up any lumps.

Continue whisking occasionally for the next 5 minutes as mixture begins to thicken.

Mixture should look similar to caramel and be slightly darkened. Remove from heat.

Mix in chopped pecans, then spoon clusters onto parchment-lined tray or plate, or in silicone molds.

Place in freezer for 5 minutes (30 minutes for molds)

Remove clusters from molds, if using. Microwave dark chocolate for 20-40 seconds until they appear melted and smooth. Drizzle over clusters.

Tip: These keep well in the refrigerator. Freezing is recommended for long-term storage.
Nutrition
Calories:
101
kcal
|
Carbohydrates:
5
g
|
Protein:
1
g
|
Fat:
10
g
|
Saturated Fat:
3
g
|
Cholesterol:
11
mg
|
Sodium:
21
mg
|
Potassium:
56
mg
|
Fiber:
1
g
|
Sugar:
1
g
|
Vitamin A:
124
IU
|
Vitamin C:
1
mg
|
Calcium:
10
mg
|
Iron:
1
mg
Nutrition values are estimates only, using online calculators. Please verify using your own data.
These Keto Pecan Clusters definitely don't feel like diet food!
For an even simpler approach, try some keto nut clusters - just chocolate and nuts!