Have you heard of Cake Batter Dip? It's a sweet "dessert" dip that starts with a box of cake mix,  and has many variations. The best one, in my opinion, is Dunkaroo Dip.
Remember Dunkaroos? It's a snack made by Betty Crocker, first launched in 1990. It consists of a snack-sized package containing cookies and frosting. As the name implies, the cookies are meant to be dunked into the frosting before eating. (Wikipedia)
Dunkaroos were discontinued in the US in 2012 but continued to be sold in Canada until January 2018, at which point they disappeared there too. Rumor has it, they are making a comeback in 2020. But we don't have to wait. We can make our own Dunkaroo Dip!
Ingredients needed for Dunkaroo dip
With an ingredient list this short, you won't even need to write it down:
Cake mix
Whipped topping (Cool Whip or similar)
Yogurt
That's it. Three ingredients. And then some sprinkles for decorating, plus whatever cookies you choose for dunking. It doesn't get much easier.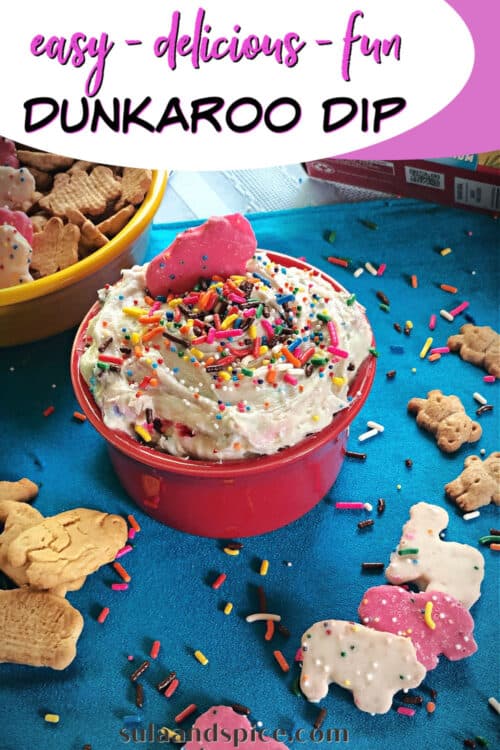 How to make Dunkaroo Dip
A short ingredients list calls for easy instructions, right? Start by heating the cake mix (see below for why) and allow it to fully cool. Then, just mix the ingredients together. In theory, you can mix this by hand, but an electric mixer makes it much easier. Mix for 2-3 minutes on low. If you take a quick taste (aka Quality Control) the batter should no longer feel "grainy."
Cover the dip and put in fridge to set for about 2 hours. If you're pressed for time, stick it in the freezer for 30 minutes.
Is it safe to eat raw cake batter?
We tend to think of raw cake batter as unsafe because of raw eggs added to the mix. No eggs in this recipe, so no problem, right? Not exactly. According to a food safety advisory published by the CDC, raw flour can also be a problem. Flour is an ingredient which is intended to be cooked/baked, and therefore not treated beforehand to kill bacteria.
Now, I'm just as likely as the next gal to taste my cake batter. Cook's privilege, right? But I wouldn't want to be the mom who served contaminated dip at a kid's birthday party. So, please take the few extra minutes to give the dry mix a blast in the microwave before making the dip.
How to microwave cake mix for dip
Easy! Just pour the dry mix into a mixing bowl. Microwave on high for 30 seconds. Remove and stir. Microwave for another 30 seconds. With a cooking thermometer, stick the probe into the center of the dry mix. If the temperature reads at least 165F, you're good. If not, repeat for another 30 seconds. Stir and allow to fully cool before proceeding.
Note: Usually the mix is in the 175-180F range for me. So you will probably only need that third burst if you have a smaller microwave.
Cake batter dip variations
Once you've tried this, you might want to try some other variations. Here are a few ideas:
Cheesecake batter dip: Start with a white cake mix. Instead of yogurt, substitute a small package of cheesecake pudding mix plus ½ cup of milk.
Fruit flavored cake batter dip: Use a flavored cake mix, like lemon or strawberry. also If you like, use flavored yogurt to amp up the fruit flavor.
Add-ins: I use sprinkles for decoration, but they can also be added into the mix to really put the FUN in "FUNfetti."I suggest about ¼ cup of sprinkles. Or, you could add crushed cookies – chunks of Oreo go well in just about anything, right? (I think Oreos with the cheesecake option will be my next combo). 😀
Serving suggestions for Dunkaroo dip
As I recall, the packaged Dunkaroos came with about ten little cookies for dipping. Here lies the great advantage to making your own dip. If there's no package, there's no limit to the number of cookies! You can still have 10. Or, if you wish 20. Or 50 . . . You get the picture.
Plus, the type of cookie used is virtually unlimited. Think animal crackers, Teddy Grahams, Nilla Wafers. And if you want to "health it up," try apple slices.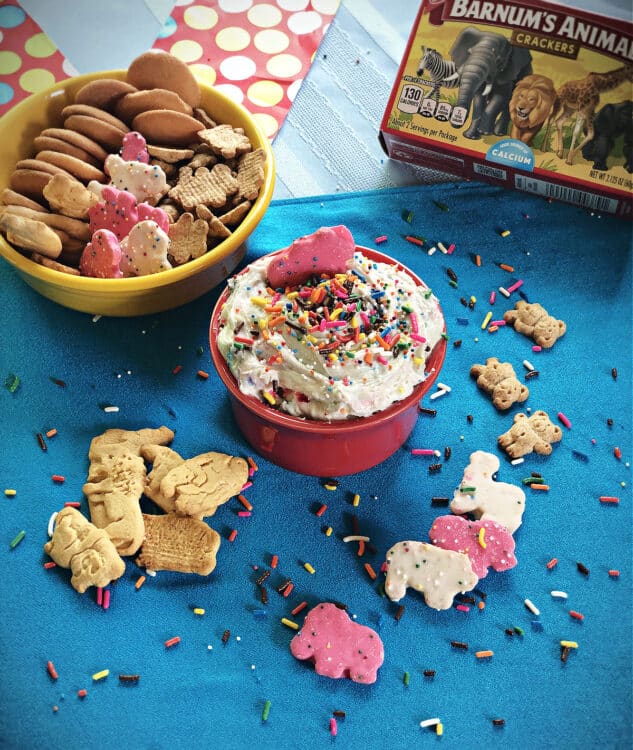 The only limit is your imagination. 😀
Print Recipe
Dunkaroo Dip
Funfetti Cake Batter Dip - filled with sprinkles and fun for all!
Ingredients
1

box Funfetti Cake mix

8

oz

Cool Whip

thawed

1 ½

cup

vanilla yogurt
Instructions
Empty dry cake mix into a microwave-safe mixing bowl. Microwave on high for 30 seconds, then stir. Then, microwave for 30 seconds more. If the internal temperature of the dry mix is at least 165F, you're good. If the temperature is lower or you're uncertain, stir and microwave for an additional 30 seconds. Allow to fully cool.

Mix all ingredients together, using a hand-held electric mixer for about 2-3 minutes on low.

Cover and place in refrigerator for two hours to set.

If desired, decorate with sprinkles before serving.

Serve with cookies or fruit as desired (I suggest animal crackers, Nilla Wafers, and apple slices
Notes
Calculations do not include sprinkles, other optional ingredients, or cookies used for dipping.
Nutrition
Calories:
238
kcal
|
Carbohydrates:
45
g
|
Protein:
3
g
|
Fat:
5
g
|
Saturated Fat:
2
g
|
Cholesterol:
5
mg
|
Sodium:
319
mg
|
Potassium:
105
mg
|
Fiber:
1
g
|
Sugar:
31
g
|
Vitamin A:
55
IU
|
Vitamin C:
1
mg
|
Calcium:
105
mg
|
Iron:
1
mg
Nutrition values are estimates only, using online calculators. Please verify using your own data.
More kid-friendly treats
The only thing better than sprinkles? Googly eyes! Make some Monster Eye Cookies and Frozen Banana Pops - they are sure to be a hit!
For another sweet apple dip, try my Heath bar apple dip. So good!