November 9 is the anniversary of the demolition of the Berlin Wall, a pivotal event in world history. It seems only fitting to mark this occasion with something German. My first thought was to make a sauerkraut meal ("Crickets, crickets. . ."). Then, I switched directions and got a much more enthusiastic reaction: German Chocolate Cake! ("Massive applause, standing ovation!!!. . .").
Ironically, this cake has nothing to do with Germany. In fact, it's named after its English-American creator, Sam German. It was called Baker's German Chocolate Cake. But we'll go with it, anyway. Even without the Germany connection.
I found this recipe at recipe-me.com and I like the way it came together. The only thing that seemed different was the addition of boiling water to the mix. Unusual. But it worked.
The cake mix is enough to make three 8-inch rounds, and the author states that she makes a 2-layer cake and uses a different frosting for the third cake round for family members with nut allergies and taste preferences.
I did not do this and instead went all-in on a 3-layer cake.😃
Let's be honest, German Chocolate Cake is all about the coconut-pecan frosting. It's sweet and rich, and replete with the unique combination of pecans and coconut – there's nothing like it.
And you know there's something special about a frosting that gets cooked: This is a little like making a custard, as it starts with evaporated milk, butter and egg yolks. And sugar, of course, don't forget the sugar! Once this is cooked enough to start thickening, the coconut and pecans are added.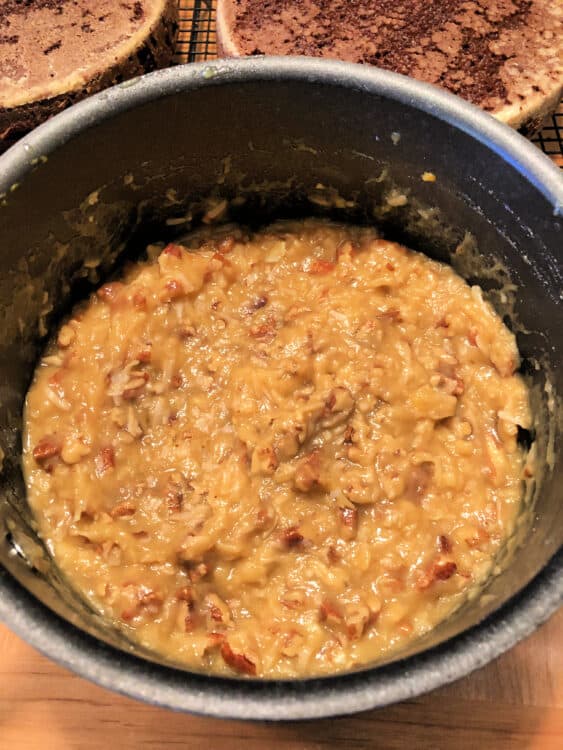 Then, the frosting is left to cool and thicken some more.
In order to make a layer cake, I needed a double batch of frosting. The author says that a single batch is adequate for a 9 x13 pan, but I'd still be tempted to make a double batch. It would be a shame to skimp on what makes this cake special!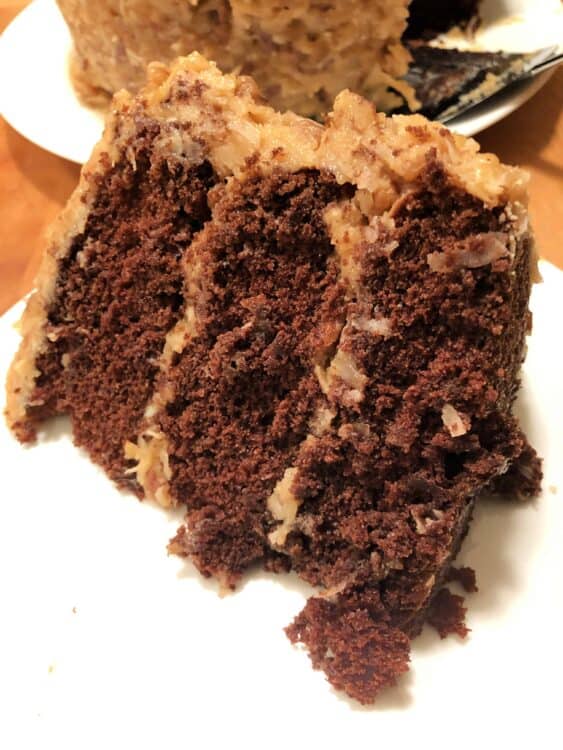 German or not, this cake is yummy!
Print Recipe
German Chocolate Cake:
Baker's German Chocolate Cake - or something like that 🙂
Ingredients
Cake
2

cups

all-purpose flour

2

cups

sugar

¾

cup

cocoa

2

teaspoons

baking powder

1½

teaspoons

baking soda

1

teaspoon

salt

1

cup

milk

½

cup

vegetable oil

2

eggs

2

teaspoons

vanilla extract

1

cup

boiling water
German Chocolate Frosting: (Note: double this for a layer cake)
1

cup

evaporated milk

1

cup

white granulated sugar

3

egg yolk

beaten with 1 teaspoon water

1/2

cup

butter

1

teaspoon

vanilla extract

1

cup

chopped pecans

1

cup

flaked coconut

1

tablespoon

of cornstarch
Instructions
Pre-heat oven to 350º F. Grease three 8-inch or two 9-inch round cake pans with cooking spray and lightly dust with flour. (One 9x13 will also work)

In mixing bowl, add flour, sugar, cocoa, baking powder, baking soda, and salt. Stir until well combined.

To flour mixture, add milk, vegetable oil, eggs, and vanilla and mix together on medium speed until well blended. Reduce the speed to low and add boiling water a little at a time to the cake batter. Once all water is mixed in, beat on high for about 1 minute.

Evenly distribute cake batter between the prepared cake pans.

Bake for 30-35 minutes, or until a toothpick inserted in the center comes out clean.

Remove from the oven and allow to cool for about 10 minutes. Remove from pan and cool completely before frosting.
German Chocolate Frosting:
In a large saucepan combine evaporated milk and cornstarch, then mix; mix in sugar, egg yolks, margarine and vanilla. Cook over low-medium heat until it reaches a slow boil. Stir constantly for 12 minutes until thick from when it starts to slowly boil. Remove from heat and stir in pecans and coconut, this frosting will thicken as it cools.

Let cool 1 hour then spread on cooled cake. To make this cake easy to slice, layer cake with frosting and set in the refrigerator for 30 minutes or more, then slice and serve.
Nutrition
Calories:
728.31
kcal
|
Carbohydrates:
90.85
g
|
Protein:
10
g
|
Fat:
39.57
g
|
Saturated Fat:
23.23
g
|
Cholesterol:
125.59
mg
|
Sodium:
536.89
mg
|
Potassium:
424.5
mg
|
Fiber:
5.25
g
|
Sugar:
65.14
g
|
Vitamin A:
515.84
IU
|
Vitamin C:
0.73
mg
|
Calcium:
165.51
mg
|
Iron:
3.05
mg
Nutrition values are estimates only, using online calculators. Please verify using your own data.
German Chocolate Cake is a special treat!
More chocolate dessert ideas: