It's a classic
Meatloaf is a classic meal that doesn't seem to get a lot of attention these days. Did it go out of style? Not in my kitchen. I'm feeding carnivores and meatloaf delivers the goods.
Meatloaf is easy to prep ahead
In the old days, when I was feeding a family of four and working full-time, I would prepare the meatloaf mixture the evening before and stick it in the fridge. The next morning, I would place it in the oven and pre-set the timer to start cooking before I got home. That way, I could concentrate on side dishes during those precious minutes before serving dinner.
Simple ingredients needed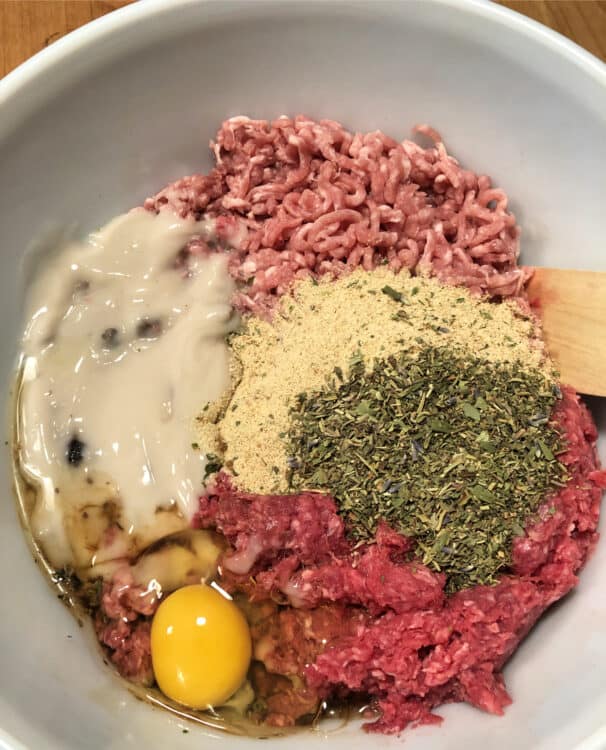 The formula for meatloaf is as basic as its name: ground meat, bread crumbs, liquid and spices. I have used this recipe for years. Pretty sure it originally came from Campbell's so, it's no coincidence that this recipe uses a can of soup.
I really like the addition of soup as I think it helps keep the meatloaf from drying out.
Use a loaf pan as a mold
I do not cook the meatloaf in the loaf pan. Instead, once the meat mixture is ready, I use the loaf pan simply as a mold to make a loaf shape.
I line the loaf pan with plastic wrap to make the next step easier.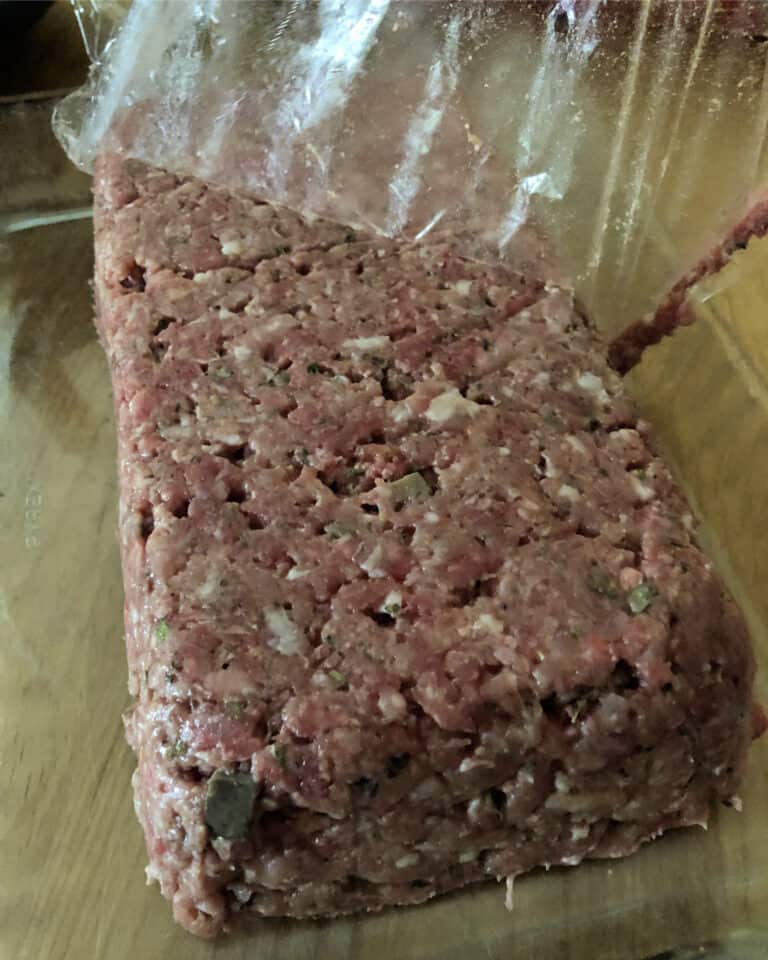 Then, I invert the formed loaf into a baking dish and bake it like that.
This yields three edges of crispy meat, which I think is one of the better features of a good slice of meatloaf. "It's a texture thing," is a familiar refrain among my tribe.
Meatloaf gravy . . . yum
The other feature of this recipe is the gravy. Only half of the can of soup is used in the meat mixture. The other half can is used as the basis for gravy. When the meatloaf is nearly done, heat the soup with some beef broth and spices. For extra flavor, add some of the meat drippings from the baking dish. This liquid is heated and then thickened with a flour-water mixture. Voila! You just made gravy.
Pour it on the meatloaf or Southern Mash potatoes and you've just served a slice of heaven for those "sauce people.".
Bonus: This recipe makes a lot. So, leftovers!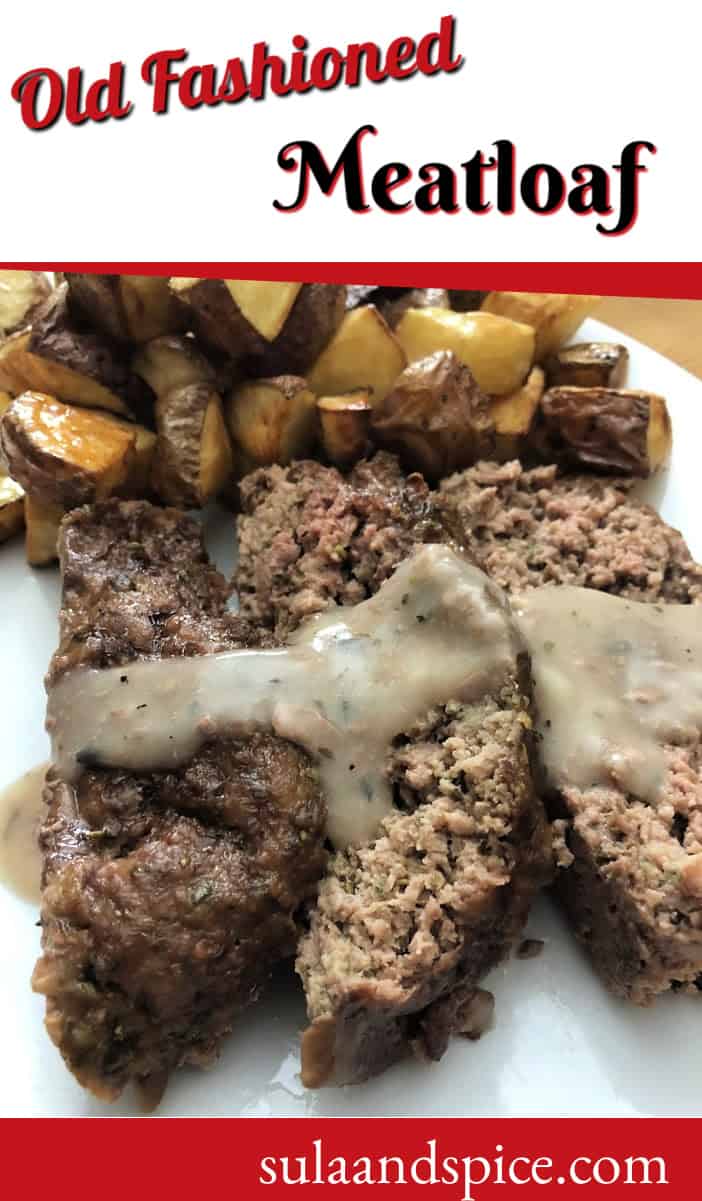 Bon appétit! (Note: Speaking French makes meat loaf sophisticated).
📖 Recipe
Meatloaf with gravy
Ingredients
Loaf
1

# Ground beef

ground round

1

# Ground Pork

½

can cream of mushroom soup

reduced fat or regular

1

egg

¼

cup

milk

½

cup

seasoned bread crumbs

1

TB

Worcestershire sauce

1½

TB

Herbes de Provence

Salt and pepper to taste
Gravy
½

can cream of mushroom soup

¾

cup

beef broth

1

teaspoon

Herbes de Provence

Pepper- to taste

Optional – meat drippings from meatloaf pan

1

TB

flour

⅓

cup

water
Instructions
Mix meat together in a large bowl. Add ½ can of soup (save the other half for gravy). Add all the rest of the ingredients and mix well. Use a loaf pan as a mold – if you lay a piece of Saran wrap over the opening and then add the meat, the loaf will drop right out when you invert it.

You can leave the loaf in the pan for several hours in the refrigerator if you want to get this ready ahead of time.

Preheat oven to 350. Invert the loaf onto a shallow baking dish, remove plastic wrap if used. Cook 1¼ hours (You might need to add 15 minutes to cooking time if the pre-assembled loaf is refrigerated). Allow loaf to sit at least 10 minutes before slicing.
Gravy
When loaf is almost done, begin warming the other half can of soup in a small saucepan. Season with pepper and Herbes de Provence. Dissolve 1 beef bouillon cube in ¾ cup of water and add to the soup. If desired, you can add some of the meat drippings from the meatloaf to add additional flavor.

Mix about a tablespoon of flour in 1 cup of water. When the soup mixture is hot, begin adding flour water slowly, stirring while adding. Add small amounts at a time and keep stirring until the gravy is the right thickness for your preference.
Nutrition
Calories:
229
kcal
|
Carbohydrates:
4.83
g
|
Protein:
14.49
g
|
Fat:
16.44
g
|
Saturated Fat:
6.19
g
|
Cholesterol:
68.25
mg
|
Sodium:
191.33
mg
|
Potassium:
257.37
mg
|
Fiber:
0.46
g
|
Sugar:
0.71
g
|
Vitamin A:
56.69
IU
|
Vitamin C:
0.83
mg
|
Calcium:
42.43
mg
|
Iron:
2.23
mg
Nutrition values are estimates only, using online calculators. Please verify using your own data.
Serving suggestions
You need some sides! When fresh corn is available, do make a Corn Salad to go with this. And for the fastest veggie ever, make some zucchini and yellow squash in the microwave - delicious!