If you are a lover of French toast, then this is the recipe for you! "French toast waffles" basically refers to a method: using your waffle iron to make French toast.
French toast in all forms is a delightful way to start the day. When you cook it in a waffle iron, you create all those extra dimples and crevices in which the pools of maple syrup and melted butter will form.
The best part? More crispy edges! I personally feel that the magic of French toast comes from the pillowy bread inside surrounded by crispy coated crust. The waffle iron makes it even more crispy, and all over.
It's something everyone should try! You may never go back to regular French toast again!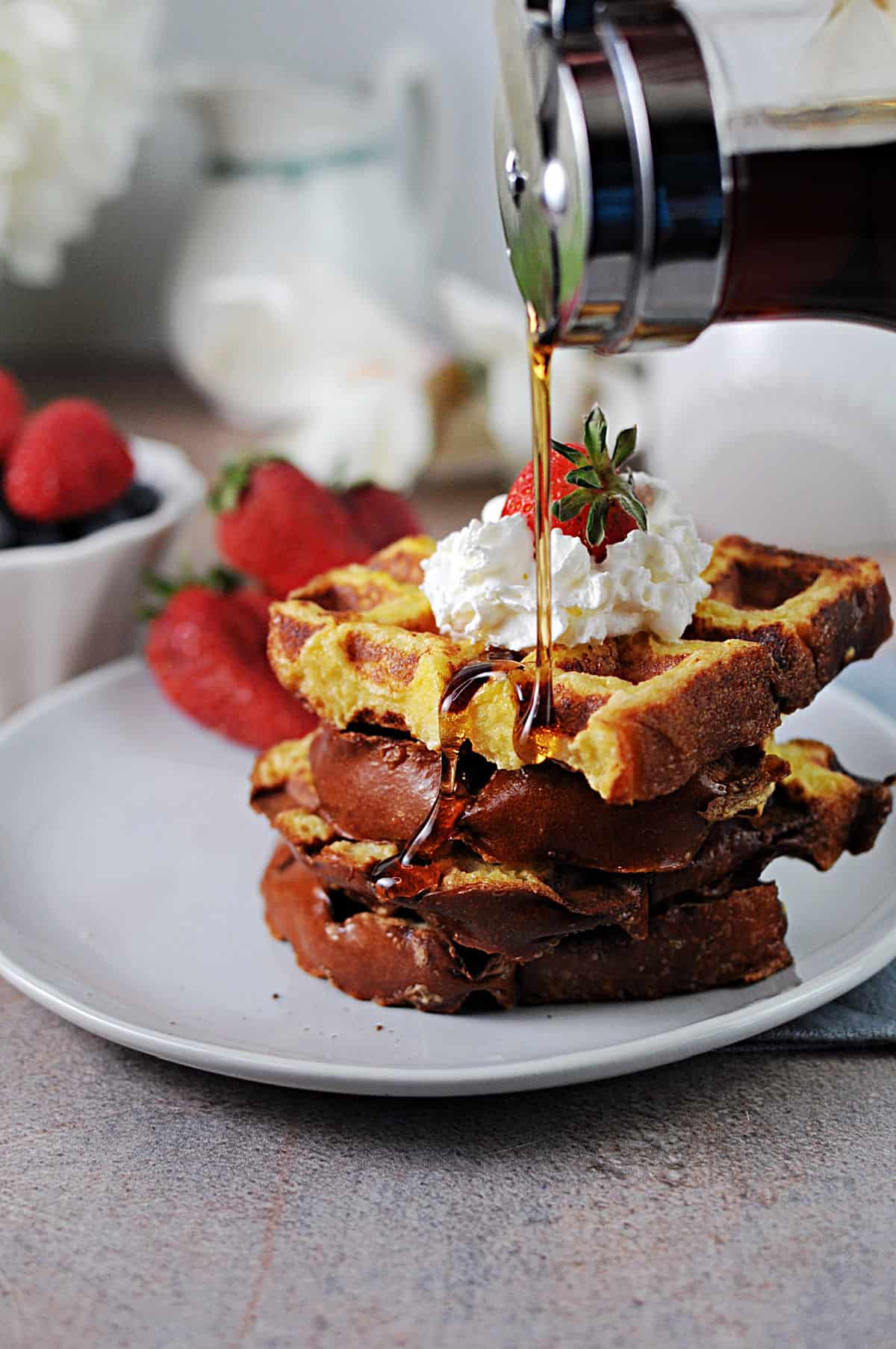 Why I love these French toast waffles
Have I not mentioned the dimples and crevices and crispy edges? Pools of maple syrup and melted butter? Is that not enough?
Ok, one more thing: easy. No worrying about how hot your skillet is, or how soon you should flip the French toast. Since a waffle maker cooks both sides, there's no flipping. You can easily take a peek to decide whether the French toast is done and ready to remove.
Ingredients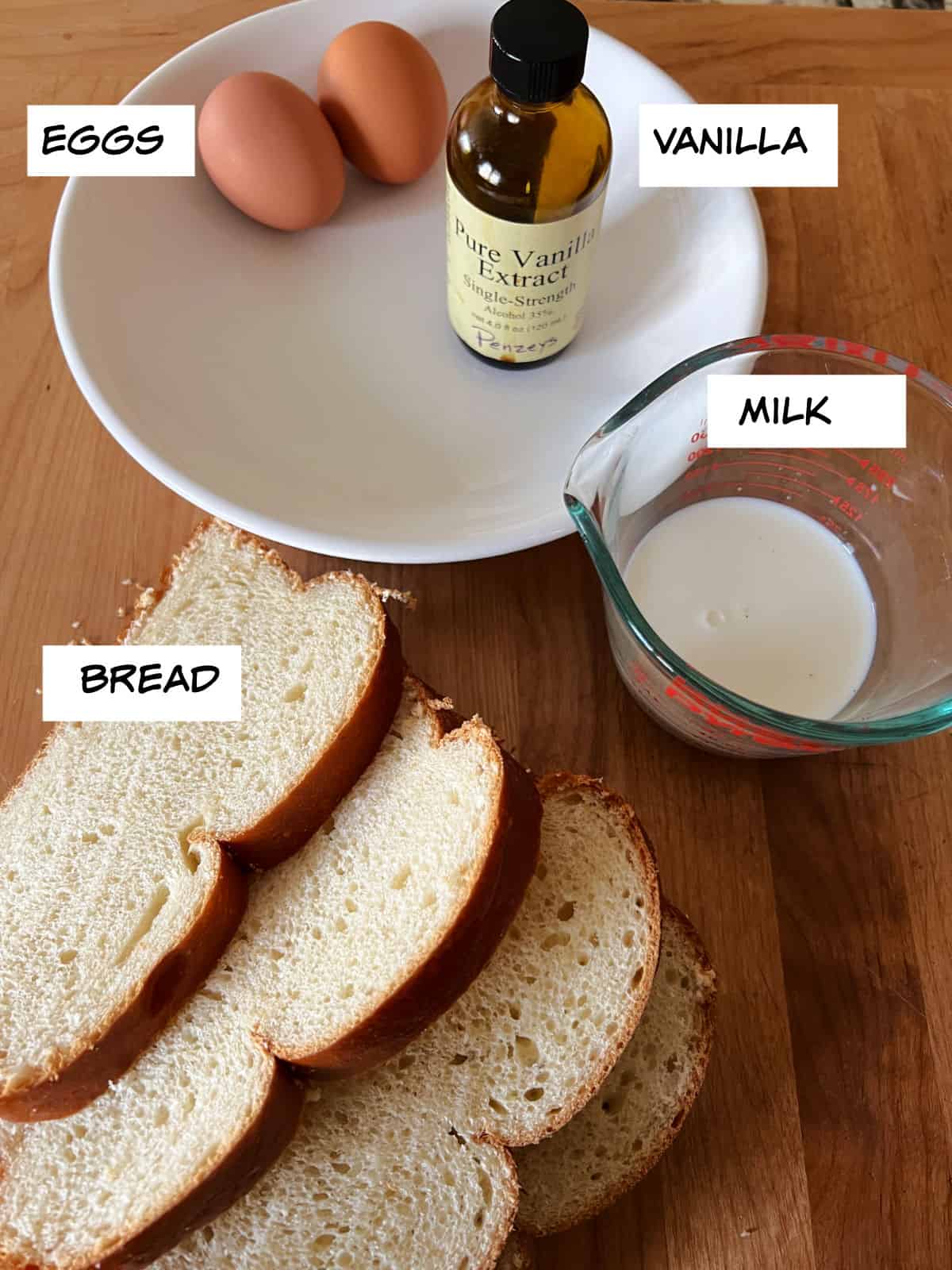 How to make French toast in a Waffle Maker
There are 2 important pieces to making French toast in a waffle iron. First, choose your bread carefully. I've tried several types of bread, and the best for me was a loaf of rustic white bread that I sliced myself. (More on the bread later)
The other important factor is the technique to use the waffle iron, which we will go through here.
To start, whisk your eggs and milk in a shallow bowl with a little vanilla and/or sweetener (see variations). Dip each piece of bread in the egg mixture, turning to coat all around. Then, place the bread on a plate or shallow dish to let the egg mixture soak in a little, at least 2 minutes.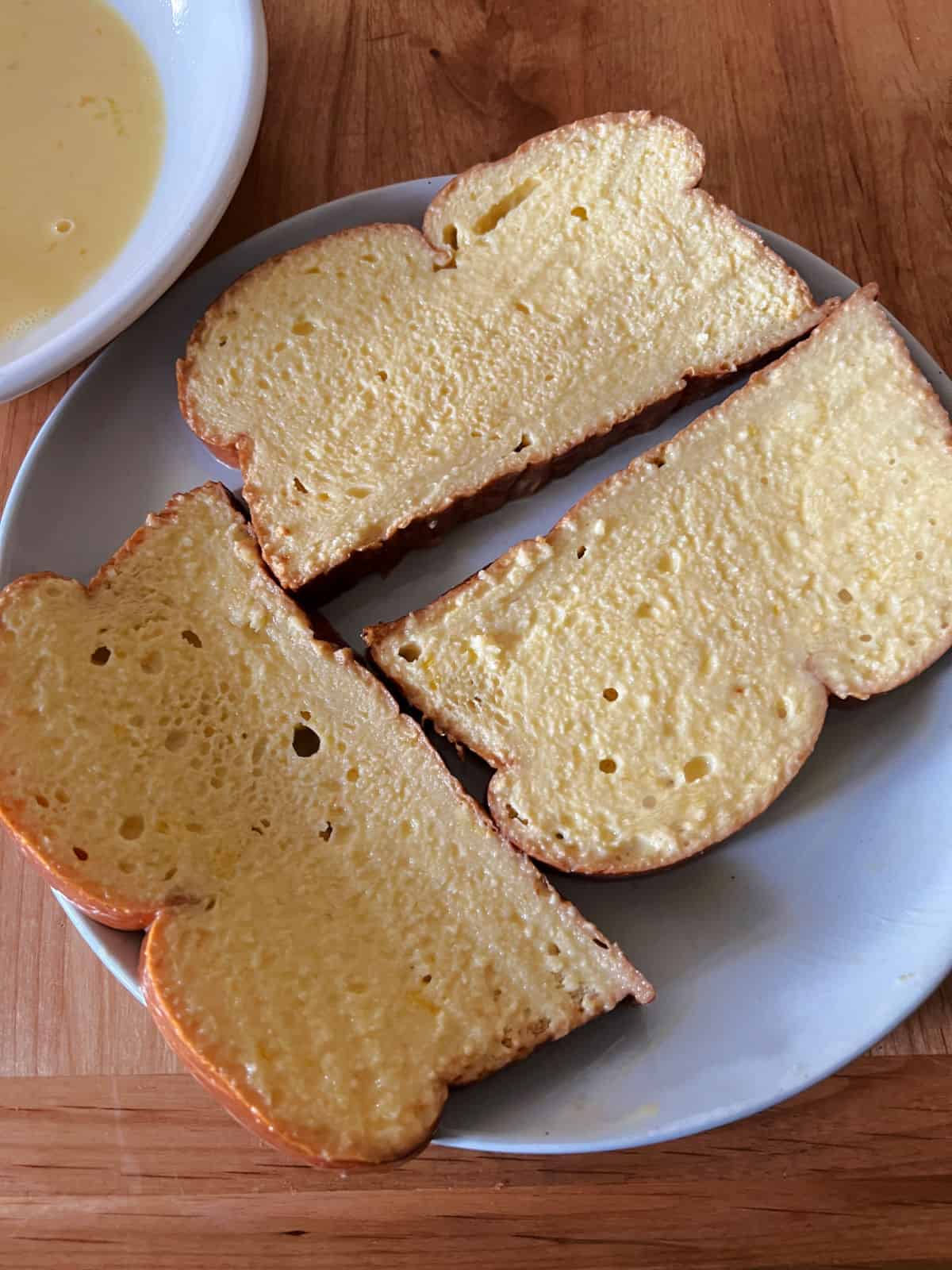 This gives you time to preheat the waffle iron. Give the surface a little spray or brush with cooking oil or butter, to help prevent sticking. 😃
You could start preheating the waffle iron after dipping one slice of bread, as it'll probably take close to 2 minutes to preheat.
Place one piece of soaked bread on the hot waffle iron and close the lid. Don't worry if it doesn't close all the way, you'll find that the lid will slowly sink down as the bread begins to cook.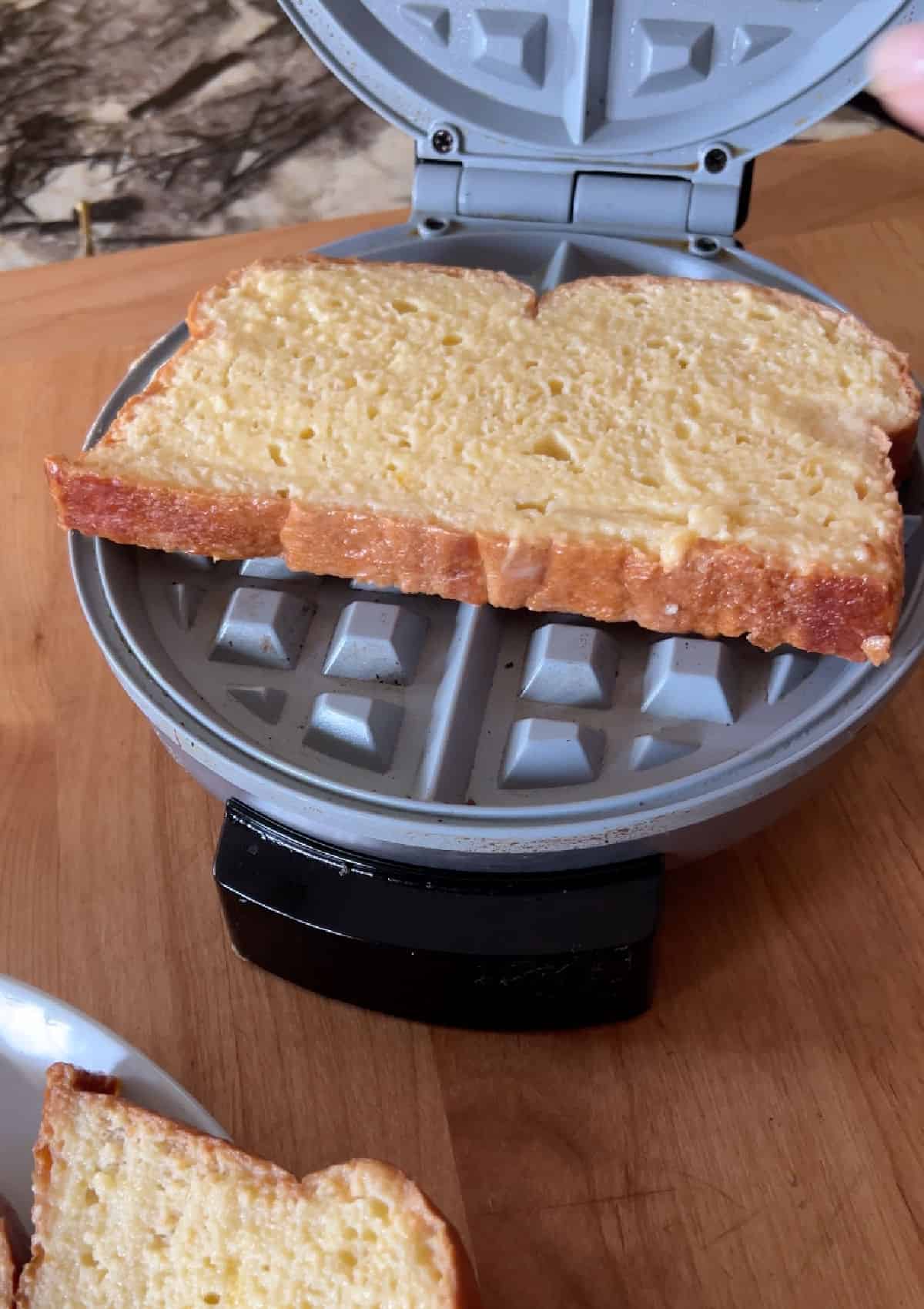 Most waffle irons have an indicator light that goes on to indicate your waffle is "ready". I ignore that light, as I like my French toast nice and crispy.
I cook my French toast waffles for about 3 minutes, until the waffle maker is no longer steaming. This makes a delightfully crispy piece of French toast. Your waffle maker might be slightly different, so test the timing on the first few pieces to find what's best for you.
Remove the cooked waffle and repeat with the remaining pieces of soaked bread.
Sula's Tips/Variations
Let's discuss the bread
As I said before, I've tried many different breads for waffle iron French toast. To name a few: sourdough, Italian white, brioche, brioche braided with cream cheese. A lot of research, but what a labor of love. ❤️
The favorite bread, for me, has been one I find at Panera: Classic White Miche bread. Some call it country bread. Panera's is an unusual shape, but entirely delicious.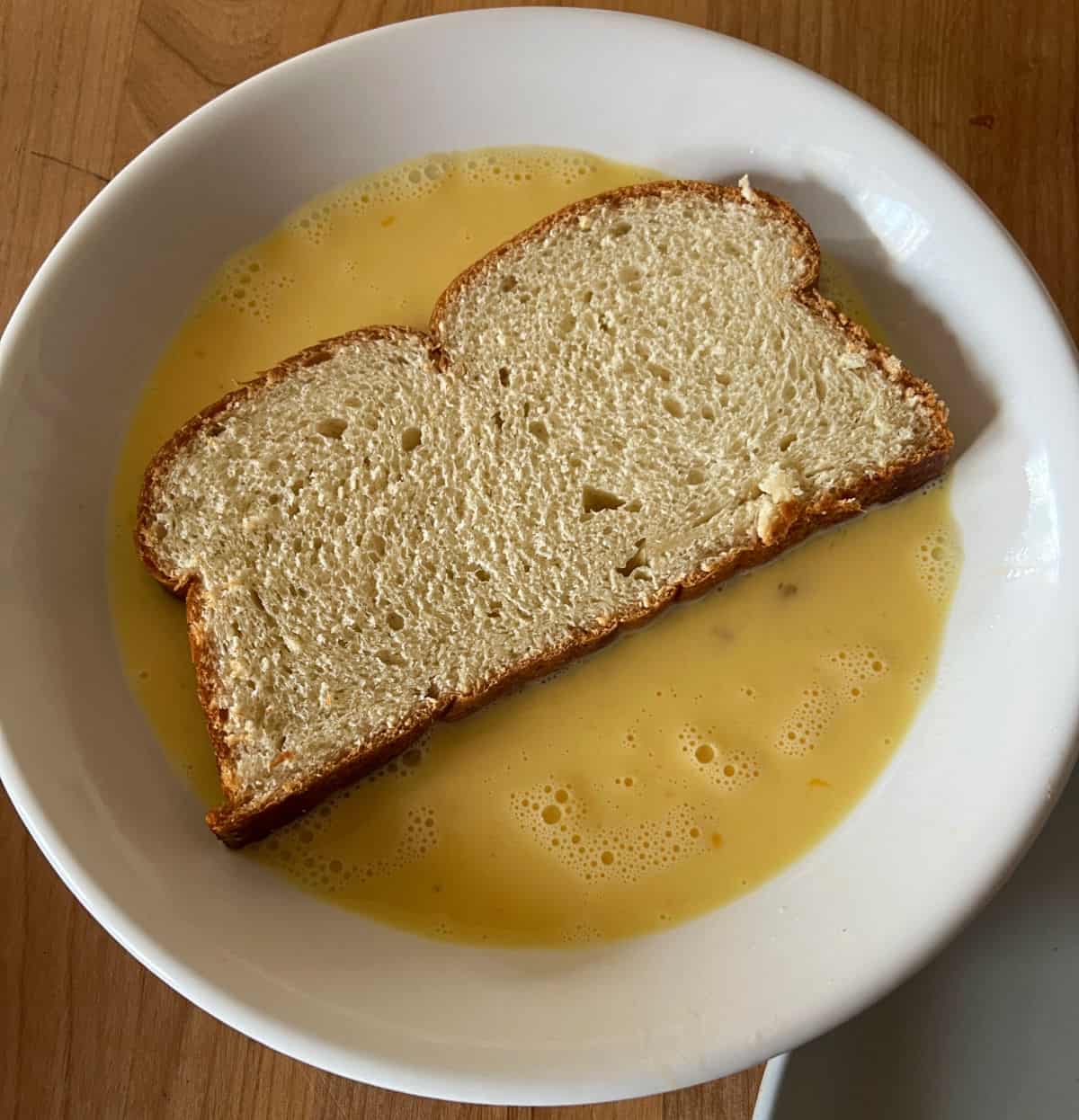 Miche bread is a rustic style of bread which is usually a little denser than other types of bread. This is probably the quality that causes it to make such fantastic French toast in the waffle iron.
I have yet to find a grocery store bread that compares; however the research will continue. 😁
I also prefer a thicker slice of bread, and buying a whole loaf means I can cut my own slices. Anywhere from ½ inch to ¾ inch seems to work best in the waffle maker.
Also, slightly stale/dry bread is great for French toast. Probably because it will really soak up the egg mixture. You can facilitate this by pre-slicing the bread and laying it out on a rimmed sheet to dry for a few hours or even overnight.
Other variations
Many French toast recipes include cinnamon in the egg mixture. If that's your preference, add about a teaspoon ground cinnamon, or to taste.
You can also get great cinnamon taste by using cinnamon raisin bread – yum!
Most people also sweeten the egg mixture. I did this for years, using just a little granulated sugar. Eventually I decided that this was pointless since I pour pure sugar in the form of maple syrup on the French toast anyway. However, if you do want to sweeten, a little maple syrup in the mix works great. No waiting for the crystals to dissolve, you know?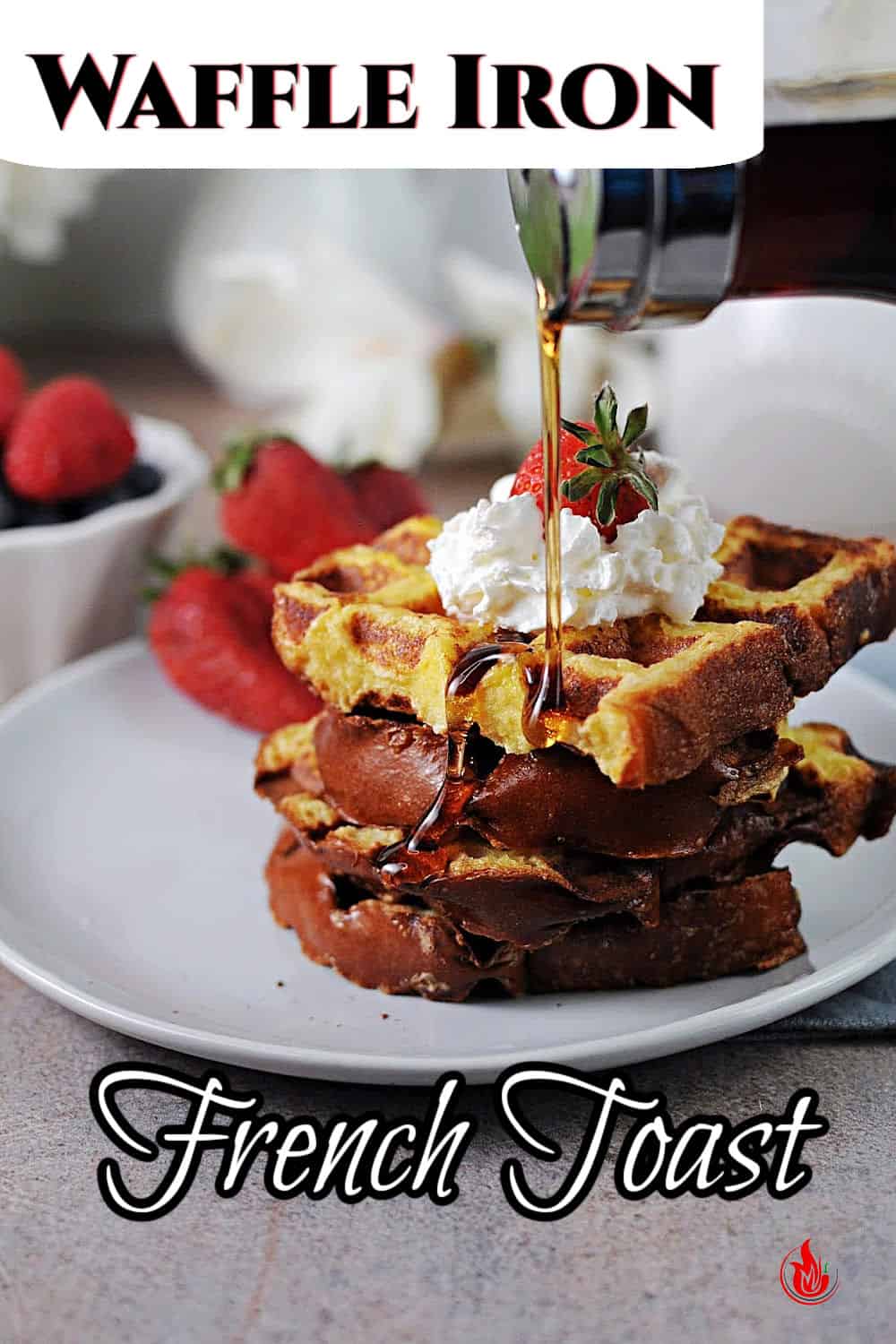 More Breakfast Recipes To Love
📖 Recipe
Easy French Toast Waffles (Waffle Iron French Toast)
Can you make French toast in a waffle maker? Not only is it that you could, you really SHOULD! All the delightfully crispy edges take French toast to a whole new level!
Ingredients
2

large eggs

⅓

cup

whole milk

½

teaspoon

vanilla extract

4

slices

bread ½ to ¾ inch thick

Cooking spray

oil, or melted butter to grease waffle iron
Instructions
Whisk eggs, milk, and vanilla in a shallow bowl until well combined.

Dip bread slices, one at a time, in the egg mixture, turning to coat all sides. Place bread on a plate to soak for at least 2 minutes.

Preheat the waffle iron and prep the surface with a little cooking spray or butter as needed to prevent sticking.

Place one slice of bread in the hot waffle iron and gently close the lid. Do not force the lid down.

Cook for about 3 minutes, until the waffle maker stops steaming and the bread is golden brown.

Repeat with the remaining bread.
Notes
Serve with butter and syrup, or whatever your favorite toppings might be!
Nutrition
Calories:
122
kcal
|
Carbohydrates:
14
g
|
Protein:
6
g
|
Fat:
4
g
|
Saturated Fat:
1
g
|
Polyunsaturated Fat:
1
g
|
Monounsaturated Fat:
1
g
|
Trans Fat:
0.01
g
|
Cholesterol:
84
mg
|
Sodium:
171
mg
|
Potassium:
101
mg
|
Fiber:
1
g
|
Sugar:
3
g
|
Vitamin A:
152
IU
|
Vitamin C:
0.1
mg
|
Calcium:
72
mg
|
Iron:
1
mg
Nutrition values are estimates only, using online calculators. Please verify using your own data.