To any of my followers, I think there's no question that I love crepes. I started with fruit crepes, then modified that recipe to make a dairy free version of almond milk crepes.
And now I've decided to tackle the challenge of using pancake mix. Can you make crepes with pancake mix? Yes, you can!
However, I did find it a little trickier than I thought it would be. So be sure to read all my tips to ensure your crepe-making success!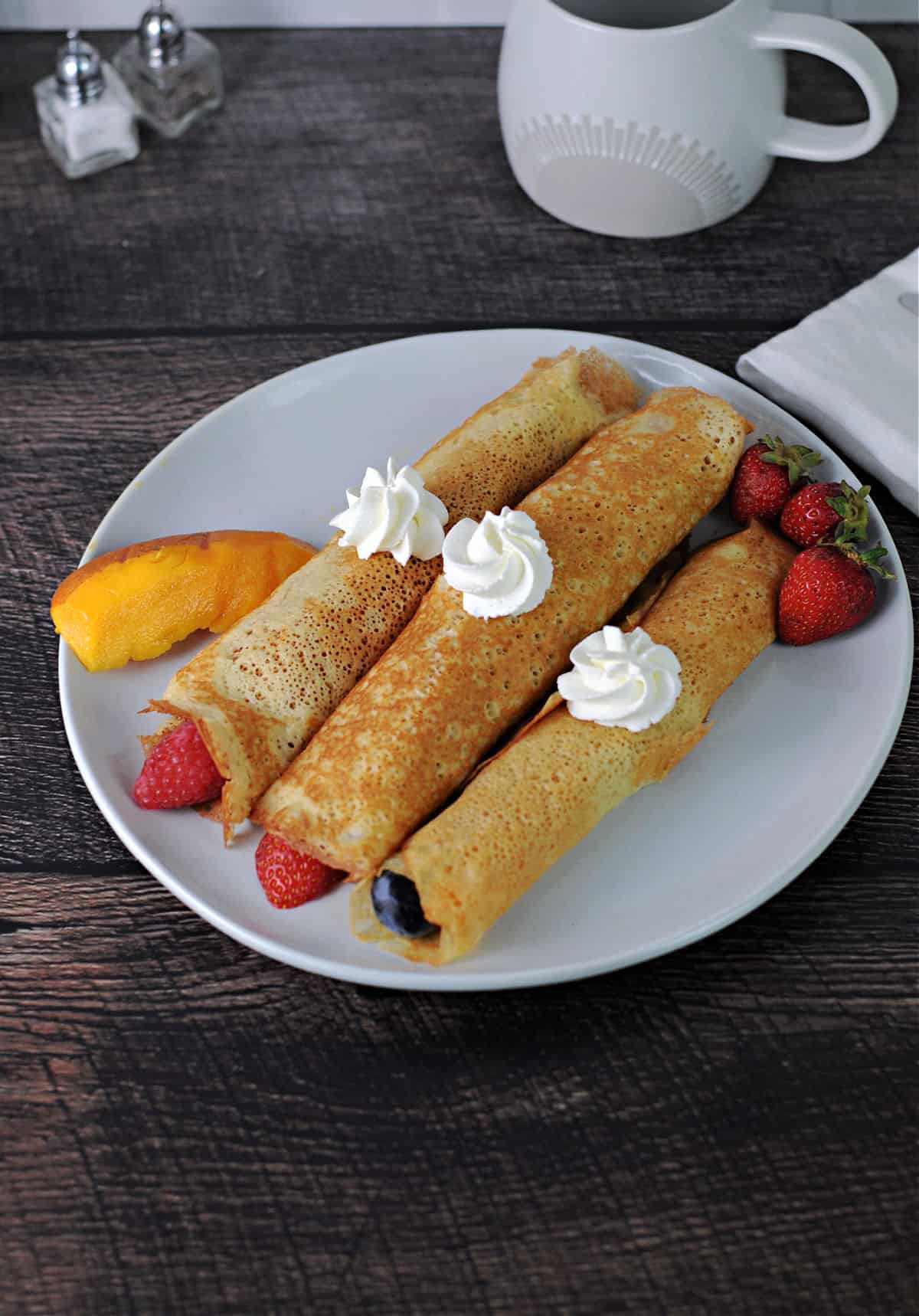 Why I love this recipe
I love to make crepes! They look so fancy and special yet are actually quite easy to make. You can customize them by changing up how you fill them, which makes them very suitable for group, where people can decide for themselves what fillings to use.
As much as I like to make crepes from scratch, I can appreciate those of you who just want a shortcut. Maybe you never stock flour because you never bake. Or maybe you just ran out!
If you have a box of pancake mix, you can use that to make your crepes!
Ingredients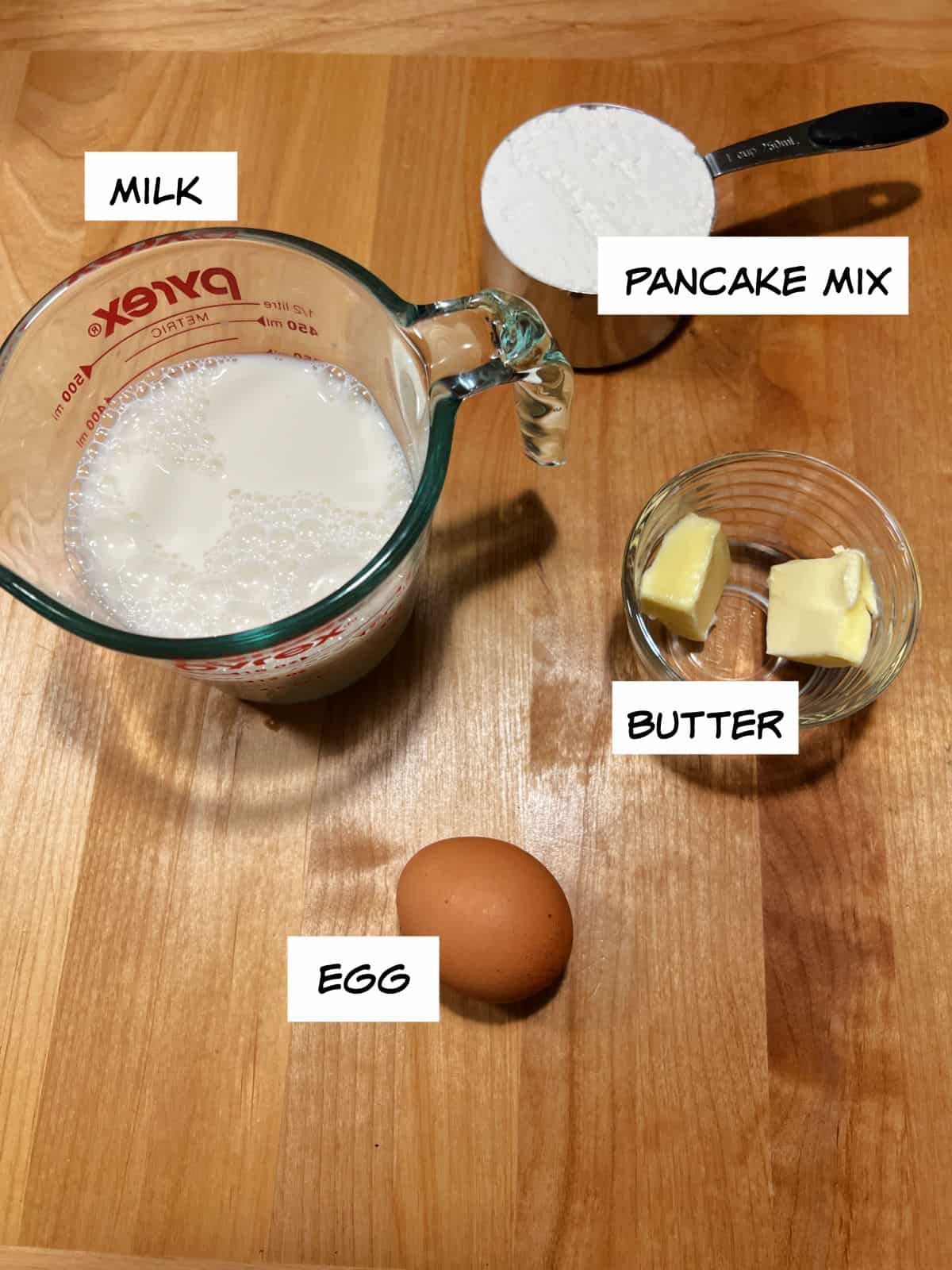 The challenges of pancake mix
There are a lot of different brands of pancake mix out there: Krusteaz, Hungry Jack, etc. But in reality, they are in 2 categories. Some are labeled "complete", meaning that you only need to add water to make pancakes. The other kind require you to add eggs, oil, and milk.
Going into this, I thought that the mixes labeled "complete" would only require additional liquid to thin the batter. After all, crepes are essentially very thin pancakes, right? So I figured I'd just add more water to thin the batter and make some crepes.
You know what? Huge failure. The batter was nicely thin and pour-able, just like you want it for crepes. And it seemed to be cooking up nicely. But when it was time to flip? Disaster.
The half-cooked crepe was just too soft. It didn't have enough strength - or maybe structure is the better term – to be flipped. The picture illustrates what this was like.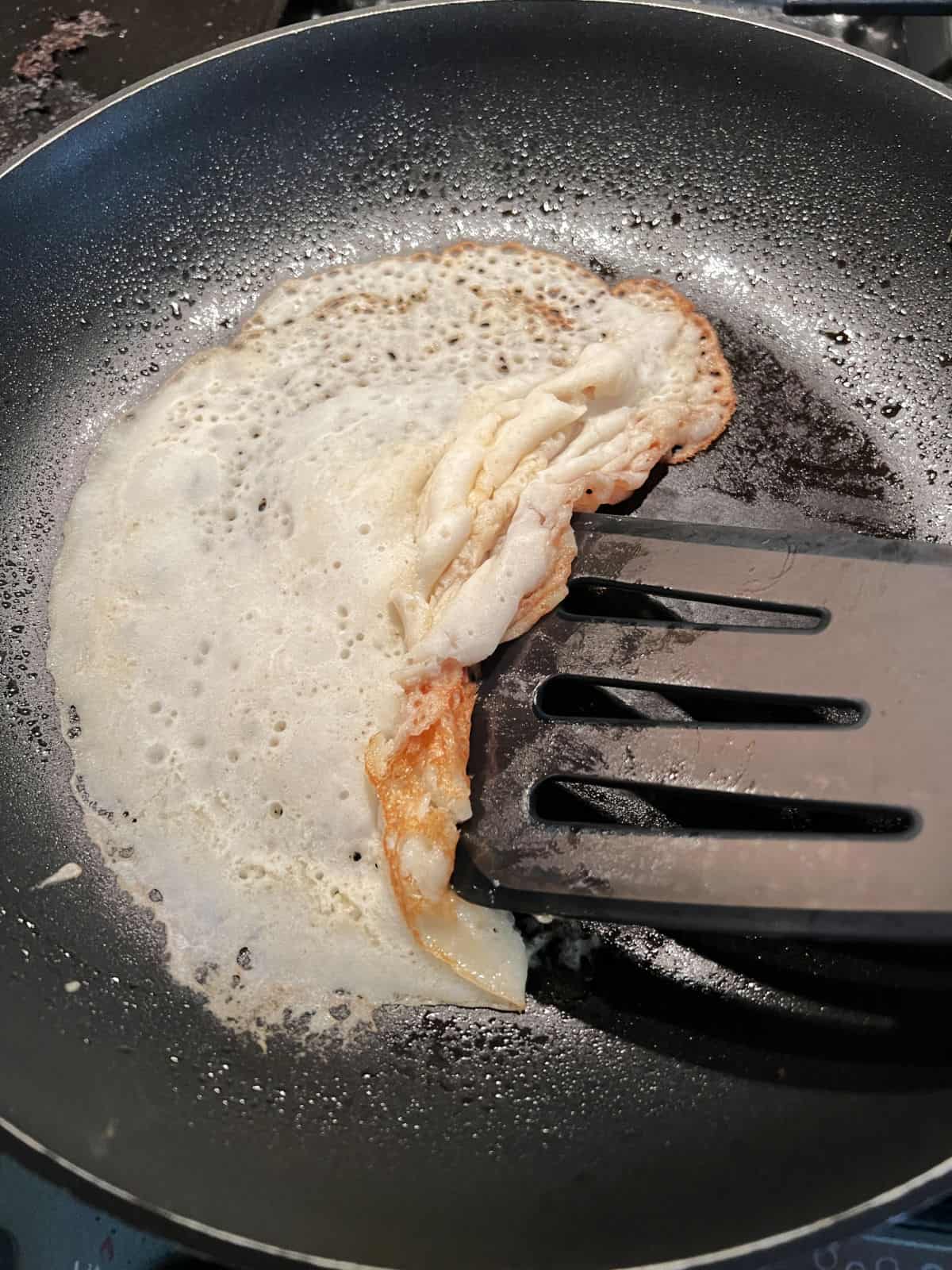 Clearly, a different approach was needed.
By adding milk, melted butter, and an egg, the batter gains enough structure to allow the all-important flip to happen!
How to make crepes using pancake mix
Start with any pancake mix and add milk, one egg, and melted butter. Whisk this well to thoroughly combine.
Heat a non-stick skillet over medium heat and grease with a little butter or cooking spray.
When the pan is hot, add about ¼ cup of the batter (up to one-third cup) to the center of the pan. Immediately pick up the pan and tilt it in a circular motion to evenly spread the batter.
Cook the crepes for about 2 minutes, until the edges are starting to dry out a little and turn golden brown. Then, carefully use a spatula to lift the crepe and flip it over. Cook for another 1 to 2 minutes until golden.
Remove the crepe and get it ready for filling. I find these crepes to be a little "sweaty", so I like to place them first briefly on a piece of paper towel to absorb the excess moisture. Fill with fruit, roll up the crepe and move it to a plate to serve.
Expert Tips/FAQ
Can I make these crepes dairy free?

I have used both almond milk and dairy milk for these crepes and both are great. I haven't tried plant-based butter but I'm sure it would substitute nicely. However, most pancake mixes do contain milk, so of course you'd have to find a dairy-free version to use. If you do, let me know how it goes!
Can I make the crepes ahead and re-heat?

I have tried this before, by making up all the batter into crepes and keeping for re-heating. I was very disappointed with the results.
However, what works really well is to simply keep the uncooked batter. I have mixed the batter and kept it in a covered jar in the fridge for up to 2 days before cooking. The crepes were excellent! 😀
More breakfast ideas for you to try
Crepes from Pancake Mix
Use that box of pancake mix to make your own crepe batter!
Ingredients
1

cup

pancake mix

1 ½

cups

milk

2

tablespoons

butter

melted

1

egg

large
Instructions
Whisk all ingredients together in a large bowl.

Heat a 10- to 12-inch skillet over medium heat. Grease with butter or spray with cooking spray.

Add about ¼ cup of the batter to the center of the skillet. Immediately tilt the skillet in all directions to spread the batter evenly over the pan.

Cook over medium heat, 1 to 2 minutes per side, until golden brown.

Remove each crepe to a paper towel lined plate, then fill with fruit and roll up to serve.
Nutrition
Calories:
128
kcal
|
Carbohydrates:
9
g
|
Protein:
5
g
|
Fat:
8
g
|
Saturated Fat:
4
g
|
Polyunsaturated Fat:
1
g
|
Monounsaturated Fat:
2
g
|
Trans Fat:
0.2
g
|
Cholesterol:
60
mg
|
Sodium:
173
mg
|
Potassium:
146
mg
|
Fiber:
0.4
g
|
Sugar:
3
g
|
Vitamin A:
309
IU
|
Vitamin C:
0.1
mg
|
Calcium:
127
mg
|
Iron:
0.4
mg
Nutrition values are estimates only, using online calculators. Please verify using your own data.