Making crepes for breakfast is so fun! Everyone is impressed with your beautiful creations, without realizing how easy they are to make.
Look around this site and it'll quickly become obvious that I'm a fan of crepes. I started with fruit crepes, then made almond milk crepes, followed by crepes from pancake mix.
Now I decided to try one more variation: crepes with oat milk. And I even tested it dairy-free as well as a full vegan version, to make sure everyone can enjoy delicious crepes whenever they want.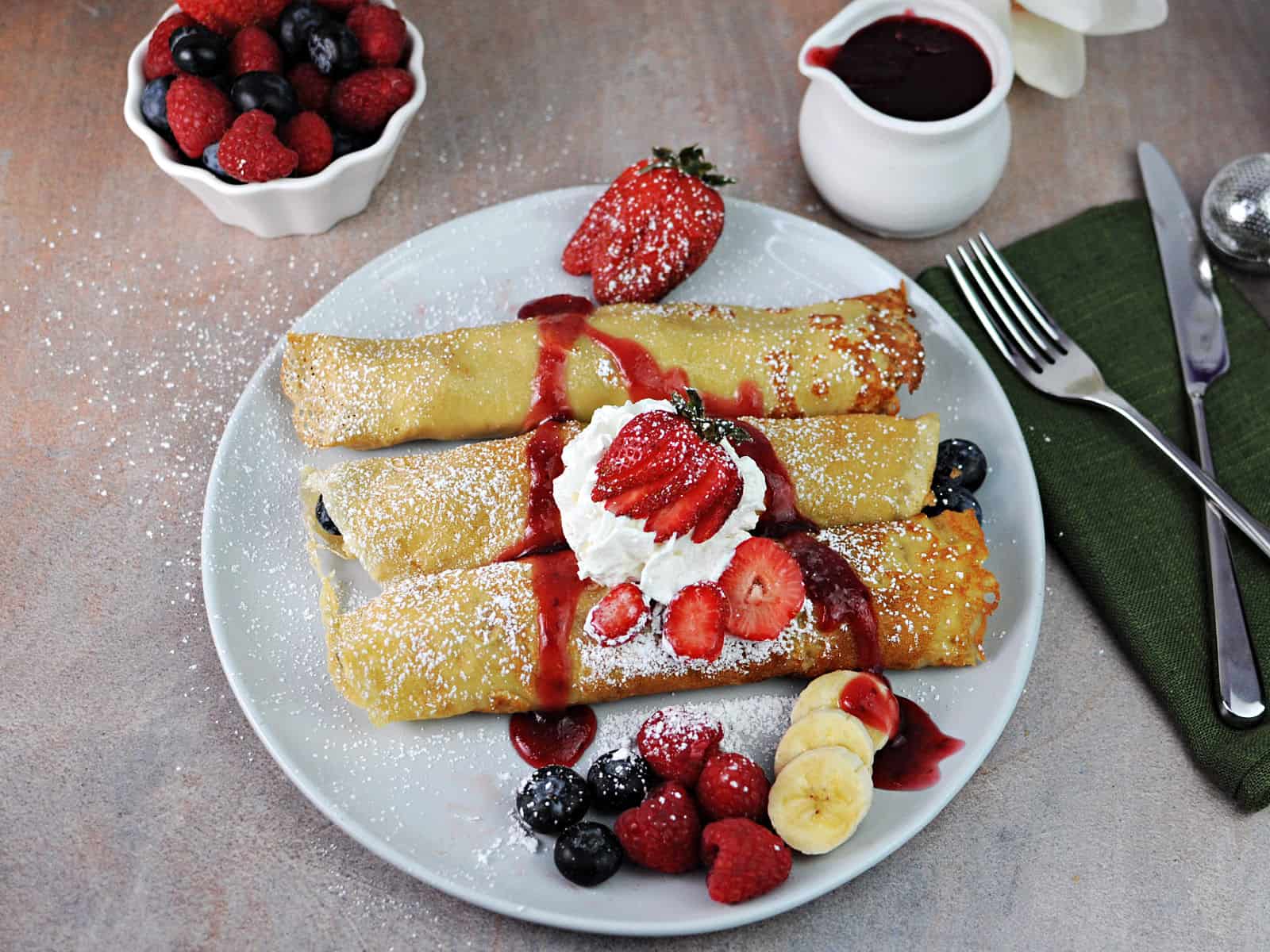 Why I love this recipe
I love crepes! They always look so delicate and special, and yet they're very easy to cook. No one needs to know this!
Using oat milk to substitute for dairy milk is easily done, with no changes to the final crepes. It's the same with plant-based butter, I've used it in many recipes and have never had an issue.
I wanted to take it one step further and make this recipe vegan. Which means, no eggs. That can sometimes be a little tricky.
Finding a substitute that acts and cooks like eggs is step one, and then figuring out the right amount to use is step 2. Or, in my case, steps 2, 3, and step 4. LOL
But the result is so worth it!
Ingredients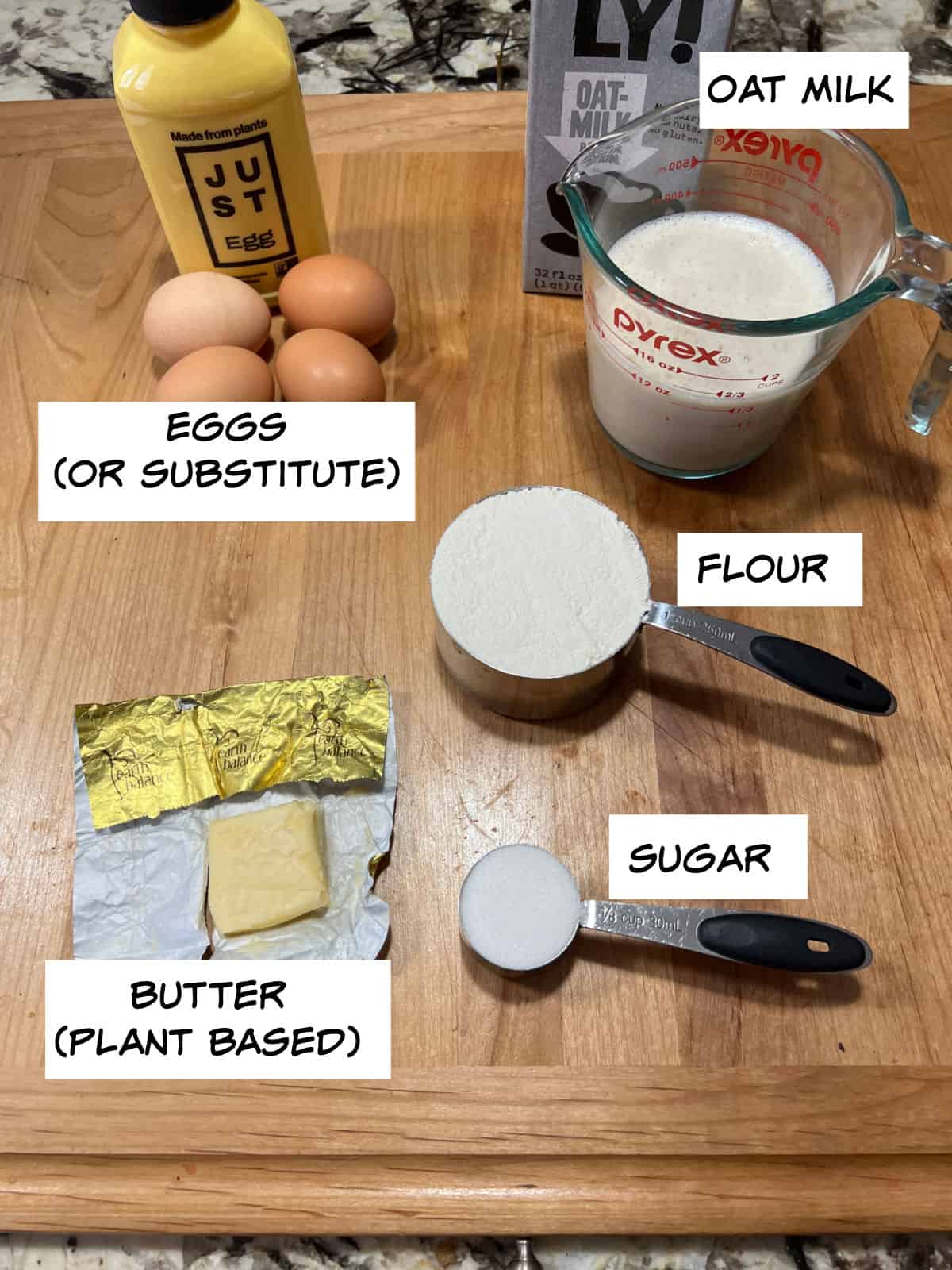 How to make crepes with oat milk
Like with similar recipes, I mix all the wet ingredients first: eggs, milk, melted butter and vanilla extract. Then add in the dry: flour and a little sugar.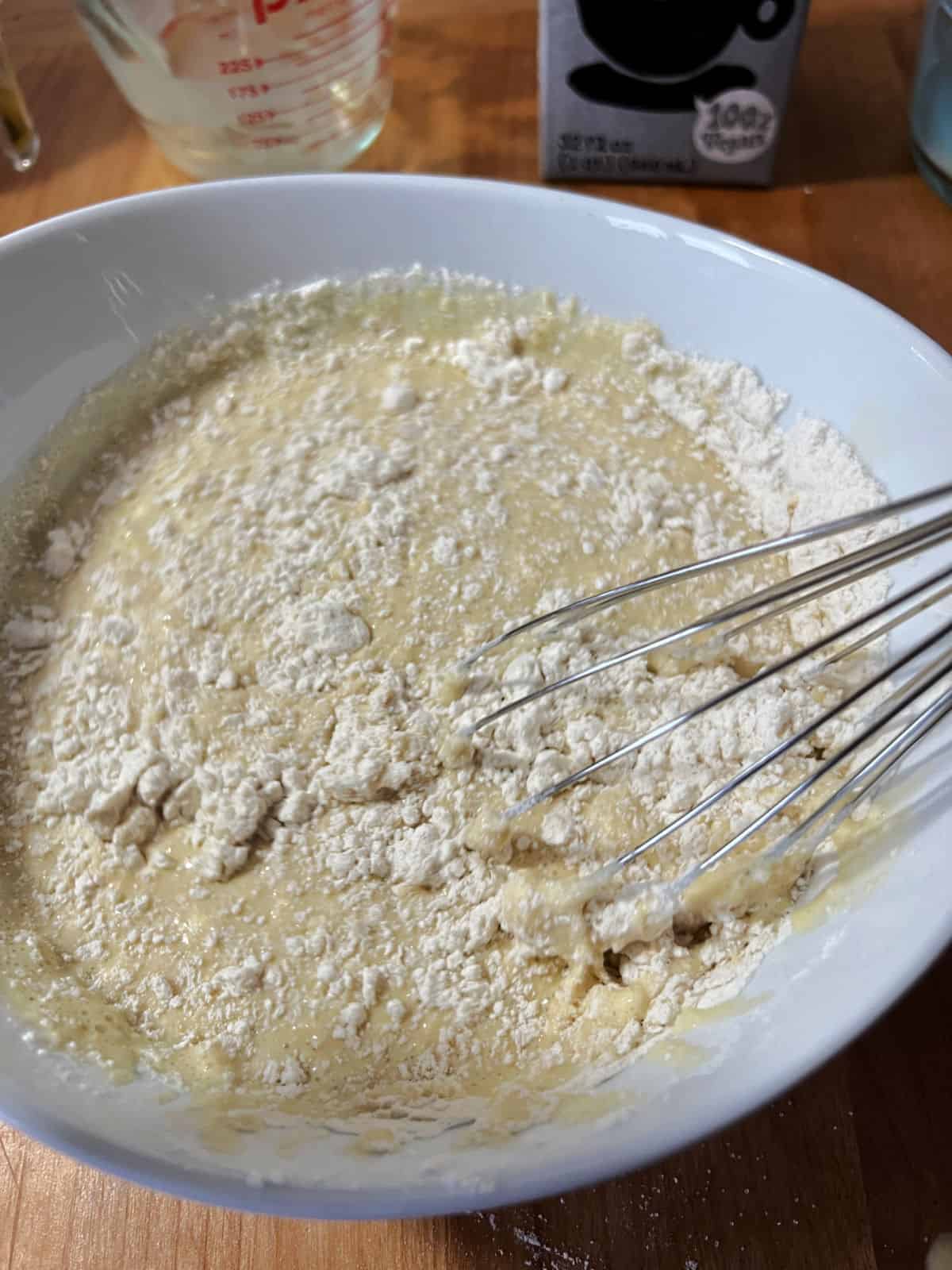 You can whisk these together but I have found an immersion blender to be the quickest way to really get the batter well mixed with no lumps. A stand blender would also work, just give it a quick blitz and your batter will be nice and smooth.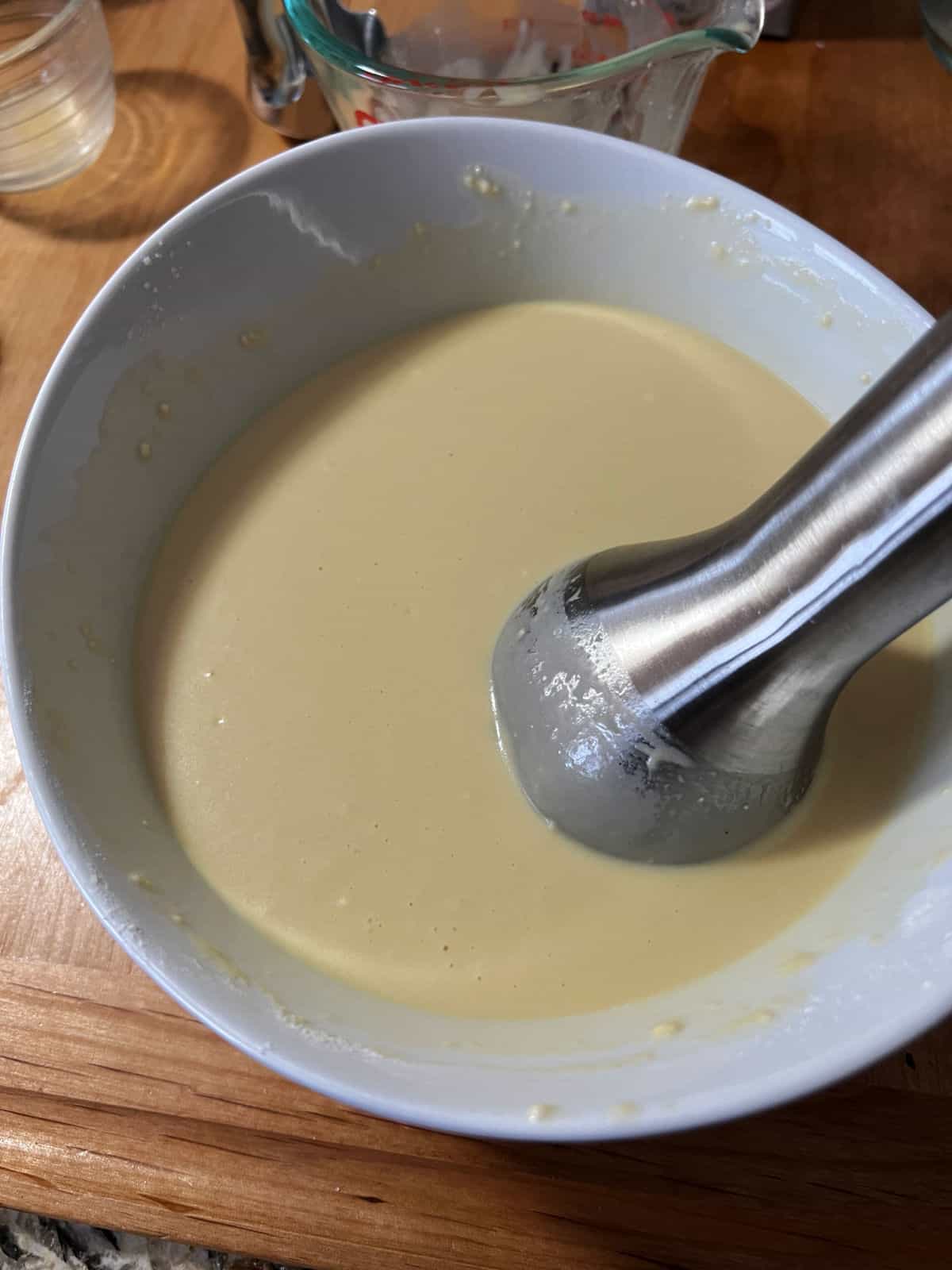 Now, heat a non-stick skillet over medium-low to medium heat. Use a little butter or oil to grease it, then add about ¼ cup of the batter.
Immediately pick up the pan and tilt it in all directions to spread the batter over the entire bottom of the pan.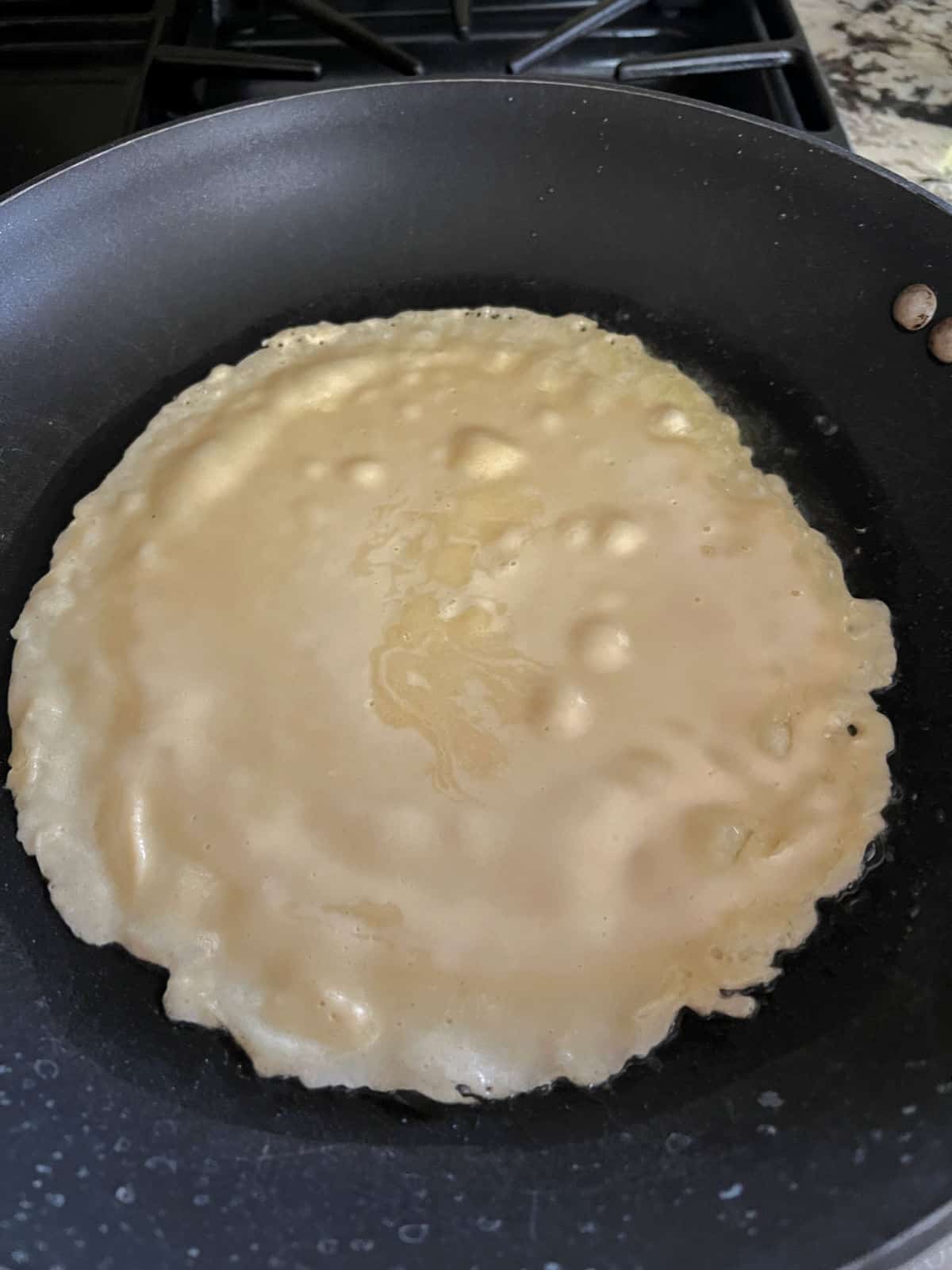 Cook the batter for 1 to 2 minutes, until the edges are just beginning to brown. Then take a spatula and flip the crepe to cook the other side for another minute or so.
Remove the crepe from the pan and fill with cut up fruit, berries, or other fillings to taste.
Make the crepes vegan
I used JUST eggs for the vegan substitute. And I thought it would be simple. A quick search revealed that 3 tablespoons is the equivalent of one large egg. This recipe uses 4 eggs, so that would equate to 12 tablespoons, or ¾ cup.
First of all, that's a LOT of JUST egg. And I can tell you that the batter looked okay and even tasted okay when cooked, but it didn't behave okay. It was just . . . sticky . . . for lack of a better term. Near impossible to lift and flip over.
And I tried using different oils and butters in the pan, just in case that was the issue. It wasn't.
So after a little trial and error, I settled on ⅓ cup of the JUST egg substitute in this recipe. When I use that, the batter behaves just like the "real egg" batter, allowing me to flip, cook, and fill to my heart's content. ❤️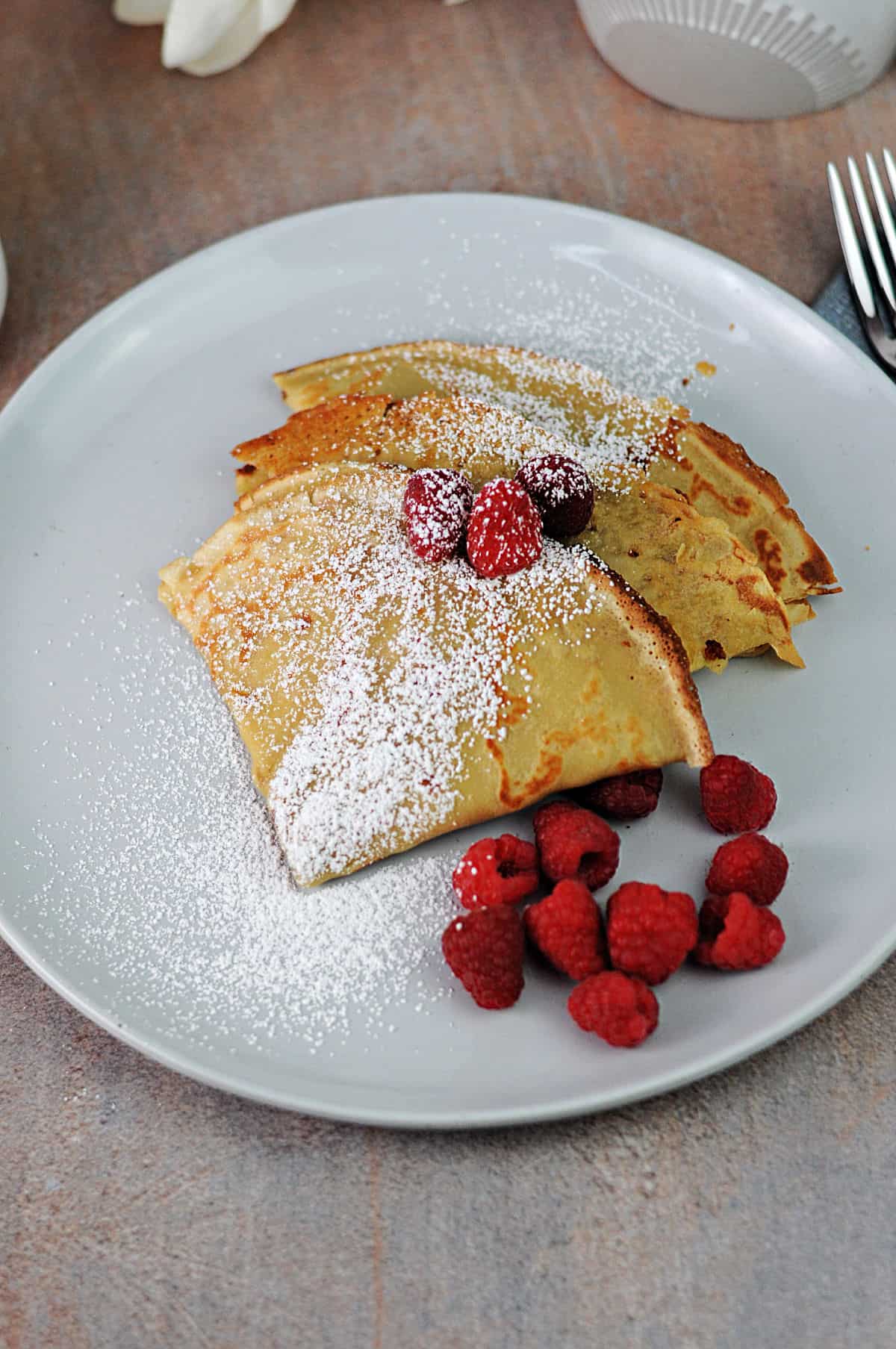 Sula's Tips/FAQ
Do I need a special pan to make crepes?

Crepe pans are specifically designed to make crepes. They are usually about 9.5 to 10.5 inches in diameter, with shallow sloped sides. The design makes it easier to flip the crepe.

The good news is, if you have a skillet with a good nonstick surface it will probably work. Sloping sides (rather than straight up) helps significantly.
Can I re-heat leftover crepes the next day?

I've done this and have not loved the results. Instead, I now keep the uncooked batter. Place it in a jar, cover and refrigerate, then use it the next day to make more crepes. They turn out great, and no one will be angry when you serve fresh crepes 2 days in a row!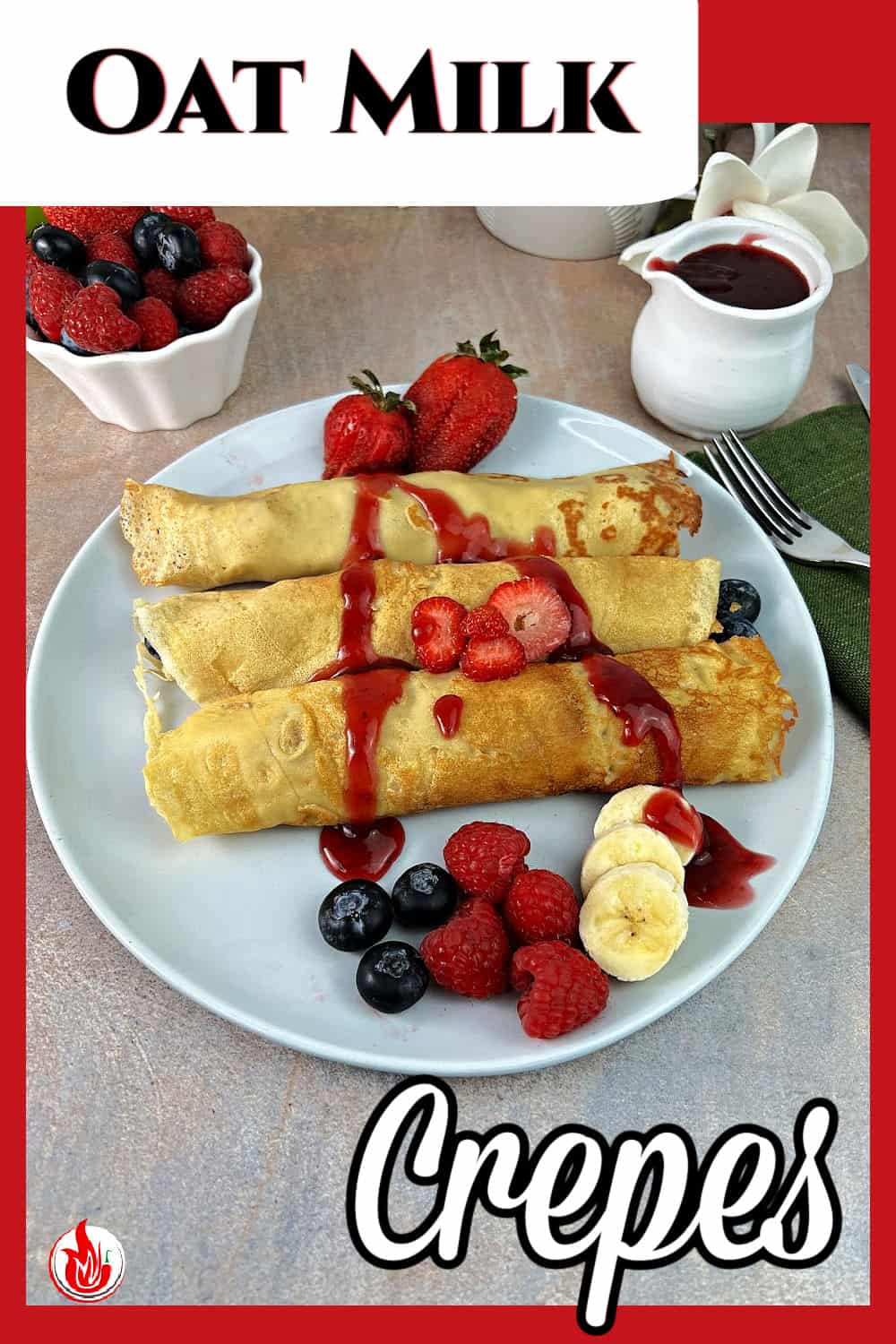 More breakfast ideas for you
📖 Recipe
Oat Milk Crepes
These delicious crepes are dairy free and can also be made vegan with an egg substitute. Fill with fruit for a wonderful breakfast or brunch!
Ingredients
4

eggs

lightly beaten (or ⅓ cup JUST egg)

1 ⅓

cup

oat milk

2

Tablespoons

butter

plant based, melted

1

teaspoon

vanilla extract

1

cup

flour

all-purpose

2

tablespoons

sugar

Dash salt
Instructions
In a large bowl, whisk or blend all ingredients until smooth.

Heat a nonstick skillet over medium heat. Add a small amount of butter or oil to grease. Spoon about ¼ cup batter into the hot pan and immediately tilt the pan in all directions to evenly spread the batter.

Cook over medium heat, about 1 to 2 minutes per side, until lightly golden brown.

Fill with cut up fruit and berries, roll up and top with sauce and powdered sugar, as desired.
Notes
You might need to refresh the butter/oil in the pan after a few crepes, depending upon the condition of your pan's surface.
Nutrition estimates do not include fruit filling or toppings.
Nutrition
Calories:
118
kcal
|
Carbohydrates:
15
g
|
Protein:
4
g
|
Fat:
4
g
|
Saturated Fat:
2
g
|
Polyunsaturated Fat:
0.5
g
|
Monounsaturated Fat:
1
g
|
Trans Fat:
0.1
g
|
Cholesterol:
71
mg
|
Sodium:
58
mg
|
Potassium:
55
mg
|
Fiber:
1
g
|
Sugar:
5
g
|
Vitamin A:
231
IU
|
Calcium:
58
mg
|
Iron:
1
mg
Nutrition values are estimates only, using online calculators. Please verify using your own data.