It's time to make one more special beverage to celebrate the holiday season. And I can't think of a better starting point than eggnog, that creamy concoction traditionally served during the holiday season. This variation combines eggnog and Baileys Irish Cream, plus some vodka for a little extra punch. It's delicious!
Only 3 Ingredients needed
Bailey's Irish Cream
Eggnog
Whipped vodka
How to make this eggnog and baileys cocktail
This is a very simple drink. Simply add all 3 ingredients to a cocktail shaker with ice. Shake well, then strain into a chilled cocktail glass. Garnish, if desired, with a shake of nutmeg and a cinnamon stick.
Oh, and maybe just a little whipped cream. It is the holidays after all.
Alternatively, you can serve it on the rocks. It would make a fantastic beverage to leave out for Santa on Christmas Eve. I mean, the guy's been working really hard, and I'm sure he'd appreciate a break from all the milk.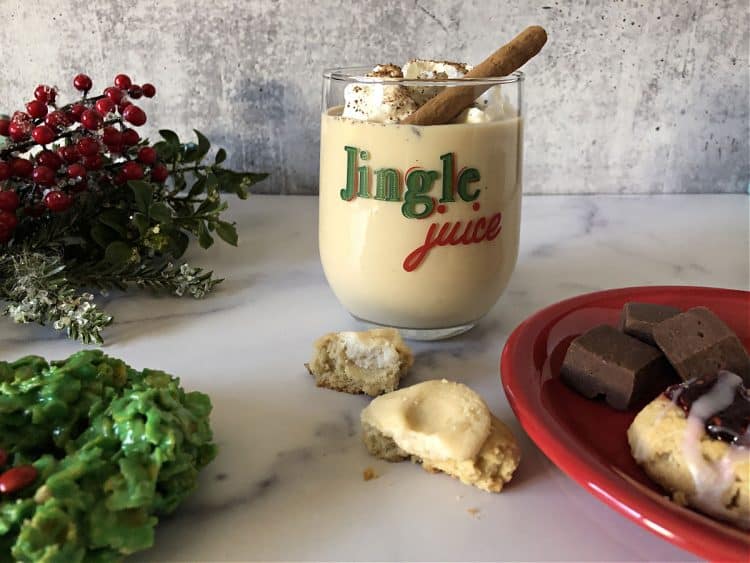 Variations
The most logical question with this is "what is whipped vodka and is there a substitute". Whipped vodka is simply a flavor infused vodka. Take a whiff and you are instantly reminded of the smell of fresh whipped cream. I use it in my Orange Creamsicle cocktail, and now in this one. If you need a substitute, try vanilla flavored vodka.
This combination of eggnog and Baileys is the perfect toast to the holiday season!
Print Recipe
Eggnog and Baileys Cocktail
The very BEST way to serve eggnog!
Ingredients
1

oz

vodka "whipped" flavor

2

oz

Bailey's Irish Cream

4

oz

Eggnog
Instructions
Add all ingredients to a cocktail shaker with ice.

Shake well and strain into glass of choice.
Nutrition
Calories:
351
kcal
|
Carbohydrates:
23
g
|
Protein:
7
g
|
Fat:
12
g
|
Saturated Fat:
7
g
|
Cholesterol:
67
mg
|
Sodium:
62
mg
|
Potassium:
187
mg
|
Sugar:
20
g
|
Vitamin A:
234
IU
|
Vitamin C:
2
mg
|
Calcium:
147
mg
|
Iron:
1
mg
Nutrition values are estimates only, using online calculators. Please verify using your own data.
Did you know?
Most historians agree that the drink now known as eggnog originated from the early medieval British drink called posset. Posset was used as a cold and flu remedy, and consisted of hot milk curdled with wine or ale and flavored with spices. Eggs were added by the 13th century. Eggnog crossed the Atlantic to the USA when we were British colonies.
President George Washington was known to serve an eggnog-like drink to visitors which included rye whiskey, rum and sherry. His recipe reads as follows: "One quart cream, one quart milk, one dozen tablespoons sugar, one pint brandy, ½ pint rye whiskey, ½ pint Jamaica rum, [and] ¼ pint sherry." The recipe instructs cooks to "mix [the] liquor first, then separate yolks and whites of eggs, add sugar to beaten yolks, mix well. Add milk and cream, slowly beating. Beat whites of eggs until stiff and fold slowly into mixture. Let set in cool place for several days. Taste frequently." (Wikipedia)
I think we can all agree that the "taste frequently" part of the recipe is the most important step! 😃
More holiday cocktail ideas