If you need an easy and fast dinner solution, these grilled chicken tenders are the perfect answer. A quick marinade using bottled salad dressing provides a little seasoning in an oil-based solution to prevent sticking on the grill grates.
Leave the tenders in the marinade while you warm up the grill. Then you only need a couple minutes each side to cook the tenders.
Less than 10 minutes on the grill - I don't think it gets any faster than that.
It'll probably take more time than that to make the side dishes! A veggie for the kids, a salad for mom - everybody wins!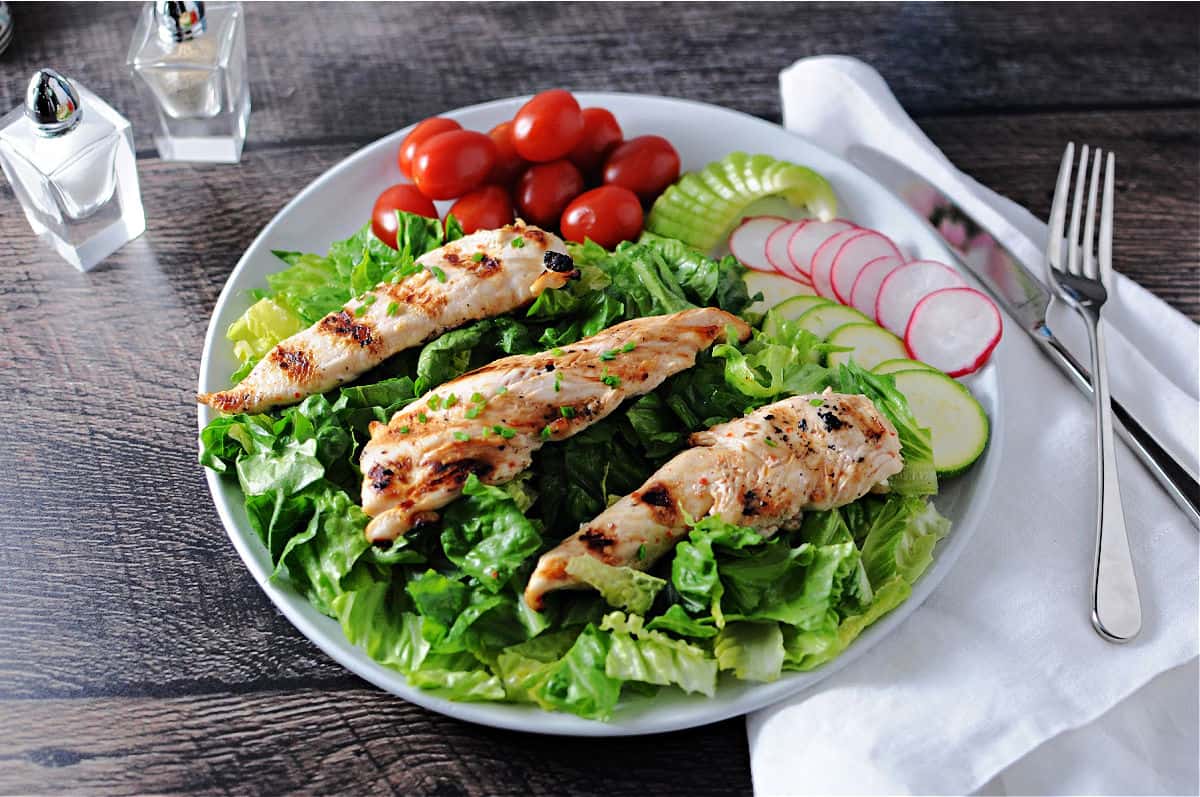 Jump to:
Why I love this recipe
Summer meals need to be easy and fast, and this one is both. Using the grill keeps the heat out of the kitchen and provides that unique charred taste you can only get from a BBQ grill.
Using tenders (i.e. tenderloins) you automatically have a tender cut of chicken – it's in the name after all!
They are naturally low carb and a healthy choice for every member of the family. Kids love them!
And cooked chicken tenders are so versatile! You can dip them in barbeque sauce or use them on salads. Cut them up to make chicken salad. Use them for any recipe that calls for cooked chicken – see below for a few more ideas.
Ingredients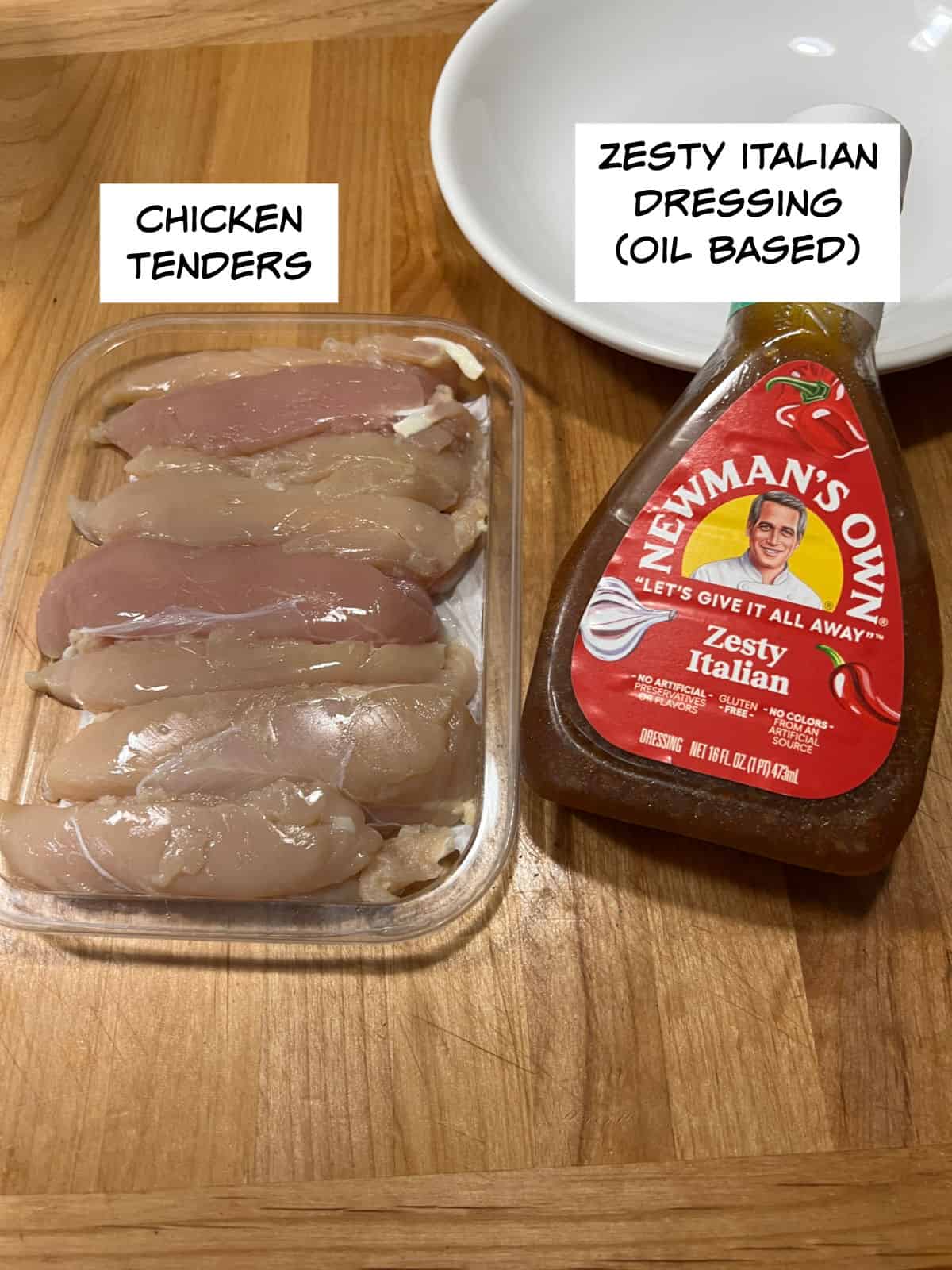 How to make grilled chicken tenders
This is a method I developed years ago, when I was pressed to feed my kids on weeknights in between soccer practice and homework time. Simply pour some Italian salad dressing (the oil-based kind) over your chicken tenders and let them marinate for about 10-20 minutes.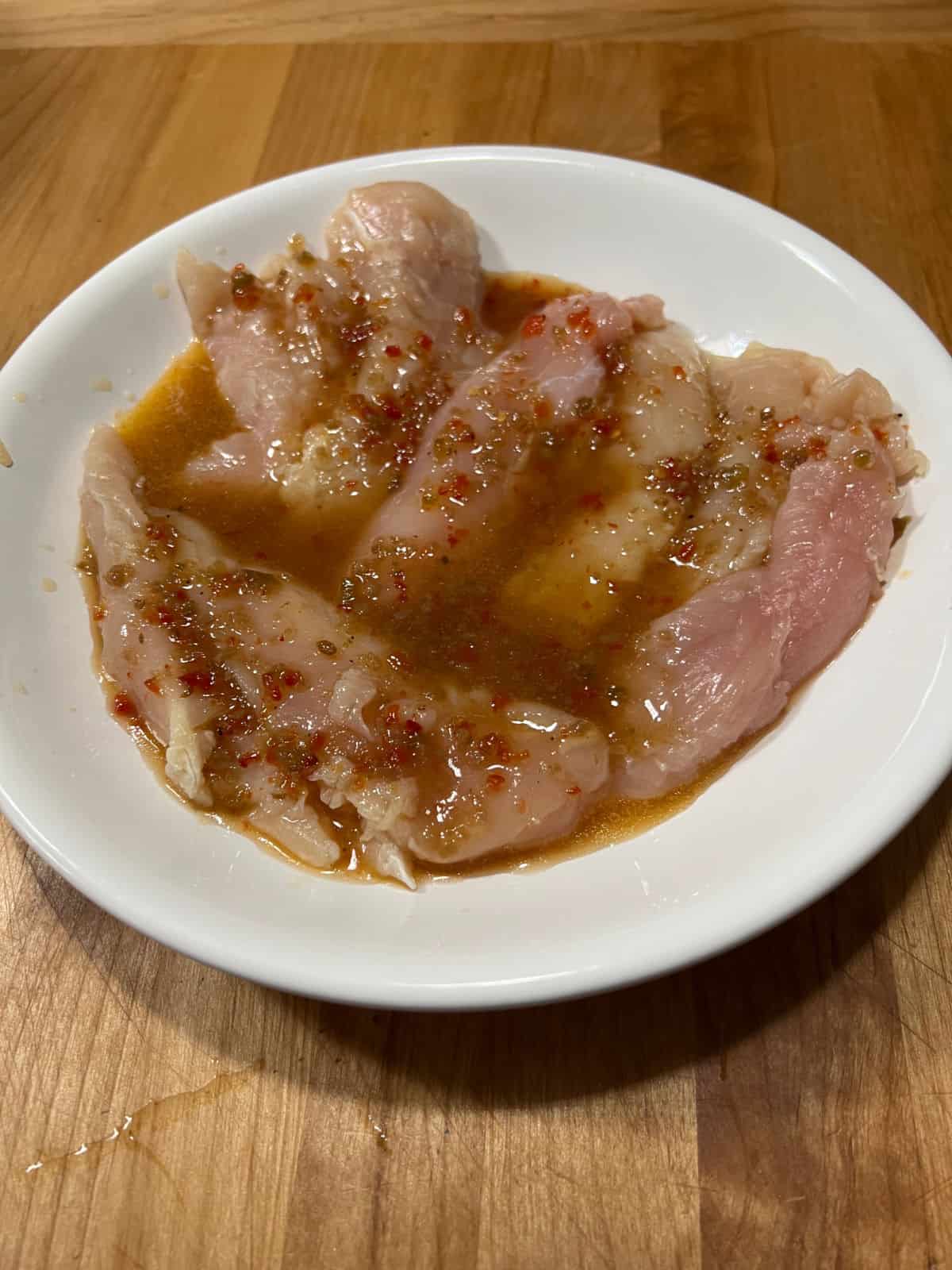 You can use this time to pre-heat the grill and get a vegetable going.
When the grill is hot, place the tenders on the hot grates and cook, about 3-4 minutes per side.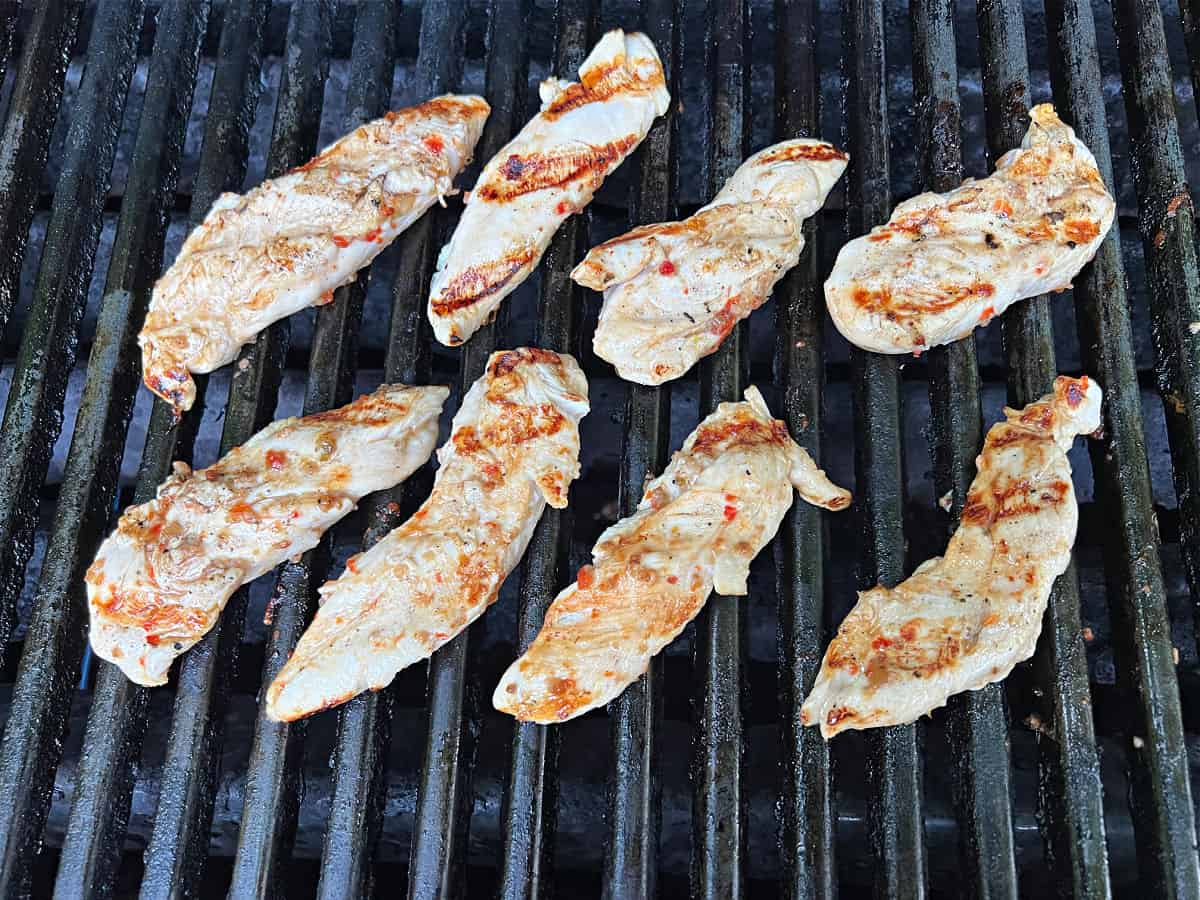 The tenders should look done, but if you're unsure please verify the temperature using a meat thermometer. Recommended internal temperature is 165F.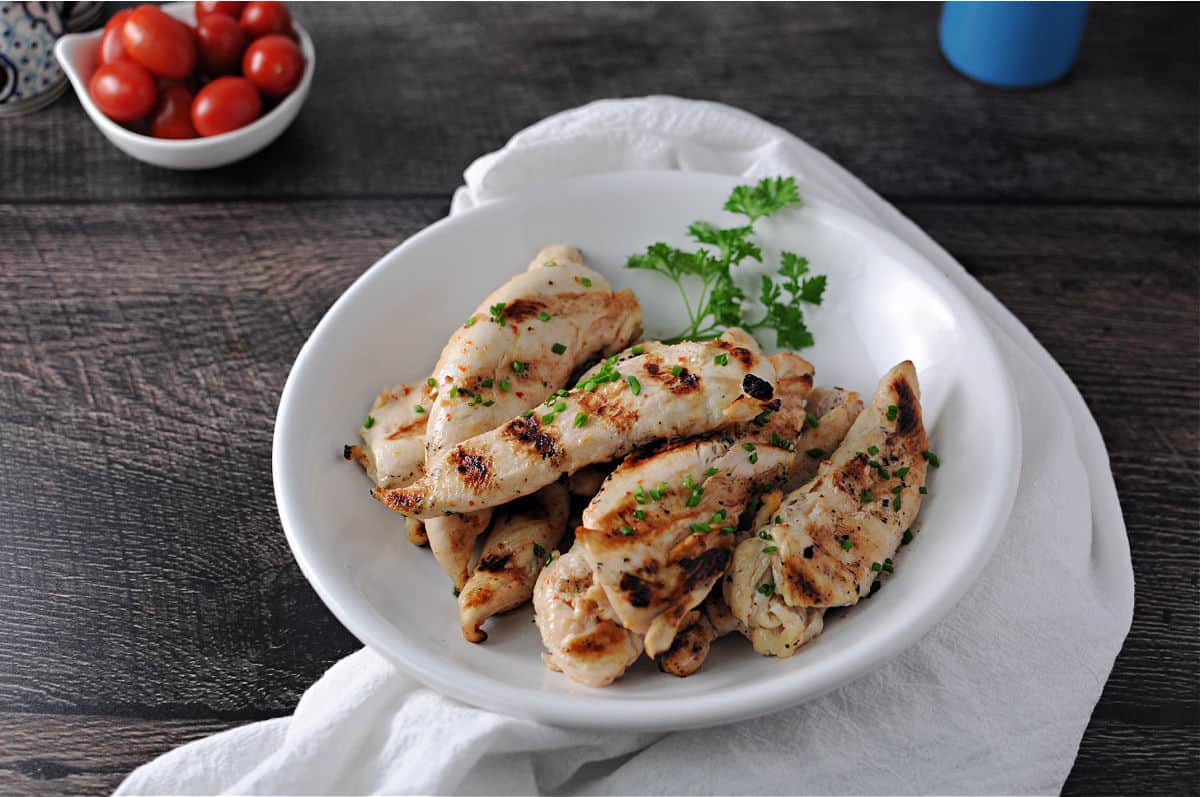 Remove the cooked tenders and cover with foil. Let the meat rest for 10 minutes to ensure the juiciest chicken in every bite!
Expert Tips for Success
Chicken tenders cook very quickly, so it is best to have everything else ready or starting to cook before you throw the tenderloins on the grill. Ex: get your veggies cut up and ready to cook. The 10 minutes of rest time is long enough to cook most vegetables, but only if they are already prepped.
Be sure to rest the meat! When you are in a hurry it's tempting to skip this, but each bite of your chicken tender will be so much juicier and more delicious if you simply let that meat rest under a foil tent before serving.
What to do with your leftover cooked chicken
Leftover chicken is one of my favorite ingredients! If I don't have any, I'll buy the shredded rotisserie chicken at the grocery store LOL.
Here are some recipe ideas for you:
Chicken Taco Casserole for a whole new take on taco night!
In the mood for pasta? Sun Dried Tomato Pesto Chicken has a delicious creamy sauce that you will love!
And a perennial favorite: Chicken Pot Pie. It's a classic that never goes out of style!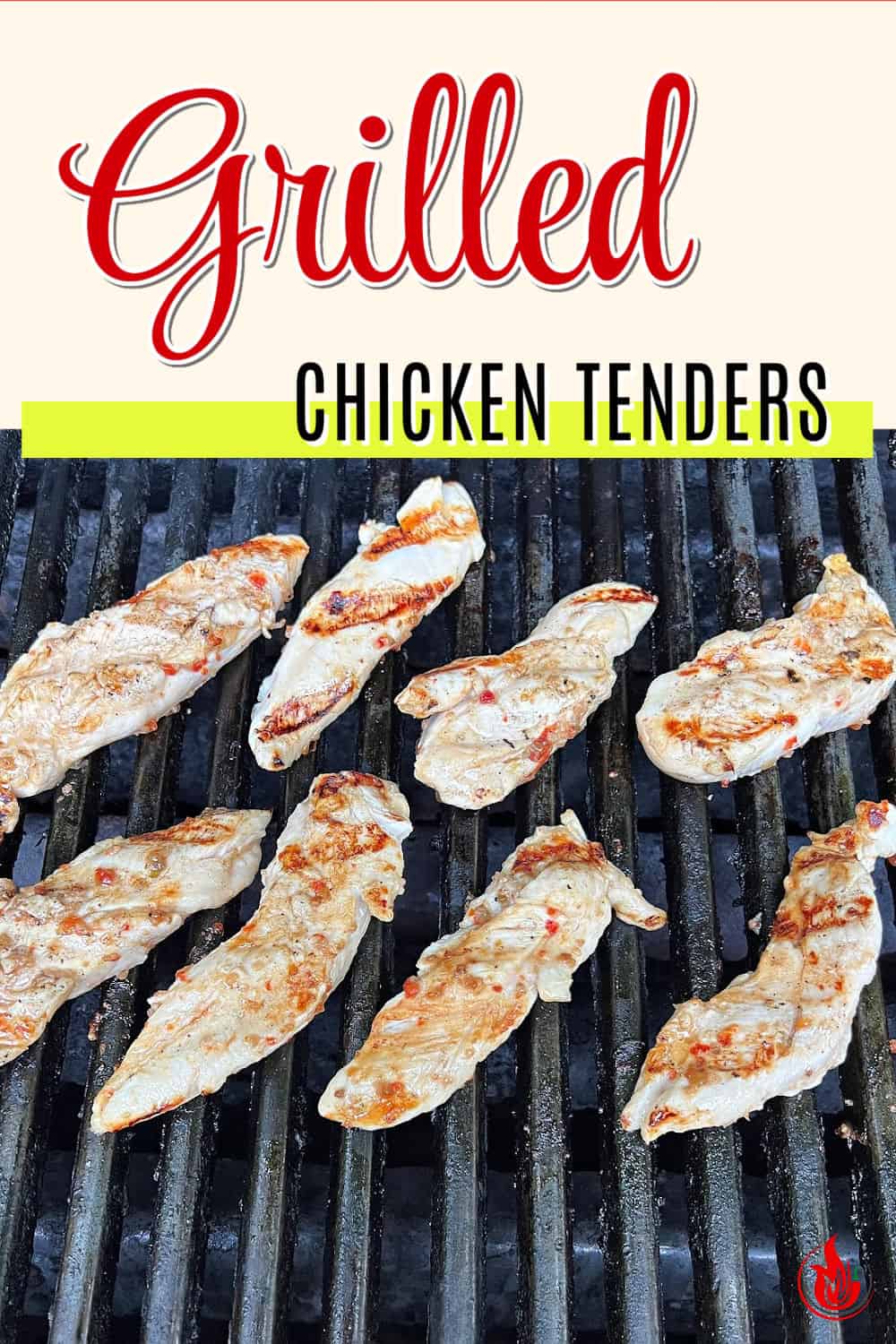 Recipe FAQs
How long should I marinate chicken tenders before grilling?
I recommend at least 10 minutes of marinate time; 20 minutes is better. However, avoid marinating for any longer than an hour, as sometimes the marinade can break down the proteins, leading to a mushy texture.
How can I prevent chicken tenders from sticking to the grill grates?
Using an oil-based dressing to marinate does help, as well as prepping the grill grates. Make sure the grates are clean, then preheat the grill and oil the grates lightly with oil before adding the tenders. Also, avoid moving the chicken too early after placing it on the grill. Let it cook for a few minutes on one side before flipping to develop those lovely grill marks.
How do I know when the grilled chicken tenders are fully cooked?
Please use a meat thermometer for best results. Chicken is safe to eat when it reaches an internal temperature of 165°F (74°C). If you don't have a meat thermometer, make a small incision in the thickest part of the meat and verify that there is no pink and the juices run clear.
📖 Recipe
Grilled Chicken Tenders
A fast and easy dinner solution in less than 30 minutes!
Ingredients
1

pound

chicken tenders

tenderloin

¼

cup

Italian Salad Dressing

oil-based
Instructions
Place chicken and salad dressing in a shallow bowl and marinate for about 10-20 minutes.

Place chicken tenders directly on hot grates of a preheated grill. Grill 3-4 minutes per side.

Place cooked tenders on a plate or shallow bowl and cover with foil. Allow chicken to rest at least 10 minutes before serving.
Video
Notes
Use Zesty Italian dressing for best results.
Nutrition
Calories:
165
kcal
|
Carbohydrates:
2
g
|
Protein:
24
g
|
Fat:
6
g
|
Saturated Fat:
1
g
|
Polyunsaturated Fat:
2
g
|
Monounsaturated Fat:
2
g
|
Trans Fat:
1
g
|
Cholesterol:
73
mg
|
Sodium:
277
mg
|
Potassium:
432
mg
|
Sugar:
2
g
|
Vitamin A:
39
IU
|
Vitamin C:
1
mg
|
Calcium:
8
mg
|
Iron:
1
mg
Nutrition values are estimates only, using online calculators. Please verify using your own data.