I love spaghetti squash but have always thought of it as a cold weather vegetable. I love it roasted in the oven. But in hot weather, I don't want my oven roasting away for an hour and heating up the house. So I decided to make spaghetti squash on the grill, with excellent results!
Ingredients needed
You only need spaghetti squash and olive oil, plus any seasonings you decide to use. A simple dusting of salt and pepper is usually enough for me, as I am likely putting sauce on my grilled spaghetti squash, but something like a Cajun or Italian seasoning would be fun to try. Feel free to use your imagination. 😀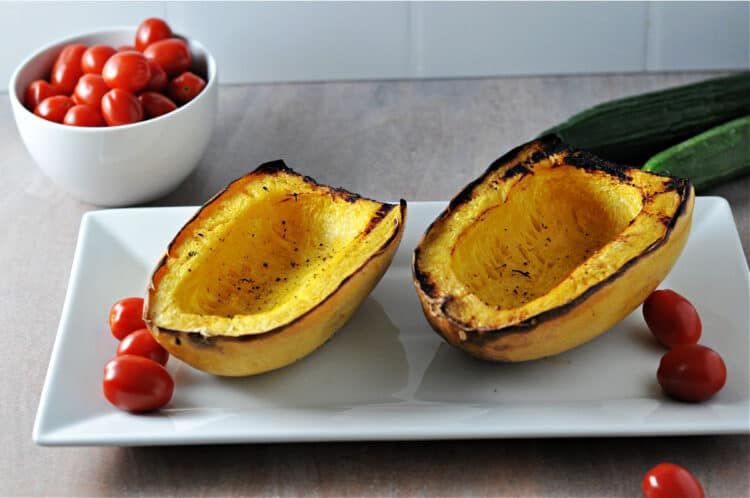 Heating the grill – direct vs indirect heat
When grilling spaghetti squash, I try to emulate the conditions in my oven. To do this, heat up the grill to about 375-400F. I have a gas grill with a thermometer which helps me to judge how hot it is under the hood. The goal is to create a hot indirect heat area where the squash can roast without burning.
If you have a gas grill, turn on half of the burners. Once warmed up, the grill will have two distinct heating zones. Logically, the hottest areas are right over the lit burner(s) – this is direct heat. The other area of the grill will be hot, but a lower temperature. This is indirect heat.

Typically, direct heat is used for anything that cooks very quickly or just needs an external "char," such as a pre-cooked sausage. Indirect heat is "low and slow" – very similar to roasting in an oven. This is how we want to grill the spaghetti squash in order to fully cook through without completely burning the external surface.
My grill has 3 burners. Once heated, leaving one burner on its highest setting will typically maintain a temperature of 325-350, as long as I keep the lid closed. For spaghetti squash I wanted a higher temperature since I didn't want to wait all day for it to be done! I need to use 2 of the 3 burners, one on low and the other on medium, to maintain a temperature between 375 and 400F. Every grill is different, so spending a little time figuring this out for yours will yield the best results.
Cooking spaghetti squash on the grill
Prep the squash as you would for roasting. I like to microwave the whole squash for a minute to help soften it slightly. Then I cut off the stem end, stand the squash on that cut end and slice it in half lengthwise. Scoop out the seeds and fibers with a spoon. If you have a grapefruit spoon, the serrated edges really work well for this scraping step.
Brush the cut surface with olive oil and season with salt and pepper (or other seasoning) as desired.
Place the prepared squash cut side up on the indirect heat area of the grill. Close the lid and let the grill do its work. Set a timer for 45 minutes, then check the squash for doneness. To do this, pierce it with a fork to determine how easily the strands will separate.
Most of the squash I have cooked have been 2½ to 3 pounds in size. The larger squash will typically need a few extra minutes, but plan for about 45 to 50 minutes for the squash to seem "done."
This last step is optional but kind of fun. To make grill marks on the squash, turn the halves over and place them cut side down on the direct area of the grill. Close the lid and grill for about 5 minutes. This will give you a nice smokey "char" to your grilled spaghetti squash and just make it look a little more fun.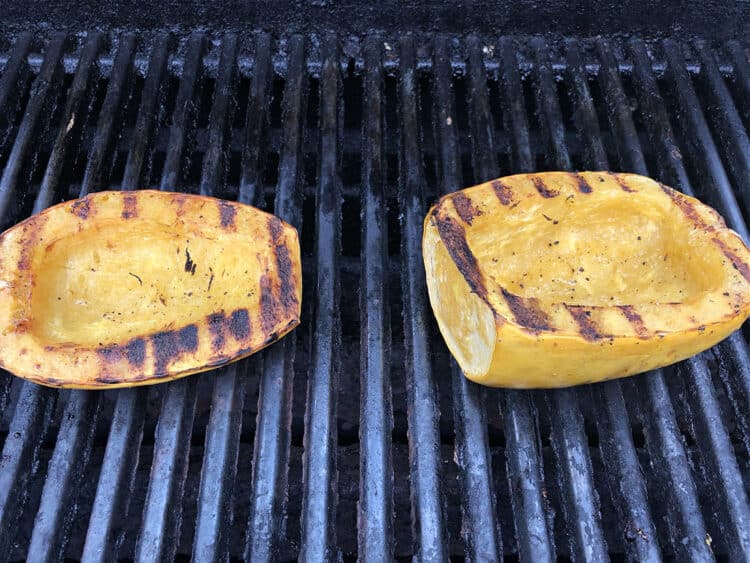 Serving suggestions for grilled spaghetti squash
Spaghetti squash is such a versatile vegetable! You probably already have a favorite way to eat it, but if you're looking to try something new, here are a few ideas for you: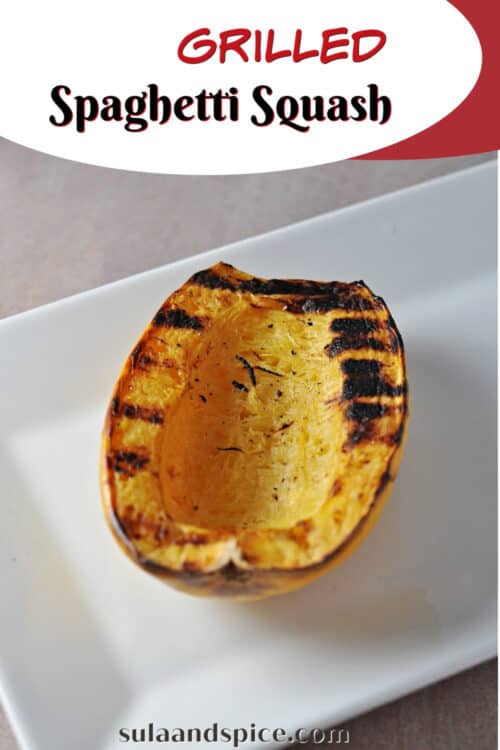 Making spaghetti squash on the grill opens up a whole world of possibilities!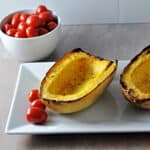 Print Recipe
Grilled Spaghetti Squash
By making it on the grill, you can enjoy spaghetti squash all year round!
Ingredients
1

spaghetti squash

2- 3 pound

1

tablespoon

olive oil

Salt and pepper to taste
Instructions
Cut spaghetti squash in half lengthwise and scoop out the seeds. (see above for pointers)

Brush the inside of the squash with olive oil. Season lightly with salt and pepper as desired.

Place squash cut side up on a preheated grill, in the indirect heat area of the grill. Close the lid and maintain a temperature of 375-400F while cooking the squash.

After 45 minutes, use a fork to check the squash for doneness. Most squash will take 46-60 minutes to cook. When done, the squash will easily separate into strands with a fork.

If grill marks are desired, flip the squash, cut side down, onto the direct heat area of the grill. Cook about 3-5 minutes or until grill marks appear.

Remove squash from grill and allow to cool slightly before shredding and serving.
Nutrition
Calories:
71
kcal
|
Carbohydrates:
11
g
|
Protein:
1
g
|
Fat:
3
g
|
Saturated Fat:
1
g
|
Sodium:
27
mg
|
Potassium:
174
mg
|
Fiber:
2
g
|
Sugar:
4
g
|
Vitamin A:
193
IU
|
Vitamin C:
3
mg
|
Calcium:
37
mg
|
Iron:
1
mg
Nutrition values are estimates only, using online calculators. Please verify using your own data.