Something about summer makes me want to have light and refreshing drinks. I'm certain I am not alone in this. And the classic gin & tonic is a summer favorite everywhere. It has a distinctly bright and zesty taste, with "herb"y and citrusy notes complemented by the slightly bittersweet taste of tonic.
But for a different twist on the G&T, I wanted to try a pink gin and tonic. And I soon realized that there are different ways to make this cocktail.
Which of course made it even more fun for me - clearly it was time to dedicate myself to some research!
Pretty in pink!
The origins of the gin and tonic
There's no mystery to a gin and tonic. You need gin . . . and tonic. End of story, right?
The interesting part is how it all started. Tonic water was originally developed to combat malaria for British soldiers and citizens in India. Soda water plus quinine = tonic water. Putting enough quinine in the water to fight malaria made it quite bitter to drink, so the enterprising Brits started to add gin to make it taste better. All for a good cause. 😃
Today, not all tonic water is created equal. The tastes of different brands of tonic water can vary widely. If you think you "don't like" a gin & tonic, it might be that you don't care for a particular brand of tonic water.
Ingredients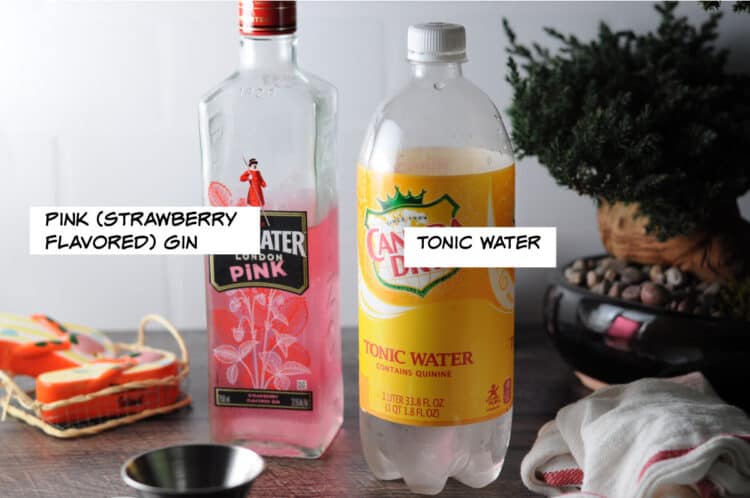 How to make a pink gin and tonic
I'm going to describe 3 different ways to make a pink gin and tonic, because life is all about choices!
First, the original way to make a gin & tonic pink. This mixture starts with gin, a little lime juice (optional), 5 dashes of bitters and topped with tonic. The bitters provide a vaguely pink-ish hue to the drink. To my eye, it looks more "dirty peach" color, but I think in a dark bar and after having a few it could certainly pass for pink. LOL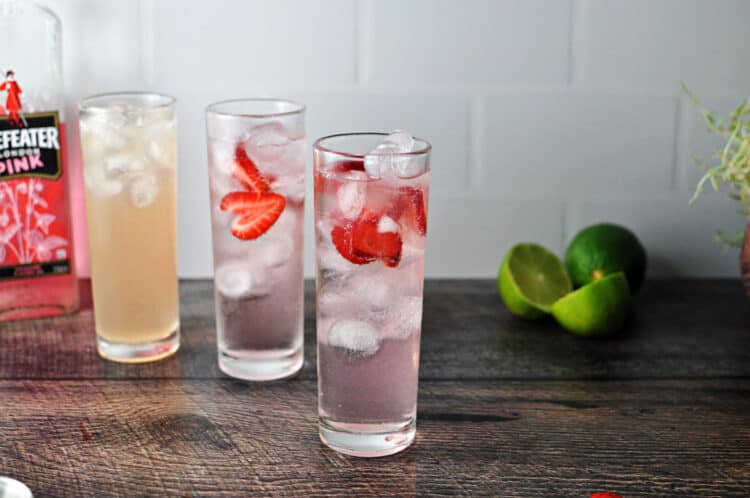 Next, we use a more straightforward way to make the beverage: Pink gin! Just when you thought the vodka makers had the corner on flavored liquors, along came gin. There are a few manufacturers who now make strawberry flavored gin, colored a pleasing shade of pink. In addition to the lovely pink color, the addition of strawberry gives the gin a slightly sweeter profile. So it's a great choice for the person who's not too sure whether they like gin.
To make a pink gin and tonic, simply mix the pink gin with tonic. Plenty of ice and some strawberries to garnish: you are set. It works in a tall "Collins" glass but also is fun to drink in a balloon style wine glass.
And for one more variation, I decided to add a little more "pink" to the mix. In addition to the pink gin, I added a little pink lemonade before topping with the tonic. This addition makes the drink pinker, sweeter, and more citrusy. All good things, IMO.
A green garnish will complement the beautiful pink color; think of a slice of lime or a sprig of herbs. I decided to use mint for my pink gin & tonic because I just like the combination of strawberry and mint. 😀
Expert Tips/FAQ
What is the correct proportion of gin to tonic in a classic Gin & Tonic?
Most G&Ts are mixed with a 1:1 to 1:3 ratio of gin to tonic, and will vary according to taste, strength of the gin, and other mixers being added in. It is usually garnished with a slice or wedge of lime.
Does tonic water really prevent malaria?
Today's tonic water does contain trace amounts of quinine, but not at the levels needed to effectively fight malaria. However, if you like to think of drinking your gin and tonic as something medicinal, I certainly will not get in your way!
What type of glass is used for a gin & tonic?
The traditional way to serve a gin and tonic is in a highball glass or rocks glass. But this isn't exactly a traditional G&T, is it? I made some in tall, skinny "Collins" glasses and also in balloon shaped wine glasses. I feel that the shape of the balloon glass helps to highlight the pretty pink color of the beverage, but in the end they all drink the same. 😀
More pink cocktails
I enjoyed the addition of lemonade to my G&T so much, I decided to also make a Pink Gin & Lemonade. Maximum summertime refreshment!
Since you have that pink lemonade anyway, try mixing up a Pink Senorita.
And for a whole different shade of pink, a dragon fruit cocktail will always get noticed!
📖 Recipe
Pink Gin & Tonic
A pretty in pink version of the classic gin & tonic. You'll fall in love with the hint of strawberry in pink gin!
Ingredients
1 ½

ounces

pink gin

strawberry flavored

4 - 5

ounces

tonic water

Optional: 1 ounce pink lemonade

Sliced strawberry – to garnish
Instructions
Half fill a tall or balloon shaped glass with ice. Pour in the gin.

Add strawberry slices and more ice. Add pink lemonade if desired.

Top with tonic water and serve.
Notes
Nutrition estimates are for gin only. Values for tonic water will vary widely.
Nutrition
Calories:
98
kcal
|
Sodium:
54
mg
|
Potassium:
6
mg
|
Calcium:
13
mg
|
Iron:
1
mg
Nutrition values are estimates only, using online calculators. Please verify using your own data.