I love grilling season! Using a grill to cook your food is such a great way to produce a delicious meal without heating up the house. And the grill adds that little bit of an extra smoky flavor that you just can't get with any other cooking method.
But don't limit yourself. Grilling works for more than meat. Vegetables are delicious when grilled. I could eat grilled broccoli almost every day!
Now, I'm adding grilled peppers and onions to the list. Bell peppers and onions are grilled to a crisp-tender texture with a smoky char.
Incredibly delish!
Why I love these grilled peppers and onions
Back when I worked a "real" job, I had a boss who used to say "you can get it fast, cheap or good. But you can only have 2 of the 3." So, if you want something to be cheaper, you'll either have to sacrifice speed or quality. Same with speed vs the other factors. It's a great analogy that applies to many situations in life.
These peppers and onions are an exception. In addition to being healthy, they are cheap, fast AND good. The trifecta!
Ingredients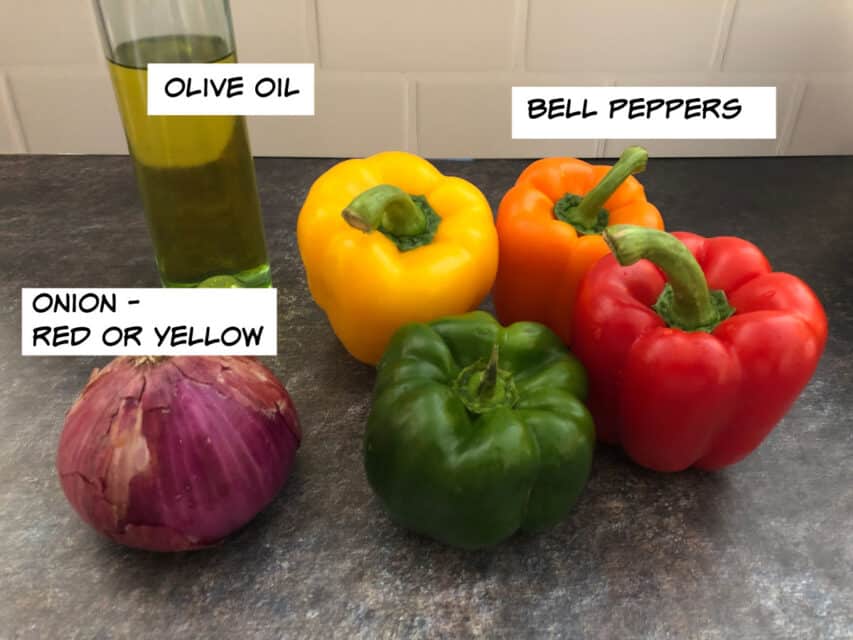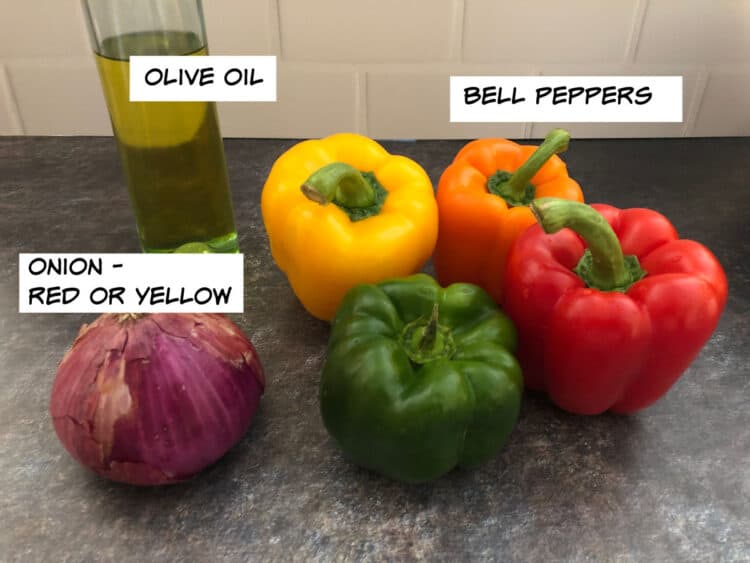 The only ingredients you need are bell peppers and an onion, plus olive oil and salt & pepper.
Bell peppers come in all colors and they all work, so you can choose your favorites for grilling. My favorites are yellow or red bell peppers, so I always include those. Green bell peppers are a classic, plus they really liven up the colors of this grilled pepper mix.
Sometimes I buy 3 or 4 peppers and just use half of each. It's even better when I find peppers already cut up in the produce section – my local grocery store calls it a "fajita mix" which includes multiple colors of bell peppers plus plenty of onions. Buying this mix makes it even more convenient!
How to make peppers and onions on the grill
Did I mention this was easy? Simply toss your strips of pepper and onion with olive oil, then season with salt and pepper. Your veggies are now ready for the grill.
Those veggies will want to slip right between the grill grates once they start cooking, which is why a grill basket works best for this. I like to place the grill basket right on the grill while it's preheating, then transfer the veggies onto the hot basket.
Caution: do not "pour" the veggies into the basket, as tempting as it may be. The extra oil in the bottom of your bowl will definitely cause a flare up when it hits the flames!!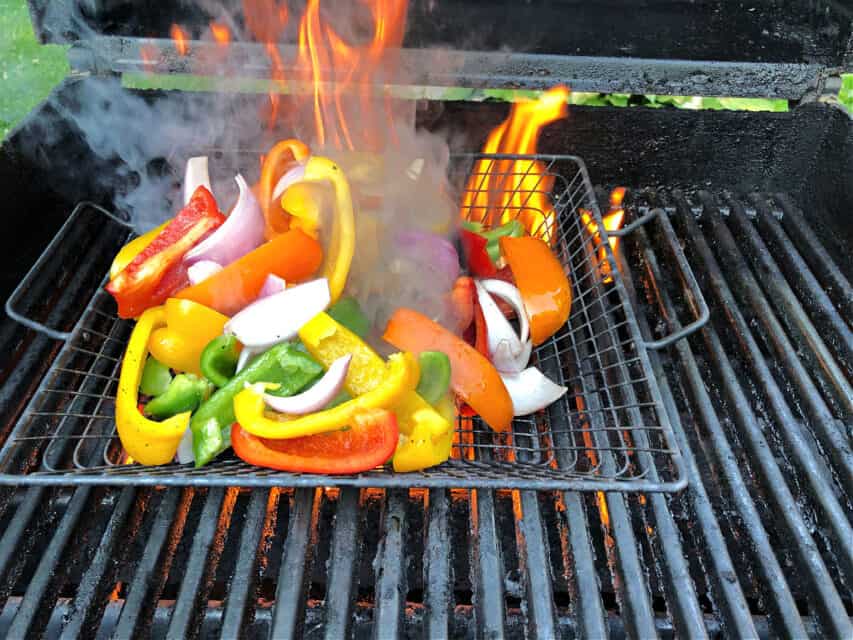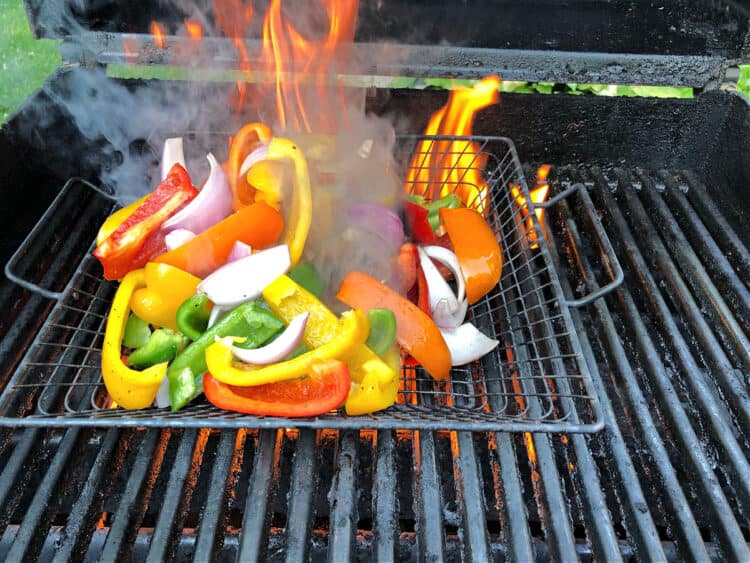 Close the lid and cook the peppers for about 5 minutes. Lift the lid, toss the veggies and close and cook 5 minutes more. Toss again and cook up to 5 more minutes until peppers are done. They will be slightly soft with charred edges. Remove and serve. (I like to cover the bowl with foil just to help retain the heat.)
Expert Tips
Overcrowding the grill basket will mean your veggies will take a little longer to cook, and they will probably have less "char" to show for your efforts. They'll still be delicious. 😀
I usually try for a grill temperature of about 375F, but this is not set in stone. Since I am grilling onions and bell peppers as a side dish, the grill temperature is usually dictated by whatever else I am grilling that day.
I have made these with all colors of bell pepper and both red and yellow onion. I have never been disappointed in the results.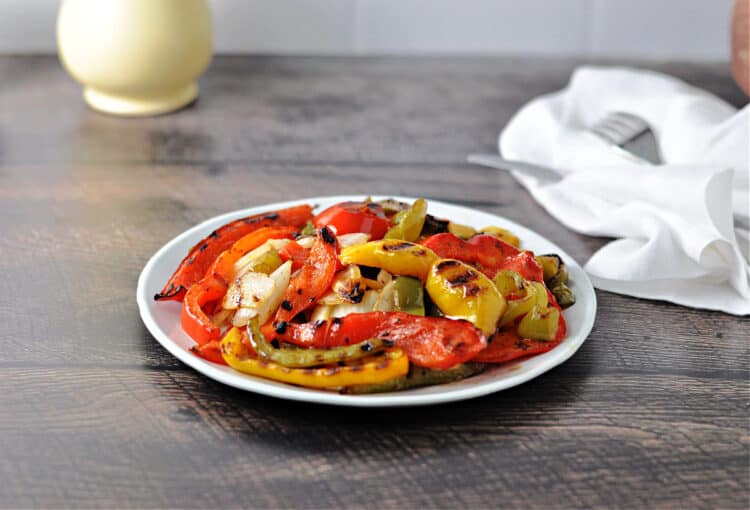 Serving suggestions for these easy grilled peppers and onions
Serve these with any other grilled foods. Sometimes when I'm making beef kabobs, I'll cook the extra veggies on the side rather than threading more skewers. I also love having them with other kabobs like shrimp skewers or chicken on a stick. Yummy!
And of course, with their fajita-like flavors, these grilled veggies are perfectly suited to go with burritos, quesadillas or any other of your Tex-Mex favorites. They are a fantastic addition to a taco salad!
Grilled Peppers & Onions
These fast and easy grilled peppers are the perfect healthy side for almost anything!
Ingredients
2

bell peppers

any color, cut in strips

1

onion

red or yellow, cut in strips

2

Tablespoons

olive oil

Salt & Pepper to taste
Instructions
Add onion and pepper strips to a mixing bowl. Drizzle with olive oil, season with salt & pepper and toss.

Transfer to a grill basket on a preheated grill (medium-high heat). Close the lid and let the veggies cook for about 5 minutes. The target temperature for the grill is about 350-400F.

Open the lid and toss the veggies, then close and cook 5 minutes more. Open and toss again, then cook until done, usually up to 5 more minutes. Veggies are done when the onions are translucent and the peppers are softened and slightly charred.
Nutrition
Calories:
91
kcal
|
Carbohydrates:
6
g
|
Protein:
1
g
|
Fat:
7
g
|
Saturated Fat:
1
g
|
Polyunsaturated Fat:
1
g
|
Monounsaturated Fat:
5
g
|
Sodium:
4
mg
|
Potassium:
166
mg
|
Fiber:
2
g
|
Sugar:
4
g
|
Vitamin A:
1863
IU
|
Vitamin C:
78
mg
|
Calcium:
11
mg
|
Iron:
1
mg
Nutrition values are estimates only, using online calculators. Please verify using your own data.