When you're following a low carb/keto diet or meal plan, BBQ chicken might seem like something you have to avoid. But with careful substitutions, you can fully enjoy those delicious flavors.
The chicken itself is of course very keto friendly. But brushing layers of barbeque sauce on it will change that quickly!
Most barbeque sauces seem to start with high fructose corn syrup on the ingredient list. As in, more than tomatoes! Additional ingredients add even MORE sugar. Even those not following a keto diet should question that!
My approach to making keto BBQ chicken is to use a low carb sauce and a meat thermometer to ensure perfectly cooked and flavor-filled chicken every time.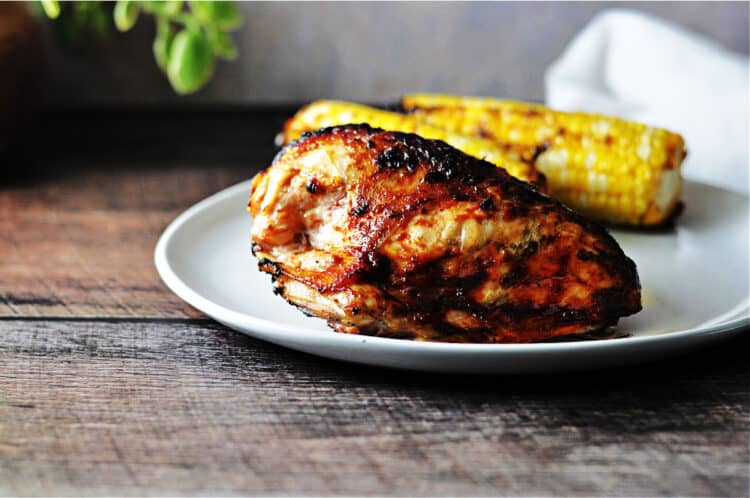 Why I love this low carb chicken
First, I love that I can make my own keto BBQ sauce. It is fast and easy to make and produces a thick and rich sauce. I also love that it makes under 2 cups of sauce, so it easily fits in a pint jar. So I'm not stuck trying to store some huge batch of it!
But most of all, I love the flavor of barbecue chicken. I'm so happy I found a way to get that flavor without all the extra sugar.
Ingredients
Only 2 ingredients needed: chicken (I used bone-in chicken breasts) and keto BBQ sauce. And I don't count this as an ingredient but using a little cooking oil on the grill grates will help minimize your chicken sticking to the grates.
In addition to your BBQ grill (I use a gas grill) you will want a meat thermometer. This ensures you know exactly when the meat is cooked through. No overcooked meat!
How to make keto BBQ chicken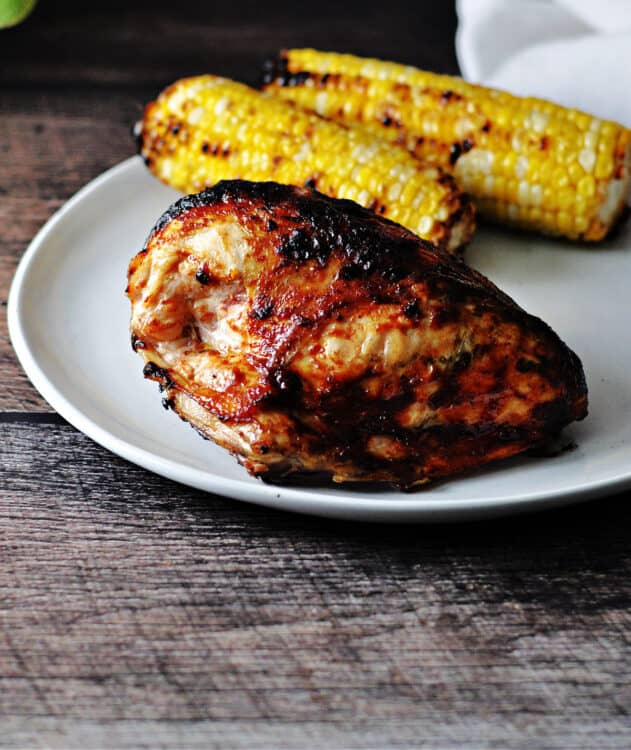 Making chicken on the grill is not difficult. I like to use a combination of direct and indirect heat for best results. (direct/indirect heat is explained in the FAQ section). I use the same technique to make these breasts as I do for grilled chicken legs.
Preheat the grill by lighting half the burners, either all one side or all front vs back, depending upon how your grill is configured.
Place the chicken over direct heat and cook for about 2 minutes per side, just to sear the meat slightly. Then move the pieces to the indirect heat portion of the grill. Close the grill cover and let the meat cook, undisturbed, for about 20 minutes. If your grill has a thermometer, try to maintain a temperature of about 325-350F.
Use a meat thermometer
At about 20 minutes check the internal temperature of the meat. I use my favorite meat thermometer for this, it has a probe I place in the thickest part of the meat and a long cable attached to the digital readout. When I plan ahead for this, I have already placed the thermometer in the meat before it was on the grill. For the other 99% of the time, I use my tongs to anchor the largest piece of meat and insert the probe into the thickest area. Move the chicken close to you while doing this. No need to lean over those lit burners!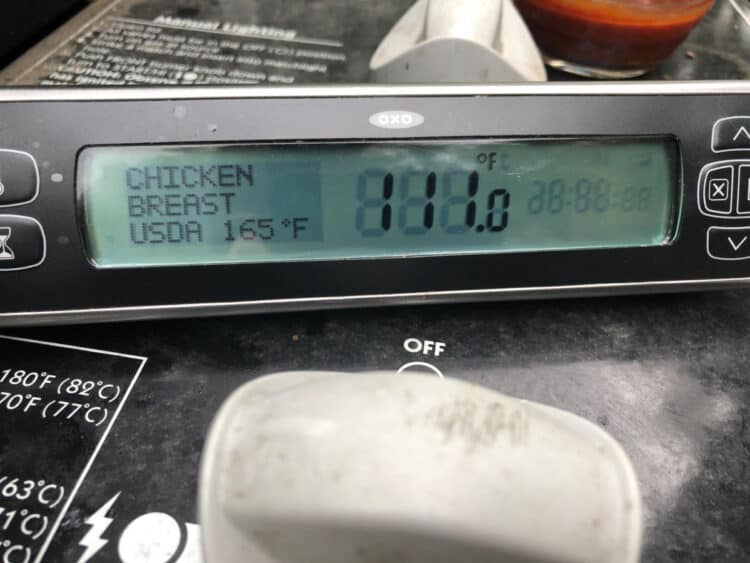 When the thermometer reaches at least 155F, move the chicken pieces back over direct heat. This is when you want to add a little BBQ sauce. Turn the chicken every 4-5 minutes while over direct heat and keep an eye on the barbeque sauce.
Keto BBQ sauce, with its low sugar content, is slower to burn compard to the corn syrup-based stuff, but it will burn. You want the sauce to caramelize but not turn into volcanic ash. You know what I mean.
The final target temperature is a minimum of 165, but up to 180F works too. Depending upon the size of your chicken pieces and the temperature of the grill, it could take anywhere from 20-40 minutes to reach that temperature. Really large pieces of bone-in breast will take the whole 40 minutes, at least.
Once the chicken is done, remove it from the grill and place on a plate or shallow pan, then cover with foil. Let the meat rest for at least 10 minutes while you gather all the other sides for your meal.
Expert Tips/FAQ
What's the difference between direct and indirect heat on a grill?
If you have a gas grill, turn on half of the burners. Once warmed up, the grill will have two distinct heating zones. Logically, the hottest areas are right over the lit burner(s) – this is direct heat. The other area of the grill will be hot, but a lower temperature. This is indirect heat.
Typically, direct heat is used for anything that cooks very quickly or just needs an external "char," such as a pre-cooked sausage. Indirect heat is "low and slow" – very similar to roasting in an oven. Larger cuts of meat typically benefit from indirect heat in order to fully cook through without completely burning the external surface.
I have an odd number of burners on my grill. How do I light half?
My grill has 3 burners. When I am preheating, I light at least 2 of them. During the direct heat portion of cooking, I use the area over those 2 burners. I turn off the middle burner during indirect heat cooking. The one burner does a great job of maintaining an even temperature within the closed grill for this step.
Every grill is different, please spend a little time figuring out what works best for yours.
Can I use a dry rub to make keto BBQ chicken?
Dry rub is a very popular choice for chicken. Add the rub before placing the chicken legs on the grill. There are many great rubs available for purchase, or you can make your own using the same recipe I use for air fryer chicken thighs. Just make sure the rub is sugar free, to keep it keto! The rub will create a tasty layer of flavor, and you can also add BBQ sauce during cooking in addition to the rub. Layers of flavor!!
Can I make BBQ keto chicken with other cuts of meat?
For sure! I have grilled bone-in chicken thighs and boneless skinless chicken breasts using keto barbeque sauce and a meat thermometer. The time required is shorter which is why you use the meat thermometer to be sure you know when the meat is cooked.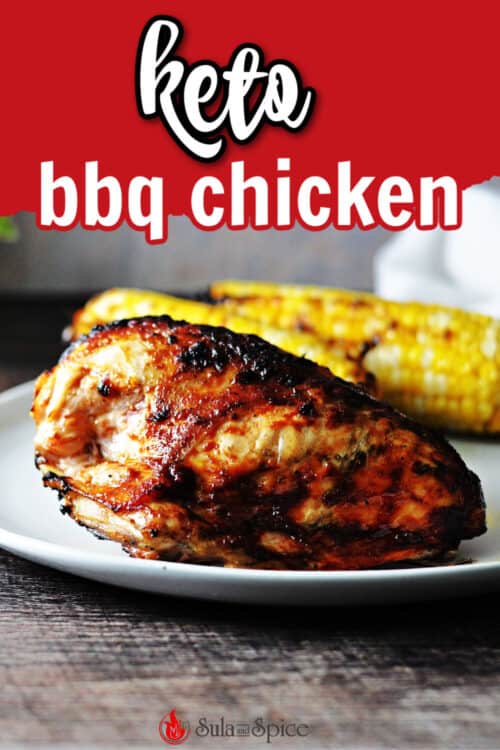 Keto friendly sides
Here are some side dishes that will help keep your whole meal keto friendly:
📖 Recipe
Keto BBQ Chicken
Delicious low carb BBQ chicken thanks to a keto friendly sauce!
Ingredients
2

bone-in chicken breasts

¼

cup

keto BBQ sauce
Instructions
Preheat grill for direct and indirect heat by lighting half of the burners. Place chicken breasts directly over the heated burners and sear for approximately 2 minutes on each side. Move chicken to the indirect area of the grill, then close cover and allow chicken to cook.

After about 20 minutes, check the internal temperature of the meat using a meat thermometer. Continue to cook and monitor until the internal temperature reads 155F.

Open the grill cover and move the chicken back over the burner with direct heat. Add barbeque sauce if desired. Cook the chicken over direct heat, turning every few minutes, until the exterior is crispy and the internal temperature is 165-180F.
Video
Nutrition
Calories:
337
kcal
|
Carbohydrates:
6
g
|
Protein:
40
g
|
Fat:
19
g
|
Saturated Fat:
7
g
|
Polyunsaturated Fat:
6
g
|
Monounsaturated Fat:
9
g
|
Trans Fat:
1
g
|
Cholesterol:
116
mg
|
Sodium:
434
mg
|
Potassium:
594
mg
|
Fiber:
2
g
|
Sugar:
4
g
|
Vitamin A:
380
IU
|
Vitamin C:
4
mg
|
Calcium:
32
mg
|
Iron:
3
mg
Nutrition values are estimates only, using online calculators. Please verify using your own data.