In the hot days of summer, I simply crave a bowl of ice cream. Nothing tastes better in summer. But it's definitely not something that qualifies as healthy!
That's where "nice cream" comes in. Made without dairy or added sugar, nice cream gives you the experience of ice cream without the guilt.
And raspberry nice cream is a fantastic choice. Only 2 ingredients and a few minutes of your time are needed to create a delicious frozen delight. When you can have something this good without any guilt, you'll want to have it on repeat.
I do!
Why I love this raspberry nice cream
When the concept of nice cream first hit the internet, every recipe seemed to depend upon one key thing: Vitamix. These high-powered blenders can do so much and pulverizing frozen fruit into an ice cream-like treat was added to the list.
But without a Vitamix, I didn't really pursue it. Until I realized that I could make nice cream with my food processor.
And so I made some. Then again. And again. And again. Now I just keep making nice cream and have tried several flavor combinations. This raspberry nice cream is a recurring favorite!
And when something is so easy, needs only 2 ingredients, is done in minutes, and can legitimately be considered healthy? Well, how could it NOT be a favorite?
Ingredients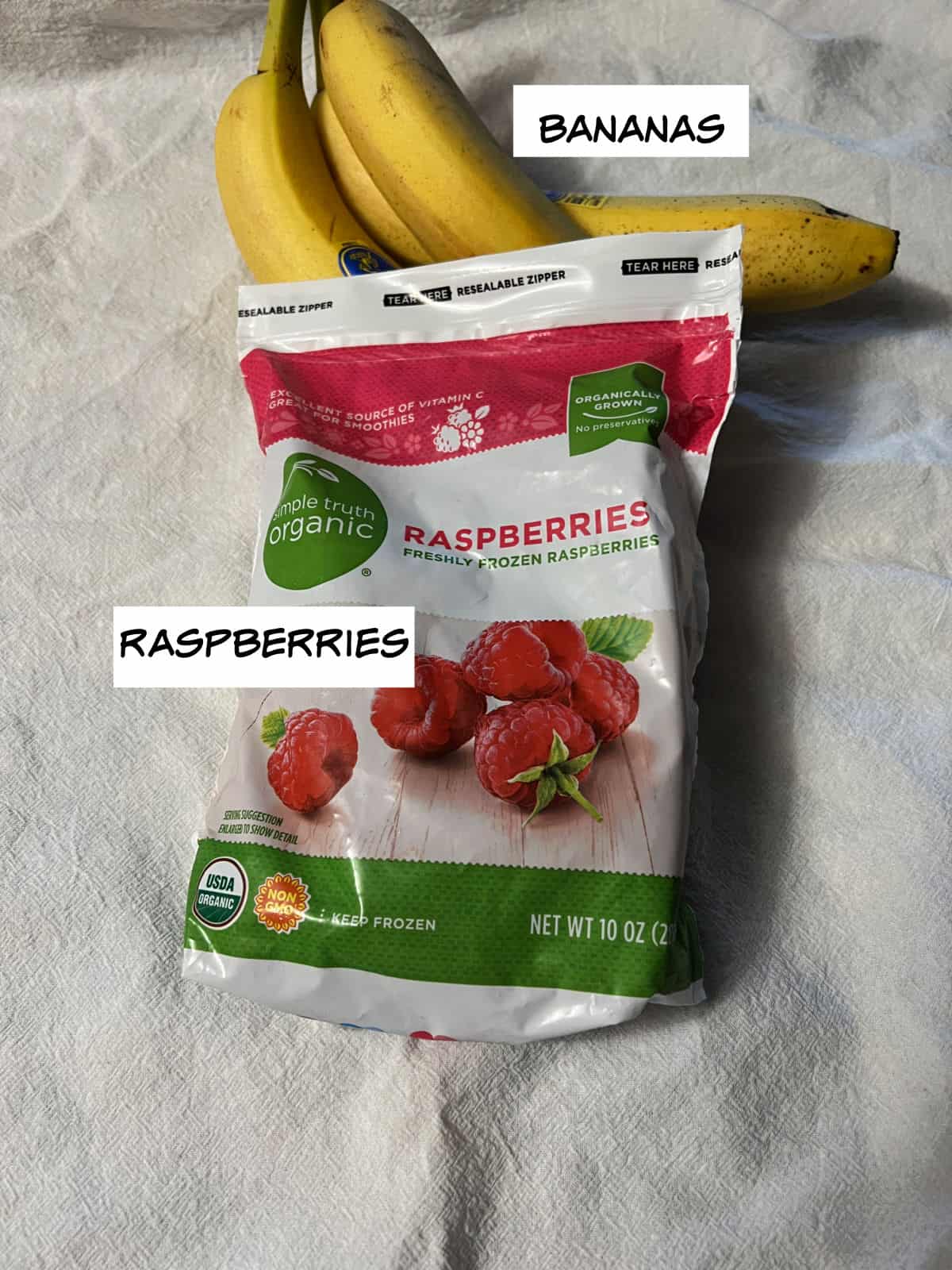 How to make raspberry nice cream with a food processor
One thing you need to realize is that you need a full-size food processor for this. I cannot imagine a mini food processor being able to handle this job!
Prep the bananas
Start by freezing 3 peeled ripe bananas. I like to cut the bananas in chunks before freezing, but you could also freeze them whole (but peeled) if preferred.
The minimum freeze time for the bananas is 4 hours. So if you decide in the morning you want to make nice cream, just chunk up the bananas and stick them in the freezer, then pull them out 4 hours later. You can also freeze the bananas longer – I like to freeze them overnight when I can.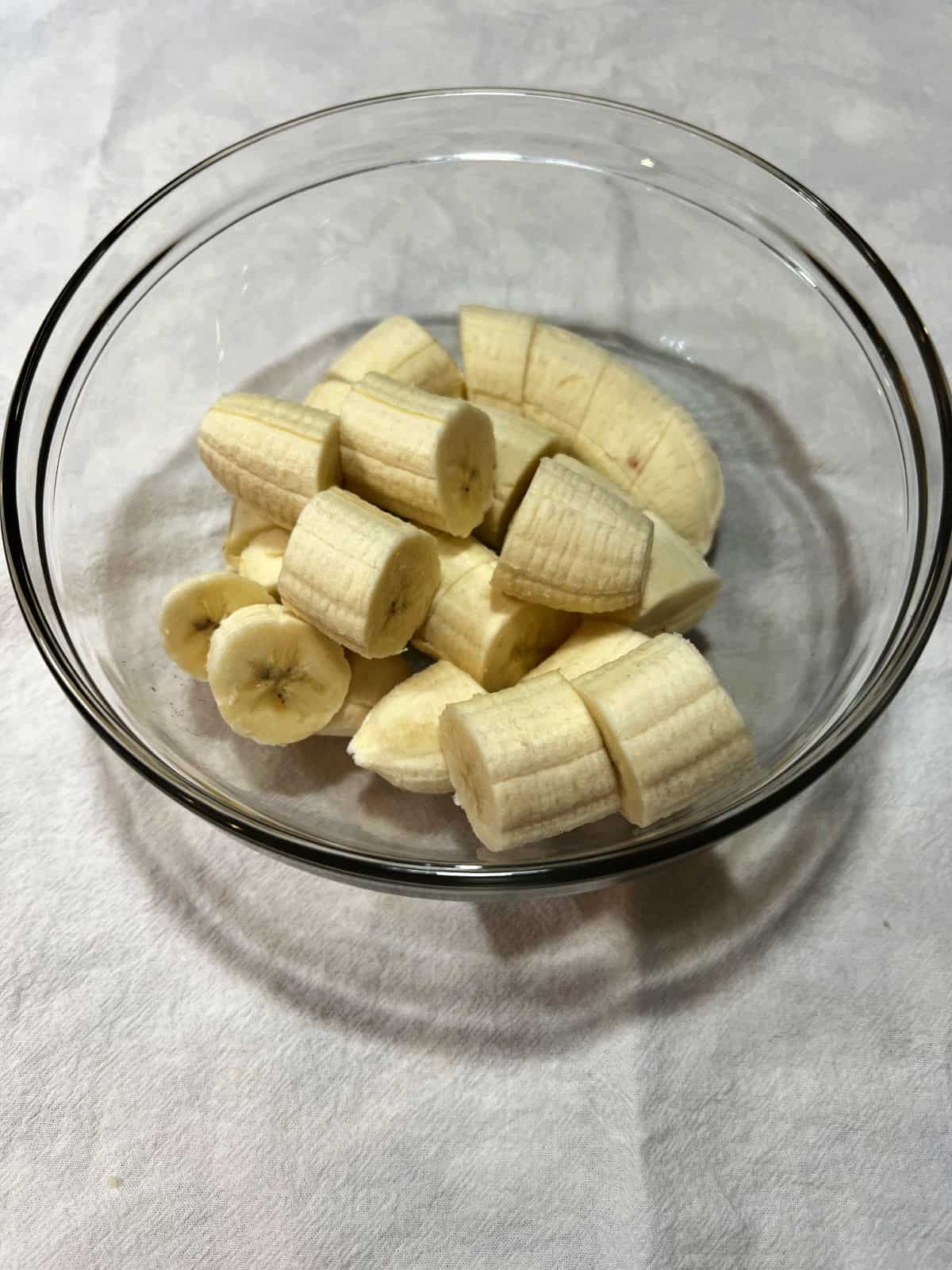 When it's time to make the nice cream, even a full-sized food processor is going to have a little trouble with fully frozen bananas. So I let them warm up a bit. If they've only been in the freezer 4 hours, you can probably skip this step. But if they've been frozen longer (overnight), let them sit 15 to 20 minutes.
Make the nice cream
Now, add the "mostly" frozen banana chunks to the food processor and start to process. Pulse at first to help break up the fruit. You'll need to pulse, stop and scrape, then pulse a few more times.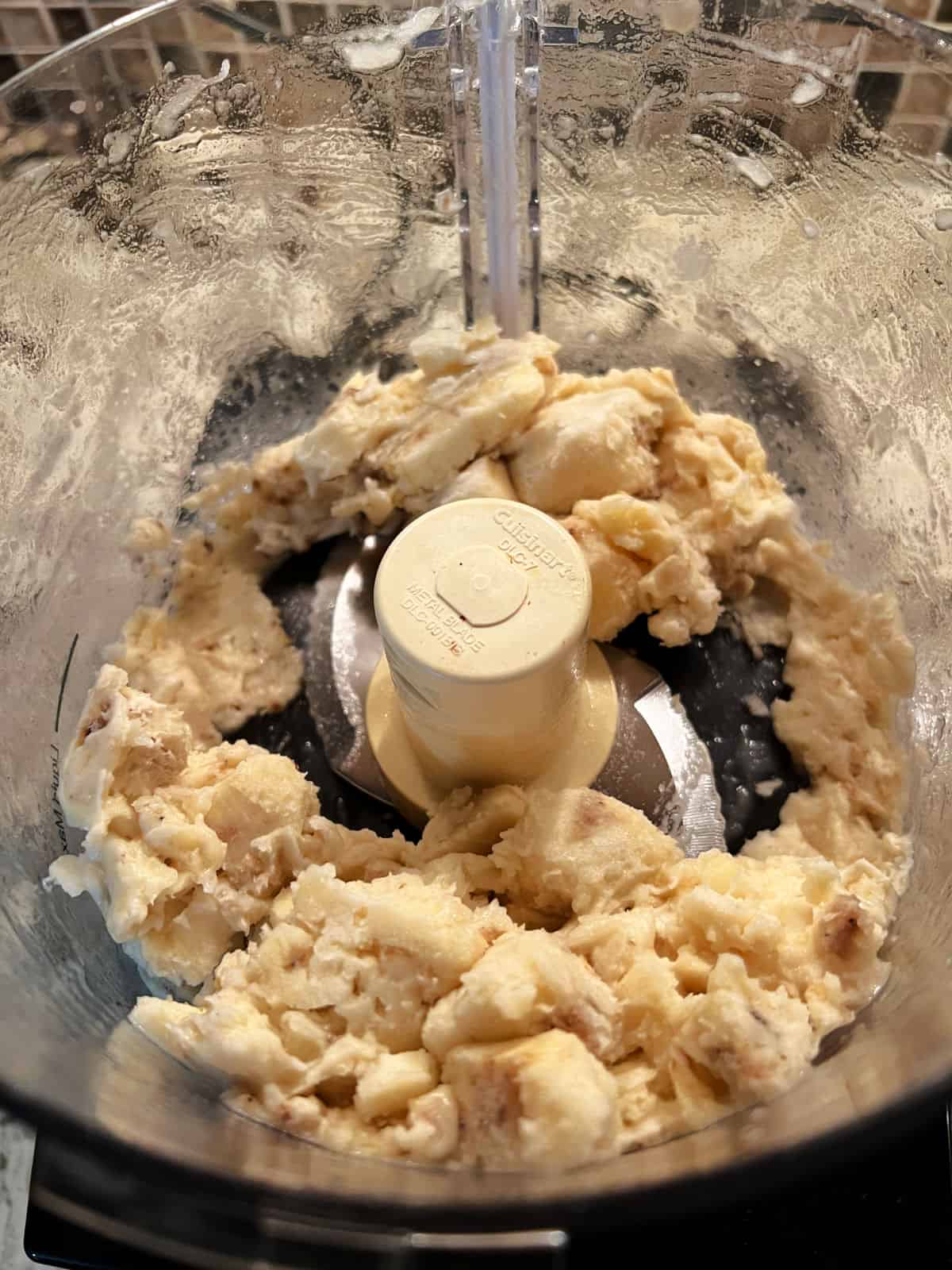 When the bananas are starting to break up a little, add the frozen raspberries.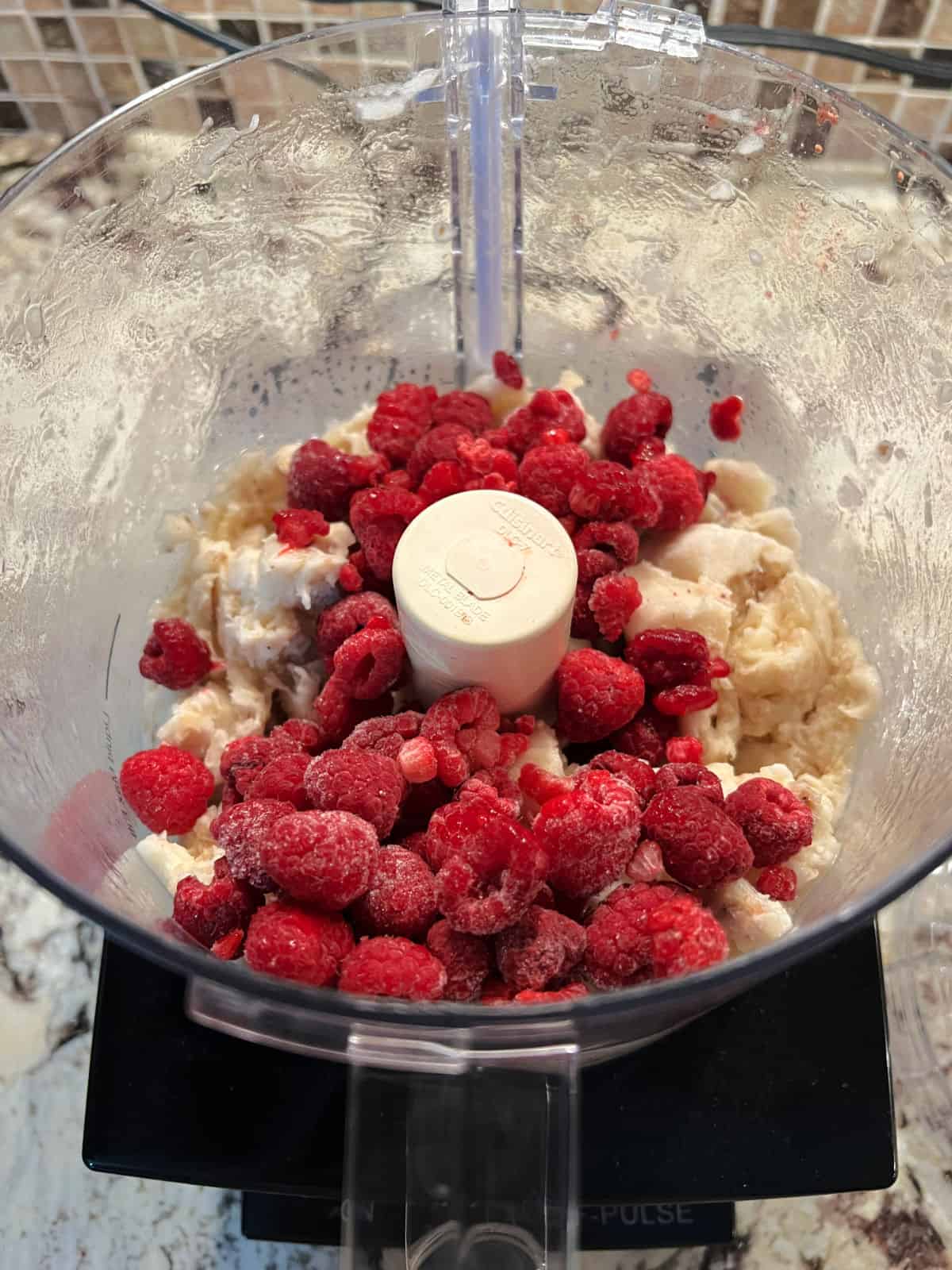 Again, process by pulsing, stopping, scraping, and repeating. As the fruit begins to form a smooth mixture, you can process for longer than just a pulse time.
Usually near the end the mixture looks really good except for one last stubborn glob of frozen banana. Just stop the processor, break up that last chunk, and spread it out evenly in the food processor bowl. Then cover and process one last time.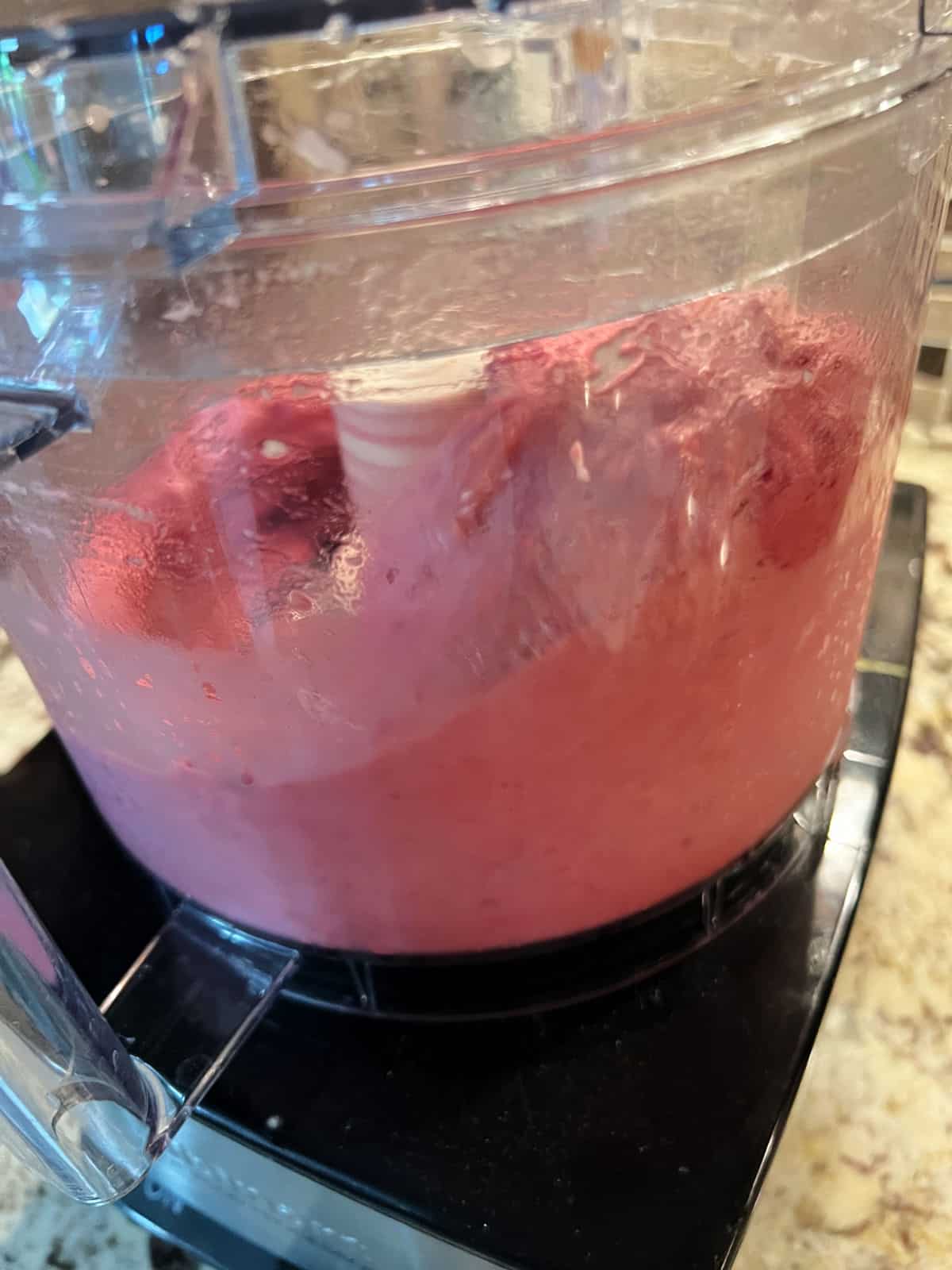 This sounds like a lot of steps but each one takes less than a minute, so it all happens very quickly.
In practically no time you'll have a lovely batch of raspberry nice cream. Vibrantly pink and full of flavor! You can serve it right away as soft-serve or put it in the freezer for later.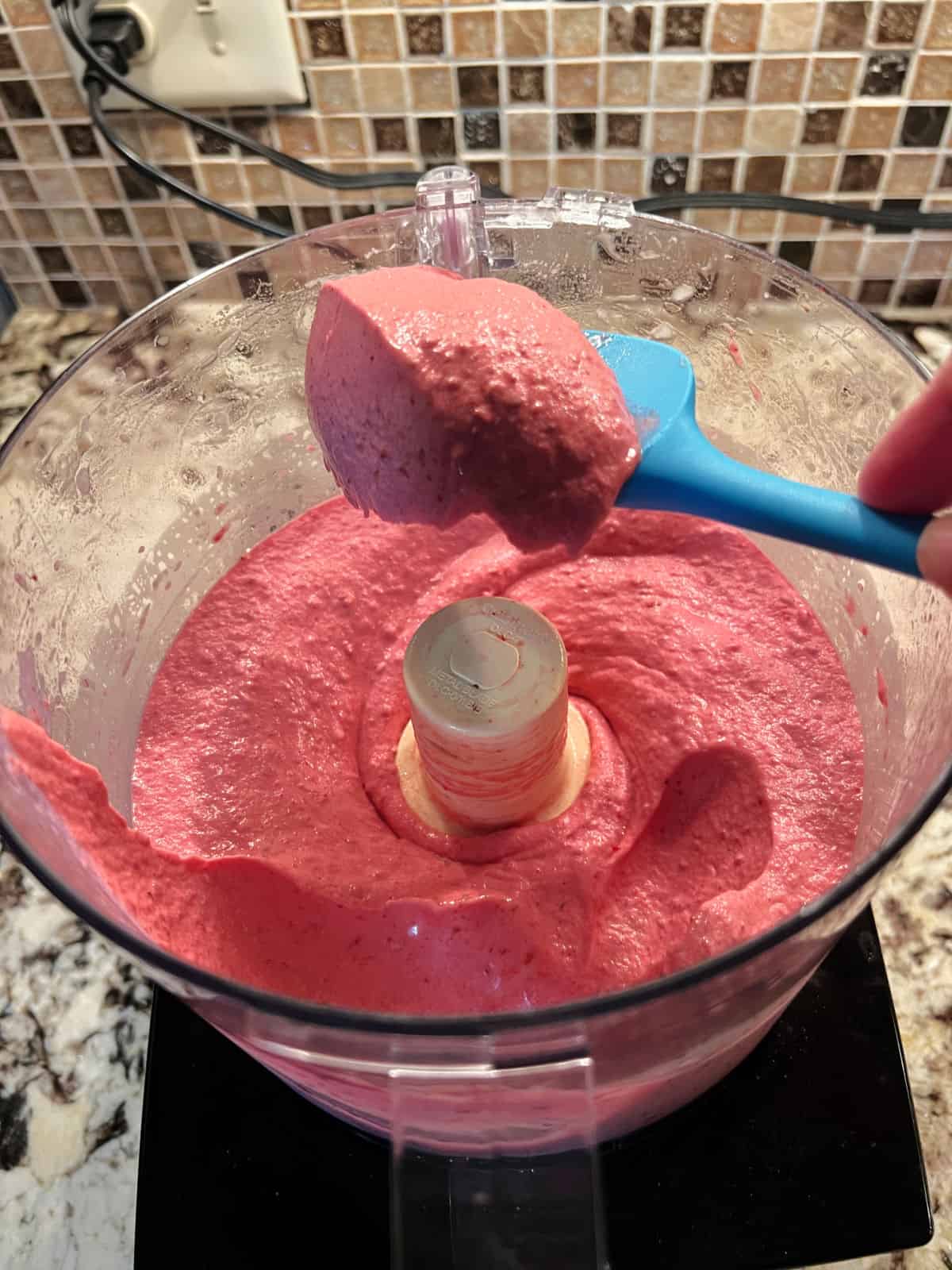 Expert Tips/FAQ
What is nice cream made of?
Nice cream is defined by what it is NOT made of: no dairy, and preferably no added sugar. Some recipes use oat milk or almond milk for additional liquid, but I prefer it without any milk.
Why is it called "nice" cream?
This delicious treat is very much like eating ice cream, but it is nicer in so many ways! Since the only ingredients are fruit, it is vegan. Since it contains no dairy, it is easier to digest. How often can you eat ice cream made of just whole fruit? Healthy is the word!
Does this nice cream taste like banana?
It was surprising to me that I didn't taste more banana. The banana taste is there, but the raspberry flavor is much stronger. Any fan of raspberries will love it!
Will this nice cream get super-hard when placed in the freezer?
I've tried several variations of nice cream recipes, some of which add a little almond milk or oat milk to help process the frozen fruit. In my experience the additional liquid causes the nice cream to freeze super hard. This recipe, which does not add any liquid, is still scoopable even after freezing overnight.
Raspberry Nice Cream Variations
We love this treat just as is, but if you're feeling a little adventurous here are a few flavor variations to try:
Raspberry Vanilla Nice Cream – add ½ tablespoon vanilla extract while processing.
Raspberry Mint Nice Cream – add 5-6 fresh mint leaves while processing.
Chocolate Raspberry Nice Cream – add in a little of your favorite type of chocolate: shaved dark chocolate or semi-sweet mini chocolate chips would be my choice. A little white chocolate would be yummy too. Please note that this will decrease the "healthy" score a little bit but totally worth it!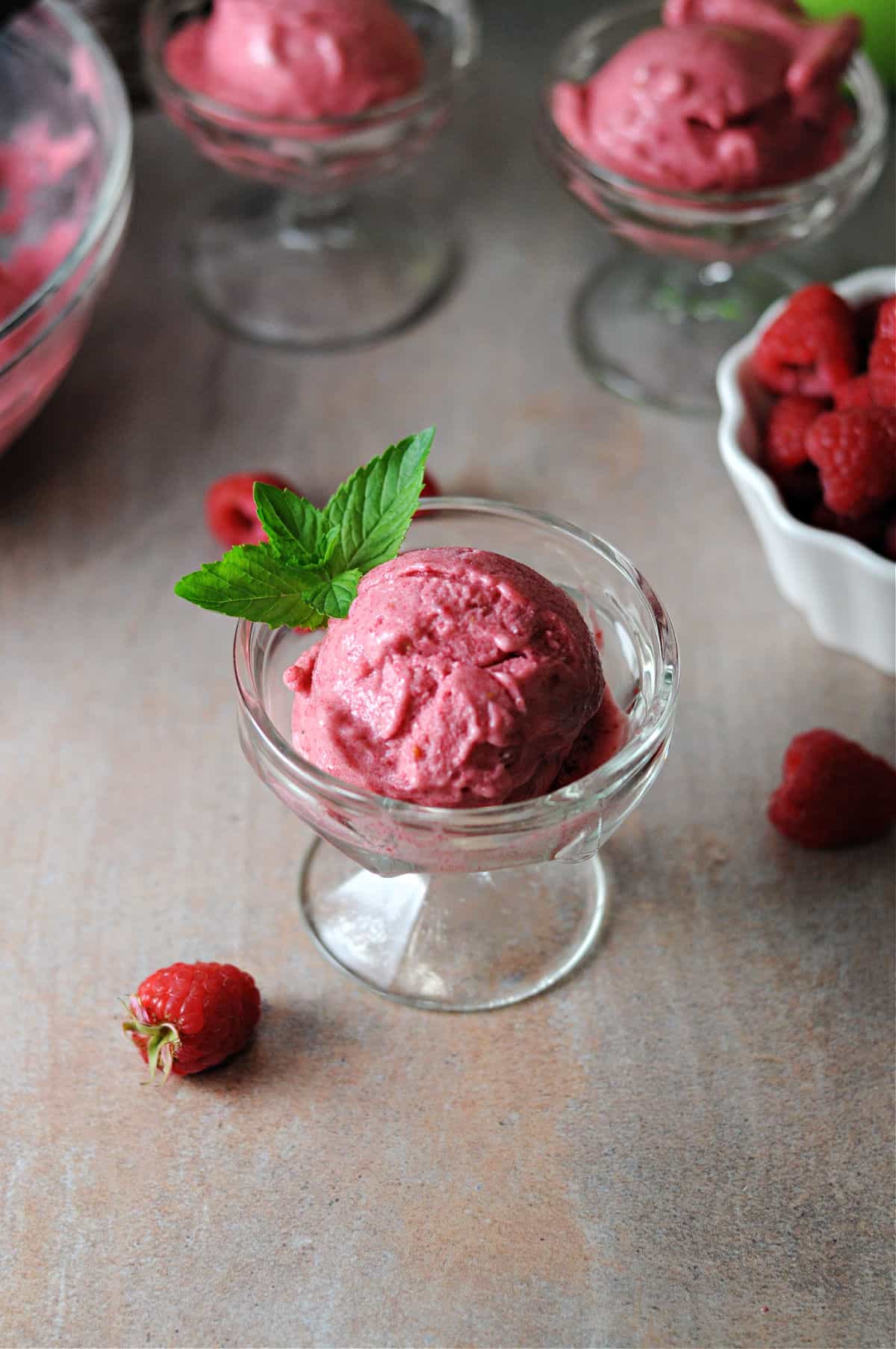 More Recipes for the Raspberry Lovers
Raspberry Nice Cream
Use your food processor to make this delicious raspberry nice cream with only 2 ingredients!
Ingredients
3

ripe bananas

frozen in chunks

1

cup

raspberries

frozen
Instructions
Remove the frozen fruit from the freezer and let sit at room temperature for 15-20 minutes, to partially soften.

Place bananas in food processor and start to process. Scrape sides frequently. When the bananas are starting to break up and form a smooth mixture, add the raspberries and continue to process, stopping to scrape the sides of the bowl as needed.

When the mixture is smooth, remove and serve right away or freeze for later.
Notes
If bananas are frozen for only 4 hours, they will probably not need to soften before placing in the food processor.
For even more raspberry taste, an additional ½ cup of frozen raspberries can be added to the food processor.
Try adding ½ tablespoon of vanilla extract, or 5-6 mint leaves, or some shaved chocolate for more flavor variations.
Nutrition
Calories:
94
kcal
|
Carbohydrates:
24
g
|
Protein:
1
g
|
Fat:
0.5
g
|
Saturated Fat:
0.1
g
|
Polyunsaturated Fat:
0.2
g
|
Monounsaturated Fat:
0.05
g
|
Sodium:
1
mg
|
Potassium:
362
mg
|
Fiber:
4
g
|
Sugar:
12
g
|
Vitamin A:
67
IU
|
Vitamin C:
16
mg
|
Calcium:
12
mg
|
Iron:
0.4
mg
Nutrition values are estimates only, using online calculators. Please verify using your own data.