One of the easiest and most popular appetizers is a simple meat and cheese tray. Or cheese and sausage, if you will. But with a little planning to your presentation, that simple collection of cold cuts can form a turkey shape on your platter. So fun and perfect for Thanksgiving!
Ingredients
Bread – one slice to make the "body"
Cold cuts – I used salami and pepperoni
Cheese – I used 2 types, deli sliced, one white and one orange
Crackers – I recommend an oval shape
How to make your meat and cheese platter in a turkey shape
I start with the bread. I used one slice, the "heel" of the loaf, to cut into a shape like the main body of a turkey. Right under this bread, make an overlapping row of pepperoni (or whichever sausage you prefer). The sausage will frame the body and help define the shape.
Main body - meat and cheese
For the cheese, you can go a couple different ways. Cookie cutters were a fun way to make some different shapes. I happen to have a bone shaped cutter as well as a witch's hat. I used those two to form some shapes from the two colors of cheese.
Form the outside layer with the cut cheese.
From there, I like to work toward the middle. The reason I make that outer ring first is to help define the shape. Otherwise, I tend to drift and end up with a lopsided tail.
Just fill in with layers of cheese and salami or pepperoni as you like.
I cut the cheese into simple rectangles for the inner layers, and I think either way looks just fine.
You get a lot less waste when cutting rectangles. (But I do save those scraps and use them in other ways)
Finishing touches for the turkey meat and cheese tray
Once the tail is filled in, I finish with the crackers. Oval shaped crackers work best for the look. Fill in around the tail and any open space on the platter with the crackers. I end up "tucking" crackers under that outer layer of cheese, which might make you wonder whether you should've put the crackers down first. The problem with this idea is that the crackers tend to slide around in that scenario, so I just add them after. Plus, if you want to assemble this ahead of time, you can keep it somewhere cool and add the crackers just before serving to maintain crispness.
For the final touch, I made eyes and a beak from the cheese. I used a plastic straw to make eyes from the white cheese and cut a little triangle of cheddar for the beak. I didn't bother to attach these in any way, they are just sitting on top of the bread.
Variations/creative ideas
You can definitely have some fun with the shapes of your ingredients. Simple triangles work very well, especially for the cheese.
I used both salami and pepperoni because they are different colors and provide a specific "look" to the end product. I also used 2 different sized salami slices. The larger slices I folded which also gives more depth to the tail. All these things are adaptable to whatever types of deli meat you most prefer.
For cheese, I like using 2 different colors but again, lots of choices here. For the orange cheese I used sharp cheddar, but a medium or mild cheddar or Colby would be great also. I like the white cheese to be something mild. I used Munster this time, but Havarti, Gouda, Baby Swiss, and Monterey Jack are all fantastic possibilities. You know what you like, so follow that instinct!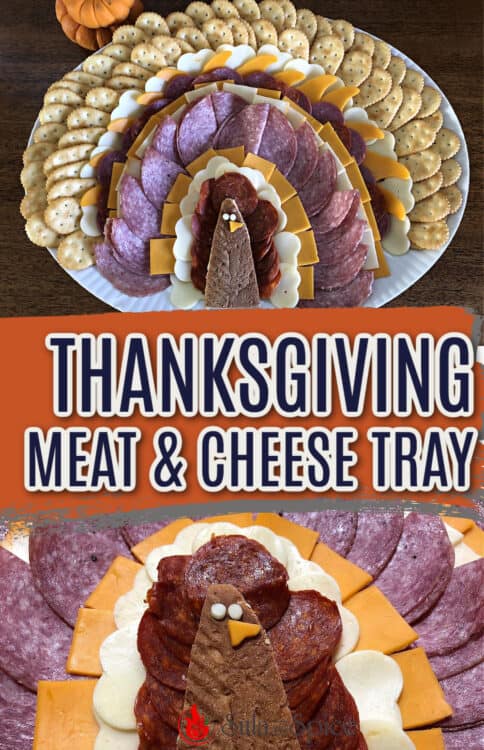 Creating a turkey meat and cheese tray is a fun and easy Thanksgiving appetizer!
📖 Recipe
Turkey Meat and Cheese Tray
Make your cheese and sausage platter into a fun turkey shape!
Ingredients
4

oz

Cheddar cheese

deli sliced

4

oz

mild white cheese

deli sliced

4 -6

oz

salami

4-6

oz

pepperoni

Bread – one slice for decoration

Crackers – for serving
Instructions
Cut the bread to a shape that resembles a bird body.

On a large platter, arrange a row of overlapping pepperoni in a pattern to be half exposed from under the bread.

Using the cheese, define the semi-circle outer edge of the turkey tail, using most of the space on the platter.

Fill in between the inner and outer edges with alternating layers of meat and cheese, as desired.

Use the crackers to fill in the empty spaces on the platter.
Notes
Nutrition estimates do not include crackers.
Nutrition
Calories:
72
kcal
|
Carbohydrates:
1
g
|
Protein:
4
g
|
Fat:
6
g
|
Saturated Fat:
3
g
|
Cholesterol:
17
mg
|
Sodium:
171
mg
|
Potassium:
29
mg
|
Sugar:
1
g
|
Vitamin A:
114
IU
|
Calcium:
83
mg
|
Iron:
1
mg
Nutrition values are estimates only, using online calculators. Please verify using your own data.
Other recipe ideas for Thanksgiving