I couldn't resist! I had to make one more fun treat for Halloween: Vampire Kiss Cookies!
Nothing beats a good cookie recipe, and this one is so fun, with cut out bite marks from a vampire, and raspberry jam "blood" oozing out. Fun to make, fun to eat!
Halloween party-goers of all ages will love these cookies!
Jump to:
Why I Love this Recipe
These cookies are all about having fun food for Halloween. And fun they are! Simple shortbread type cookies with "kiss of the vampire" bite marks oozing a little "blood" – i.e. raspberry jam. 🧛‍♂️
What's not to love? 😀
Ingredients Needed
Easy stuff here –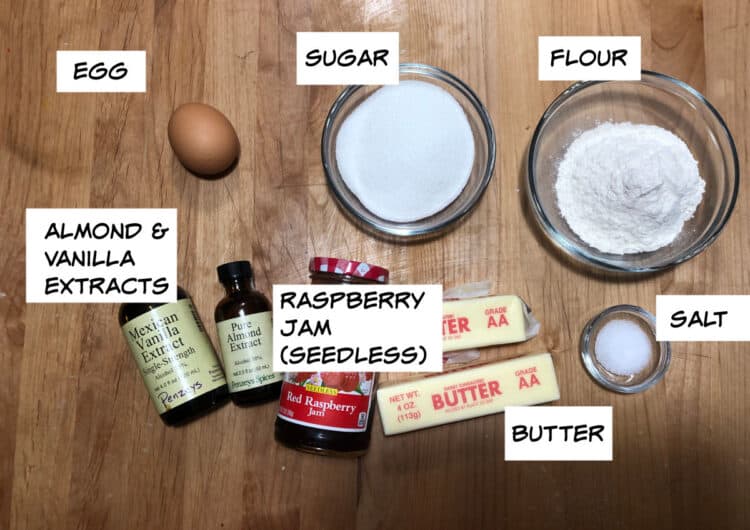 How to Make these Vampire Kiss Cookies
Start with the butter and sugar, beat it about 5 minutes until its light and fluffy. Then beat in the egg and extracts. Combine the flour and salt in a separate bowl, then gradually add to the butter/sugar mixture and mix well.
Place the dough on a piece of plastic wrap and flatten into a disk. Wrap the plastic around the disk and refrigerate for 30 minutes.
Once the dough is chilled, it's time to roll it out. This dough is quite sticky, so be sure to flour your rolling surface and have the flour standing by to use more as needed.
Form the cookies
Roll the dough out to about ⅛-inch thickness.
Then, cut out 2-inch circles. I used a biscuit cutter; you might have a cookie cutter or even a glass. Just be sure to flour the edges to help get a clean cut of your circles.
Half the circles will be the bottoms of the cookies, the others will go on top. I like to make the vampire "bites" in the tops at this time, using the narrow end of a Wilton decorating tip. If you don't have a suitable Wilton tip, just add the holes later.
Place the "bottom" circles on a baking sheet. The sheet should be greased or lined. I use a silicone mat which works beautifully.
Then place a teaspoon of raspberry jam in the middle of each circle. Be sure to leave the edges clean so they seal properly.
Place the "top" circles over the jam. I have found that lightly squeezing the edges of these circles before placing them on the cookie helps to spread them out slightly, so they fit better. Press the outer edges of the circles together lightly to seal.
If you haven't made the bite marks, now is the time. Use a couple toothpicks to make bite marks – punch the hole and swirl them around a little to get the size you want. Even when I make bite marks with a Wilton tip, I still touch them up as needed using this technique.
Bake
Now, bake for 10-12 minutes. You're not looking for the cookies to brown, just to set. Usually about 11 minutes is perfect for me. Remove the baking sheet and let the cookies cool on the pan for 5 minutes before removing to a wire rack to finish cooling.
During the baking process, some of the jam might ooze out of the bite marks. But for me, this only happens in a few cookies. So, to get that "drip" on all the cookies, use a little more jam and a toothpick. A flat toothpick works well. Just use the flat edge to "spoon" a tiny amount of jam, and then place it on the cookie to resemble a drip coming from the hole. It sounds a little odd, but it's actually very easy to do.
Expert Tips/FAQ
Does the jam have to be seedless?
You can use the kind with seeds, but it might be hard to work with, especially the decorating step at the end. Seeds in the blood? Not a great look. LOL
What to do if the dough is too sticky?
Be sure to roll out the dough with flour. Dust the disk with a little flour as you are rolling it out. Too much flour will make it too dry, and it will be difficult to form the sandwich and seal the edges together. So, a little sticky is expected, but do use flour as needed to make the dough workable.
What if I add too much flour and the dough is dry?
Wet the edge of the bottom circle to help the edges seal together. I haven't needed to do this yet, but that should help.
How to make sure the vampire kiss cookies are round?
These cookies do spread slightly while baking, so do not crowd the pan. In some of my process pictures you can see the cookies are not perfectly round – I crowded my first pan. Which was silly, since I knew I'd have a second pan anyway. The second pan of cookies had fewer, were spread out more, and came out perfectly round. 😀 Try to leave 1 - 2 inches between the unbaked cookies on the pan to allow for this.
More recipes for Halloween fun
📖 Recipe
Vampire Kiss Cookies
Delicious raspberry filled cookies with a vampire's kiss - bite marks with a little ooze. Everyone will love these!
Ingredients
¾

cup

butter

softened

½

cup

sugar

1

egg

room temperature

½

teaspoon

vanilla extract

¼

teaspoon

almond extract

1 ½

cups

flour

¼

teaspoon

salt

½

cup

seedless raspberry jam

plus more for decorating
Instructions
Preheat oven to 325F. In a large bowl, cream the butter and sugar together using a hand mixer on medium speed, for 5-7 minutes. Beat in the egg and the extracts. Combine the flour and salt in a separate bowl, then gradually add to the creamed mixture and mix well to make the dough.

Tear off a 12 to 18-inch piece of plastic wrap and transfer the dough to the wrap. Form the dough into a disk, wrap it in plastic and place in the refrigerator for 30 minutes.

Lightly flour your rolling surface and place the disk of dough on top. Roll the dough, using more flour as needed, to about ⅛-inch thickness. Cut circles using a 2-inch round cookie or biscuit cutter. Place half the circles on a greased or lined baking sheet, about 12-16 per sheet.

(optional) use a Wilton decorating tip to cut out 2 small "bite marks" in each of the matching circles.

Place one teaspoon of jam in the center of each circle on the baking sheet, then top with the remaining circles. Press the edges together lightly to seal.

If needed, use a toothpick to make or to fix the bite mark holes.

Bake for 10-12 minutes, until cookies are set. Cool for 5 minutes on the pan before removing to a wire rack to finish cooling.

If desired, use another toothpick and more jam to emphasize the bite marks.
Nutrition
Calories:
117
kcal
|
Carbohydrates:
15
g
|
Protein:
1
g
|
Fat:
6
g
|
Saturated Fat:
4
g
|
Polyunsaturated Fat:
1
g
|
Monounsaturated Fat:
2
g
|
Trans Fat:
1
g
|
Cholesterol:
19
mg
|
Sodium:
79
mg
|
Potassium:
17
mg
|
Fiber:
1
g
|
Sugar:
8
g
|
Vitamin A:
182
IU
|
Vitamin C:
1
mg
|
Calcium:
5
mg
|
Iron:
1
mg
Nutrition values are estimates only, using online calculators. Please verify using your own data.