Air fryers are great for cooking a lot of different foods, and now you can add BBQ chicken wings to the list!
The air fryer is fast and easy-you don't have to turn on the oven or step outside; you get delicious and perfectly cooked wings every time! You can season with only the dry rub (recipe provided) or also add your favorite barbecue sauce.
This recipe is perfect for anyone who wants to cook chicken wings in an Instant Pot Air Fryer without any hassle.
It's quick, simple, and tastes amazing!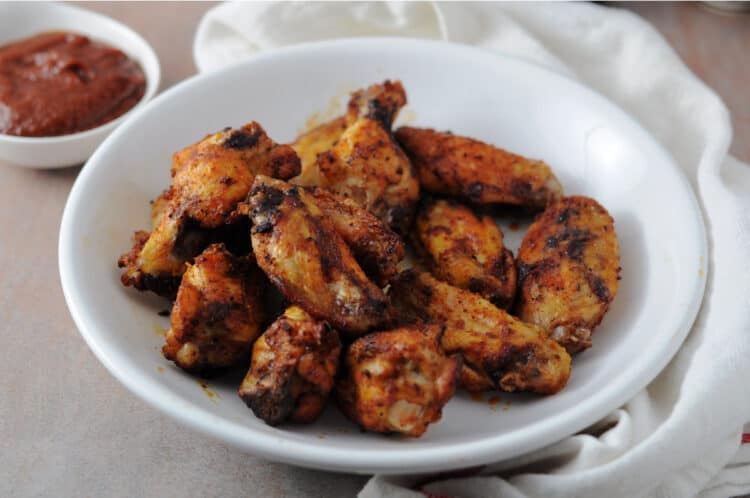 Why I love this recipe
Ever since I got my Instant Pot Air Fryer Lid, I keep finding more reasons to love it. It's super easy to use and doesn't require any oil! It really helps when you're in a hurry and just want to have some food ready quickly. Using chicken wings as an example, they cook evenly and the skin is a lot more crispy than it would be in the oven, so it's a great alternative to traditional baking or frying.
I have been making these wings all summer long. It's just too hot to turn on the oven and TBH, sometimes I don't even want to step outside to cook on the grill. That's HOT! That's when my air fryer comes to the rescue!
Ingredients
In addition to the wings, you only need five ingredients for the simple dry rub: Garlic powder, onion powder, paprika (smoked) and salt + pepper. It keeps it very easy yet adds the perfect punch of flavor to the wings.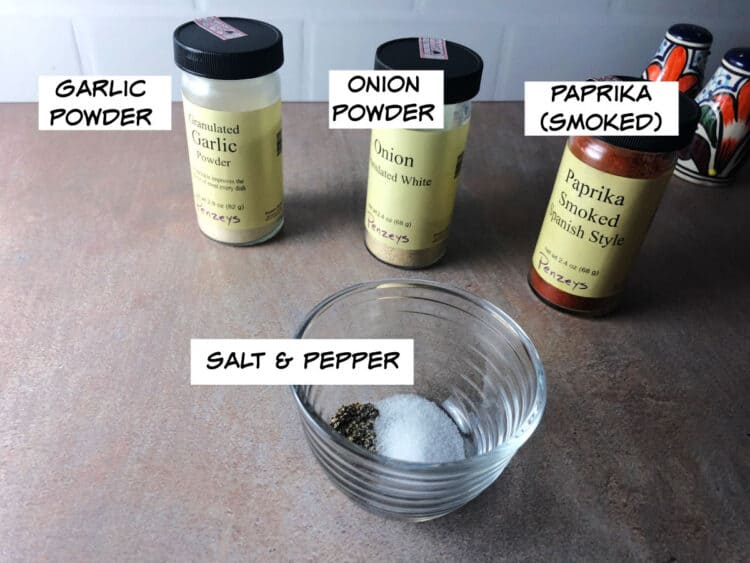 How to make (Instant Pot) Air Fryer BBQ Chicken Wings
First, make the dry rub. Mine is a simple blend of paprika, garlic powder, onion powder, salt and pepper. Many dry rubs also include brown sugar, which you can add if you wish. But I have found I enjoy these wings just as much without the added sugar, making them keto-friendly - win-win!
Then, pat the wings dry and season with the rub. If desired, you can brush with a little BBQ sauce here but I usually hold off on that until after cooking.
I use the Instant Pot Air Fryer Lid, which requires no pre-heating. Simply add the seasoned chicken wings to the basket of your air fryer. Cook in the air fryer for 18 minutes at 400°F, tossing about halfway (or when the air fryer tells you to turn the food).
When the cycle is done, the wings are ready to serve.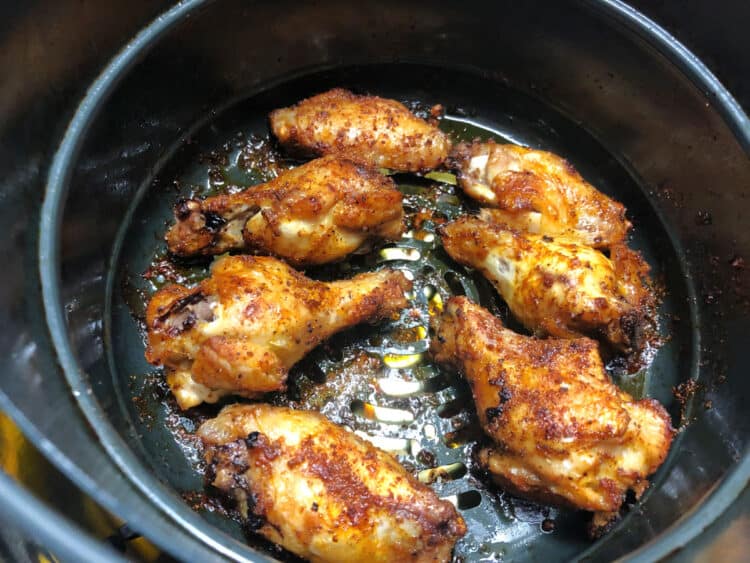 If you like extra-crispy skin, split the cooked wings into 2 equal batches and air fry each batch for an additional 3-4 minutes. By separating into smaller groups, you create more air circulation around the wings, which will facilitate crisping of the skin.
Brush, toss and/or serve with barbecue sauce as desired.
FAQs
What is an air fryer?
An air fryer is a kitchen appliance that uses circulating hot air to cook food. This method of cooking is similar to how people use the oven or a grill, but unlike those methods it doesn't require oil or butter because the food is cooked by the hot air.
How long does it take to make chicken wings in an air fryer?
It can take anywhere from 15-20 minutes to cook chicken wings depending on the size and the thickness of the cut, as well as the specific air fryer used. I use the Instant Pot air fryer lid, and the timing I use works perfectly with that air fryer. Watch time carefully as it will vary between brands and models.
Do these wings have a good crunch?
These wings are crispy enough to satisfy those who love fried food, but not too hard that you can't bite through them. If you like crispy skin, I recommend cooking as described, then cooking for an additional 3 to 4 minutes, half the wings at a time. By reducing the number of wings in the basket, you will be increasing the air circulation around them, helping to crisp up that skin.
Expert Tips
These wings are best enjoyed right after cooking, but if you want to keep them warm and crispy longer, I recommend placing the cooked wings in a basket or container with an open top then popping that into the oven at 200F.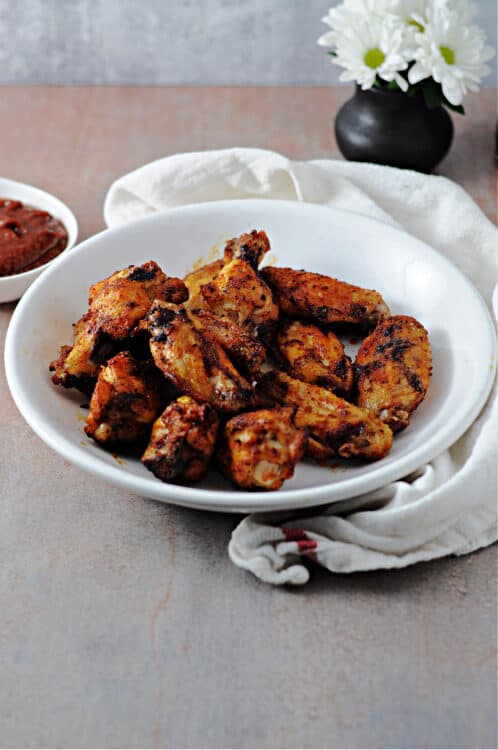 Related recipes - even more reasons to love your air fryer!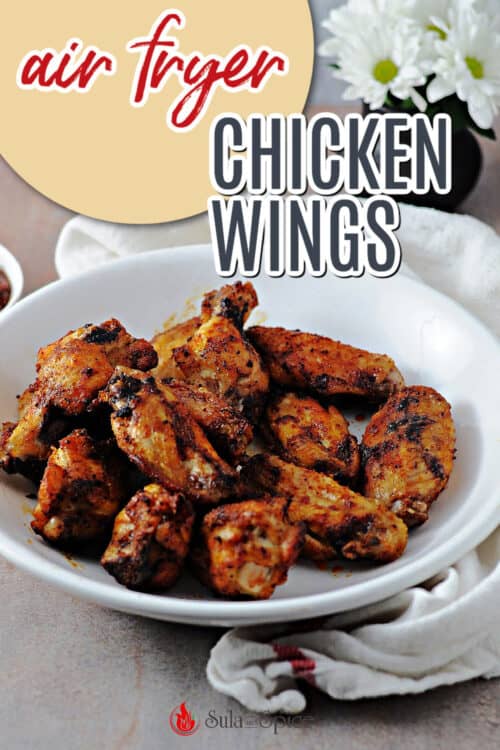 📖 Recipe
Instant Pot Air Fryer Chicken Wings
Delicious chicken wings with BBQ flavors are ready in 20 minutes. Perfect for a light meal or a game day snack!
Ingredients
1

– 1 ½ pounds chicken wings

1

teaspoon

paprika smoked

½

teaspoon

garlic powder

½

teaspoon

onion powder

½

teaspoon

salt

½

teaspoon

black pepper

optional 1-2 tablespoons BBQ sauce
Instructions
Mix seasonings in a small cup to make dry rub.

Pat chicken dry with a paper towel.

Sprinkle chicken with half the dry rub. Turn and sprinkle the rest on the other side of the chicken. If desired, brush a little BBQ sauce on each wing.

Place chicken wings in air fryer basket. Air fry 18 minutes at 400F. Turn wings about halfway through the cycle (or when air fryer signals you to do so).

Toss or brush with BBQ sauce if desired, or have sauce on the side. Ready to serve immediately.
Video
Notes
For extra-crispy chicken, add an additional 3 to 4 minute cycle for about half the wings at a time. You want the wings to be more spread out to facilitate the crisping of the skin.
To keep warm after cooking, place in an open-top oven-safe container in a warm oven until ready to serve.
Nutrition
Calories:
140
kcal
|
Carbohydrates:
1
g
|
Protein:
11
g
|
Fat:
10
g
|
Saturated Fat:
3
g
|
Polyunsaturated Fat:
2
g
|
Monounsaturated Fat:
4
g
|
Trans Fat:
1
g
|
Cholesterol:
47
mg
|
Sodium:
336
mg
|
Potassium:
117
mg
|
Fiber:
1
g
|
Sugar:
1
g
|
Vitamin A:
338
IU
|
Vitamin C:
1
mg
|
Calcium:
11
mg
|
Iron:
1
mg
Nutrition values are estimates only, using online calculators. Please verify using your own data.