Onion lovers unite! I am still enjoying my air fryer lid, and after the success with air fryer French fries, I knew I needed to try another: air fryer frozen onion rings.
Onion rings are a real favorite in this house, so I knew I'd meet no resistance trying them out!!
Ingredients needed
Just like for French fries, only 2 ingredients needed:
Frozen onion rings
Cooking spray
How to cook frozen onion rings in the air fryer
This process exactly matches the one for French fries, with one exception. I have found the cooking spray step to be more important for the onion rings. It is somewhat optional for French fries, but if I omit the spray for the onion rings, they always stick to the basket.
Therefore, spray the basket, then add the frozen onion rings. No need to thaw first.
Set the lid to air fry for 18 minutes and start the program. The lid will signal after about 10-11 minutes to turn the food. Just remove the lid, shake the basket a few times, then replace the lid. The cycle will automatically resume and then signal when it is finished.
Please note that my results are specific to the Instant Pot Air Fryer Lid, and Ore-Ida onion rings. Expect slight variation with different types of air fryers and different brands of onion rings. But the beauty of this method is, it is so easy to make small adjustments. Maybe start with a 17-minute cycle, then add a minute or two after if the onion rings seem under done.
I also make a half bag at a time, which is 8 ounces of onion rings. When I "over-pour" French fries, I find they need more time. So, I would expect the same of onion rings, but I have never tried it. Not yet, anyway. 😎
Why I love using the Air Fryer
Sometimes I think our weather has 2 seasons: Grilling season and "too cold to grill." If it's grilling season, you probably don't want to heat up the oven to make onion rings. Air fryer: great solution.
Too cold to grill? Your oven is probably busy with other things! Again, the air fryer wins the day!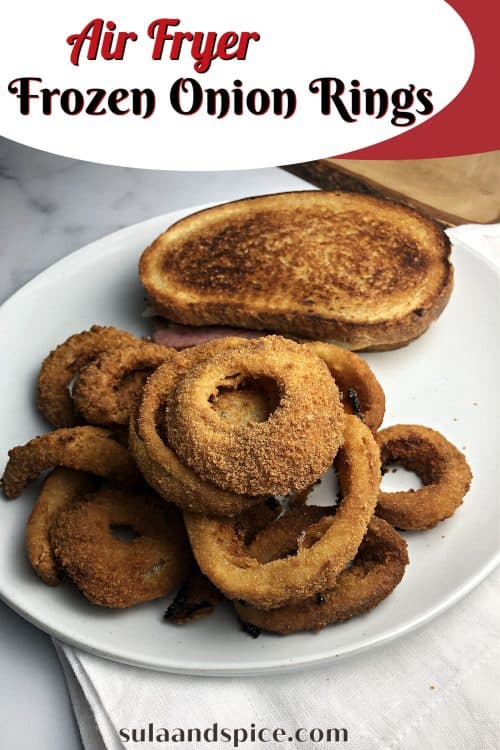 If you like onion rings, you will LOVE making them in an air fryer!
Air Fryer Frozen Onion Rings
Frozen Onion Rings cook up perfectly in an air fryer!!!
Ingredients
8

ounces

frozen onion rings

½ bag

Cooking spray
Instructions
Spray air fryer basket with cooking spray.

Add onion rings loosely to basket.

Set air fry program for 18 minutes. Remove lid and shake basket when the lid signals to turn food.

When cycle is complete, check onion rings for crispness. Repeat with another 2-minute cycle if crispier rings are desired.
Video
Nutrition
Calories:
200
kcal
|
Carbohydrates:
26
g
|
Protein:
3
g
|
Fat:
10
g
|
Saturated Fat:
1.5
g
|
Trans Fat:
0
g
|
Cholesterol:
0
mg
|
Sodium:
390
mg
|
Fiber:
1
g
|
Sugar:
2
g
|
Iron:
0.9
mg
Nutrition values are estimates only, using online calculators. Please verify using your own data.
What to serve with air fried onion rings
The sky is really the limit here, isn't it? Onion rings can complement so many meals, here are a few ideas to start with: