Today I am continuing the Air Fryer love with one of my favorite vegetables: broccoli. As you probably realize, broccoli has a "superfood" reputation, due to its high concentration of nutrients and antioxidants that support our health.
Add in low calories, high fiber, and delicious taste and you have pretty much the perfect side to go with any meal!
Ingredients needed for Air Fryer broccoli
Don't you just love a short ingredient list? This is one of those.
Broccoli
Olive oil
Salt + pepper
How to make broccoli in the Air Fryer
Air frying is quite similar to roasting, especially for vegetables. So the process is similar. Simply separate the broccoli into equal-sized florets, drizzle with olive oil and season with a little salt and pepper. Make sure you've tossed the florets around to evenly coat them all with a little oil.
Then, place the broccoli in your Air Fryer basket and air fry for 8 minutes. Shake the basket about midway to help promote even heating.
Give your broccoli a quick test to be sure it's cooked to your satisfaction. Sometimes, if my florets are a little large, I end up adding another 2 minutes of cook time just to get the tenderness I want.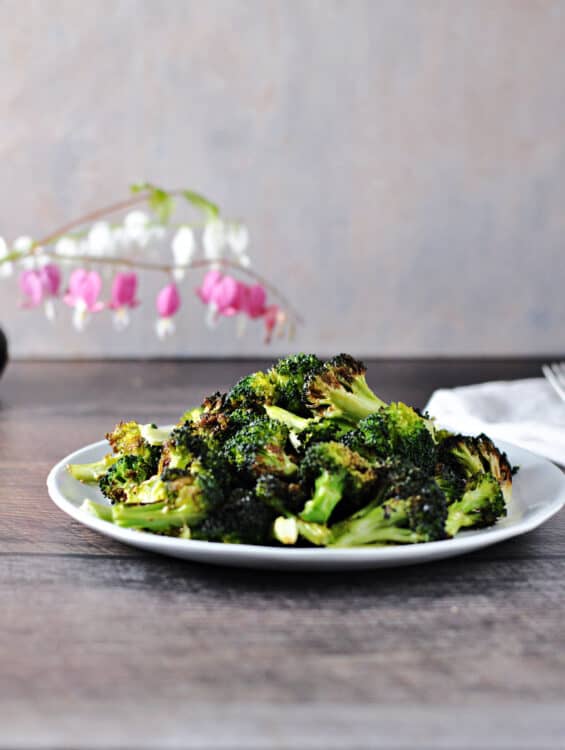 Why I love this
I am a big fan of roasted vegetables. I've roasted (and posted) carrots, cabbage and Brussels sprouts. The combination of crispy edges with tender insides is irresistible to me.
The Air Fryer gives the same effect. Tender broccoli with browned edges. Just like your oven. Except you don't have to worry about hot spots and whether the pan needs to be turned.
The oven is still going to be the best choice for very large batches of roasted vegetables, but for a few servings, the Air Fryer wins on ease, speed and convenience. Plus, it doesn't heat up your house, and doesn't compete with other menu items for the oven or microwave.
If you're already using your grill, you can also make broccoli in foil on the grill. Another way to get tender and super flavorful broccoli without heating up the house!
Variations
I left this simple, with salt and pepper seasoning. But you can certainly mix up the seasonings a little if you prefer. Try a little garlic powder and onion powder. Or maybe you like a few red pepper flakes mixed in? I sometimes sprinkle a little Parmesan cheese on the cooked broccoli. It's pretty easy to make the taste your own, so don't be afraid to try a few combinations.
I use the Instant Pot Air Fryer lid, so my settings and results are based on that. If you use a different model (there are so many!) just pay close attention the first time you try this. When you toss the florets about midway through the cycle, they should be starting to soften, and the edges will be a little brown. If you see that, you are on the right track. 😀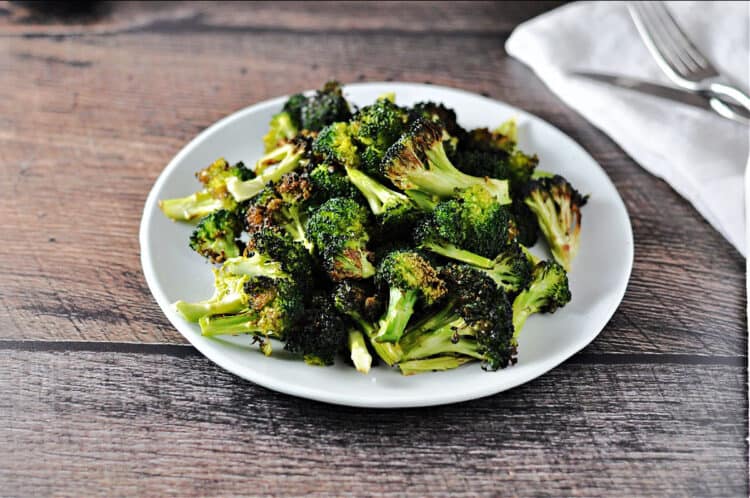 More Air Fryer recipes to love
The air fryer is my newest favorite way to make chicken thighs - crispy and delicious!
Now you can also use it for vegetables, like this broccoli or even air fryer rutabagas!
If you want an easy way to make frozen waffle fries, french fries, or onion rings, the air fryer wins again!
And if you want one recipe to convince you that the air fryer is the greatest thing ever, try making taquitos with an Air Fryer. So amazingly good!
This air fryer broccoli will be your go-to side all year long!
📖 Recipe
Air Fryer Broccoli
Tender broccoli with crispy roasted edges in minutes using your air fryer!
Ingredients
10

ounces

broccoli florets

about 2 crowns cut up

3-4

Tablespoons

olive oil

Salt and pepper to taste
Instructions
Drizzle broccoli florets with olive oil and toss to coat.

Season with salt and pepper and toss again.

Place in Air Fryer basket. Set Air Fryer for an 8 minute cycle, 400F.

Toss the broccoli about midway through the cooking cycle.

When cycle is done, taste or use a fork to determine doneness. Larger florets might need an additional 2 minutes of cooking time.
Video
Nutrition
Calories:
117
kcal
|
Carbohydrates:
5
g
|
Protein:
2
g
|
Fat:
11
g
|
Saturated Fat:
1
g
|
Sodium:
24
mg
|
Potassium:
224
mg
|
Fiber:
2
g
|
Sugar:
1
g
|
Vitamin A:
442
IU
|
Vitamin C:
63
mg
|
Calcium:
33
mg
|
Iron:
1
mg
Nutrition values are estimates only, using online calculators. Please verify using your own data.