Guess who got an air fryer for Christmas? Yes, I did! And I am really looking forward to exploring this different way of cooking some favorites.
Where to start? Air fryer frozen French fries, of course. LOL
I mean, aren't we all looking for a faster and easier way to cook up some frozen fries for a quick side dish? I had to know how this cooking method worked, and fries seemed like the logical place to start.
Ingredients needed
Frozen French fries
Cooking spray
Pretty easy, right?
Disclosure: I have omitted the cooking spray more than once and had no issues with my fries. In theory, without the spray they will stick to the basket. This is probably variable depending upon the type and brand of fries you buy, so use the spray the first time and then, if you're feeling brave, experiment without it another time.
How the Instant Pot Air Fryer Lid works
I have an Instant Pot and my air fryer is a lid that goes right on it. What a relief – I did not need another whole appliance! The lid does take up a fair amount of room, but at least it's not as big as most of the other choices out there.
The lid is basically an intense heating element. The default temperature for air frying is 400F. It also circulates air while cooking the food. This results in some differences between the cooking methods:
Speed to preheat: the air fryer takes less than 5 minutes (exactly 3.5 when I timed it) to come up to temperature. I'm sure it helps that it is only heating a very small area within the Instant Pot's stainless steel inner pot. This is compared to the 15-20 minutes it takes my full-sized oven to preheat to 400F.
Speed to cook: Long ago I adopted the habit of cooking frozen French fries for about double the time suggested on the package. Whenever I followed the package instructions, they were too soft and mushy for us. I like a little crisp to my fries! This means I would be baking the fries for 45-60 minutes. In the air fryer, this time is much shorter! I usually go for 18 minutes, but it does vary a little by type (see below)
Flipping the fries: when using the oven, you need to remove the baking sheet about halfway thru the cook time and flip the fries with a spatula. The Instant Pot air fryer beeps at you when it's time to do this. And the fries are in a basket, not in an even layer. I have found it easiest to simply lift the basket and give the fries a good shakey-shake to mix them up a little. This does help to promote even heating, and it's a lot faster and simpler than turning with a spatula.
Texture of the fries: well, this is what it's all about, right? In the oven, I get a few burnt fries and a few that are a little soft but am trying for most of them being crisp on the outside and tender inside. This happens more evenly and near-perfectly with the air fryer. This alone sells me on the air fryer – it is definitely living up to the hype!
Variations
Not all frozen fries are created equal, and different cuts and brands will likely yield different results. For example, I tried 2 different "types" of fries, both within the same brand: Ore Ida. My usual purchase is called "Golden Crinkles" but I also tried a similar fry called "Golden Crispers."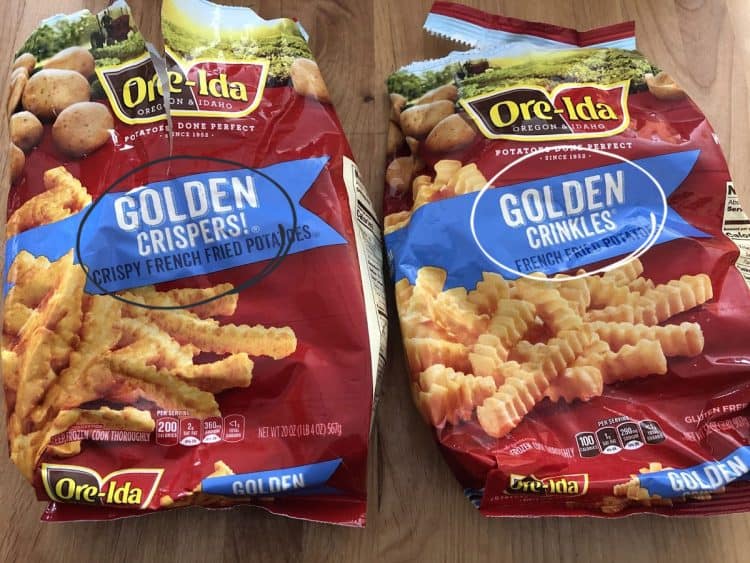 In my experience, the golden crispers get…really crisp! And fast! They are done MUCH more quickly than the golden crinkles. I air fried the crispers for 18 minutes and they really were too crisp.
So when you are trying your air fryer, start with 15 minutes and then add from there. Once you know your perfect time, stick with the same brand and cut of fries and you'll be good!
And don't be afraid to add a little time. I air fry a half bag (16 oz) at a time but if I "over pour" slightly, the time does need to be lengthened. Whenever the cycle is done, always do a quick taste test.
If you think your fries need a little more, go ahead and give them another shake, replace the air fryer lid and set it to air fry for another 2-3 minutes. It's easy to dial it in to get your preferred texture!
16 ounces of French fries is officially 5 servings. But c'mon, who are we kidding? If you are feeding a crowd, I recommend making the fries in 2 batches. You probably could air fry the whole bag at once, but I've never tried it and I think packing the basket too full would interfere with the air circulation – an important part of the air frying process!
So don't rush it, make your fries in small batches to ensure they are all the best they can be!
What to serve with your Air Fryer French fries
Well, this is pretty easy right? We Americans will eat fries with just about anything, but here's a few ideas to get you thinking:
Once you've made frozen French Fries in the Instant Pot air fryer, you'll never want to make them any other way!
Air Fryer Frozen French Fries
The very best way to get perfectly cooked fries using your Instant Pot Air Fryer lid!
Ingredients
16

oz

French Fries

frozen

Cooking spray
Instructions
Spray the air fryer basket with cooking oil spray to prevent sticking.

Place basket in the Instant Pot inner pot, add fries, then place the air fryer lid in place. Set timer for 15-18 minutes.

Air fryer will beep when it is time to turn the food (after 11 minutes for an 18-minute cycle). Remove the lid, shake the basket a few times, then replace the lid and resume the cycle.

Air fryer will beep and go into cool down mode when the cycle is complete.
Video
Notes
Cooking times may vary by brand and cut of frozen fries. The first time trying this, you might want to start with a 15 minute cycle and add from there. If fries seem under done at the end of the cycle, simply repeat for another 2 to 3 minute cycle.
Nutrition
Calories:
236
kcal
|
Carbohydrates:
27
g
|
Protein:
3
g
|
Fat:
14
g
|
Saturated Fat:
4
g
|
Sodium:
445
mg
|
Potassium:
390
mg
|
Fiber:
4
g
|
Vitamin C:
6
mg
|
Calcium:
8
mg
|
Iron:
1
mg
Nutrition values are estimates only, using online calculators. Please verify using your own data.
More potato sides