When I'm following a low carb diet, I crave things like smoothies. Sweet and delicious, they are a great way to start the day.
So I decided to see if I could develop a keto-friendly smoothie that would still taste great and satisfy that craving. And it took a bit of trial and error, but I am finally happy with this Keto Strawberry Smoothie.
Are smoothies keto friendly?
The typical smoothie is not keto friendly. Most use sweet fruits and fruit juices, sometimes added protein powder for satiety. But all these ingredients are high in simple sugars and carbs. Everything you are trying to avoid on a keto or low carb diet.
Is fruit keto friendly?
Most fruit has too many carbs to be considered keto-friendly. However, many berries are perfectly fine. The best are strawberries, raspberries and blackberries for both total and net carbs. Blueberries, unfortunately, are a little higher in carbs and therefore should be limited. (I say unfortunately because they are one of my favorites!)
Ingredients needed for this keto strawberry smoothie
If I'm making a smoothie in the morning, I want it to be quick and easy. The shorter the ingredient list, the better. So I am particularly delighted that this smoothie only requires 4 ingredients.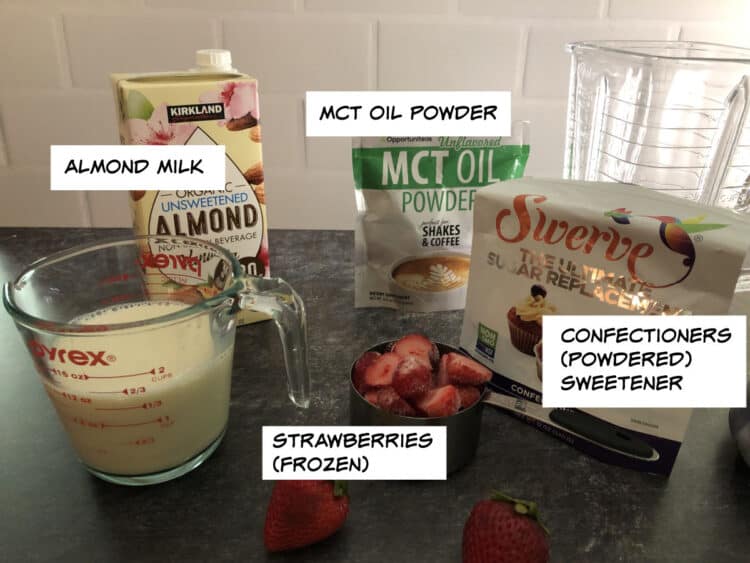 Frozen strawberries (fresh can be used, but then you'll also want to add ice when blending)
Almond Milk – gives the smoothie creaminess in a low carb form. I prefer vanilla flavored for a little extra sweetness
MCT powder – MCT stands for "medium chain triglycerides". The powder is completely unflavored, and full of healthy fats as it is derived from coconut. I use this instead of protein powder to help meet the needed macros for fats, but in a healthy way and also to increase the satiety level of the smoothie. In other words, I don't feel hungry 10 minutes after having one!
Powdered (confectioners) sweetener – at first I was going to list this as an optional ingredient. However, I feel that strawberries are not sweet enough on their own in a smoothie. So I add sweetener. And I decided that if I add it 95+% of the time, I shouldn't call it optional. LOL However, feel free to make this smoothie without the sweetener and see if you like it. If you enjoy it without, then you can count me as jealous that you don't have the out of control sweet tooth I seem to have!
Making the low carb smoothie
The only equipment you need is a good blender. Doesn't have to be a $500 blender, but you want one strong enough to break up the frozen berries.
I buy whole frozen berries and cut them in halves or smaller. Mostly this is just to give an accurate measurement of the berries for the smoothie. If you take a measuring cup and start filling with whole frozen berries, you will commonly end up with 3 huge berries and a ton of air in the cup! Nutrition information is based upon a cup of strawberry halves.
Place the strawberries, almond milk, MCT powder and sweetener in the blender. Blend on high for a minute or so, until smooth.
Low carb smoothie variations
As mentioned above, fresh strawberries work too. If you can find ripe, in-season berries you will get the best flavor. Especially anything local. But you will also want to add about a cup or so of ice to the blender to get your smoothie to the right temperature. Trust me, a warm-ish smoothie is not very appealing!
If you're in an extra-fruity mood, add another ½ cup of berries.
And of course, you can use coconut milk or dairy milk if you prefer, just check the macro levels for these if you are trying to keep the smoothie low carb.
Don't have MCT powder? Use 1 cup almond milk plus ½ cup heavy cream instead of almond milk + MCT powder. Or try 1 cup almond milk plus ½ cup Greek yogurt. This works too! The heavy cream or yogurt will provide the fats you need and additional creaminess. But again, the taste and texture will be slightly different, and the macros do change with any substitution so pay attention to that.
Once you try this keto strawberry smoothie, you'll want to make it on repeat!
Keto Strawberry Smoothie
This low carb smoothie is the perfect start to your day!
Ingredients
1

cup

strawberries

frozen, halved

1 ½

cup

almond milk

1

scoop MCT powder

1

Tablespoon

confectioners sweetener

I use Swerve
Instructions
Add all ingredients to a blender.

Blend on high speed until well mixed, about 30-60 seconds. Pour into a glass to serve.
Video
Notes
If using fresh strawberries, add a cup of ice when blending.
Nutrition
Calories:
184
kcal
|
Carbohydrates:
13
g
|
Protein:
3
g
|
Fat:
14
g
|
Saturated Fat:
9
g
|
Polyunsaturated Fat:
2
g
|
Monounsaturated Fat:
2
g
|
Sodium:
489
mg
|
Potassium:
220
mg
|
Fiber:
4
g
|
Sugar:
7
g
|
Vitamin A:
17
IU
|
Vitamin C:
85
mg
|
Calcium:
473
mg
|
Iron:
1
mg
Nutrition values are estimates only, using online calculators. Please verify using your own data.
More keto snack ideas