When time is limited in the morning, overnight oats are a life saver!
Delicious oats that are nutritious and satisfying, ready to eat when you need them.
Once you try these overnight oats, you'll understand why so many rely on them for a great start to the day. You can customize the tastes and even switch it up day to day to suit your mood.
I started with peanut butter overnight oats, which is a kid-pleaser for my granddaughter. And then I tried a new version, with Lotus Biscoff spread. Biscoff overnight oats are my new favorite!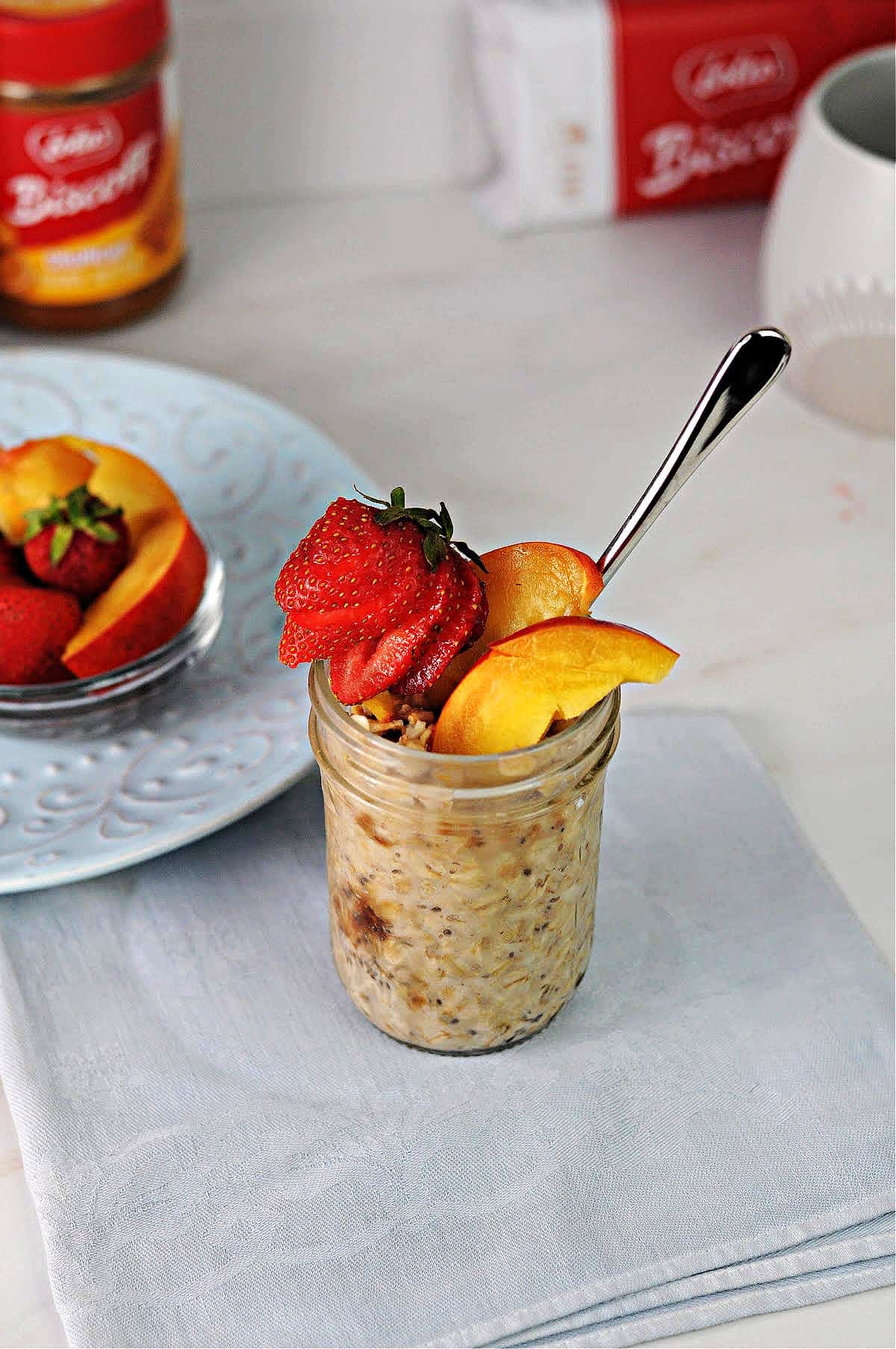 Why I love this recipe
Have you tried the Biscoff cookie butter spread yet?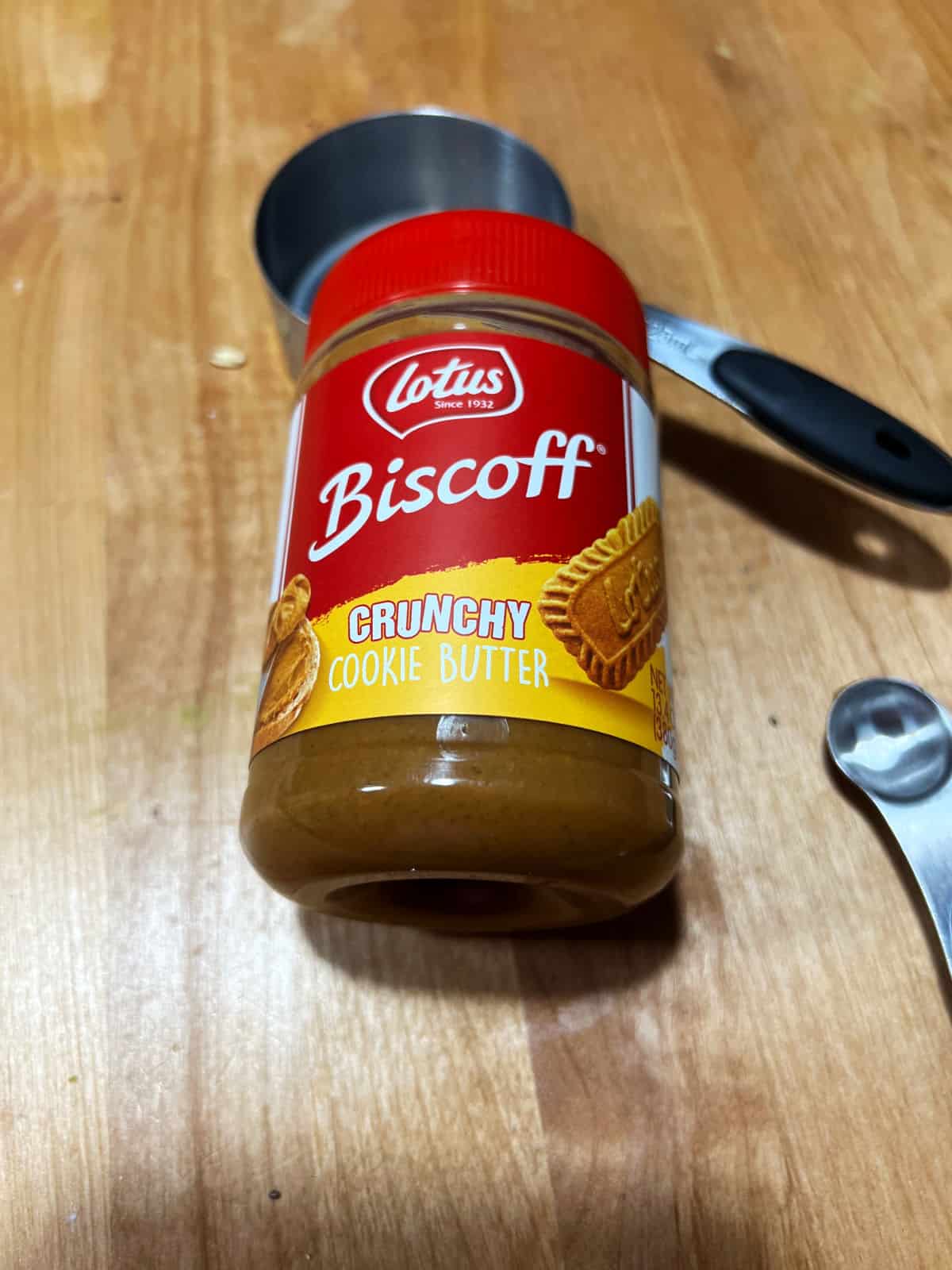 Available in either creamy or crunchy (just like peanut butter) the spread delivers all the yummy taste of Biscoff cookies. I use it to make easy Biscoff fudge during the holidays. When I make the fudge, the taste of maple seems to come through.
But in these oats, the cinnamon is what really seems to shine for me. It gives these overnight oats a whole different flavor profile.
And, when I make the peanut butter version, I add in brown sugar to help sweeten the oats. When I use the Biscoff spread, the overnight oats are plenty sweet, and no additional sugar is necessary. I've been trying to reduce my sugar intake, so this is a win-win!
Ingredients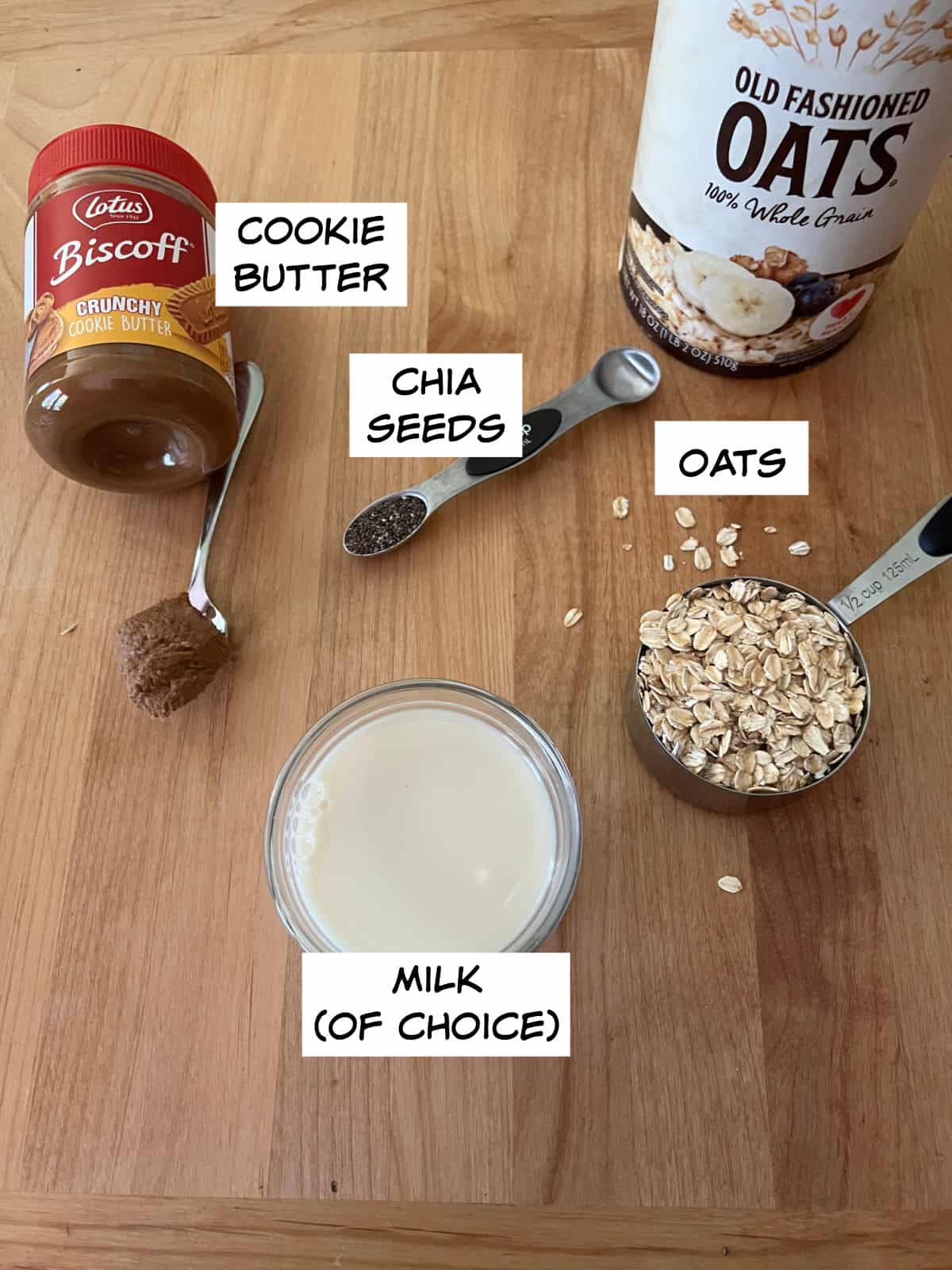 How to make Biscoff Cookie Butter overnight oats
One serving of oatmeal begins with ½ cup of oats. I use old fashioned rolled oats. I've never tried quick oats, but I think the texture might be a little mushy for this recipe.
Keep in mind that you may or may not want a full serving. Sometimes I start with ⅓ cup each of oats and almond milk.
I like to use a small jar, but a Mason jar or bowl works just as well. Add the oats, milk, chia seeds, and Biscoff cookie butter to the jar and give it a stir. This is mostly to get the oats evenly "wet" and the cookie butter into the mix, instead of just sitting on top.
Now, cover the container and stick it in the fridge. Leave overnight and in the morning your oats are ready to go!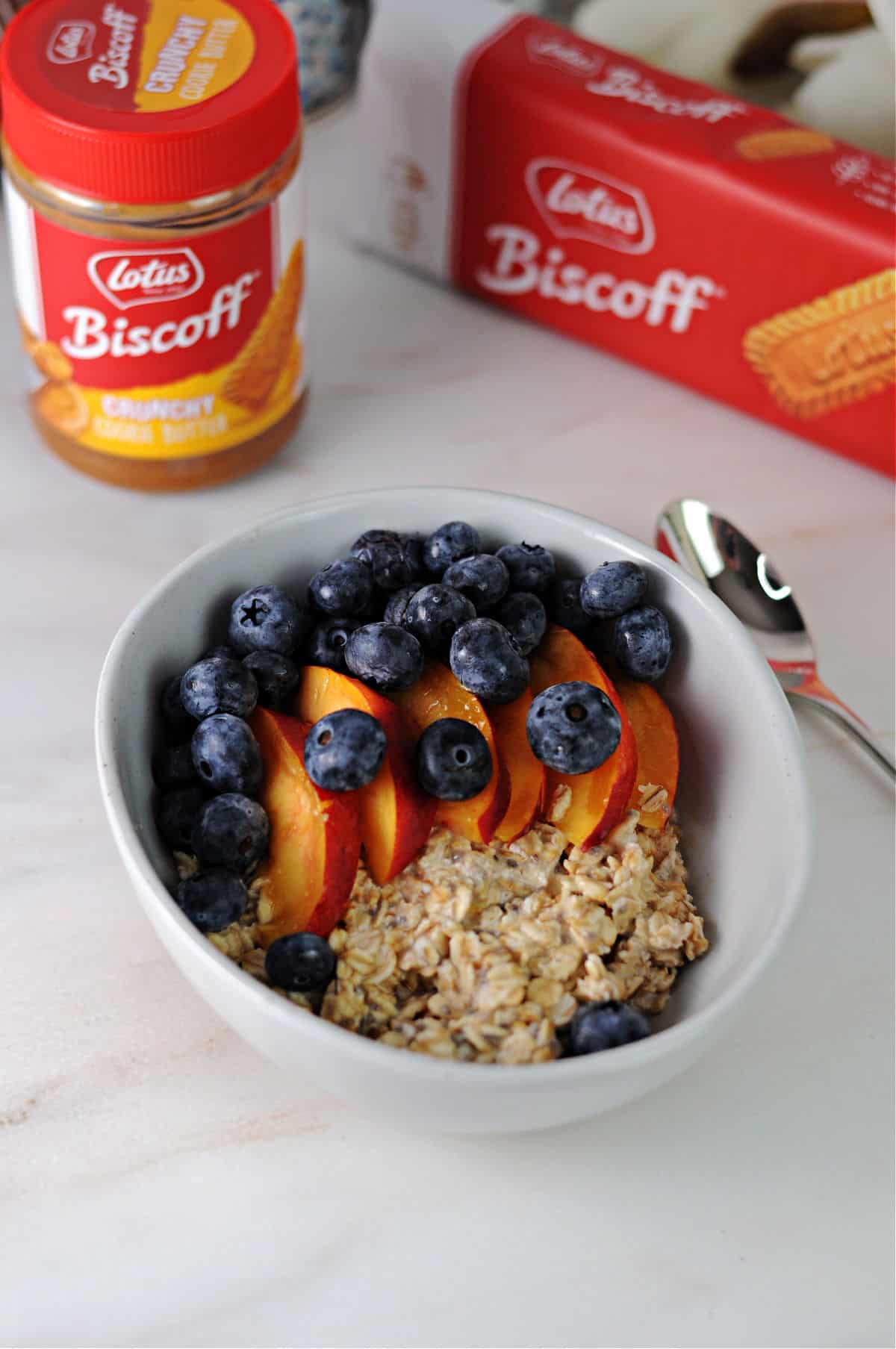 Variations for Biscoff Overnight Oats
For some, just the cookie butter might provide enough flavor in these oats. But why not take it one more step? Add a little fruit and it'll be truly great!
Some of my favorite fruits to add (so far) are: blueberries, banana, peaches, nectarines, and raspberries. Try one or more than one, it's easy to mix and match!
Substitute oat milk for another non-dairy alternative. Oat milk is a little thicker so you might need an extra splash. But you'll love the creaminess!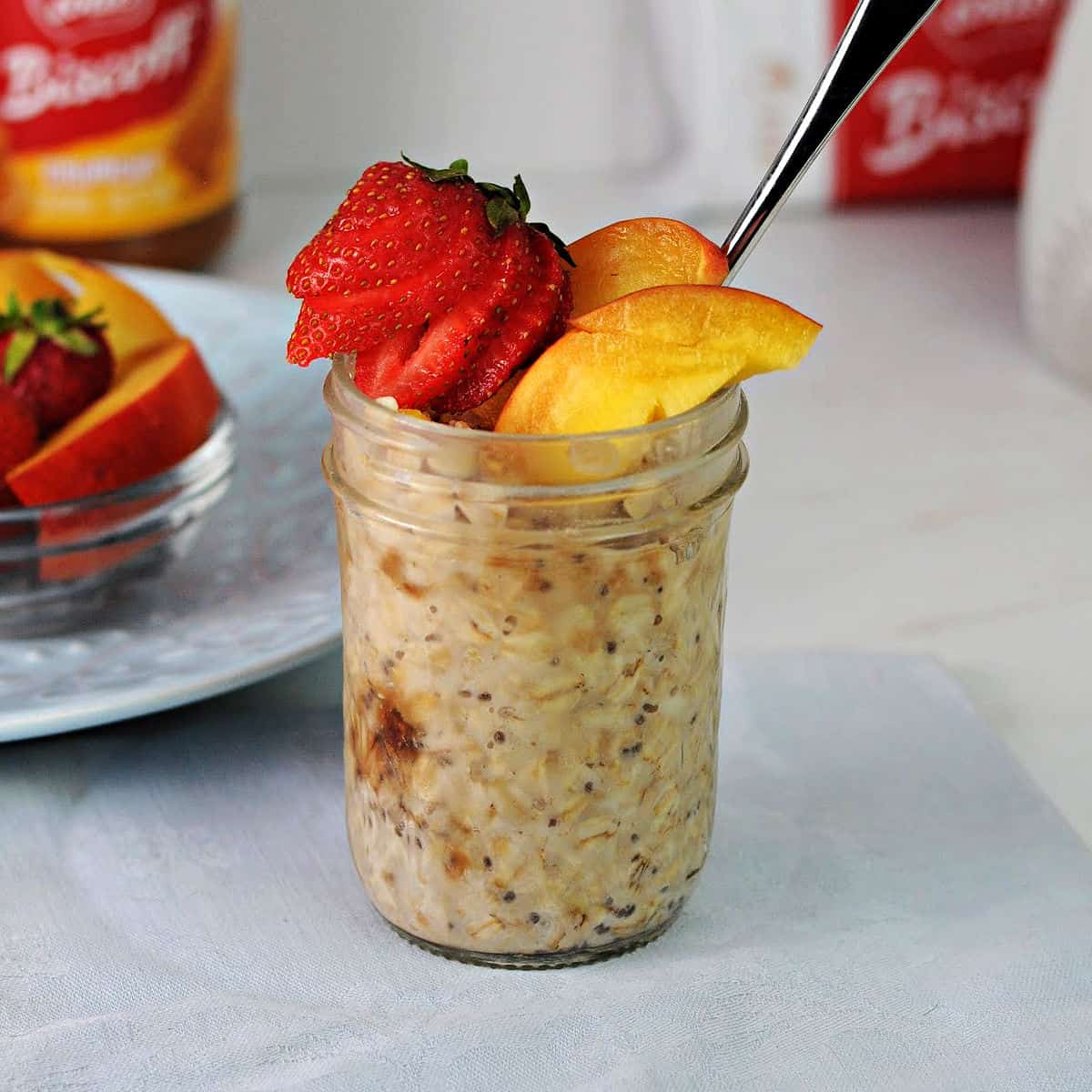 Expert Tips/FAQ
Can you add the fruit when mixing the overnight oats?

I tried this once, with sliced banana in peanut butter oats. And my granddaughter, with the unfiltered honesty of a 4-year-old, told me it was "a little bit disgusting". LOL. Basically what happens is the banana gets kind of slimy as it sits in the liquid overnight. So if you are picky about textures (which is everyone in my family) then I recommend you add the fruit at the time you are going to eat the oats.
Can you make overnight oats without the chia seeds?

Yes, of course. I have done this both ways, and I can tell you that the chia seeds help the mixture thicken and attain a creamier texture, almost like it would be if you were to cook the oatmeal. Without the chia seeds, the oats absorb the milk, but you'll also sometimes have some milk unabsorbed, with kind of a watery texture. If this is unimportant to you, the chia seeds are not necessary.
Are chai seeds healthy?

Chia seeds are high in fiber, which helps with digestion and metabolic rate. In addition, they contain an antioxidant that could reduce your risk of developing some health conditions, including heart disease.
What if you forget to mix these oats the night before you need them?

Oh, I've been there! Just put your ingredients in a jar (or other microwave-safe container), and microwave for one minute, uncovered. Then cover your container and take it with you to work. Carry the fruit or other toppings separately and stir everything together when you're ready to enjoy.

You might want to add an additional splash of milk with this method, as the cooking of the microwave seems to dry out the oats a little more than when leaving them sit overnight.
Check out some of these other fun breakfast ideas
📖 Recipe
Biscoff (Cookie Butter) Overnight Oats
A little cookie butter spread adds sweetness with a touch of cinnamon. Absolutely wonderful with berries or any fresh fruit!
Ingredients
½

cup

old fashioned oats

½

cup

almond milk

or other milk of choice

½

teaspoon

Chia seeds

1

tablespoon

Biscoff cookie butter

Toppings: bananas

berries, or other fruit, as preferred
Instructions
In a small jar or bowl, add the oats, almond milk, chia seeds, and cookie butter spread. Cover and refrigerate overnight.

The following morning, stir and top with fruit or other toppings of choice.
Notes
Nutrition estimates do not include any toppings.
Nutrition
Calories:
269
kcal
|
Carbohydrates:
37
g
|
Protein:
7
g
|
Fat:
11
g
|
Saturated Fat:
2
g
|
Polyunsaturated Fat:
2
g
|
Monounsaturated Fat:
2
g
|
Sodium:
165
mg
|
Potassium:
155
mg
|
Fiber:
5
g
|
Sugar:
5
g
|
Vitamin A:
1
IU
|
Vitamin C:
0.03
mg
|
Calcium:
184
mg
|
Iron:
2
mg
Nutrition values are estimates only, using online calculators. Please verify using your own data.