Previously, I shared an easy way to make your own vegetable broth, which I use regularly. Today, we'll tackle bone broth, a surprisingly healthy soup.
What is Bone Broth?
Bone broth is a highly nutritious stock made by simmering animal bones and connective tissue.
What are the benefits of Bone Broth?
The amounts of nutrients in broth are dependent upon the ingredients used, but in general:
Bone: The bone itself yields minerals like calcium and phosphorus. Sodium, magnesium, potassium, sulfur and silicon are also present.
Marrow: Bone marrow provides vitamin A, Vitamin K, Omega-3 and Omega-6 fatty acids and minerals like iron, zinc, selenium, boron and manganese.
Connective tissue: This tissue provides glucosamine and chondroitin, which are popular dietary supplements for arthritis and joint pain.
All sources: All the above sources are made up of collagen, which turns into gelatin when cooked. Gelatin contains a unique profile of amino acids, and is high in glycine, a building block for protein.
These nutrients are said to provide the following benefits:
Anti-inflammatory: The glycine in bone broth may have some anti-inflammatory and antioxidant effects.
Weight Loss: Bone broth is usually very low in calories, but can still help you feel full. This may be due to its gelatin content, which can promote satiety.
Joint Health: Glucosamine and chondroitin, found in the broth, have been shown to foster healthy joints and reduce symptoms of osteoarthritis.
Bone Health: Bone broth contains many nutrients that are important for bone health, including calcium, magnesium and phosphorus.
Sleep and Brain Function: Glycine taken before bed has been shown to improve sleep and brain function.
            Source: Healthline.com
Making the broth
Over the years, bone broth has become widely popular on the internet. No surprise that there are many ways to make it. My approach is inspired by a book: The Prime: Prepare and Repair Your Body for Spontaneous Weight Loss by Kulreet Chaudhary. Chaudhary presents the concepts of Ayurvedic medicine for healing. If you have any interest in learning about this approach to medicine, this book is a very good read.
Chaudhary's story is particularly compelling. A practicing vegan, she at first strongly resisted bone broth. But then her practitioners convinced her to try it. Only after adding bone broth to her diet did she start to heal. Notably, she is a Western-trained neurologist. Pretty powerful stuff.
I like her approach: In addition to bones, she adds vegetables to provide even more nutrients. I also added fresh parsley that I happened to have on hand.
What kind of bones?
I typically buy chicken or turkey necks for a poultry-type broth. I also sometimes use oxtails for a beef broth.
All bone broths require a little vinegar to draw the nutrients from the bone and tissues. Also recommended is a very long cooking process. By long, I mean lonnnnng, like, 36 hours. That's where the crockpot comes in handy.
I set it on low for the longest program, 10 hours. Once that cycle is completed, my cooker automatically turns itself to "warm" so the broth won't get cold.
Typically, I start crockpot cooking in the evening and let it run for a total of 10 hours. The next morning I'll set another cycle. Then, in the evening I'll start the final cycle. The morning after I'll turn the crockpot off completely to give the broth a chance to cool before I start transferring into containers.
As described in my vegetable broth post, I like to use freezer-safe plastic quart containers for storage. Note: Before storing I strain the broth using cheesecloth to filter out particulate matter. I've been considering using this for my vegetable broth because it really does yield a much clearer broth.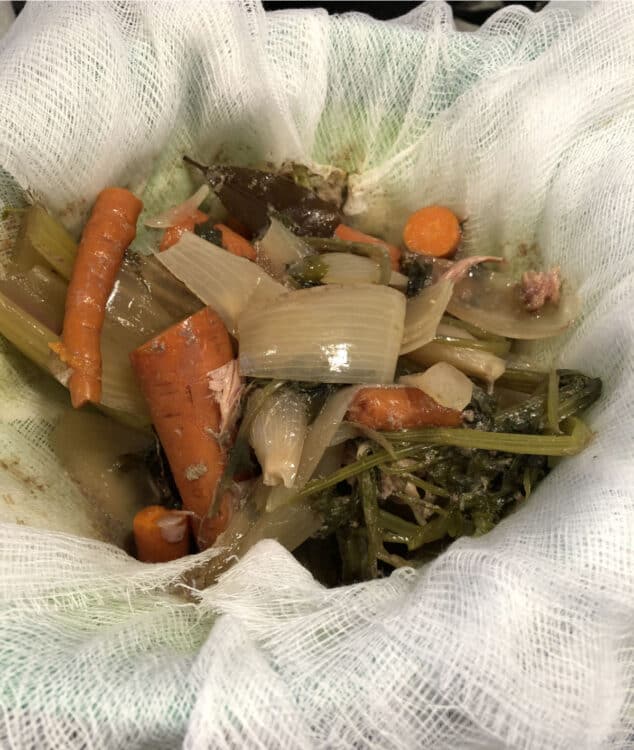 I only fill my containers halfway before freezing. This helps prevent problems due to the expansion of the liquid.
But since I refrigerated part of the broth while the containers were freezing, it is easy to see the gelatinous quality that is expected of a good bone broth.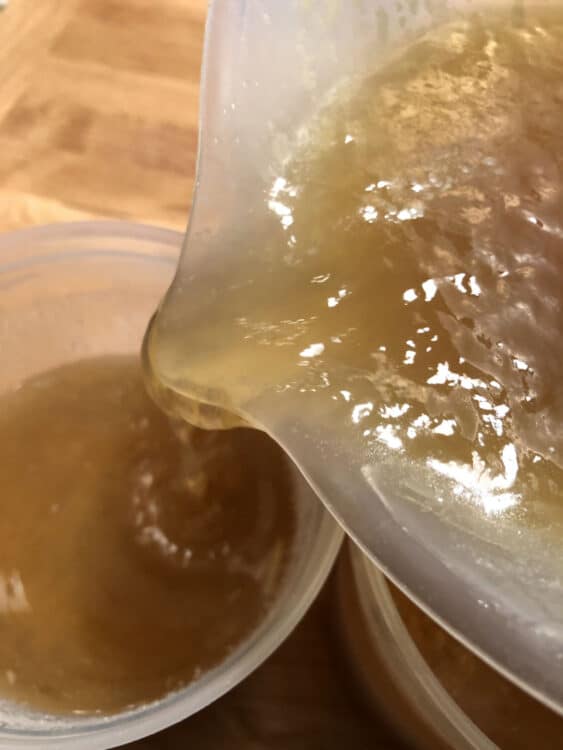 Every time I see this I think of the healing power for my joints!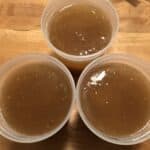 Print Recipe
Bone Broth
Easily make your own nutritious broth and freeze for future use!
Ingredients
3-4

# poultry bones

10-12

cups

water

2-3

bay leaves

2

carrots

2

celery ribs

1

onion

peeled and quartered

2

TB

apple cider vinegar

Parsley or other fresh herbs – optional
Instructions
Place all ingredients in a slow cooker. Set cook cycle to low, on the longest cycle available. When cycle is finished, re-start. Continue cooking for at least 24 to 48 hours.

Allow to cool, then separate broth from solids.

Place in freezer-safe containers and freeze for future use.