Lovers of coconut shrimp rejoice! This restaurant favorite can now be made quickly and easily at home, using an air fryer.
Air fryer coconut shrimp uses less oil than most other cooking methods, so you can practically count this as health food!
Ok, that might be a bit of a stretch………
But you will definitely love the taste, especially that delicious coconut crunch in every bite!
It cooks in minutes and you will enjoy knowing that you just made this delicious shrimp for far less than you would have paid at a restaurant.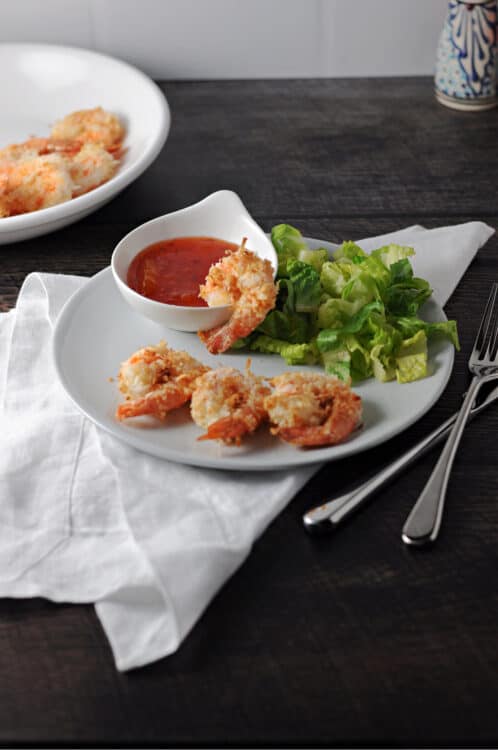 Jump to:
Why I Love this Recipe
Coconut shrimp has always been a favorite of mine, but it seemed mysterious and difficult to me. How is it made? If it's deep fried - I don't wanna know! And how do you get that delicious coconut crust to stick?
Well, the crust was easy and the cooking even more so in the air fryer. The shrimp was perfectly cooked and the coconut coating had lovely crusty edges.
And let's be honest, the dipping sauce for coconut shrimp is almost as important! I tried 3 different sauces and the clear winner for taste was also the easiest to make! Can you say win-win??
Ingredients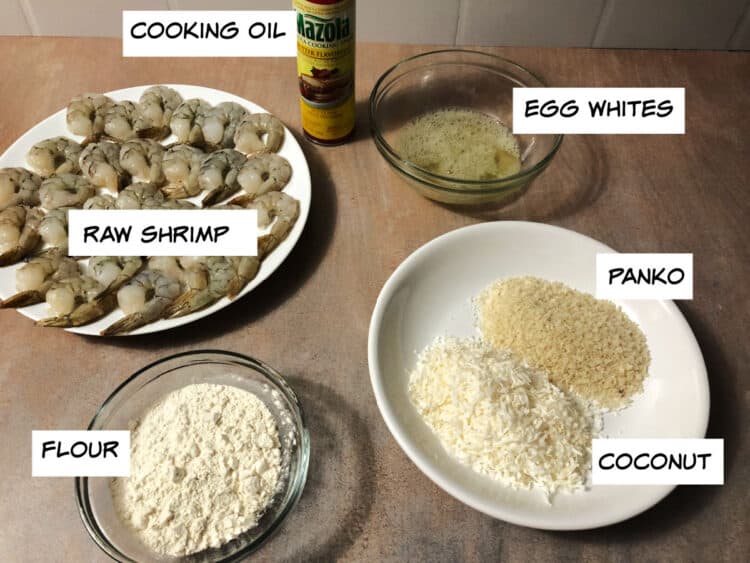 How to make Coconut Shrimp in the Air Fryer
To prep the shrimp, simply peel and devein if they aren't already. You can remove the tail if you prefer, but I like to leave it on. I eat coconut shrimp as finger food, and the tail makes a great handle to grab a shrimp for dipping. 😀
To make the marvelous coconut coating, you will need 3 separate shallow bowls. One for flour, one for beaten egg whites, and one for a coconut/panko mixture. You will use them in that exact order.
💭Tip: With some leftover bread, you can make your own panko bread crumbs in very little time!
Coat the shrimp in flour, dip into the egg white and then press it into the coconut mixture to coat. I like to press one side, flip the shrimp, and then press the other side into the coconut before removing to a separate plate. Repeat with all the shrimp.
When all the shrimp are coated, spray them lightly with cooking spray.
Place half the shrimp SPRAYED SIDE DOWN, in the air fryer basket. (If you have a larger air fryer, you might be able to fit them all) Spray the shrimp again so both sides have a little oil on top of the coating.
Air fry 3 minutes at 400F, then turn the shrimp and air fry 3 minutes more. Place the shrimp on a plate or shallow bowl in a warm oven while cooking the rest. Repeat the cooking steps with the other half of the shrimp.
Dipping sauce for Coconut Shrimp
As I stated above, I tried 3 different versions of dipping sauce and for me, there was a clear favorite. It has a perfect sweetness, with just a touch of underlying heat. This sweet-and-heat combination gets me every time (see pineapple habanero salsa for that same combo).
Best of all, you need only 2 ingredients and no cooking – just mixing. Here's what you do: take equal amounts of sweet Thai chili sauce and apricot preserves and mix them together. Boom, you're done. I used ½ cup each and had a ton of sauce. Start with ⅓ cup of each, I think it will be plenty.
If, once you try it, you want it sweeter or spicier, you can just add a little more of one or the other ingredient and stir again. Nothing could be easier.
Expert Tips/FAQ
What other options are there for dipping sauce?
If you want only sweet but no heat, mix pineapple preserves with a little pina colada mix. Warning: this is a very sweet sauce! Another version I tried was decent but entirely too complicated, I think it had 5 or 6 ingredients.
Another option which is the simplest of all: just use the sweet Thai chili sauce. Super yummy.
Can I make this coconut shrimp without an air fryer?
I haven't tried this yet, but am confident it will work: coat the shrimp as described, heat a skillet on medium heat and add enough cooking oil to coat the pan well, at least a couple tablespoons. When the oil is hot, add the shrimp. Fry 2-3 minutes each side. Remove to a paper towel-lined plate and serve with dipping sauce.
Do you use sweetened or unsweetened coconut?
I've tried both and didn't notice a huge difference, to be honest. Either works just fine. Any reduction in sweetness by using unsweetened coconut is completely offset by the dipping sauce. LOL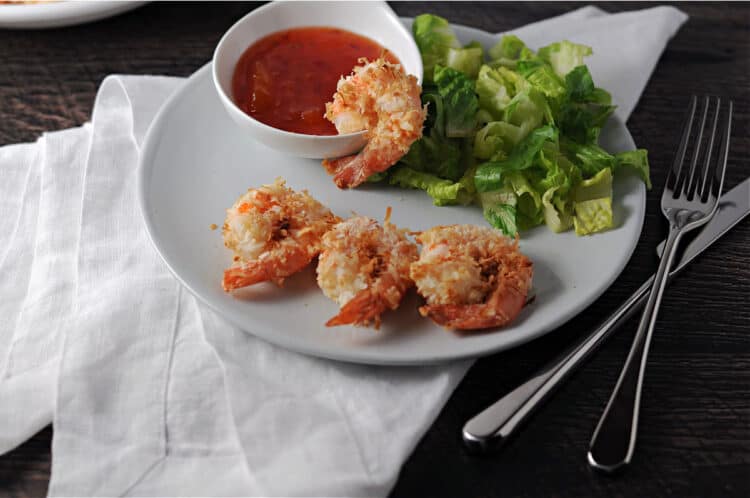 More Shrimp Recipes to Love
📖 Recipe
Air Fryer Coconut Shrimp
Make this restaurant favorite at home, using your air fryer!
Ingredients
1

pound

raw shrimp

peeled and deveined

⅓

cup

flour

2

large egg whites

lightly beaten

⅔

cup

shredded coconut

⅓

cup

panko bread crumbs

Cooking spray
Instructions
In 2 separate bowls, place the flour and beaten egg whites. In a third bowl, place the panko and coconut and stir lightly to mix. Coat each shrimp in flour, dip in egg white, then coat with the coconut. Place coated shrimp in a single layer on a plate.

Spray the shrimp lightly with cooking oil spray.

Place half the shrimp in the air fryer basket SPRAYED SIDE DOWN. Once basket is filled, spray the tops of the shrimp with cooking spray.

Air fry the shrimp for 3 minutes at 400F, then turn them all in the basket and air fry 3 minutes more. Repeat with the remaining shrimp, then serve.
Nutrition
Calories:
213
kcal
|
Carbohydrates:
20
g
|
Protein:
18
g
|
Fat:
7
g
|
Saturated Fat:
5
g
|
Polyunsaturated Fat:
1
g
|
Monounsaturated Fat:
1
g
|
Trans Fat:
1
g
|
Cholesterol:
143
mg
|
Sodium:
718
mg
|
Potassium:
200
mg
|
Fiber:
1
g
|
Sugar:
7
g
|
Vitamin A:
204
IU
|
Vitamin C:
1
mg
|
Calcium:
74
mg
|
Iron:
1
mg
Nutrition values are estimates only, using online calculators. Please verify using your own data.