I love kabobs! There's just something about having your meat on a stick that's just so fun!
I love finding new ways to make salmon, and my beef kabobs and chicken skewers are always a hit.
Salmon kabobs seemed like the perfect answer.
Every fall, I get monthly deliveries of a salmon CSA. And I try to eat fish at least once, preferably twice a week. A variety of ways to make that salmon helps this.
I live in a climate with serious winters, so I need a way to make salmon indoors as well as out. Enter salmon kabobs in the oven OR grill. Now I can enjoy these tasty kabobs whenever I want!
Why I love these kabobs
As mentioned, I try to each seafood at least once a week. Plus I get high quality salmon from Alaska delivered to my front door. There's no excuse, really, to not having this super healthy meal.
The seasoning mix gives the salmon a subtly spicy heat which keeps it from being bland. Very different from my other salmon dishes!
Salmon cooks quickly, which makes it a great choice for busy days. And when you cut it up and put it on a stick? REALLY fast! I guarantee you'll spend more time making your sides to go with these salmon kabobs.
Ingredients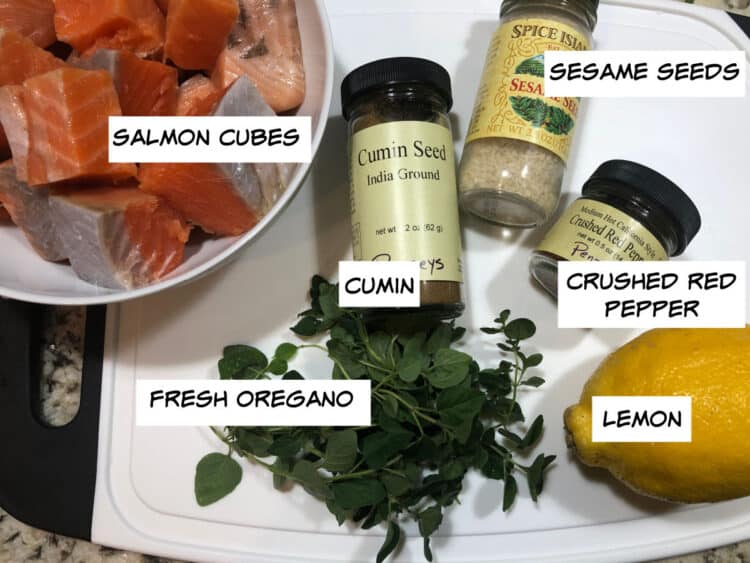 How to make salmon kabobs
Cut the salmon into cubes. I like about 1-inch cubes if possible. One major limitation to this will be the salmon filet I am starting with. Sometimes I have King Salmon, which is a thick fillet, easily one-inch thick. Other times, it might be a Coho or Sockeye fillet which is always thinner. Either way, make the cubes about 1 inch square and the thickness of the third "side" will mostly determine the cooking time.
Cut a lemon in very thin slices. These slices will be interspersed with the salmon pieces on the skewers.
The seasoning is a simple mix of chopped fresh oregano, sesame seeds, ground cumin and crushed red pepper flakes
Mix these in a small cup and set aside.
Pre-soak bamboo skewers (if using). 
One of the particular qualities of salmon is that it is full of healthy fats. And once cooked, it flakes apart very easily. Both these characteristics make salmon pieces hard to cook on a kabob. As soon as they start to cook, they become "slippery" on that stick. So when you try to turn the kabob to cook the other side, the salmon pieces won't necessarily follow. 
The best solution I have found for this is to use 2 skewers for each kabob. Simply thread a salmon cube onto 2 parallel skewers, followed by a lemon slice, then repeat. About 3-4 salmon pieces per kabob works out well. 
Then, season the kabobs with the spices. Brush the salmon with a little olive oil then season with salt and half the spice mix. Turn the kabobs over and repeat. 
Cooking salmon kabobs in the oven
Turn on the oven to broil. Place the kabobs on a flat baking sheet. Do not overlap the kabobs. 
Place baking sheet in the oven, about 5-6 inches from the broiler flame.
Broil 3-5 minutes, then remove the baking sheet, turn the kabobs and return the sheet to the oven. Broil the opposite side of the kabobs another 3-5 minutes, or until done. The salmon pieces will be completely opaque when cooked through.
Total time needed will depend upon the size/thickness of your salmon. Thick cubes will usually require 8-10 minutes total time, whereas thinner pieces will be done in 5-8 minutes. 
Cooking salmon kabobs on an outdoor grill
Preheat grill on medium high heat for about 5 minutes. Lightly grease the grill grates. Place kabobs on the grates, over direct heat. Grill 3-5 minutes, then turn completely to grill the opposite side for about 3-5 minutes.
Total time needed will depend upon the size/thickness of your salmon. Thick cubes will usually require 8-10 minutes total time, whereas thinner pieces will be done in 5-8 minutes. 
Love salmon? Here are a few more ideas for you: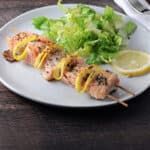 Print Recipe
Salmon Kabobs in the Oven or Grill
These tasty kabobs are so easy to make, in any weather!
Ingredients
2

Tablespoons

oregano, chopped

fresh

2

teaspoons

sesame seeds

¼

teaspoon

red pepper flakes

crushed

1

teaspoon

cumin

ground

1 - 1½

pound

salmon fillet

cut into 1-inch cubes

1

lemon

sliced thin

1

teaspoon

salt
Instructions
If using bamboo skewers, pre-soak for 30-60 minutes. You will need 10-16 skewers.

For oven: preheat broiler on High. For grill: preheat grill on medium high heat and oil the grates

Mix oregano, sesame seeds, red pepper flakes and cumin in a small cup or bowl and set aside.

For each kabob, take 2 skewers and thread a salmon cube with both skewers in a parallel pattern. Add a lemon slice and repeat with salmon and lemon to fill the skewers. You will end up with 4 - 8 kabobs total, depending upon the size and thickness of the salmon pieces.

Brush the kabobs lightly with olive oil, season with a little salt and then sprinkle half the spice mixture on top. Turn the kabobs over and repeat with the remaining spices.

For the oven place kabobs on a flat baking sheet, then place the sheet in the oven about 5-6 inches under the broiler. For the grill, place directly on the grill grates. Cook 3-5 minutes each side, until salmon is cooked through and opaque throughout.
Notes
Cooking time will vary according to the thickness of the salmon fillet used.
USDA recommends that salmon be cooked to an internal temperature of 145F.
Nutrition
Calories:
177
kcal
|
Carbohydrates:
3
g
|
Protein:
23
g
|
Fat:
8
g
|
Saturated Fat:
1
g
|
Polyunsaturated Fat:
3
g
|
Monounsaturated Fat:
3
g
|
Cholesterol:
62
mg
|
Sodium:
635
mg
|
Potassium:
609
mg
|
Fiber:
1
g
|
Sugar:
1
g
|
Vitamin A:
95
IU
|
Vitamin C:
14
mg
|
Calcium:
36
mg
|
Iron:
2
mg
Nutrition values are estimates only, using online calculators. Please verify using your own data.