Fish tacos are a favorite of mine and I've wanted to create my own recipe for a while. Possibly a healthier version. When I order a fish taco at a restaurant, the fish is often breaded and fried, which makes me unhappy that I looked closely enough to check it out. LOL
Since I regularly eat salmon, making a salmon taco was a logical choice. And I love to grill. So, making a simple marinade and using it to BBQ some salmon for tacos was the perfect choice for me.
And I made a delicious mango slaw which brought it all together.
This salmon is easy to make in your own backyard, and you'll feel like you're having a restaurant quality meal in every bite!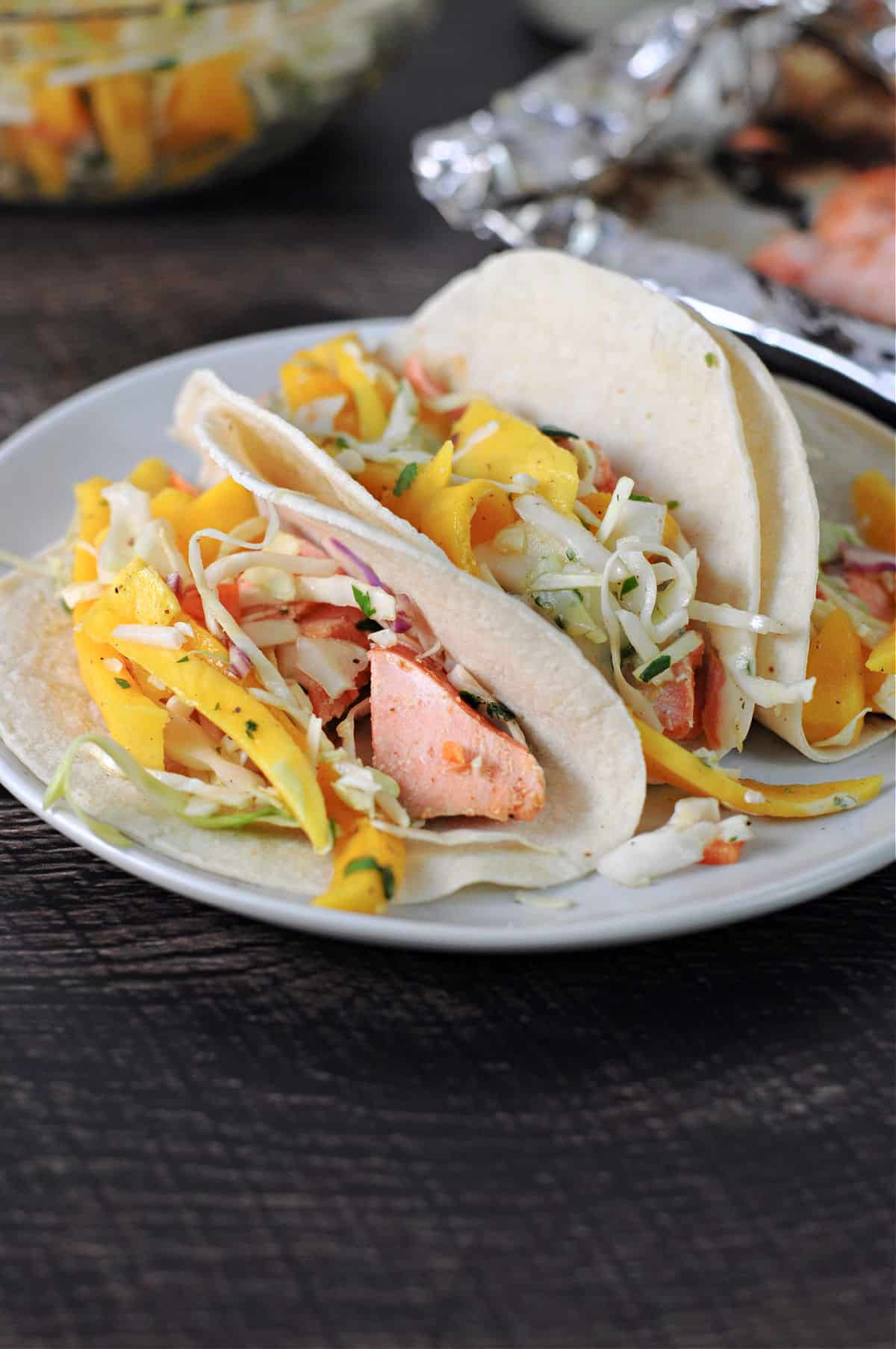 Why I love this recipe
This recipe ticks all the boxes: delicious, special, different, healthy, and easy.
By spicing the salmon with taco flavors and making it on the grill, it pairs beautifully with the mango slaw. Layer them in a small tortilla and you'll enjoy the flavors in every bite.
I also like this as a bowl meal. Just skip the tortilla and place the BBQ salmon and slaw in a bowl. So yummy to mix them as you are eating, plus you get to enjoy the beautiful bright colors in your bowl.
Ingredients
How to make BBQ grilled salmon for tacos
It starts with a simple marinade. Mix lime juice and zest with olive oil, agave syrup and taco seasoning. Brush this all over the salmon before cooking.
There are 2 approaches to grilling. If you buy salmon fillets with the skin on, you have the option of grilling the fillets directly on the (well-oiled) grill grates. To do this, start by grilling skin side up for about 4 minutes, then turn and finish cooking for another 4-5 minutes, until the salmon is cooked through. This method has the advantage of leaving some grill marks on your salmon.
I prefer to remove the skin from my fillets and grill them in a foil "basket". I do this because the salmon I get is wild-caught, and therefore much leaner than most farmed salmon. When I try to grill wild fillets directly on the grates, they are going to stick, no matter how much I oil those grates!
To grill on foil, simply tear off a large piece of heavy-duty foil and roll up all four edges to make an open basket. The interior needs to be large enough to hold the salmon. You can always make 2 baskets if you prefer to have less salmon in each.
Cook the salmon in the foil basket over medium heat for about 4 minutes, turn and continue cooking until done. When done, the salmon will flake easily with a fork (or spatula).
Assembling the Salmon Tacos with Mango Slaw
Flake the cooked salmon into chunks. Assemble with mango slaw into warm tortillas, if using. Or, add the salmon and slaw to a bowl and enjoy.
I have a separate post that describes how to make the Mango Slaw, but I have also included the recipe card below, for your convenience.
Expert Tips
If you don't have heavy-duty foil, use a double layer of regular foil for more strength. You don't want your basket to tear!
Wild salmon is leaner and will therefore cook faster than farmed. When in doubt, use a meat thermometer and cook the salmon to 145F. Alternatively, cook to 130F, remove the salmon from heat, cover with foil and rest 10 minutes. The salmon will continue to heat during that resting time and removing it from direct heat helps prevent over cooking.
If you'd like to try a sauce on your BBQ salmon tacos, I recommend cilantro-lime sauce. It was a delightful addition!
More Recipe Ideas
If you love salmon like I do, take a peek at Pineapple Baked Salmon, Salmon with Whole Lemon Dressing, or Salmon Kabobs. They'll help put variety in your seafood diet!
If you like tacos with a twist, try some Cauliflower Tacos. The cashew crema is a surprisingly great alternative to cheese!
📖 Recipe
BBQ Salmon Tacos with Slaw
Fish tacos get elevated by using salmon. The BBQ taste is perfectly complemented by mango slaw!
Ingredients
16

ounces

salmon fillets

2

tablespoons

lime juice

½

teaspoon

lime zest

1

teaspoon

olive oil

1

tablespoon

agave nectar

1

teaspoon

taco seasoning

Salt + pepper

to taste
Instructions
Make mango slaw per instructions below and refrigerate for one hour before serving.

Preheat the grill to medium heat.

Prepare salmon by removing skin, if desired. Make a "basket" from heavy duty foil by cutting a large piece and rolling the sides to make edges. Place the salmon in the middle.

Mix all other ingredients in a small bowl. Brush all over the salmon.

Place the foil basket of salmon on the grill and cook for about 4 minutes. Salmon will start to look a little charred on the edges.

Flip the salmon and cook about 4 minutes more, until done. Salmon will flake easily when cooked through. If using a meat thermometer, cook to at least 130F, then cover and rest before serving. Final temperature after resting should be 145F.

Flake the salmon and layer with mango slaw in warm tortillas.
Notes
Nutrition estimates are for salmon only, without tortillas or slaw.
Nutrition
Calories:
188
kcal
|
Carbohydrates:
5
g
|
Protein:
23
g
|
Fat:
8
g
|
Saturated Fat:
1
g
|
Polyunsaturated Fat:
3
g
|
Monounsaturated Fat:
3
g
|
Cholesterol:
62
mg
|
Sodium:
52
mg
|
Potassium:
565
mg
|
Fiber:
0.1
g
|
Sugar:
4
g
|
Vitamin A:
52
IU
|
Vitamin C:
3
mg
|
Calcium:
15
mg
|
Iron:
1
mg
Nutrition values are estimates only, using online calculators. Please verify using your own data.
📖 Recipe
Mango Slaw for Fish Tacos
This slaw provides the perfect punch of flavor and crunch to your fish tacos. Try it with salmon!
Ingredients
2

cups

coleslaw mix

or shredded cabbage

1

mango

peeled, pitted and sliced thin (about 1 cup)

¼

cup

fresh cilantro

chopped

1

tablespoon

lime juice

1

teaspoon

agave syrup

⅛

teaspoon

ground celery

⅛

teaspoon

black pepper

Dash salt – optional
Instructions
Combine all ingredients in a medium bowl and toss well to combine.

Cover and refrigerate for at least an hour.

Serve with fish, salmon, etc.
Notes
You can substitute celery salt for the ground celery. If so, skip the dash of salt.
2 cups coleslaw mix is about ½ an 8-ounce bag.
Nutrition
Calories:
33
kcal
|
Carbohydrates:
8
g
|
Protein:
1
g
|
Fat:
0.2
g
|
Saturated Fat:
0.04
g
|
Polyunsaturated Fat:
0.03
g
|
Monounsaturated Fat:
0.1
g
|
Sodium:
5
mg
|
Potassium:
105
mg
|
Fiber:
1
g
|
Sugar:
7
g
|
Vitamin A:
443
IU
|
Vitamin C:
22
mg
|
Calcium:
14
mg
|
Iron:
0.2
mg
Nutrition values are estimates only, using online calculators. Please verify using your own data.