Surely by now you've heard of chia pudding. The seeds that were once promoted for their ability to sprout quickly on terracotta figures to resemble hair (cha-cha-cha-CHIA!) have now achieved status as a nutritional powerhouse.
Chia seeds have the unique ability to absorb up to 12 times their weight in liquid. (Wikipedia) When they do so, they form a distinctly gelatinous texture, much like tapioca.
Add in some bright and beautiful dragon fruit puree, and you have dragon fruit chia seed pudding.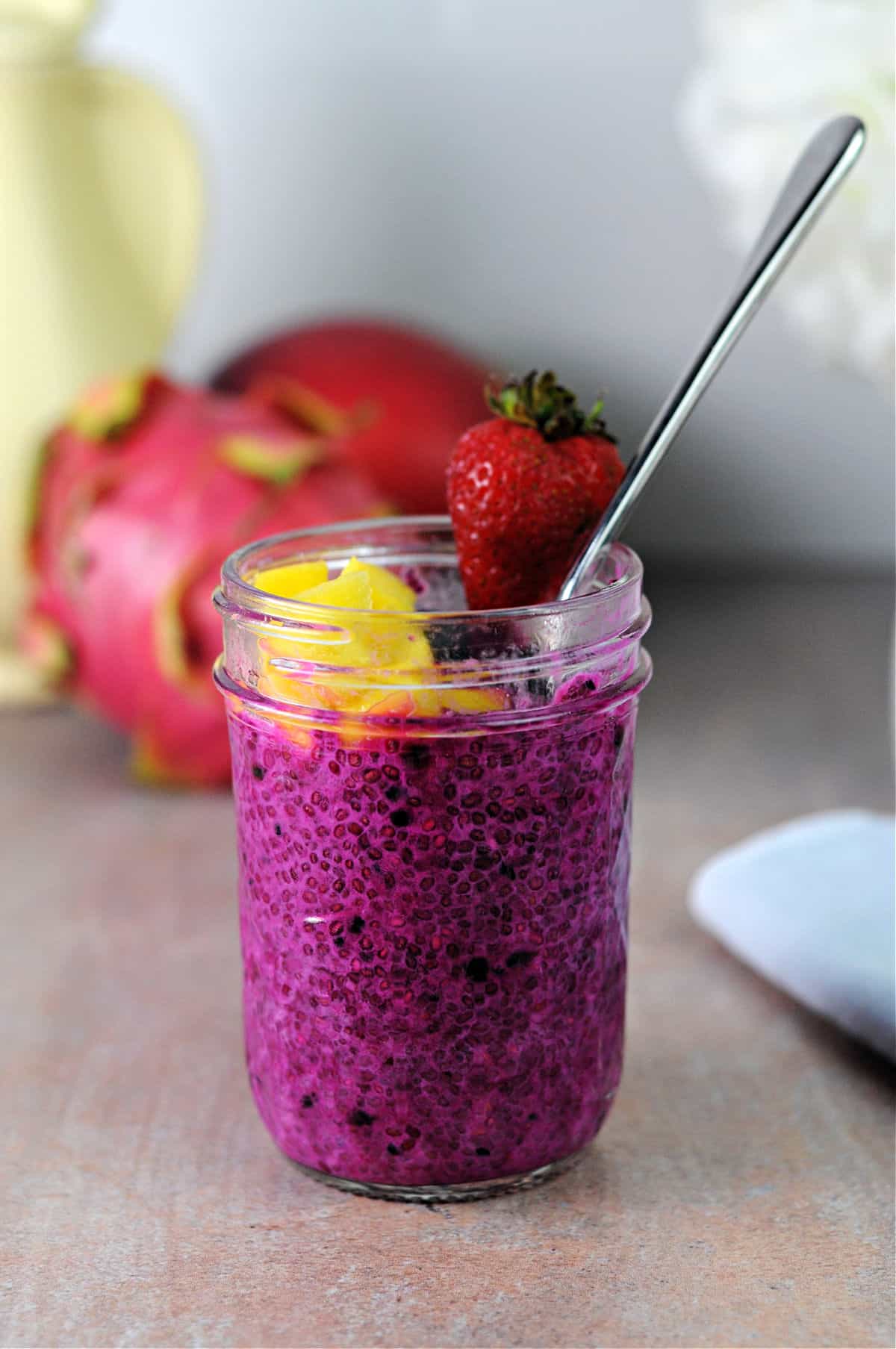 Why I love this recipe
This pudding is useful in two ways: I like to make it for breakfast, for a healthy, easy, and very satisfying start to the day. It also makes a great snack, on those days when you need something to bridge the gap between lunch and dinner.
I love the convenience of the frozen puree packs of pitaya (dragon fruit). I use it to make smoothies, smoothie bowls, cocktails, and even pancakes. So, when I was looking for something to flavor my chia seed pudding, dragon fruit was an easy choice.
I use almond milk which is not only vegan but also keeps the pudding lower in carbs and calories. You can use whatever type of milk you prefer.
Dressing up the pudding with a little fresh fruit rounds out the flavors and textures and makes this something I really look forward to, every day!
Ingredients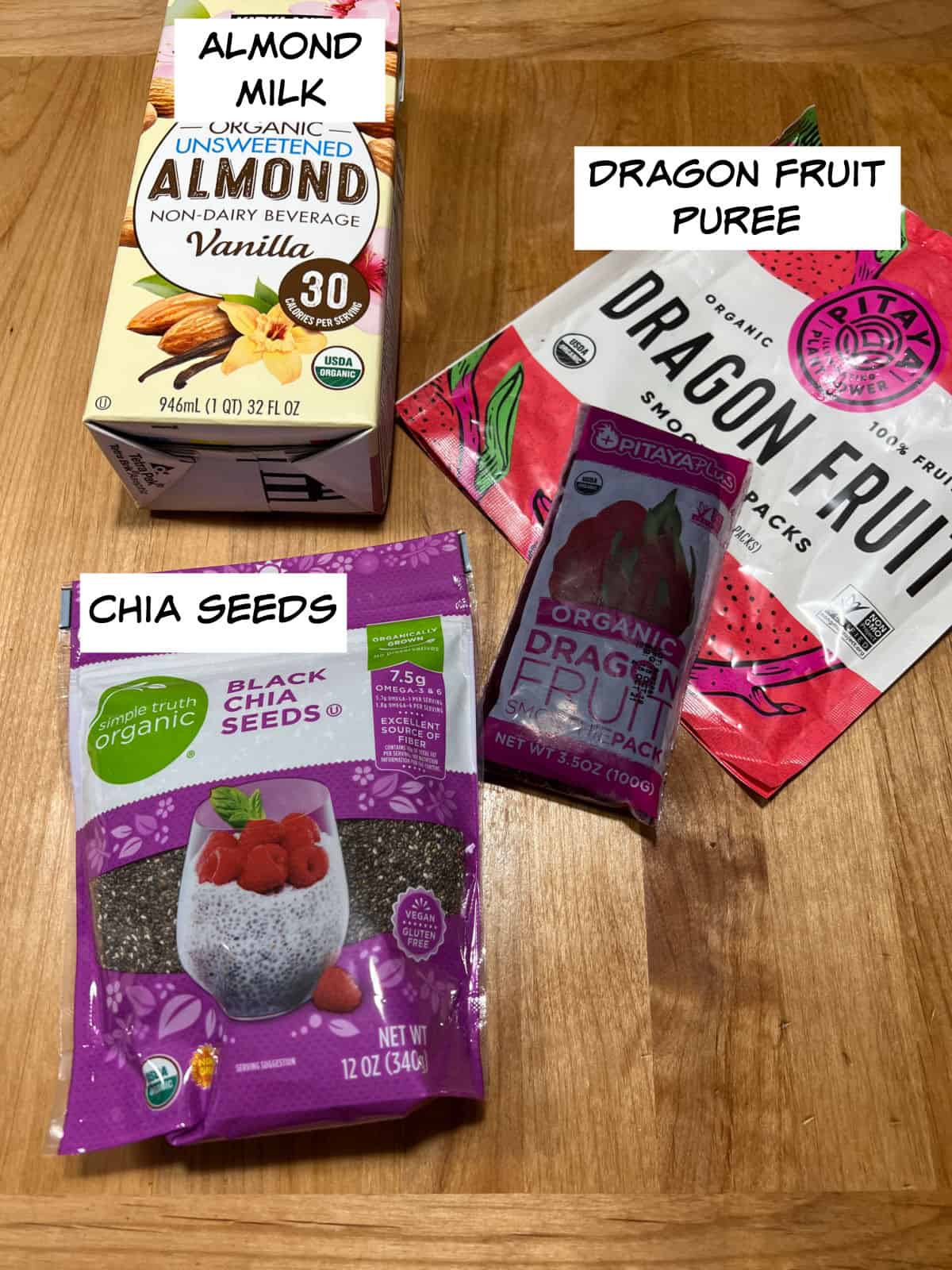 How to make dragon fruit pudding with chia seeds
This pudding is so easy, and only needs a little time to work its magic.
Simply mix almond milk, chia seeds and dragon fruit puree in a jar or bowl. I like to use a small jar as it is easy to cover and store.
Stir the ingredients together, then let the mixture sit for a couple minutes. Give it another stir – this will help break up any clumps of chia seeds that might want to form.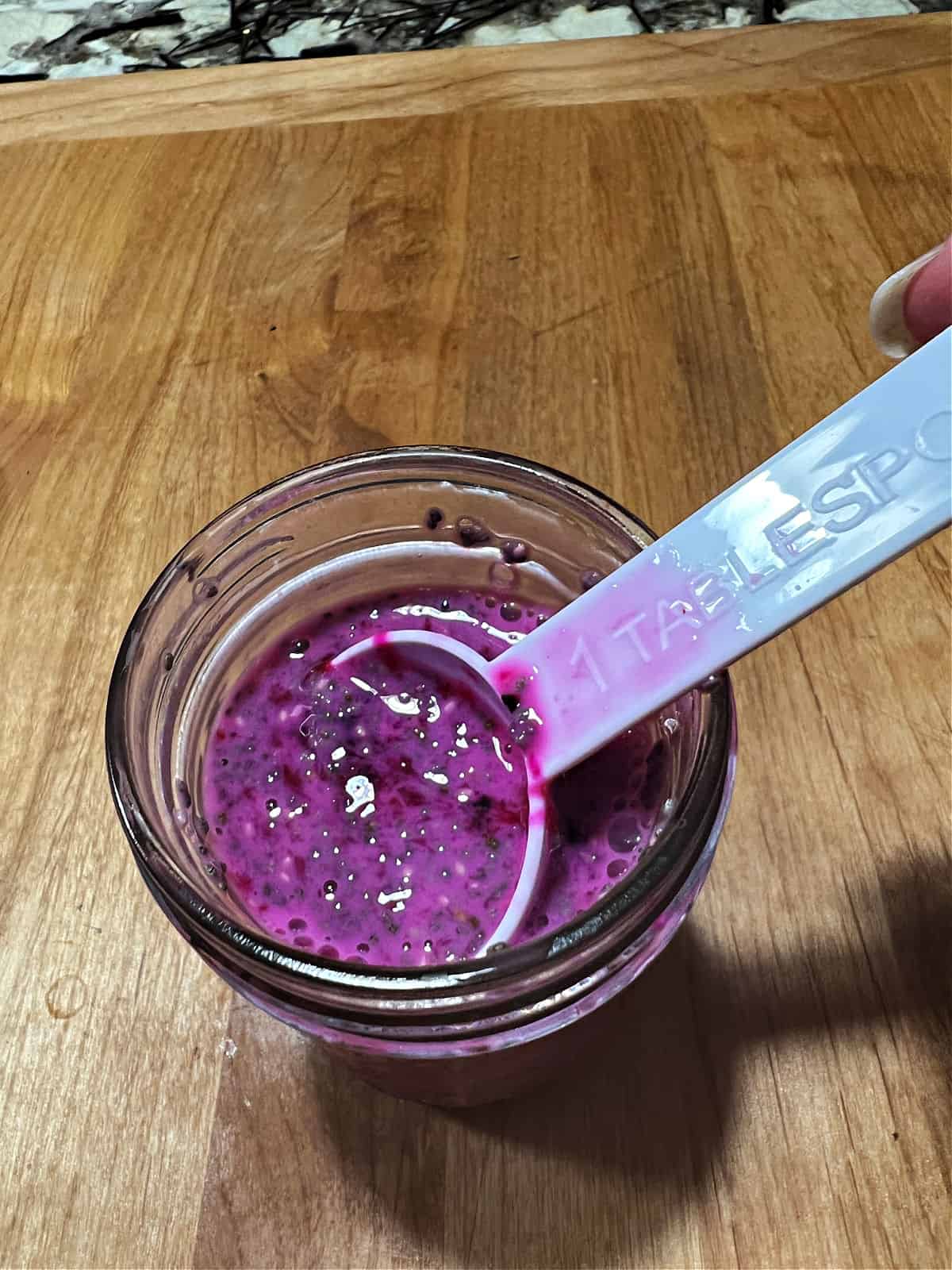 Then, cover and refrigerate. I recommend at least 1-2 hours or overnight to allow the seeds time to absorb liquid and form the pudding-like texture. It's a great meal prep to do the night before.
However, if I've failed to plan ahead, I will commonly mix this up and refrigerate, then start the rest of my morning routine. By the time I'm back from my morning walk, my chia seed pudding is ready!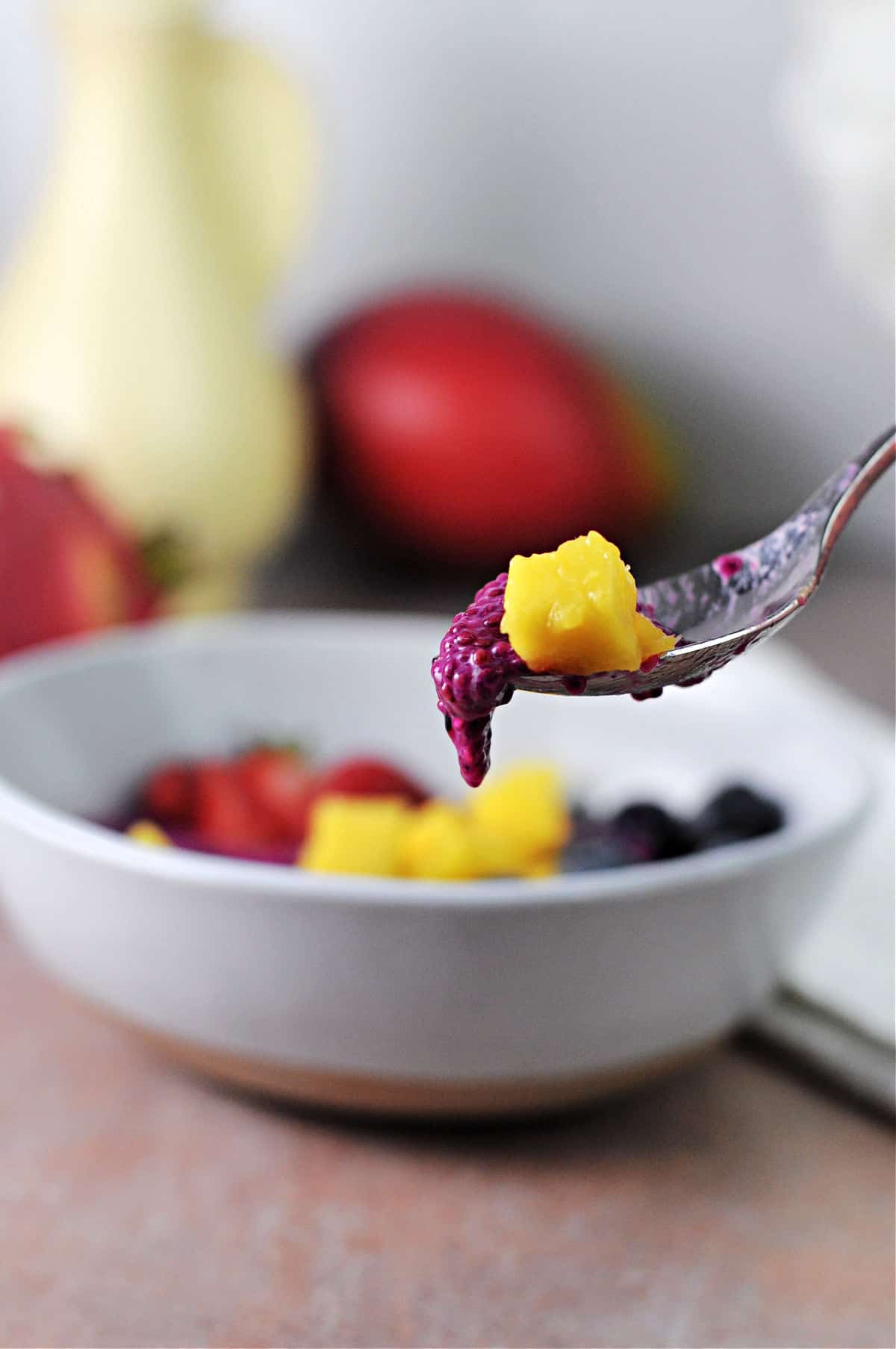 I eat my pudding topped with fresh berries and fruit. Granola would also be an excellent addition. Check out this strawberry granola from Dizzy Busy and Hungry for a yummy option!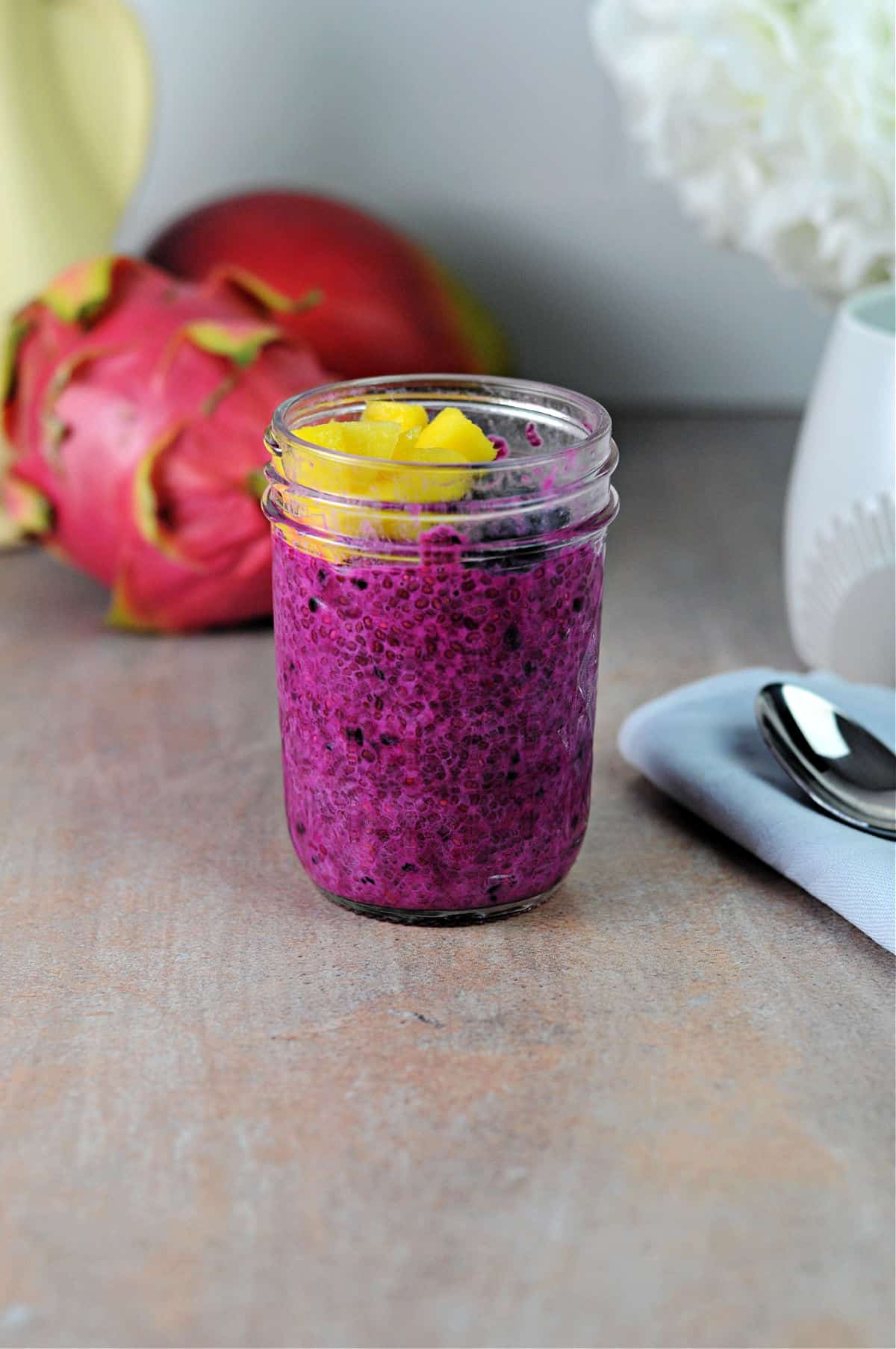 Expert Tips/FAQ
Are chia seeds healthy?
Chia seeds have some great health benefits. They are a good source of iron, calcium, and fiber. They are also an excellent source of omega-3 fatty acids, similar to ground flaxseed.
What if I don't like the texture of chia?
The seeds might look a little "weird" to some. And they do require chewing. If desired, you can blend the pudding to break up the seeds. How well this works will depend upon your blender. A high powdered blender will have the most success, whereas a regular blender might only partially break up the seeds.
What if my chia pudding is watery?
You probably need to add a few more seeds. This can happen if your proportions are off, or with old chia seeds or apparently certain brands. Just add about a teaspoon more, stir and then wait. You should wait at least an hour to give the seeds time to absorb the liquid. True confession: I've tried this at the 30-minute mark, as hunger was about to take over. The seeds were maybe a little crunchier than usual, but other than that I noticed no difference.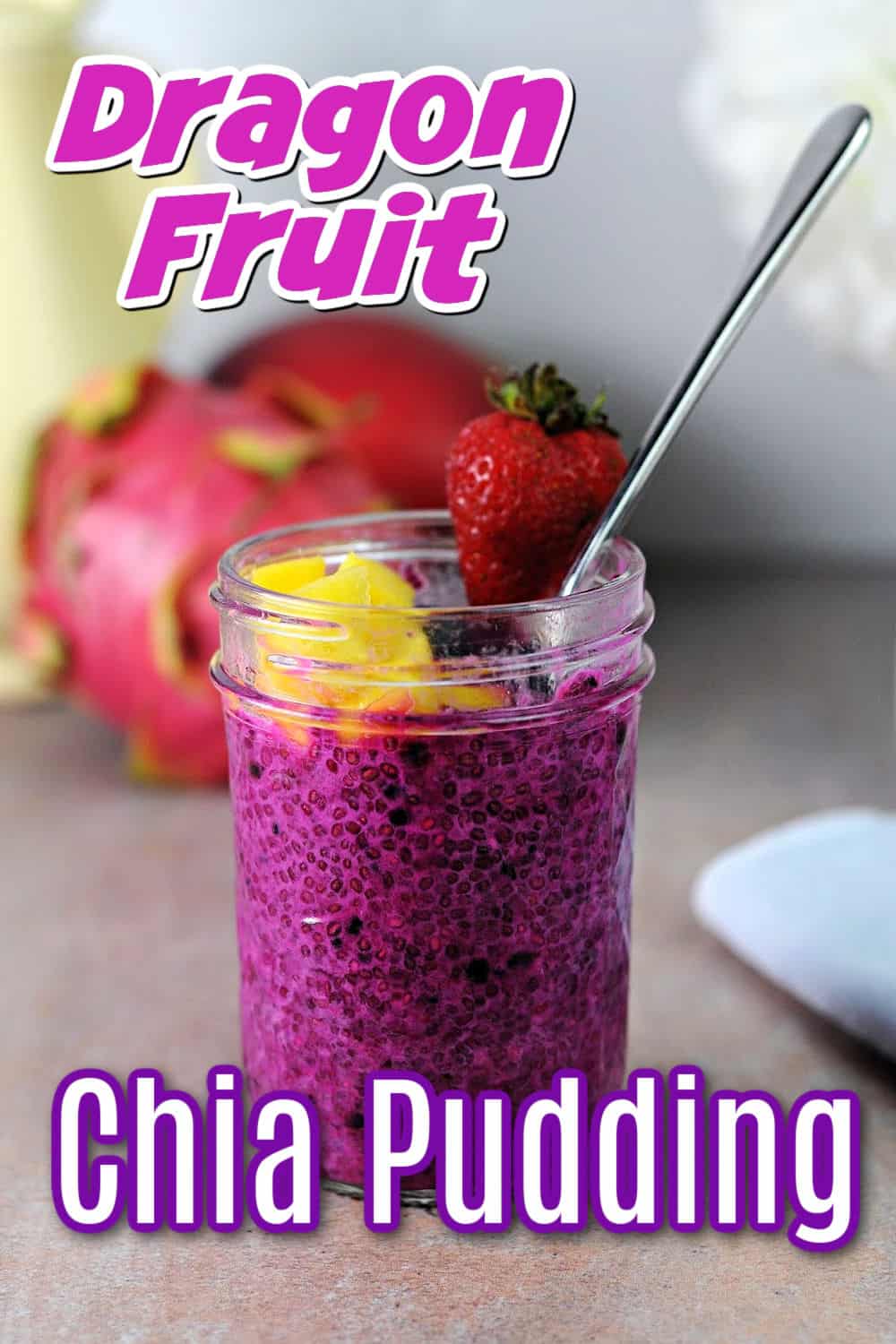 More healthy breakfast ideas
It helps to keep some variety in your morning routine, so you don't get tired of any one thing. I enjoy cookie butter overnight oats, and kids might prefer peanut butter oats. Of course, you can always cook oatmeal on the stovetop, just like grandma used to make.
And don't forget pancakes. Easy to make from scratch, I also make almond milk pancakes and oat milk pancakes. And of course, just for fun, dragon fruit pancakes.
Didn't plan ahead? Avocado toast never disappoints!
📖 Recipe
Dragon Fruit Chia Seed Pudding
Putting dragon fruit puree in your chia pudding will make this your very favorite start to the day!
Ingredients
½

cup

almond milk

or milk of choice

2

tablespoons

chia seeds

2

tablespoons

dragon fruit puree

Toppings of choice: fresh fruit

berries, or granola as desired
Instructions
Add almond milk, chia seeds and dragon fruit to a small jar or bowl and stir to combine. Wait 2-3 minutes and stir again to break up any clumps of chia seeds.

Cover and refrigerate 1-2 hours, or overnight.

To eat, give your pudding a stir. It should be thick and ready to eat.

Top with fresh fruit and/or berries.
Notes
Sweetener may be added, if desired. Agave syrup, honey, or regular sugar can be added to taste.
Nutrition estimates do not include optional toppings.
Nutrition
Calories:
152
kcal
|
Carbohydrates:
13
g
|
Protein:
5
g
|
Fat:
9
g
|
Saturated Fat:
1
g
|
Polyunsaturated Fat:
6
g
|
Monounsaturated Fat:
1
g
|
Trans Fat:
0.03
g
|
Sodium:
184
mg
|
Potassium:
98
mg
|
Fiber:
9
g
|
Sugar:
3
g
|
Vitamin A:
13
IU
|
Vitamin C:
0.4
mg
|
Calcium:
301
mg
|
Iron:
2
mg
Nutrition values are estimates only, using online calculators. Please verify using your own data.