It's October, which means its time for a devilishly good cocktail!
And I do have a long-standing love for margaritas, which is why I felt that making this devil's margarita was right up my alley!
Take a traditional lime margarita and layer it with some red wine. If you do it correctly, the red wine will form a distinct layer over the top of the margarita, rather than mixing in. The effect is spooky and cool.
The red layer gives the drink a slight Dracula-like vibe, making it perfect for any Halloween gathering.
If you're looking for something a little different for your own freak fest celebration, this devil's margarita is a great place to start.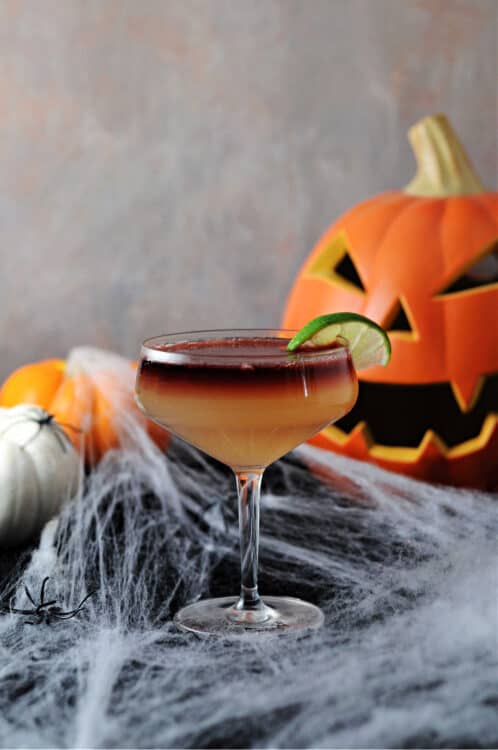 Why this recipe works
To start, you have to love a margarita to enjoy this drink. And hopefully are okay with red wine. But that's everybody, right?
The only real difference in this margarita is the layer of red wine. Surprisingly, this doesn't really throw off the margarita flavor like you might think it would.
The wine adds a bit of a fruit essence to the drink, and of course this will vary according to the type of wine you chose. I used a red zinfandel with great results, but a cabernet or merlot would also be great.
Just have fun with it!
Ingredients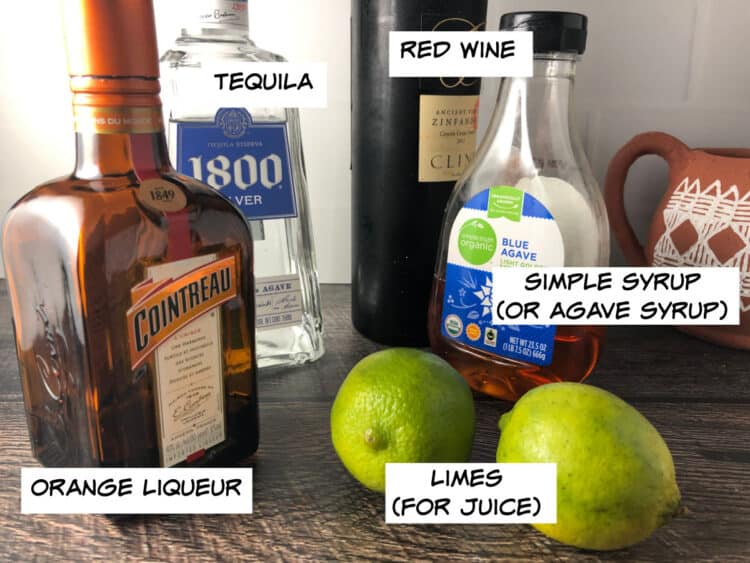 How to make the Devil's Margarita
Mix the margarita ingredients in a cocktail glass and shake with ice. This step is the same as for a regular lime margarita.
Strain the margarita into a glass. I've found that either a coupe or martini style glass works best for this. It helps keep that top layer on top, where you want it.
Once the margarita is in the glass, it's time to add that "touch of the devil". You want to add the red wine in a way that it remains a layer on top of the margarita, rather than mixing in. To do this, add the wine slowly and gently.
I like to use 2 spoons for this. Hold one spoon upside down close to the inside edge of the glass. Then, with the other spoon, slowly pour the wine onto the inverted spoon in a way that it trickles gently into the glass.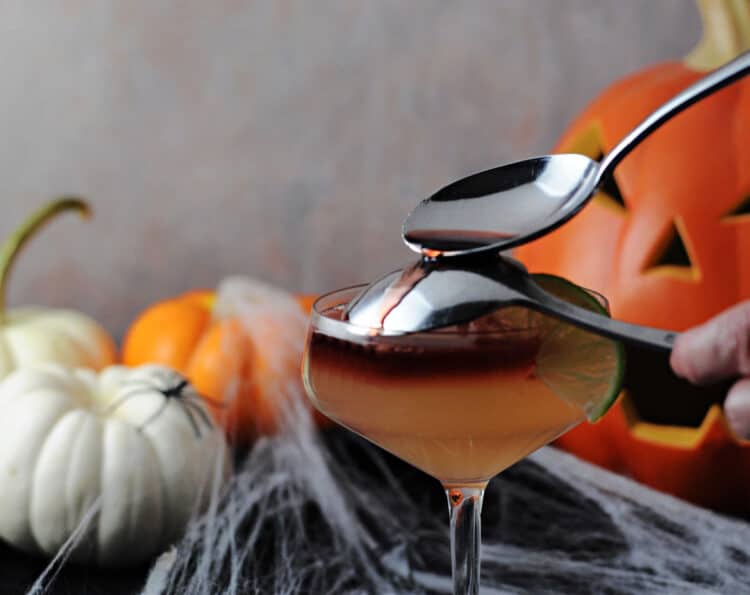 You will want to add more than one spoonful of wine, so this might seem a little tedious. But I have found this method to have the highest success rate in creating that perfectly layered drink.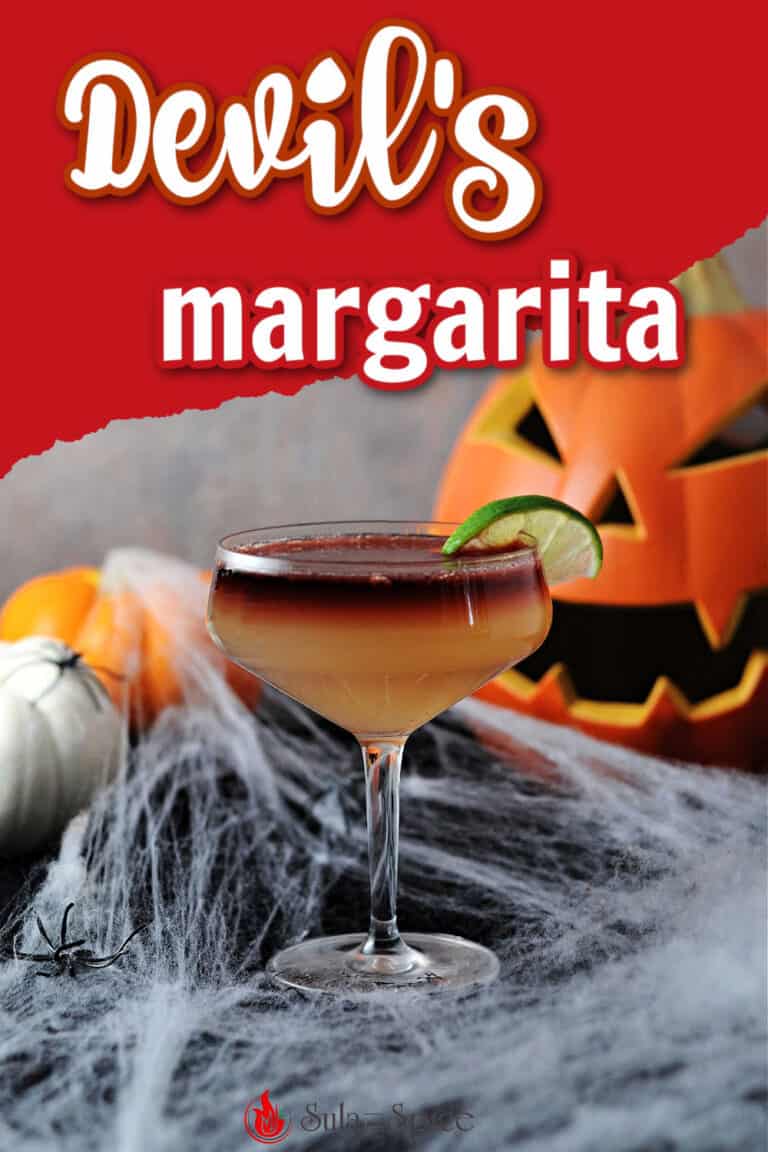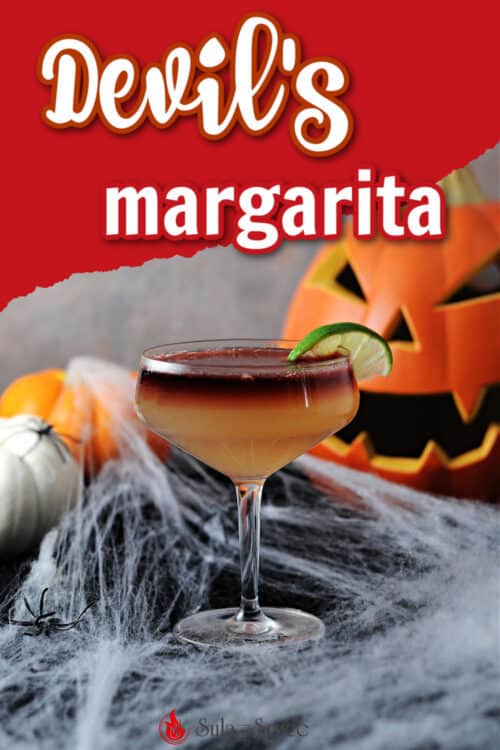 Expert Tips/FAQ
Can I make this with a frozen margarita?
Believe it or not, I have tried this. And you certainly can layer the red wine on top of the frozen margarita. I will say, it kind of loses the layered effect. The layer is there, just more diffused. But it is kind of fun. So go for it if a frozen drink is what you crave!
What kind of red wine works best?
I would not recommend an expensive bottle of wine for this. You are using the wine in a novelty kind of way, so go budget on this part. I used a bottle of red zinfandel that had been sitting in my wine rack for so long it got super dusty. I can't tell you how much it cost, but I guarantee it wasn't any top shelf kind of wine. 😀
What about a salted rim?
Traditionally a margarita has a salted rim. But I felt that would taste kind of funky – and not in a good way – with the wine in this drink. However, just for fun, I did try this with a black sugar rim. I used agave syrup along the rim and then let it drip down a little, then dipped in the black sugar. It gives a differently spooky look to this drink, in case that is what you are looking for.
More Fun Margarita Recipes
Devil's Margarita
A devilishly fun variation on everyone's favorite cocktail!
Ingredients
2

ounces

tequila

silver

1

ounce

Triple Sec

or other orange liqueur

1

ounce

lime juice

fresh squeezed

½

ounce

simple syrup

or agave syrup

1

cup

ice

Lime wheel or wedge

for garnish

2-3

tablespoons

red wine

for layering
Instructions
Add the tequila, triple sec, lime juice, simple syrup and ice to a cocktail shaker. Shake vigorously for about 30 seconds.

Strain into a coupe or martini glass. Garnish with lime as desired.

Using 2 spoons, gently pour the red wine from one spoon over the back of the other onto the margarita. The wine will form a distinct layer on top of the drink. Repeat until you are satisfied with the size and look of the layer. Then serve.
Nutrition
Calories:
289
kcal
|
Carbohydrates:
23
g
|
Protein:
1
g
|
Fat:
1
g
|
Saturated Fat:
1
g
|
Polyunsaturated Fat:
1
g
|
Monounsaturated Fat:
1
g
|
Sodium:
25
mg
|
Potassium:
90
mg
|
Fiber:
1
g
|
Sugar:
20
g
|
Vitamin A:
15
IU
|
Vitamin C:
9
mg
|
Calcium:
16
mg
|
Iron:
1
mg
Nutrition values are estimates only, using online calculators. Please verify using your own data.