Isn't Easter candy fun? All the bright colors and fun flavors, both chocolate and fruity.
And sugar. Oh yes, let there be sugar.
I think Peeps are the ultimate sugar rush for a kid. I mean, marshmallows are pretty much pure sugar already. And then you add a crust of colored sugar all over the outside. Make it into a cute bunny or chick shape and you have the best Easter candy ever.
So, I decided to create another favorite, Rice Krispie treats, using Peeps for the marshmallow portion. It gives you all the fun colors of Peeps, with a little extra sugar. And using 3 different colors gives the final treats a marbled effect. You could almost call them unicorn Rice Krispie treats!
This might be the best use of extra Easter candy yet!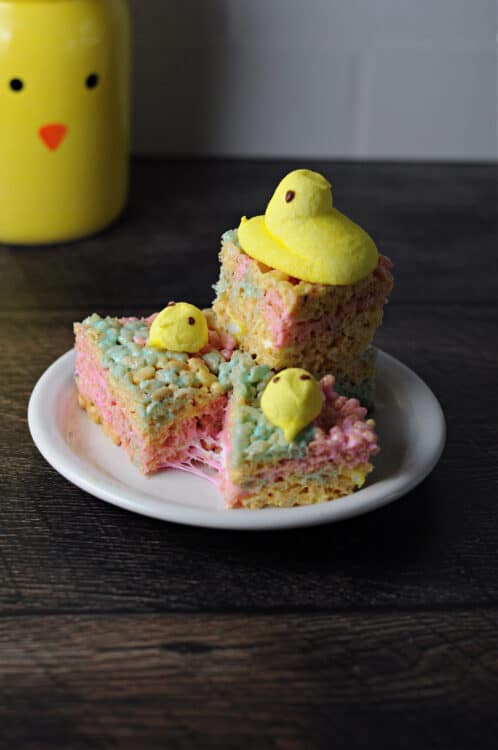 Why I love this recipe
Like all Rice Krispie treats, these are easy to make. The only complication is making the multi colors. You could reduce this some by making only 2 colors, but I think 3 is the perfect balance of colors.
And I love the decorating possibilities provided by the Peeps. I only used chicks and cut off some of the heads to use as decoration on top of the pan of treats. The headless portions I cut up and added to the Rice Krispies mixture to give an extra burst of marshmallow in the treats.
I also decorated with whole chicks, so feel free to go which ever direction most appeals to you! I ended up loving the combination, as the cut up heads kind of look like little baby chicks next to the whole Peeps.
Ingredients
The main ingredients for Rice Krispie treats are cereal, butter, and marshmallow. The only difference for these treats is that I am using Peeps for the marshmallow portion, in 3 different colors: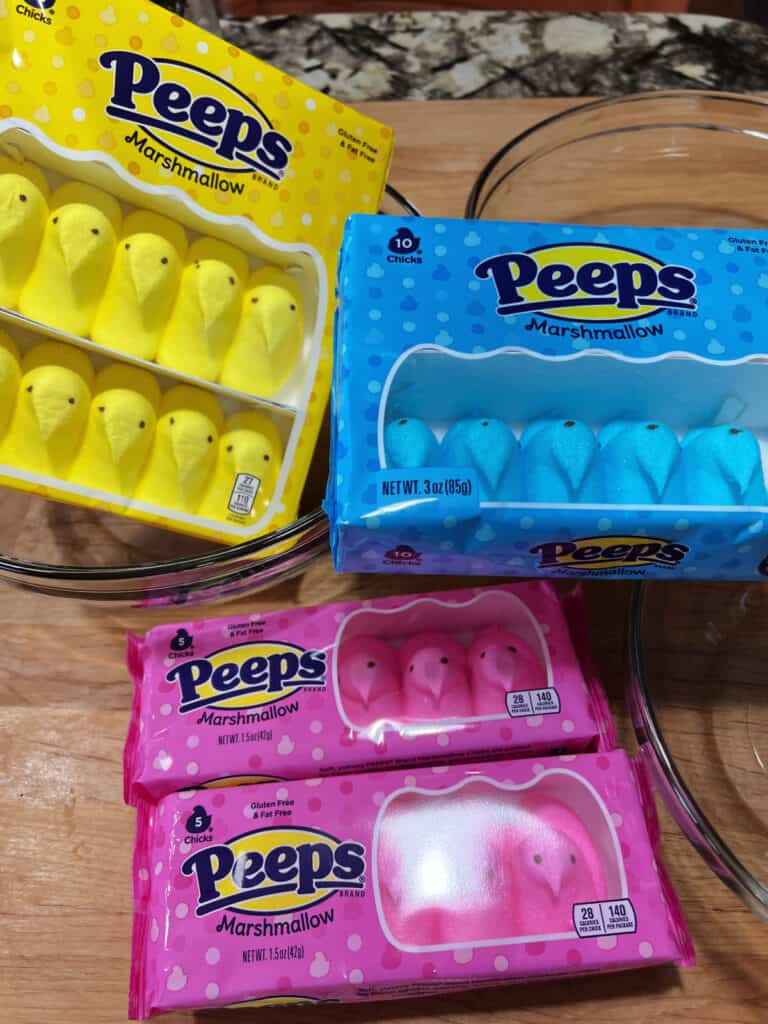 How to make Peeps Rice Krispie treats
Preparation
The treats I made used 3 colors and some extra cut-up pieces added. You can revise to one or 2 colors and no extra pieces, however you would like.
I used an 11x7 inch baking dish, but any similar size dish will work. Grease this with butter or cooking spray before you start.
If you have extra Peeps and want to decorate with the heads, cut them off first and set aside. Then cut up the remaining pieces to add to the mix.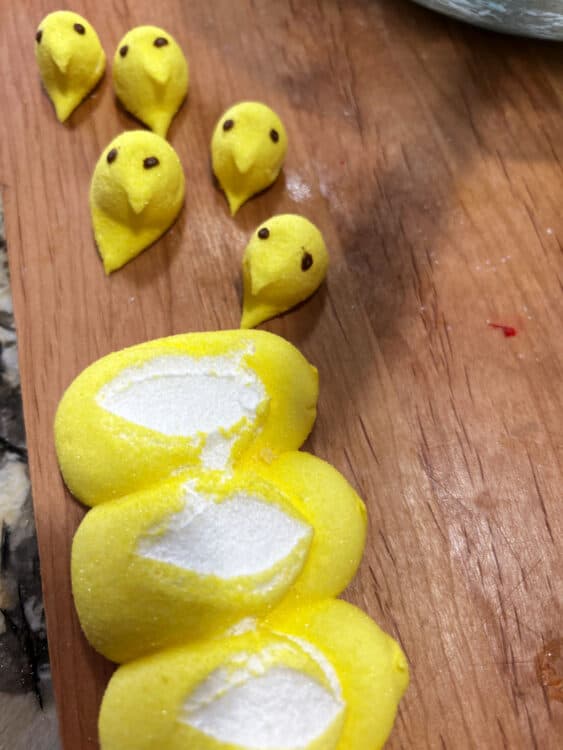 Making the treats
Start with 5 cups of Rice Krispies cereal. This doesn't divide cleanly by 3, so here is how I divided:
4.5 ounces of yellow Peeps with 2 tablespoons butter and 2 cups cereal
3 ounces of pink Peeps with 1.5 tablespoons butter and 1.5 cups cereal
3 ounces of blue Peeps with 1.5 tablespoons butter and 1.5 cups cereal
Place the peeps in 3 separate bowls, by color. Add the butter (amount specified above) and then microwave each bowl for 60 seconds.
Stir to combine the marshmallow and butter and make a smooth mixture. Then add the appropriate amount of cereal and stir to combine.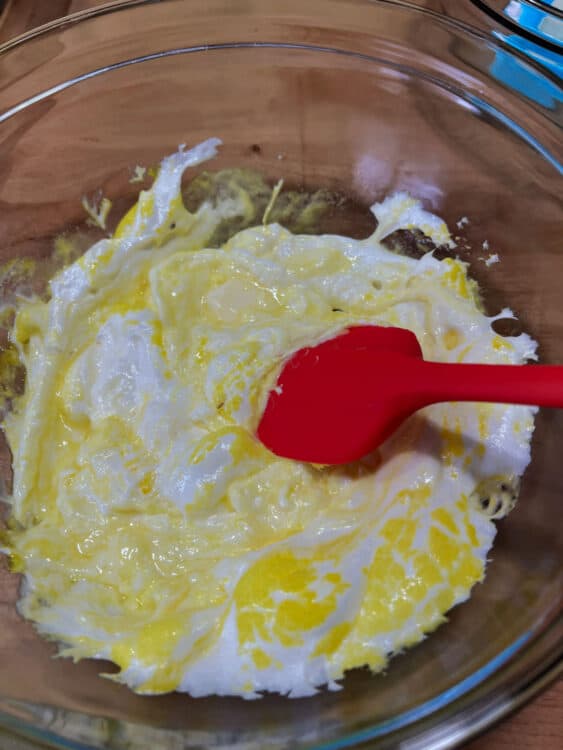 If adding cut up Peeps, do so now. I added just to the yellow mix for simplicity.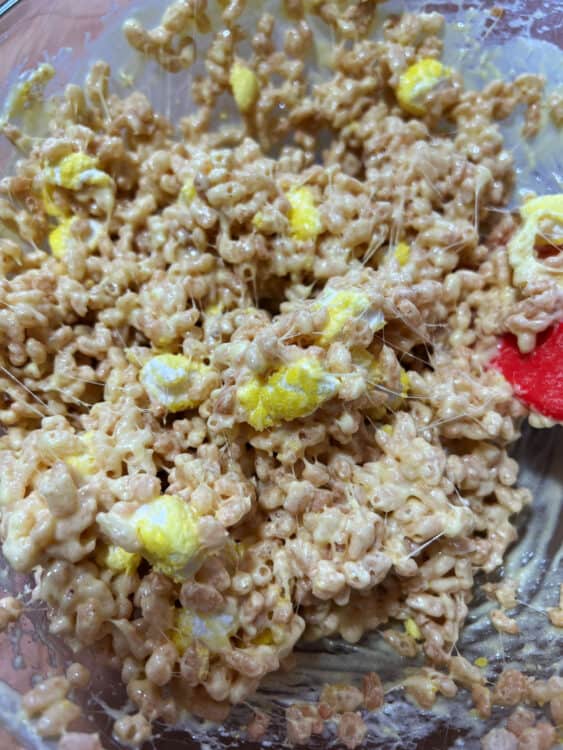 Now, transfer by large spoonful's into the greased baking dish. Vary the colors so you end up with a marbled effect. Put a little grease (butter) on your hands or on a sandwich bag (use it like a "glove") then press the treats firmly into the pan.
Decorate
Add your decorative Peeps (or pieces) now. It helps them stick a little if you add when the marshmallow is still warm and sticky. But you can always add later as well.
Allow the treats to cool to room temperature, about 30 minutes, before cutting.
Expert Tips
While you are stirring the first bowl of marshmallow and butter, you can start to microwave the next. I tried to get all three going as soon as possible so they didn't cool down too much before I transferred to the pan.
I use kitchen shears to cut up the marshmallow Peeps. It's much easier than a knife!
For a bigger batch, use 6 cups of cereal and 4.5 ounces of each of the 3 colors of Peeps. Use a 13x9-inch pan for this volume of treats.
You could also add some jelly beans or chocolate eggs for additional decoration, if you'd like. Many possibilities for Easter candy fun!
A few more no-bake treats for you to try:
Peeps Rice Krispie Treats
Use Peeps to make Rice Krispie treats! This might be the best use of Easter candy ever!
Ingredients
10

– 12 ounces marshmallow peeps

5

cups

Rice Krispies cereal

5

Tablespoons

butter

Optional – more Peeps for decorating

per below
Instructions
For one color:
Microwave about 10 ounces of marshmallow peeps with the butter, 60-90 seconds. Stir until smooth, then add cereal and stir to combine.

Press mixture into greased 11x7 inch baking pan. Cool 30 minutes before cutting.
For multi-color:
I had a 4.5-ounce package of yellow peeps and 3 ounces each of blue and pink. The colors were mixed in separate bowls, using these proportions:

To 4.5 ounces of peeps, add 2 tablespoons butter. Microwave 60 seconds to melt, then stir together until smooth. Add 2 cups cereal and stir to combine.

To 3 ounces of peeps, add 1.5 tablespoons butter. Microwave 60 seconds to melt, then stir together until smooth. Add 1.5 cups cereal and stir to combine.

Transfer to greased 11x7-inch baking dish by spreading out the colors, to try to make a marbled effect. Once all the mix is in the pan, press it firmly in place. Cool 30 minutes before cutting.
Optional decorations:
Additional peeps may be separated and placed on top of the treats.

Or, using a kitchen shears, cut off just the heads of the peeps(chicks) and use those to decorate. The bodies of the peeps can be cut up into smaller pieces and stirred into the bowl of rice krispies mix before pressing it into the pan. These unmelted pieces will be an extra chunk of marshmallow in the bites of Rice Krispies Treats.
Notes
To make a 13x9-inch pan, use 4.5 ounces of each color of Peeps, plus 2 tablespoons butter and 2 cups cereal.
Nutrition
Calories:
165
kcal
|
Carbohydrates:
30
g
|
Protein:
1
g
|
Fat:
5
g
|
Saturated Fat:
3
g
|
Polyunsaturated Fat:
1
g
|
Monounsaturated Fat:
1
g
|
Trans Fat:
1
g
|
Cholesterol:
13
mg
|
Sodium:
107
mg
|
Potassium:
16
mg
|
Fiber:
1
g
|
Sugar:
20
g
|
Vitamin A:
922
IU
|
Vitamin C:
7
mg
|
Calcium:
2
mg
|
Iron:
4
mg
Nutrition values are estimates only, using online calculators. Please verify using your own data.
These treats are now a web story, you can see it here!